Larry Fitzgerald Has Made $180 Million Thanks to a Life-Altering Piece of Advice His Parents Received From Vikings Legend Chris Doleman
Larry Fitzgerald quickly earned the respect of Arizona Cardinals fans not only for his on-field production but also for his commitment to excellence. Considered one of the hardest-working players in the NFL, the future Hall of Famer's dedication to his craft has inspired many receivers to try and follow in his footsteps.
Ironically, Fitzgerald wouldn't have become one of the greatest wideouts in league history without the help of Minnesota Vikings legend Chris Doleman. As it turns out, the ferocious pass-rusher helped the talented pass-catcher's parents get their son on the right track. Thanks to Doleman's life-changing advice, Fitzgerald has been able to amass an incredible net worth. And once he decides to walk away from the game he so deeply loves, the longtime Cardinals star will assuredly join Doleman in Canton one day.
Larry Fitzgerald has earned nearly $200 million during the course of his brilliant NFL career
By going No. 3 overall in the 2004 NFL Draft, Fitzgerald set himself up for a life-changing payday. And he certainly cashed in on his collegiate success with his first NFL contract.
The former University of Pittsburgh star signed a six-year, $60 million deal that included a $7.5 million signing bonus and more than $20 million guaranteed. In fact, Fitzgerald's rookie contract dwarfed that of No. 1 overall pick Eli Manning, whose initial deal checked in at $54 million.
Of course, the Cardinals got more than they paid for.
Fitzgerald quickly established a reputation as one of the league's top wideouts. After surpassing 1,400 receiving yards in two of his first four seasons, he received a lucrative raise in the form of a four-year, $40 million contract extension.
The 6-foot-3, 218-pound playmaker responded by continuing to rack up prolific numbers as Arizona's No. 1 receiver. By consistently performing at a high level, Fitzgerald broke the bank in 2011 with an eight-year, $120 million contract extension that made him one of the NFL's highest-paid players.
Although his days an elite receiver ended several years ago, he's extended his career into his late 30s thanks in large part to a legendary work ethic. And with $180 million in total earnings, it's clear Fitzgerald has excelled at the negotiating table as much as he has on the football field. But he may never have made it to the NFL without some advice his parents received years ago.
Chris Doleman changed the course of the Cardinals star's life by giving his parents an important piece of advice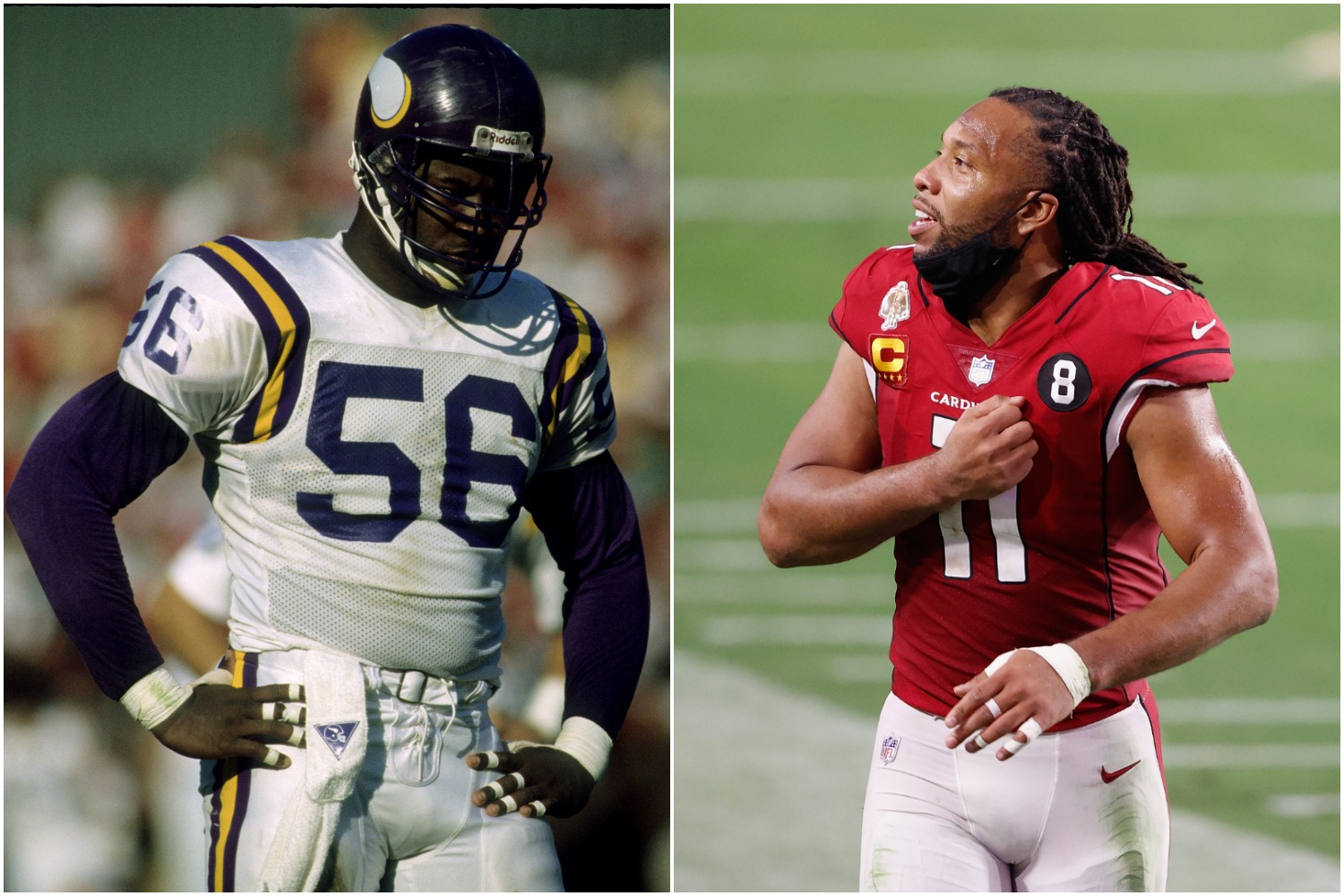 For someone who's widely viewed as the definition of a professional, Fitzgerald sure didn't act like one during his pre-NFL days. In fact, according to Bob McManaman of the Arizona Republic, the sure-handed wideout struggled with bad grades, sloppy habits, and a poor attitude as a teenager.
Fitzgerald's academic issues prevented him from playing college football as a freshman. With their son's future on the line, Larry Fitzgerald Sr. and his wife, Carol, took matters into their own hands. Well, only after some assistance from longtime Vikings defensive end Chris Doleman.
The 2012 Pro Football Hall of Fame inductee gave the Minneapolis-based couple a piece of advice that changed the junior Fitzgerald's life forever: send him to Valley Forge Military Academy.
"I hated it. I mean, like literally hated it every single day I was there," Fitzgerald told The Republic. "But there's no way I would be sitting here talking to you today if I hadn't gone there. I went in there being a young, immature kid and I left as a man."
Most importantly, the NFL 100th Anniversary All-Time Team member learned some valuable lessons he will never forget.
"What it teaches you, the camaraderie, the brotherhood, all those things that you learn being in the military experience, they're things that last a lifetime," Fitzgerald explained. " Like I told you before, if it wasn't for that experience, there's no way I'd be sitting here talking to you right now."
It won't be long before Fitzgerald joins the Vikings legend in the Pro Football Hall of Fame
Fitzgerald turns 38 on Aug. 31, so his NFL career clearly will come to an end soon. The 11-time Pro Bowler hasn't made nearly the same impact in recent years, which shouldn't be a surprise given the amount of tread on his tires. Whether he continues catching passes for the Cardinals or moves onto another chapter of his life remains a bit of a mystery.
With Arizona looking like a team that's going all-in on trying to win a Super Bowl this season with aging versions of J.J. Watt and A.J. Green, perhaps Fitzgerald will give it one more go before he hangs up his shoulder pads and helmet for the final time. He can play a limited role in the passing game, provide leadership in the locker room, and earn a few million dollars for his efforts.
Whenever Fitzgerald does retire, the clock will immediately start to tick on his Hall of Fame candidacy. As one of the best receivers to ever live, he shouldn't have to wait long to get a bust in Canton. And when he officially becomes a member of the Pro Football Hall of Fame, Larry Fitzgerald will join a brotherhood that includes the legend who changed his life forever.
All contract data courtesy of Spotrac.