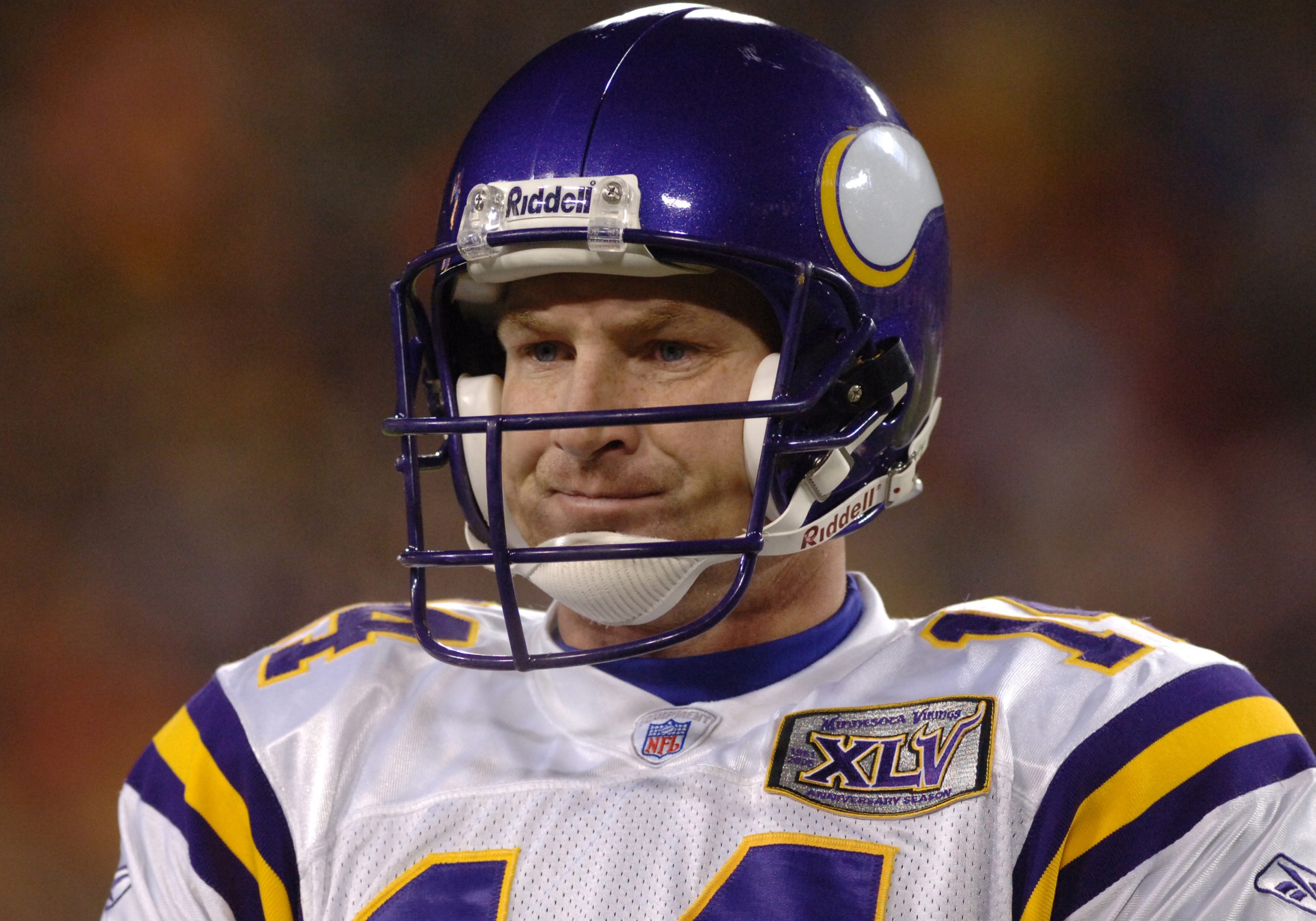 Dear Minnesota Vikings: When You Couldn't Find QB Brad Johnson Before Your Home Games, Here's Where He Was
Brad Johnson would often disappear before home games when he was with the Minnesota Vikings.
Many athletes have their routines they need to do before they hit the field or the court. Former Minnesota Vikings quarterback Brad Johnson had his own little thing before every home game. He'd show up to the stadium almost four hours before a home game and then disappear for about a half-hour. Where did he go?
Brad Johnson had two stints with the Minnesota Vikings
Johnson played his college football at Florida State and was a ninth-round pick by the Minnesota Vikings in the 1992 NFL Draft. Thirteen quarterbacks were taken ahead of Johnson, including Tony Sacca, Matt Blundin, Ricky Jones, Mike Pawlawski, Will Furrer, Chris Hakel, and Craig Erickson. Even his college teammate, Casey Weldon, was selected five rounds ahead of him.
He played 15 years in the NFL for four different teams. After spending the first five years of his career with the Vikings, he spent two years in Washington, playing for the team he loved while growing up. From there, he went to play for the Tampa Bay Buccaneers, where he won Super Bowl 37 as the starting quarterback.
He left Tampa after four seasons and went back to Minnesota for two more. He closed out his career with two years with the Dallas Cowboys. "I don't even know if I played my first year there," Johnson told Sportscasting about his time in Dallas. "I think I may have gotten in one game. Tony Romo was the quarterback, and he was on fire. We went 13-3 and were the number one seed.
"My second year, I played three games. My body went to pieces. I couldn't run anymore. My body just fell apart."
Where did Brad Johnson go before Minnesota Vikings home games?
Johnson only dressed for one game in his first two seasons with the Vikings as he was the backup to Rich Gannon and Sean Salisbury. He played sparingly the next two seasons, backing up Warren Moon. He started eight games during the 1996 season, compiling a 5-3 record. Johnson started to develop a rhythm and a routine.
He was always well-prepared for the games, studying the game plan faithfully. Johnson said he was one to always arrive at the stadium quite early.
"Say it was a 1 p.m. game," Johnson said. "We wouldn't have to be on the field until an hour before the game. I would get there about 9:45 and go through all my stuff."
Then he was nowhere to be found.
"I would take a nap in a closet at the stadium," he said. "There was a closet behind some metal chairs at the stadium, and I'd put a ringer on my watch. I'd go in there and take about a 30-minute nap before each game."
Johnson went on to win a Super Bowl with the Tampa Bay Buccaneers
In Johnson's first season with the Buccaneers, he set a team record for most passing yards in a season with 3,406. The following year, he made the second of his Pro Bowls when he threw for 3,049 yards in 13 games. He added 22 touchdown passes and threw six interceptions. The Bucs went 10-3 with Johnson under center. They went on to win Super Bowl 37 with a convincing 48-21 victory over the Oakland Raiders.
"Tampa's a small-market team but we did get a Monday night game that year," Johnson said. "We had rock stars on that team – Mike Alstott, Keyshawn Johnson, Warren Sapp, Derrick Brooks. We went 3-1 over four stretches and finished 12-4.
"They upgraded the talent that year, brought in a bunch of free agents, probably somewhere between 15 and 19. I had a very good relationship with (head coach) Jon Gruden. He was really the coordinator, too, so I was with him all the time. He was easy to play for."
His run in Tampa ended after the 2004 season. Johnson then spent the next two years back in Minnesota, where he got in a few more naps before those home games.
All stats courtesy of Pro Football Reference.