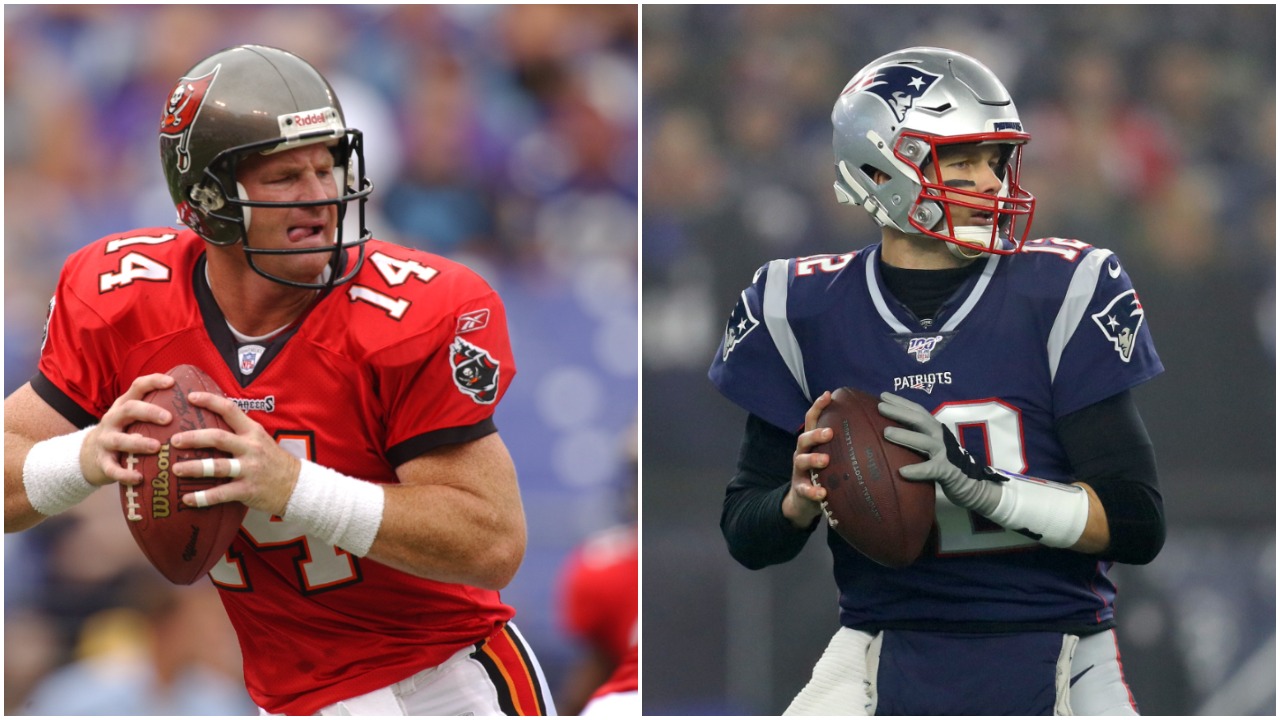 How Buccaneers QB Brad Johnson 'Bribing' Ball Boys Ahead of Super Bowl 37 Differs From Tom Brady's Deflategate Scandal
How Buccaneers QB Brad Johnson tipping ball boys ahead of Super Bowl 37 differs from the Deflategate scandal involving Tom Brady.
In the mid-2010s, there was no bigger story in the NFL than the Deflategate scandal involving then-New England Patriots quarterback, Tom Brady, which ultimately resulted in TB12 being suspended for the first four games of the 2016 season. Brady was accused of ordering the deliberate deflation of New England's footballs in the Patriots' 45-7 win over the Indianapolis Colts in the AFC Championship Game in January 2015.
The suspension obviously didn't end up making much of a difference in the end as Brady and the Pats went 14-2 in 2016 and then went on to win Super Bowl 51. Countless people chimed in on the Deflategate scandal before, during, and after the NFL's investigation, which ended up in federal court.
One of those people was former Tampa Bay Buccaneers quarterback Brad Johnson, who led the franchise to a win in Super Bowl 37 over the Oakland Raiders. While discussing Deflategate, Johnson said he gave money to some ball boys to break in the footballs that were going to be used for the game, which was viewed as quite a shocking confession.
But Johnson didn't see it that way as he later clarified his initial comments and the overall difference between what happened there and the Tom Brady Deflategate scandal is quite a bit different anyway.
Brad Johnson initially said he 'paid some guys off' to tamper with the footballs ahead of Super Bowl 37
Just as the Tom Brady Deflategate investigation was getting underway in January 2015, former Tampa Bay Buccaneers quarterback Brad Johnson did an interview in which he insinuated that he gave a $7,500 bribe to some people that he declined to identify to scuff the footballs that were going to be used in Super Bowl 37 to make them easier to grip.
He said there were about 100 footballs that had the possibility of being used in the game and he wanted all of them to be broken in as brand new footballs are very slick and tougher to throw and catch. Here was his exact quote (h/t NBC Sports).
"I paid some guys off to get the balls right. I went and got all 100 footballs, and they took care of all of them."

Brad Johnson
Naturally, just about every major outlet jumped on the story very quickly, which Brad Johnson wasn't very happy about as it seemed as if he were being labeled a cheater, just as Tom Brady had been during the Deflategate scandal.
How that scenario differs from the Tom Brady Deflategate scandal
Now, even if Brad Johnson's "admission" had been true (more on that in a moment), it's certainly not the same as what Tom Brady was accused of in the Deflategate scandal. And why is that? Well, it's actually quite simple.
In the case of Tom Brady, the footballs he was accused of tampering with were ones that were being used only by the New England Patriots in that AFC title game against the Indianapolis Colts. In Brad Johnson's tampering case, which never turned into any kind of investigation given the fact it had happened a dozen years earlier and that he'd been out of football for six years, both the Buccaneers and Raiders would have been using those footballs.
So it's not as if he would have been giving Tampa Bay any kind of advantage, which is exactly what he explained when he clarified his comments.
Brad Johnson said he and Rich Gannon agreed on telling the ball boys to tamper with the footballs before Super Bowl 37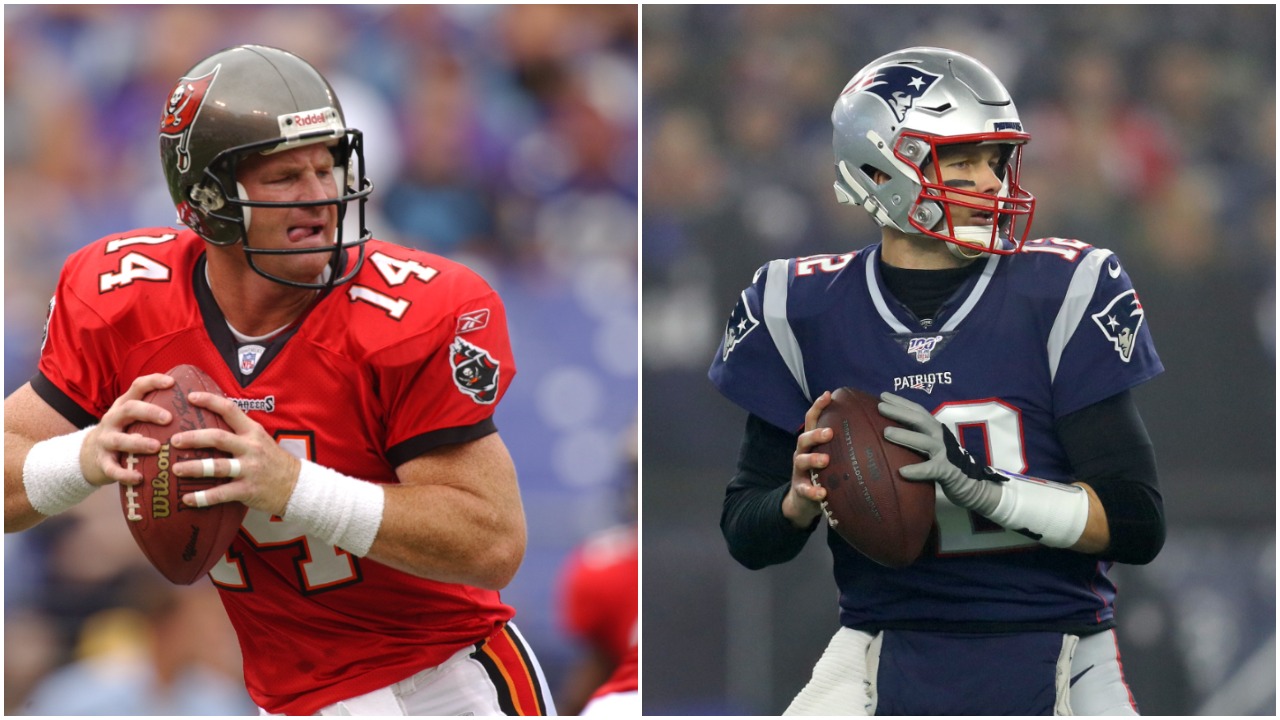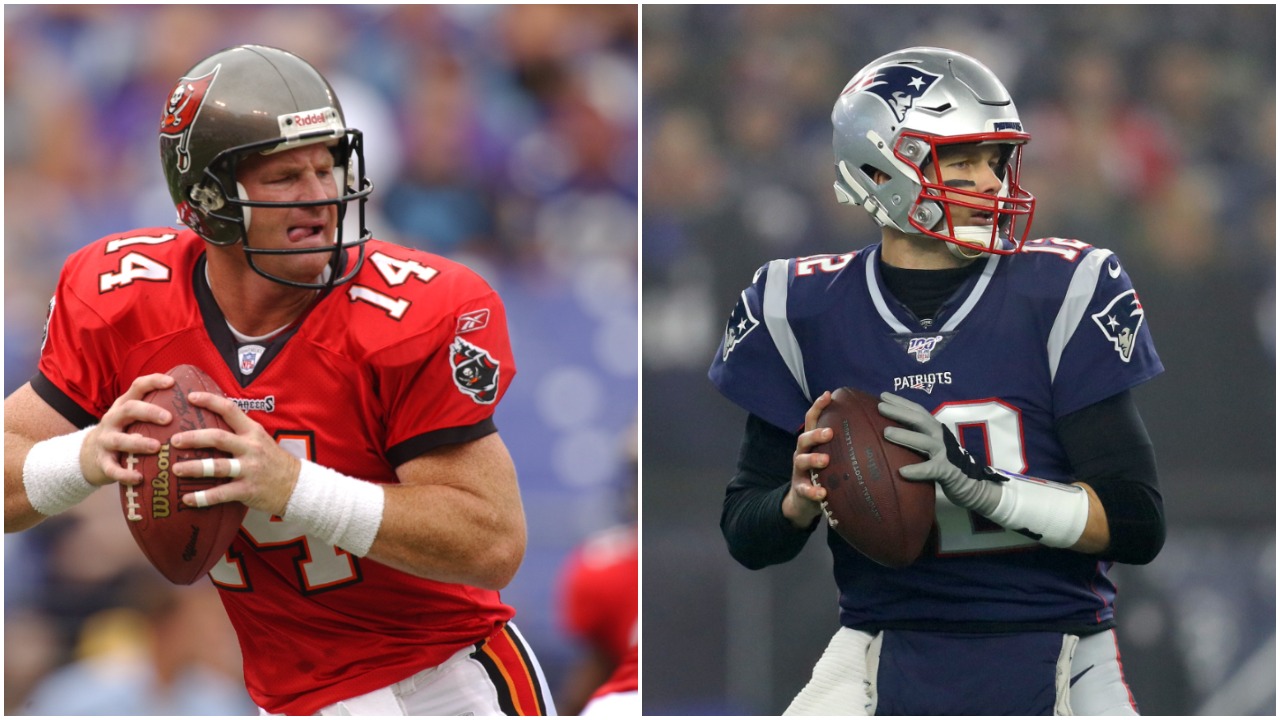 On the very same day that the news of Brad Johnson's "confession" broke, he appeared on NBC Sports' PFT Live program in an attempt to clarify what he'd said in that initial interview. He said he never bribed anyone but did "tip" the ball boys at Super Bowl 37 to have them scuff up the footballs.
But he only did that after talking with Raiders quarterback Rich Gannon, who also wasn't crazy about playing with the brand new footballs. He also said that he never actually saw the footballs in question, which some outlets had reported.
"Both Rich Gannon and I, we had played together in Minnesota, we both agreed. I never saw the footballs, Rich Gannon never saw the footballs. And we played, no one complained."

Brad Johnson
Johnson went on to say that he'd spoken with Gannon about the "confession" and that the former Raiders QB had agreed that things had gotten blown out of proportion, also saying that Gannon certainly didn't feel that the Bucs had cheated in any way in the 48-21 victory. Johnson also said that he didn't remember who the ball boys were, if the amount he'd paid was actually $7,500, and didn't think he'd done anything wrong whatsoever.