NFL
Who Has the Most Passing Yards and Touchdowns in NFL Playoff History?
When it comes to career passing yards and touchdowns in the NFL playoffs, we're not even going to attempt to keep you in suspense. To the surprise of absolutely nobody, Tom Brady is the leader in both categories. But that's just what happens when you've played more postseason games than anyone in NFL history.
We'll go ahead and list the top five in each category but just know that Brady leads each category by a wide margin. (All stats are current through 1/17/21.)
Tom Brady has played in 43 postseason games
RELATED: Why Tom Brady Loves Using the 'F-Word'
Over the course of his 21-year career, Tom Brady has played in 43 NFL playoff games, a number that will grow this Sunday when he plays his third postseason game with the Tampa Bay Buccaneers. Brady obviously played the first 41 with the New England Patriots, a number that includes nine Super Bowl appearances, which is also an NFL record.
In second place on the list is kicker Adam Vinatieri, who played 32 NFL playoff games in his career, 15 with the Colts and 17 with the Patriots.
The closest quarterback to Tom Brady on this particular list is his longtime rival, Peyton Manning, who played in 27 postseason games with the Colts and Denver Broncos, which is good for a tie for fifth on the all-time list. Here's how the top five shakes out. (*=still active)
*Tom Brady: 43 games — New England Patriots
Adam Vinatieri: 32 games — New England Patriots, Indianapolis Colts
Jerry Rice: 29 games — San Francisco 49ers, Oakland Raiders, Seattle Seahawks
*Stephen Gostkowski: 28 games — New England Patriots
D.D. Lewis: 27 games — Dallas Cowboys
Peyton Manning: 27 games — Indianapolis Colts, Denver Broncos
Tom Brady has thrown for the most yards in NFL playoff history and it's not even close
RELATED: Who Has the Most Passing Yards in a Single NFL Playoff Game?
When you play in 43 NFL playoff games as an elite-level quarterback, you're bound to rack up the yards and Tom Brady has certainly done that. In those 43 postseason games, TB12 has thrown for 11,968 yards, more than 4,000 more than the man in second place, Peyton Manning. Here's a look at the top five, which may look a bit different once these 2021 NFL playoffs shake out. We'll be sure to update as the postseason rolls along. (*=still active)
*Tom Brady: 43 games — 11,968 yards
Peyton Manning: 27 games — 7,339 yards
Brett Favre: 24 games — 5,855 yards
Joe Montana: 23 games — 5,772 yards
*Ben Roethlisberger: 22 games — 5,757 yards
TB12 also has the most TD passes in NFL playoff history and that's not close either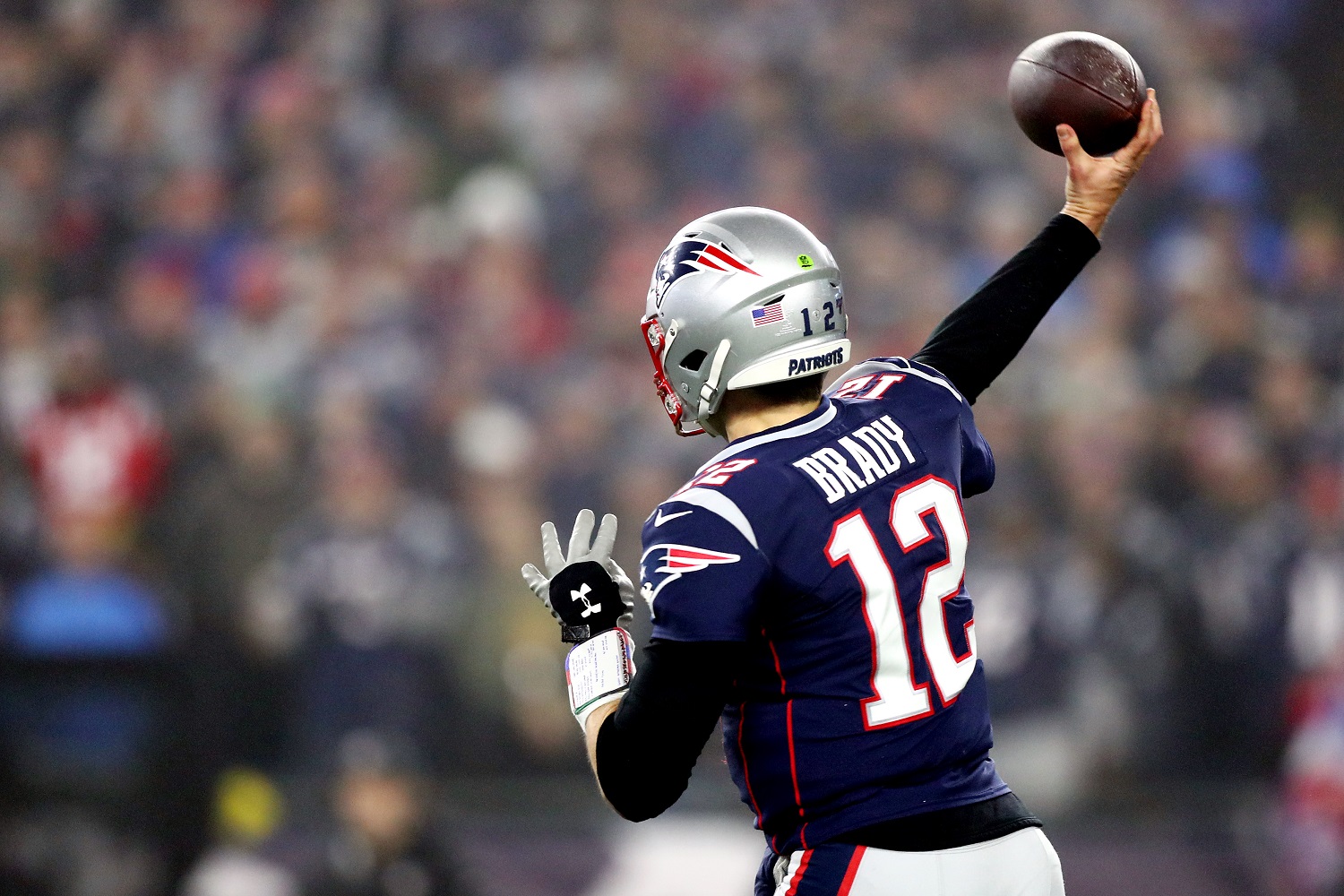 RELATED: The Top 10 NFL Quarterbacks Who Became Stars After an Injury To Their Team's Regular Starter
When it comes down to touchdown passes in the NFL playoffs, Tom Brady holds the all-time record by a wide margin in that category as well with 77. The next closest on the list is four-time Super Bowl champion Joe Montana, who comes in second with 45, although there's certainly a chance that Aaron Rodgers, who is currently fourth on the list, will move into that spot before the 2021 NFL playoffs are over. (*=still active)
*Tom Brady: 42 games — 77 TD passes
Joe Montana: 23 games — 45 TD passes
Brett Favre: 24 games — 44 TD passes
*Aaron Rodgers: 20 games — 42 TD passes
Peyton Manning: 27 games — 40 TD passes
Stats courtesy of Pro Football Reference