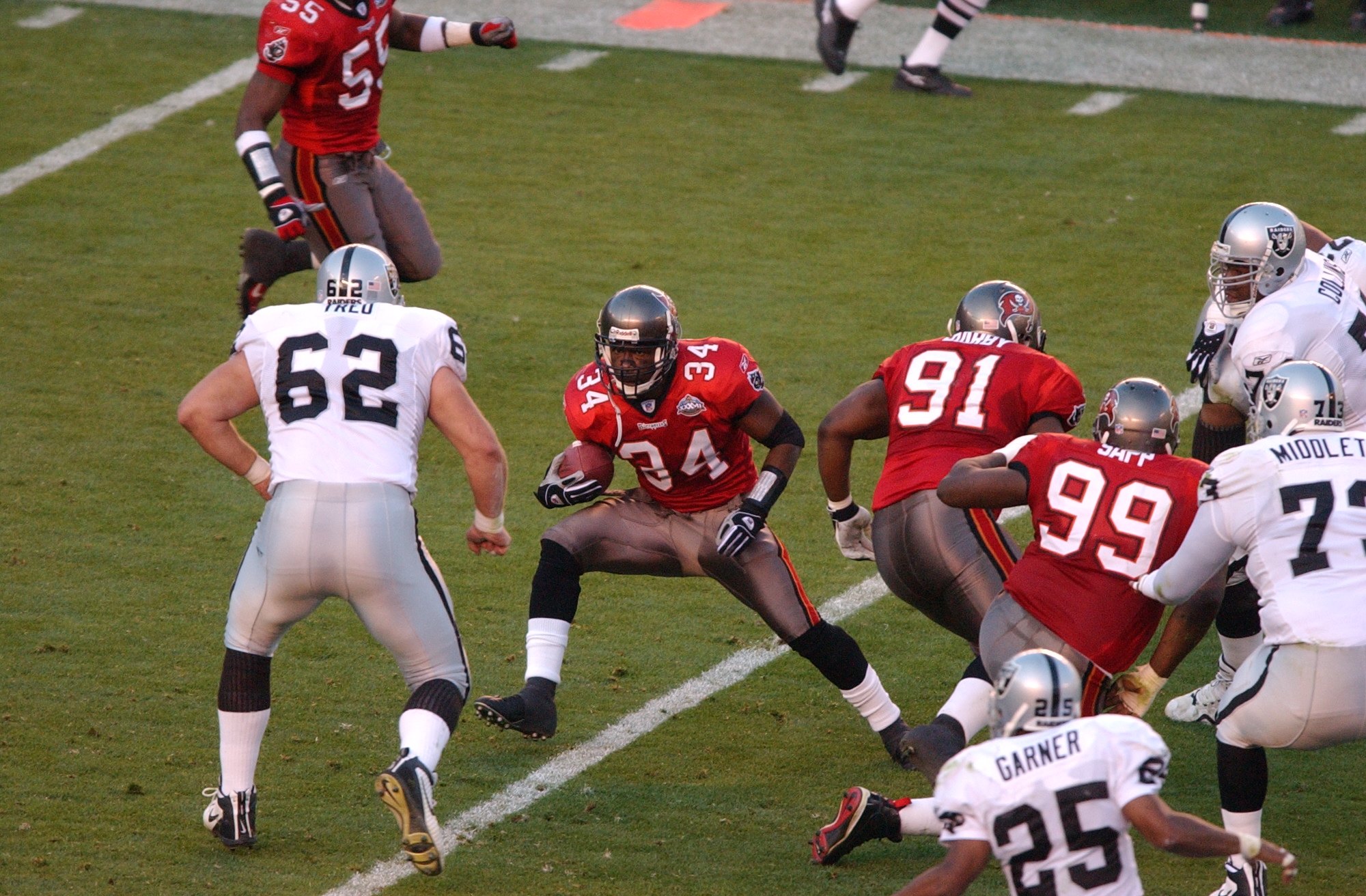 Whatever Happened to Dexter Jackson, the Tampa Bay Buccaneers MVP of Super Bowl 37?
Whatever happened to Dexter Jackson, the Tampa Bay Buccaneers Most Valuable Player of Super Bowl 37?
Dexter Jackson was the unlikely hero of Super Bowl 37 unless you ask him. The Tampa Bay Buccaneers safety was named the MVP of Super Bowl 37 after the Bucs thumped the Oakland Raiders 48-21. While many wouldn't have predicted a defensive back being named a Super Bowl MVP, Jackson said it was far from shocking to him.
Who is Dexter Jackson?
Do a Google search for Dexter Jackson and a massive bodybuilder will pop up first. No, the former Tampa Bay Buccaneers defensive back hasn't been on an intense weight-training program. You just have to scroll down a bit to find Dexter Jackson the football player.
Jackson played his college football at Florida State and was named All-ACC as a junior. He finished his college career with seven interceptions and he blocked four field goals. Jackson was selected in the fourth round of the 1999 NFL draft by the Buccaneers.
Jackson became a full-time starter at free safety for the Buccaneers in 2001 and finished the season with four interceptions and two forced fumbles. He played four seasons with the Buccaneers before signing with the Arizona Cardinals in 2003 and collecting a career-high six interceptions. After that season, he returned to the Bucs for two more years before finishing his NFL career with the Cincinnati Bengals.
Jackson named MVP of Super Bowl 37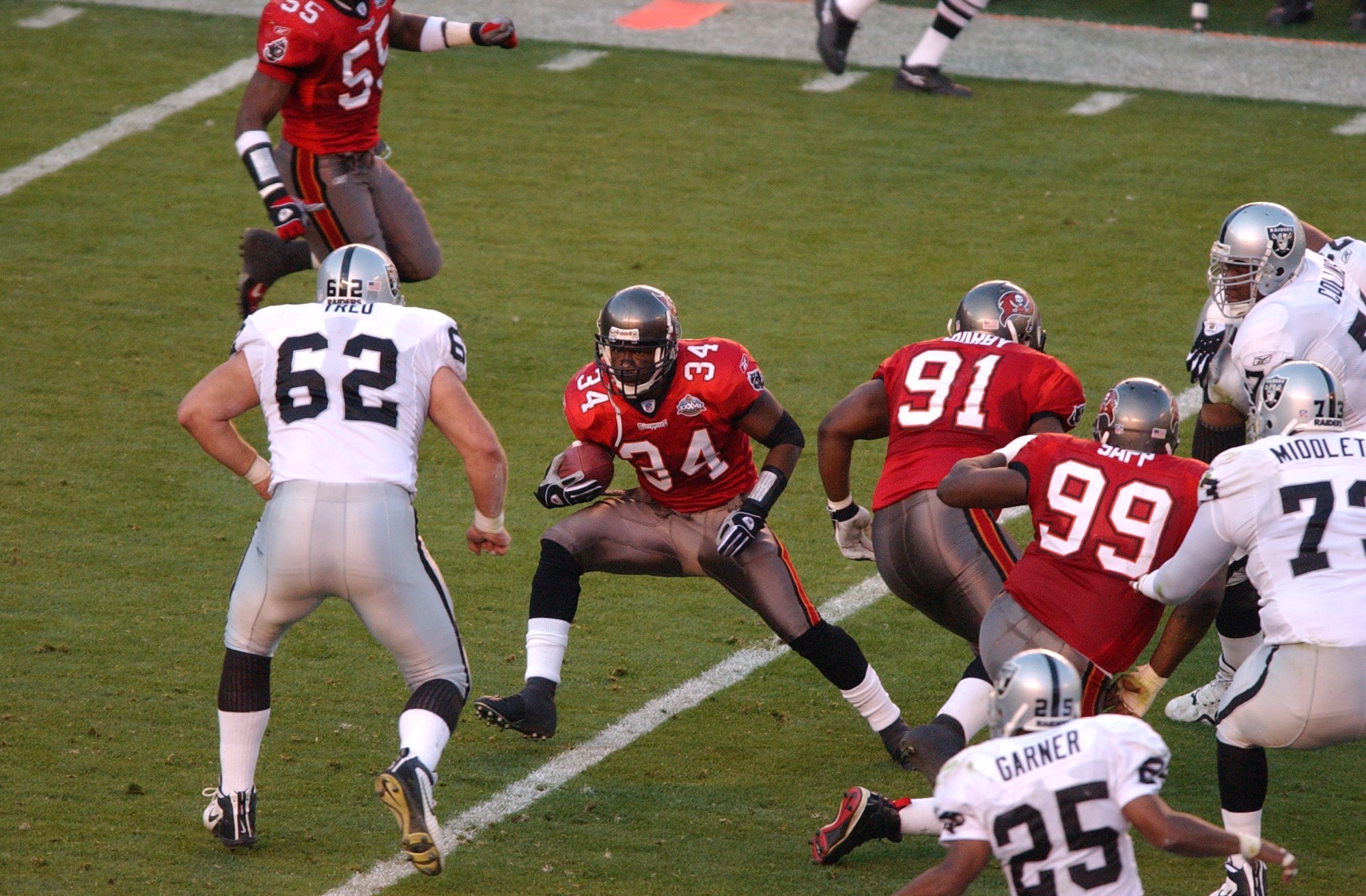 It's not common that a defensive player wins the MVP of a Super Bowl. It's even more uncommon when a safety gets it. Jackson is the last defensive back to win the award and only one of three in Super Bowl history to do so. Larry Brown of the Dallas Cowboys did it in Super Bowl 30. Jake Scott of the Miami Dolphins was the first to do it in Super Bowl 7.
Jackson was not shocked to hear his name called when the MVP was announced. He told the Tampa Bay Times back in 2015 that he envisioned it. "I predicted what was going to happen. I saw it, clear as day," Jackson said. "They always kept telling me: Prepare yourself for when the opportunity presents itself and be successful. The idea that preparation plus opportunity equals success has always been instilled in my head."
Jackson had two of the Buccaneers' five interceptions. "The day before the Super Bowl everyone was making their MVP predictions, it was crazy," Jackson said, according to NFL.com. "I told a cameraman 'Do me a favor, turn this camera on.' And he did, and I told him I would win MVP, the score, everything. We talked about that tape for a long time after."
What's Dexter Jackson doing now?
Dexter Jackson is a guy who doesn't take things for granted. He's a Super Bowl MVP and has always realized how much it has meant to him. "I love history, love looking at the history of the game, and there were guys there before me who weren't able to jump over that hurdle and get that championship," Jackson told The Tampa Bay Times. "Jim Kelly went four times and couldn't win, Thurman Thomas, guys like that."
Today, Jackson is giving back. Since his NFL days, he's gone into coaching, getting his first full-time gig at Alabama State in 2015, coaching the defensive backs. He's also become a coach and mentor to kids. '"It was awesome. It's always been my passion to help the youth and give back and coach," he said.
Jackson is very much involved with youth organizations and various programs to help fight hunger. According to a Tampa Bay Times 2021 Q&A with Jackson, he's working as a sports and youth manager at the Tampa Bay Housing Authority. He and his wife Tina have four daughters.