Larry Fitzgerald Just Took a Massive Step Toward Finally Winning a Championship Ring
Larry Fitzgerald doesn't need to keep playing football.
In fact, he could have retired from the NFL years ago and still been considered a lock to get inducted into the Pro Football Hall of Fame. Yet the legendary wideout has extended his career into his late 30s in an effort to lead the Arizona Cardinals to a Super Bowl title.
Fortunately for Fitzgerald, his chances of winning a championship ring have officially gone up. And if all goes according to plan, he will get to sip on some celebratory champagne well before the 2021 NFL season even begins.
Larry Fitzgerald still has one item missing from his Hall of Fame resume
You don't have to be a Cardinals fan to appreciate what Fitzgerald has done across the course of his decorated career. After entering the league as the No. 3 overall pick of the 2004 NFL Draft, he immediately became the face of a franchise that desperately needed a marketable star. Nearly two decades later, the former University of Pittsburgh standout remains synonymous with the team he joined back when Kyler Murray was just 7 years old.
An 11-time Pro Bowler and a member of the NFL 100th Anniversary All-Time Team, Fitzgerald racked up prolific pass-catching numbers during his prime. Outside of an injury-shortened 2006 season in which he recorded 946 receiving yards, the Minnesota native surpassed the 1,000-yard threshold every year from 2005-11. That period also included a magical 2008 playoff run in which Fitzgerald posted an eye-popping final stat line of 30 receptions for 546 yards and seven touchdowns in four games.
Unfortunately for the sure-handed wideout, the Cardinals couldn't put the Pittsburgh Steelers away in Super Bowl 43. And despite earning a postseason berth the following year, the team got eliminated in the opening round.
During the last decade, Arizona only made the playoffs twice. Both appearances came under Bruce Arians, who retired (temporarily) after the 2017 season. As a result, Fitzgerald still hasn't experienced the thrill of winning a title.
However, that could soon change.
Fitzgerald just took a massive step toward tasting championship glory
Luckily for Fitzgerald, he's at least been able to make a substantial amount of money playing for a mediocre franchise. With around $180 million in career earnings, the future Hall of Famer has excelled at securing tough catches and lucrative contracts. Like many athletes, Fitzgerald utilized his financial spending power to get into pro sports ownership.
If the next few weeks work out in his favor, that investment will pay off with the ultimate prize.
In January 2020, Fitzgerald purchased a minority stake in the Phoenix Suns. As arguably the most popular and recognizable athlete in the state, it made sense for the well-known star to invest in the Arizona-based NBA franchise. While the Cardinals remain a work in progress, the Suns stand four wins away from calling themselves champions for the first time in franchise history. Chris Paul and Co. defeated the Los Angeles Clippers in Game 6 of the Western Conference Finals on Wednesday to secure a spot in the NBA Finals.
That means Fitzgerald officially has a chance to win a championship ring this summer. He may not contribute anything on the court, but that shouldn't take away from his excitement about what lies ahead for the Suns. If Phoenix takes care of business against whoever emerges from the Eastern Conference, Fitzgerald will get to shine his signature smile in front of the cameras and enjoy the unfamiliar feeling of coming out on top in a meaningful game.
Will the legendary receiver win a Super Bowl ring before his NFL career comes to an end?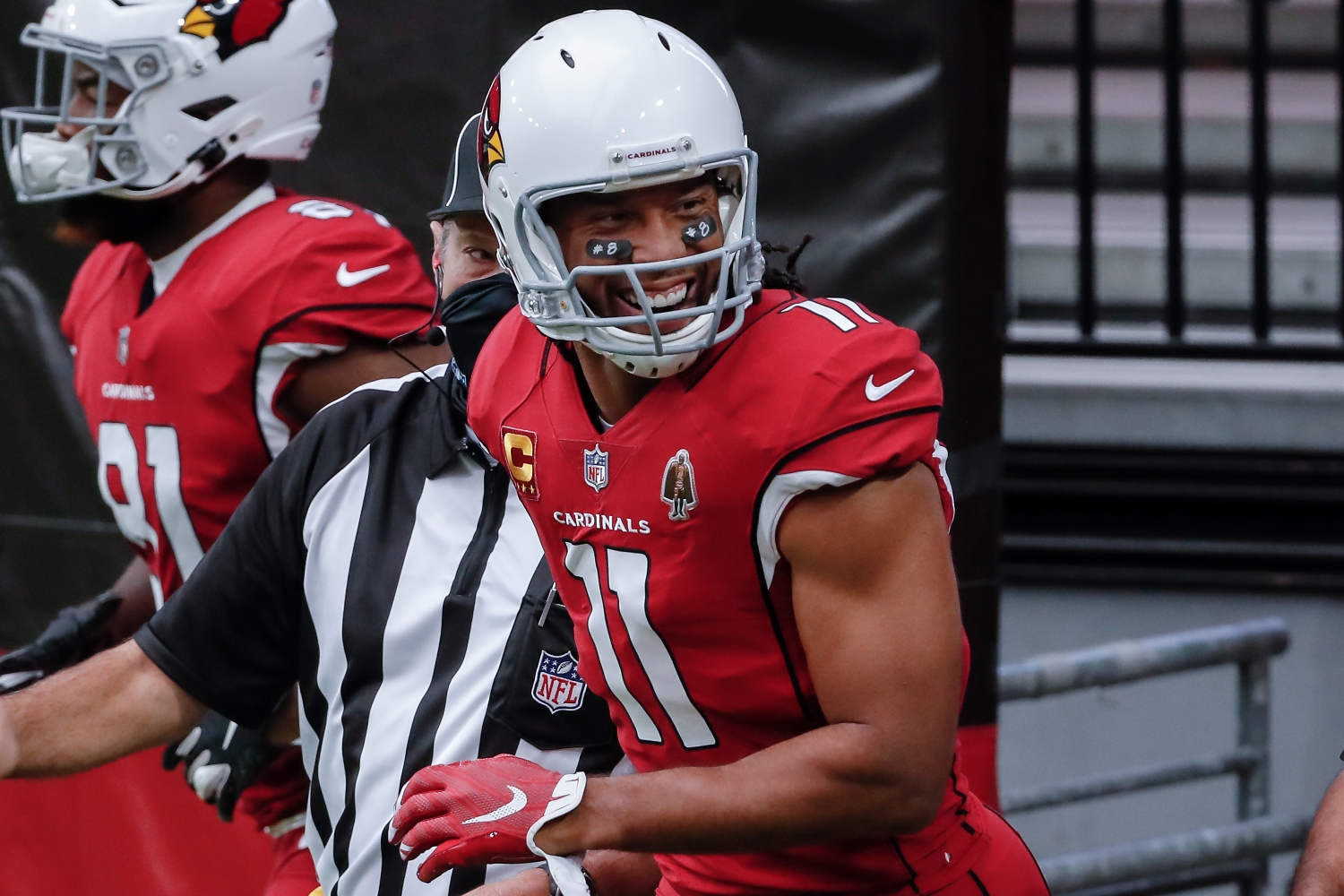 Will Fitzgerald hoist the Lombardi Trophy before he officially hangs up his shoulder pads and helmet for good?
At this point, the odds of him winning a title as part-owner of the Suns seem far greater than his chances of capturing a Super Bowl ring. Though he's currently a free agent, it seems unlikely that Fitzgerald will continue his career elsewhere considering he could have left the Cardinals for greener pastures on multiple occasions.
But if he returns to Arizona for one more year, does he have a legitimate shot at drawing a line through the last item on his NFL to-do list?
The short answer is no.
Sure, the Cardinals possess some intriguing players on both sides of the ball, including Kyler Murray, DeAndre Hopkins, Chandler Jones, and Budda Baker. But it seems foolish to think aging, injury-prone versions of A.J. Green and J.J. Watt can turn an 8-8 team into NFC champions.
And a soon-to-be 38-year-old version of Larry Fitzgerald won't scare defenses or truly move the needle for Arizona, either.