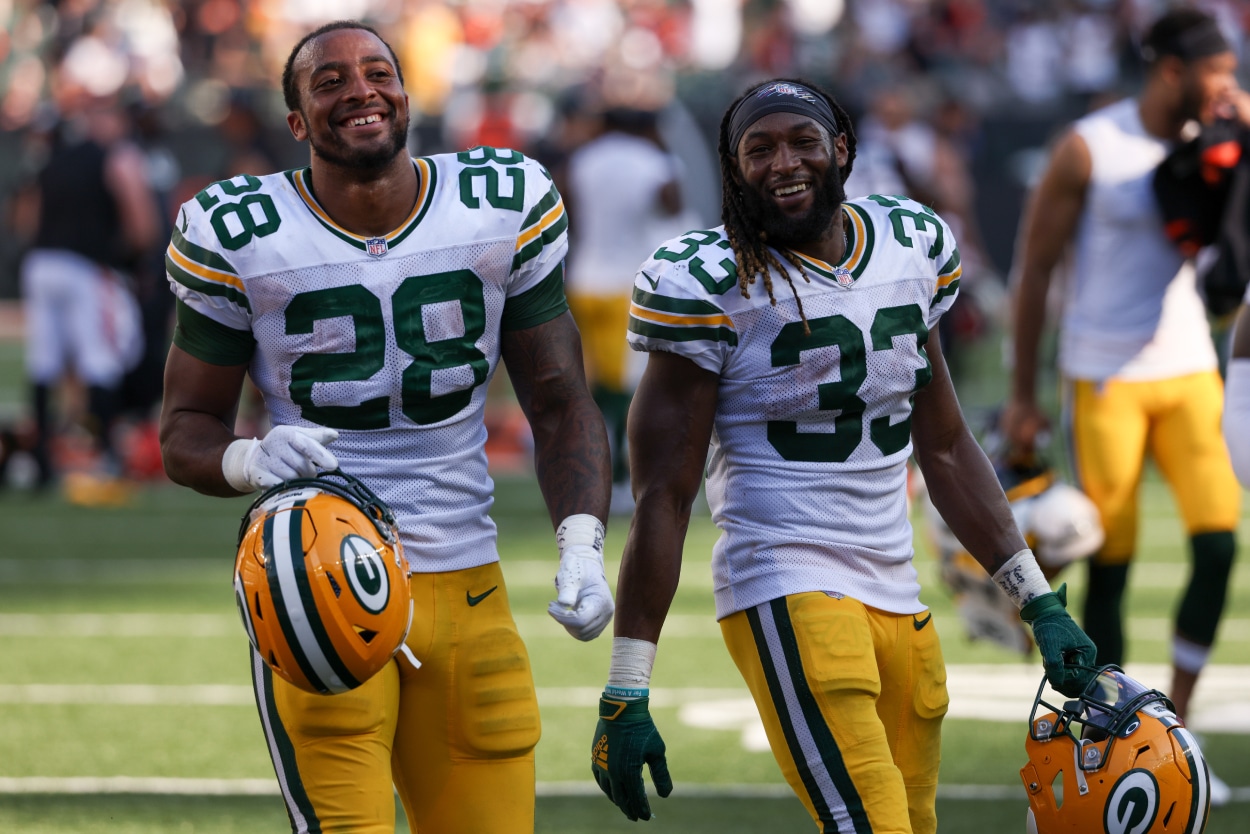 Aaron Jones on Backfield Mate AJ Dillon: 'He Went From a Guy to Our Brother'
Green Bay Packers running back Aaron Jones says he's blessed to have AJ Dillon in the backfield with him.
When it comes to the Green Bay Packers running backs, there are no egos. In 2022, that's a good thing because Aaron Jones and AJ Dillon are expected to share the spotlight.
The Packers ground game can beat you with speed and power, and there might be a heavier dose of running in Green Bay this season. Jones and Dillon might just be the NFL's best one-two punch in the backfield.
Opponents should see a heavy dose of Aaron Jones and AJ Dillon this season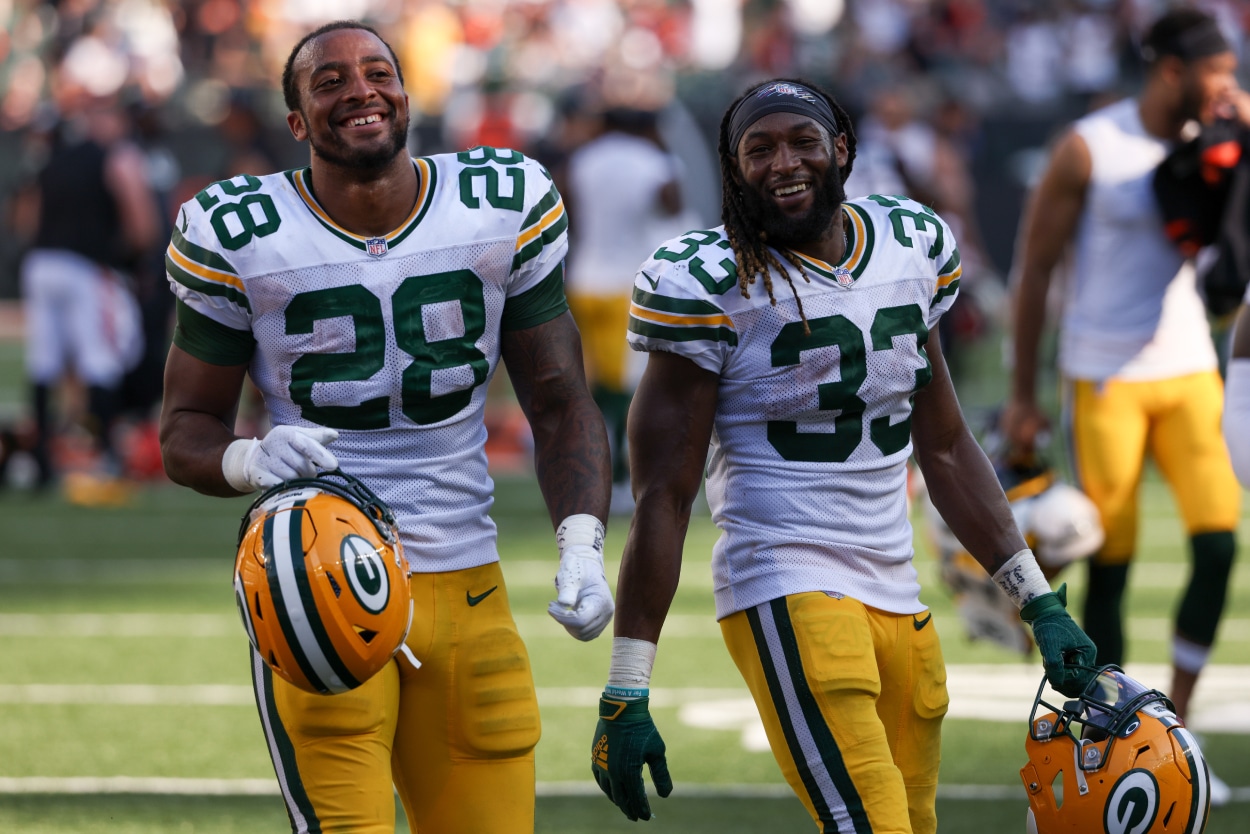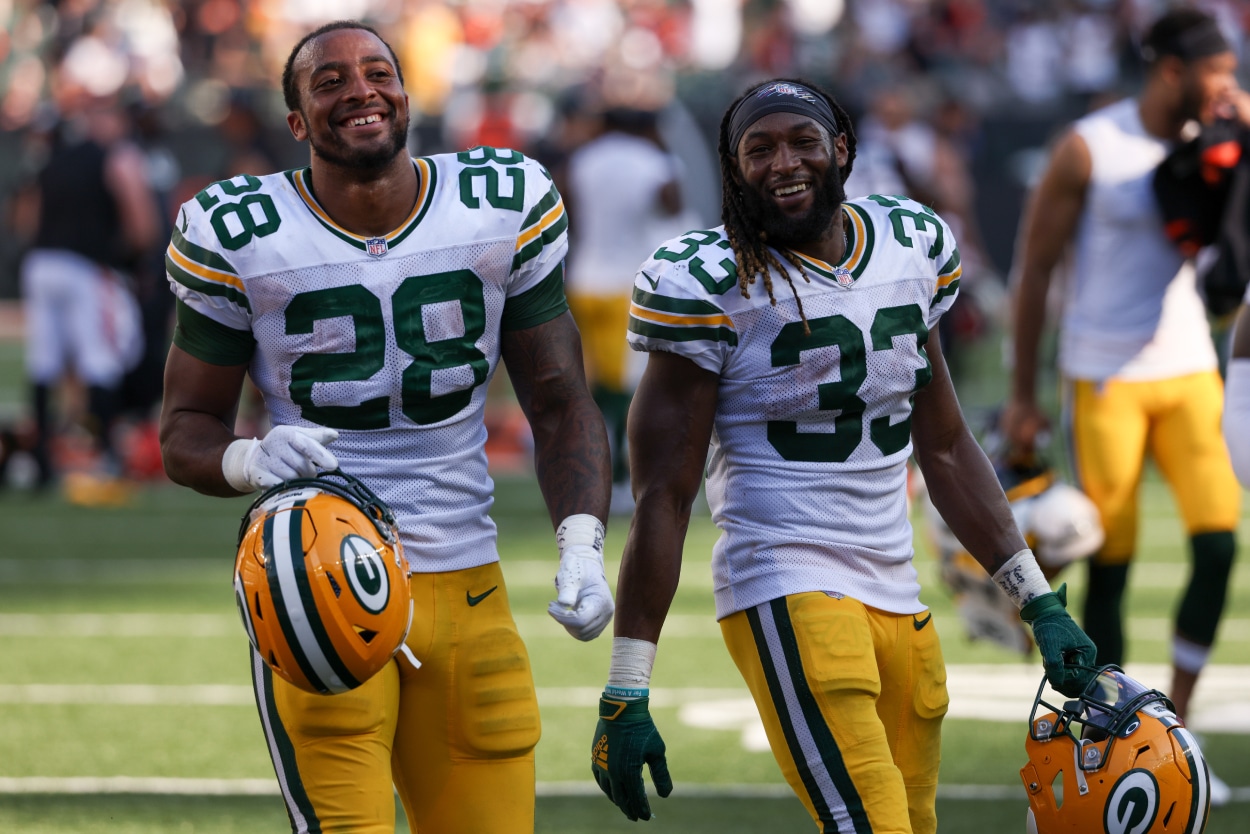 Even with four-time MVP Aaron Rodgers still under center, the Packers just might be more of a running team this season. It's not just because the Packers traded All-Pro wide receiver Davante Adams to the Las Vegas Raiders. It's not because they have don't have a true No. 1 target. They'll run the ball because they have Jones and Dillon.
Jones has already proven himself as one of the top dual-threat backs in the game. He's had two 1,000-yard rushing season in the last three years. During that stretch, he also averaged 50 catches.
Dillon is a bruising back, a downhill runner who's tough to bring down. In the past, Dillon would spell Jones. This year, defenses will see times when both are in the backfield.
"We have runs to both of them, we have swing passes to them, we have screens, we have down-the-field stuff, we have action stuff, we have scat protection, we have six-man, seven-man protection stuff," Rodgers said, per Packers.com. "There's a lot in the offense for those two guys.
"We've got to get our best 11 on the field and it seems like those two are both in the best 11."
Head coach Matt LaFleur praised Dillon for his offseason work in the passing game. He said Dillon has great hands for a guy his size.
"Not too many backs that size have those type of hands," LaFleur said during preseason. "(Dillon) made the most of his opportunities. He's a really good route runner. That's not the first thing you think of when you see a guy that size."
Jones 'blessed' to share the backfield with Dillon
If Jones is any way upset that Dillon may step in and take away some of his carries, he's certainly not showing it. For Jones, it's all about winning. Having Jones and Dillon touch the ball more often is key to Green Bay's success.
The Packers selected Dillon in their much-criticized 2020 NFL Draft. Green Bay took Dillon in the second round after trading up in the first round to snag quarterback Jordan Love.
While Love remains on the bench behind the league's reigning MVP, the Packers are finding ways to utilize Dillon and Jones together. Jones is on board with the move.
"There's packages when we're in there together," Jones told reporters this week. "You don't get a sense, because you're not in the game, of how it's going to be used. You're out there repping it, but you're not actually in a game, so you don't know how it's actually going to be called."
Jones then talked specifically about Dillon and how their relationship has grown over the last couple of years.
"He was a guy just coming in, and we were just trying to teach him," Jones said. "He went from a guy to our brother very quickly. I'm blessed to have him in the backfield with me. I believe at this level, it takes more than just one capable back, and we have another great back right there. Like I said, I'm blessed to share the field with him and teach him everything I know, and he'll teach me everything he knows."
Like Sportscasting on Facebook. Follow us on Twitter @sportscasting19 and subscribe to our YouTube channel.