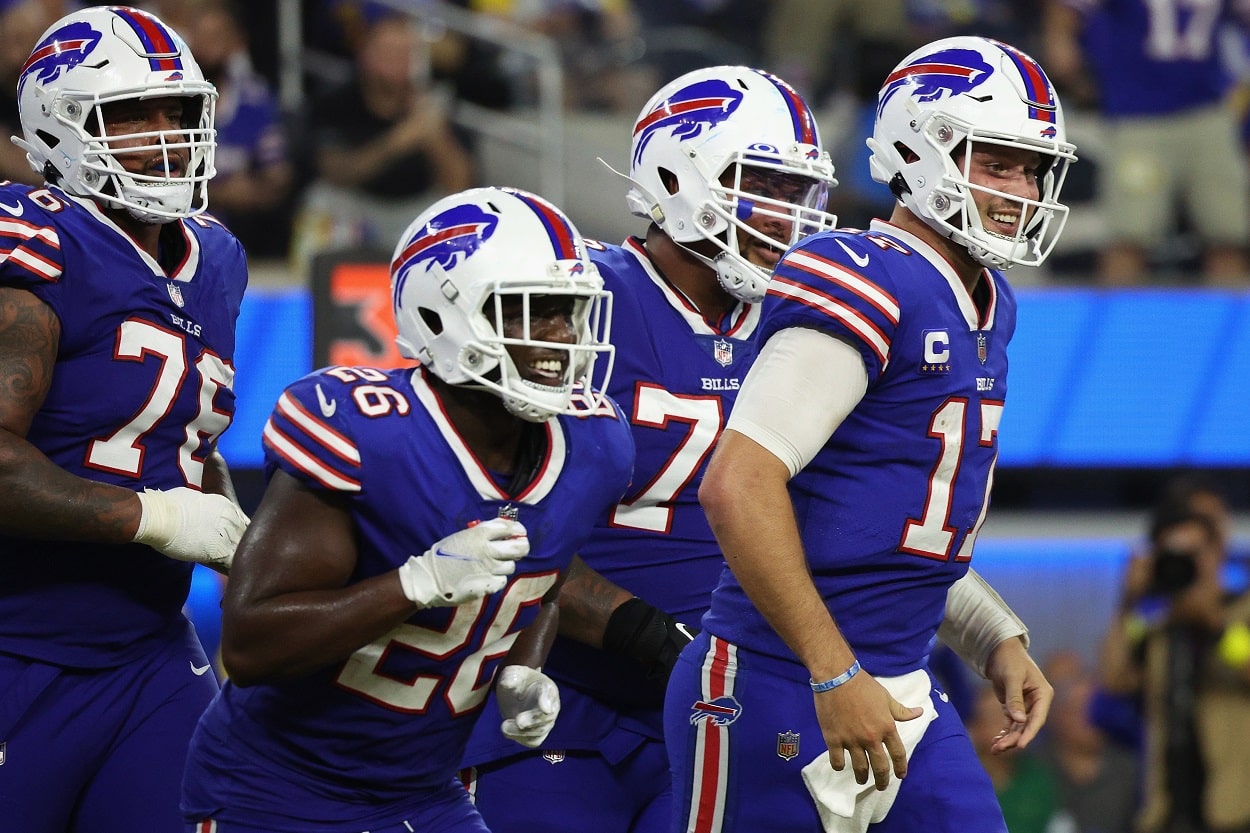 Fantasy Football 2022: Get All the Buffalo Bills You Can On Your Roster
Josh Allen and the Buffalo Bills are likely to score more fantasy football points than any other NFL team in 2022.
While sitting in on a friend's podcast on an early Saturday morning a couple of weeks back, I made an off-the-cuff comment on fantasy football draft strategies soon after I sat down.
"Just give me all the Buffalo Bills," I said.
So, my reaction to Thursday night's 31-10 beatdown of the Rams isn't one of my knee-jerk overreactions that are very popular among fantasy owners from week to week.
Several NFL rosters will put up huge fantasy numbers this season, including the usual suspects like the Chiefs, Bucs, and, at some point, the Rams, the Chargers, Raiders, and Broncos in the loaded AFC West.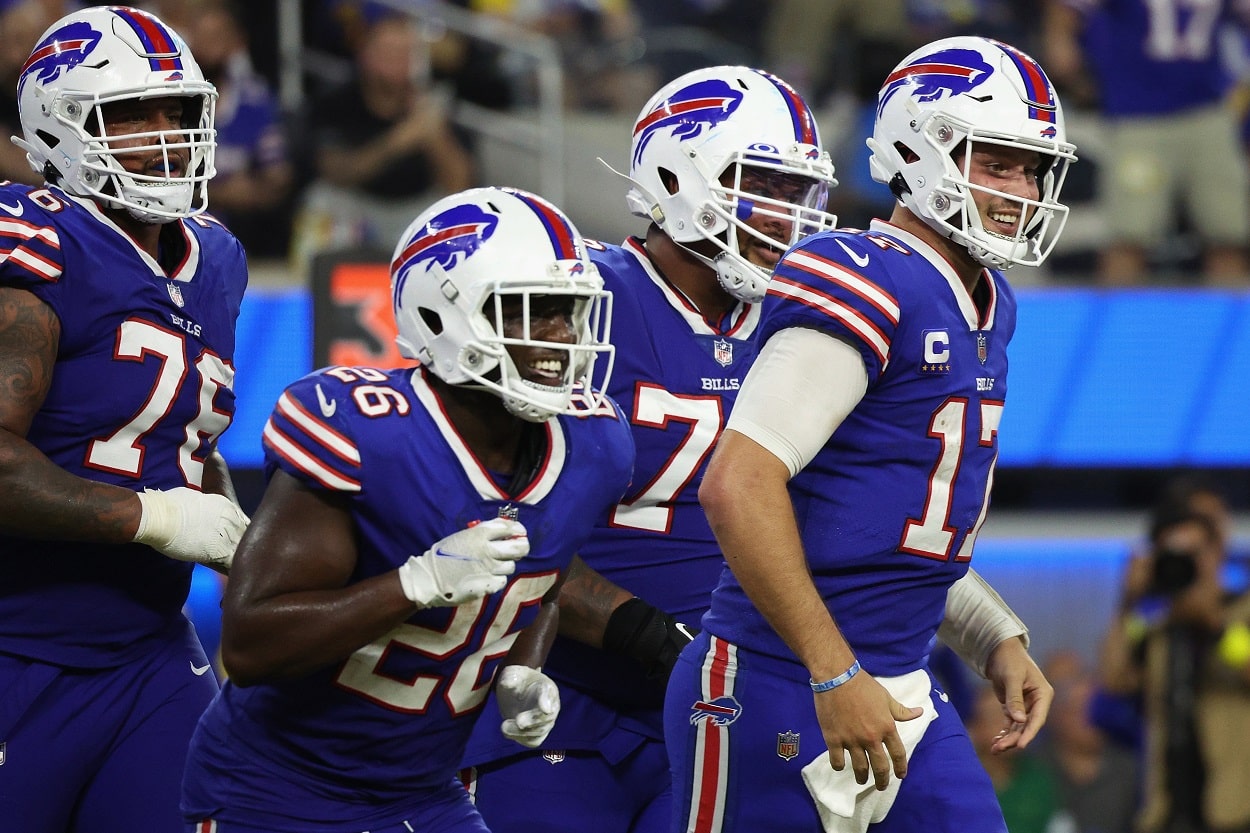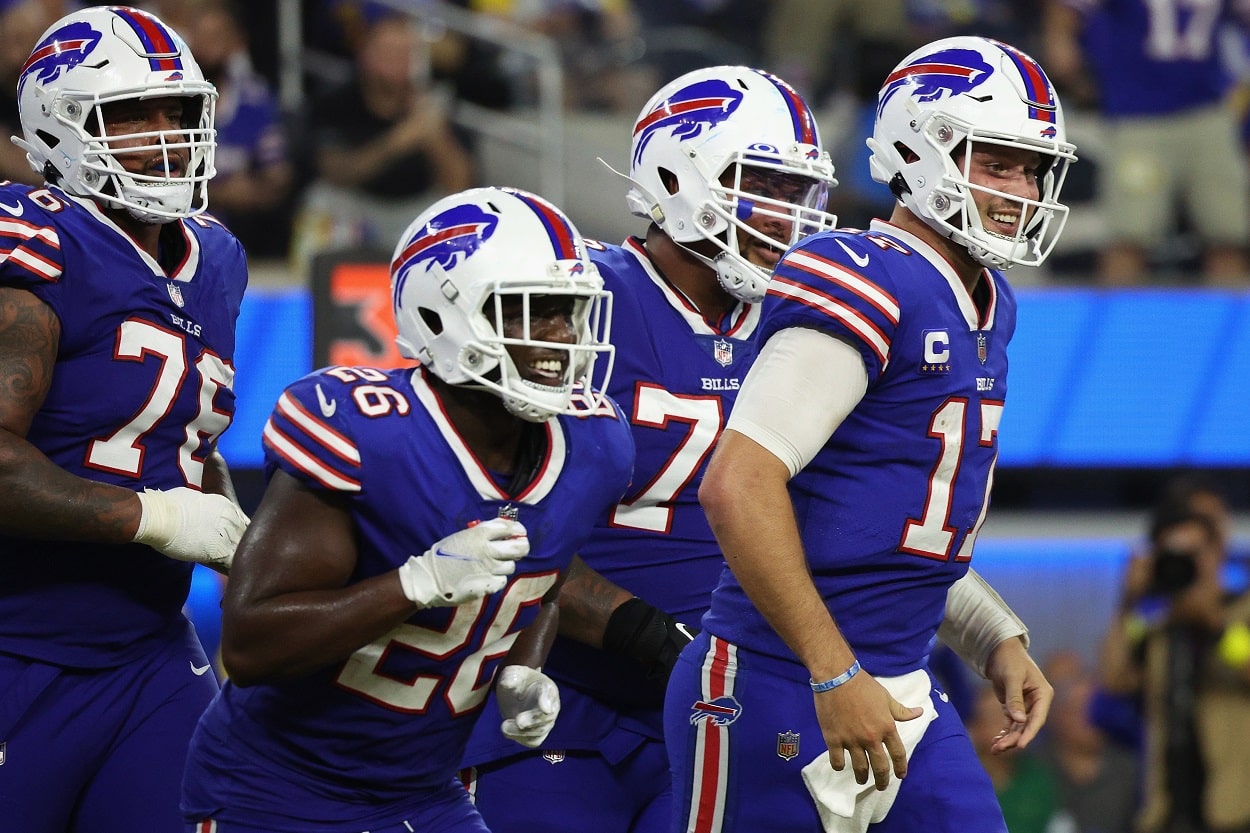 The top teams in terms of fantasy production – Tampa Bay (2.034.6 fantasy points), Dallas (1,944), and Kansas City (1,888.2) – will be hard-pressed to repeat their totals from last season.
Both Dallas and Tampa Bay have questions about their offensive lines, and Kansas City has been forced to retool its receiving corps around Mahomes. The constant for all of those teams and the Bills is outstanding quarterback play, so they all figure to be near the top in fantasy production once again.
The Chargers – sixth in 2021 with 1,841.6 fantasy points – figure to be even better with QB Justin Herbert, RB Austin Ekeler, and a well-above-average receiving corps led by veteran Keenan Allen. 
But give me the Bills, who proved a point against an outstanding Rams defense Thursday night, a performance that most suspect will be a harbinger of things to come this season.
The Bills are loaded with pass catchers for Josh Allen
Last season, the Bills were fourth in fantasy point production with 1,870.4 fantasy points behind QB Josh Allen's 402.6 PPR fantasy points.
Allen has surpassed Kansas City's Patrick Mahomes as the No. 1 quarterback in fantasy, thanks partly to his rushing ability, particularly in the red zone. He added six rushing touchdowns to his 36 passing TDs last season.
Against the Rams on Thursday, he started the 2022 season where he left off with 31.7 fantasy points, which included a rushing touchdown and three touchdown passes to three different receivers, including one to No. 1 wideout Stefon Diggs.
Diggs caught 103 passes for 1,225 yards and 10 touchdowns for 285.5 fantasy points in what almost seemed like a down year for Allen's favorite target. Of course, it wasn't, but that's because expectations were perhaps ridiculously high for the duo.
That hasn't changed, and the pair, along with No. 2 receiver Gabe Davis (125.8 fantasy points in 2021), who had four catches for 88 yards and a TD Thursday night, compose one of the more formidable trios in the NFL this year. Davis (35-549-6 in 2021) exploded with a record four touchdown catches in last season's classic playoff game against the Chiefs and figures to carry that momentum into 2022.
Tight end Dawson Knox was second on the Bills behind Diggs in touchdowns with nine, finishing the season with 164.1 fantasy points. In 15 games, he recorded 49 catches for 587 yards. There may be a touchdown regression for Knox, but that doesn't mean there will be a TD regression for the Bills.
Davis and free-agent edition Jamison Crowder and the returning Isaiah McKenzie figure, both in the slot, figure to get their share of targets.
Is RB Devin Singletary part of a committee?
Running back Devin Singletary seemed to establish himself as the Bills' lead back during the second half of the 2021 season – a welcome development for fantasy owners. Over his last five regular-season games, Singletary scored 98.5 fantasy points (19.7 ppg), nearly equaling his total over the first 12 weeks of the Bills' season. He finished with 197.8 points on the year.
If Thursday was any indication, the Bills will be using a running back-by-committee approach with Singletary and Zach Moss, who split 22 touches nearly evenly (Moss 12, Singletary 10). The two combined for 15.8 points (Singletary 8.2, Moss 7.6). 
Rookie James Cook fumbled his only carry and didn't get another touch. He'll have to earn back the trust of the coaching staff.
Moss was eighth on the team a year ago with 105.2 fantasy points but was an afterthought down the stretch as Singletary took over most of the backfield touches.
It may be difficult for fantasy owners to trust Singletary, Moss, or Cook from week to week. But combined, they figure to be formidable for the Bills.
The Bills bring back a sturdy defense
The Bills' defense/special teams units contributed 151 fantasy points last season, ranking them fourth in fantasy points and clustered among a trio of teams – New England (158) and Miami(155) – behind Dallas (185 points) last season.
The Cowboys scored nine touchdowns on defense and special teams in 2021 – an aberration that probably won't be repeated by Dallas – or potentially not anyone else – this season.
That leaves the Bills' defense, which added veteran pass rusher Von Miller and depth in the defensive backfield in the offseason, still among the best in fantasy. Last season, the Bills recorded 42 sacks, 19 interceptions, 11 fumble recoveries, a safety, and scored a touchdown.
With Miller in the fold, the Bills scored 18 fantasy points in the season opener against the Rams, intercepting Matt Stafford three times and recording seven sacks.
One game isn't a trend, but it's nothing to ignore either.
Stats courtesy of Pro Football Reference
Like Sportscasting on Facebook. Follow us on Twitter @sportscasting19 and subscribe to our YouTube channel.