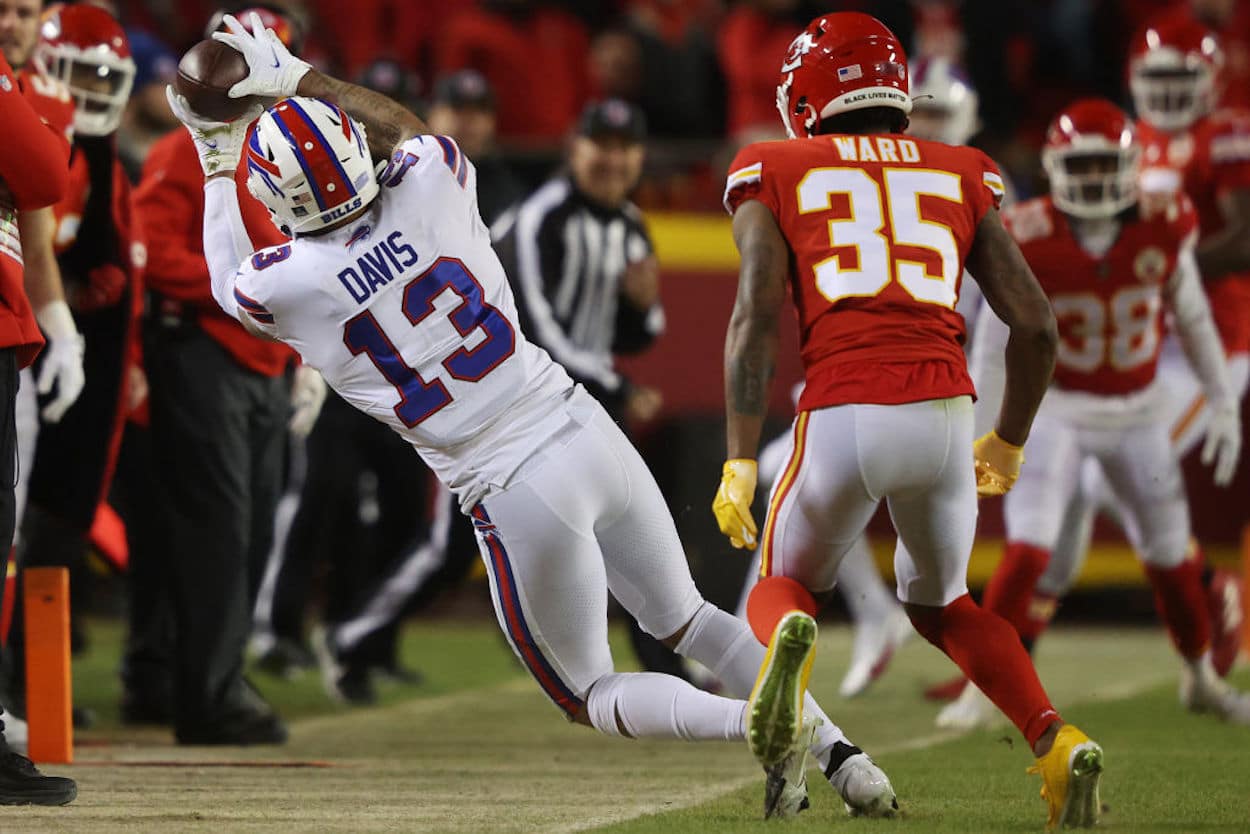 Gabe Davis and the 5 Receivers Who Are Primed to Explode in 2022
Defense may win championships, but the modern NFL is all about offense. Here are five receivers who could make all the difference in 2022.
The NFL is a constant revolving door of talent. One of the biggest questions leading into the season is which new players will burst onto the scene and become a household name.
Last year Ja'Marr Chase stole the spotlight, and the year before belonged to Justin Jefferson. Yes, both were highly-touted rookies in good situations. But the breakout stardom could happen to anyone on any team, evident by Michael Pittman Jr. and Hunter Renfrow having career years in 2021.
In a league that sees emerging stars every year, let's take a look at five potential breakout candidates for this upcoming season.
Gabe Davis, Buffalo Bills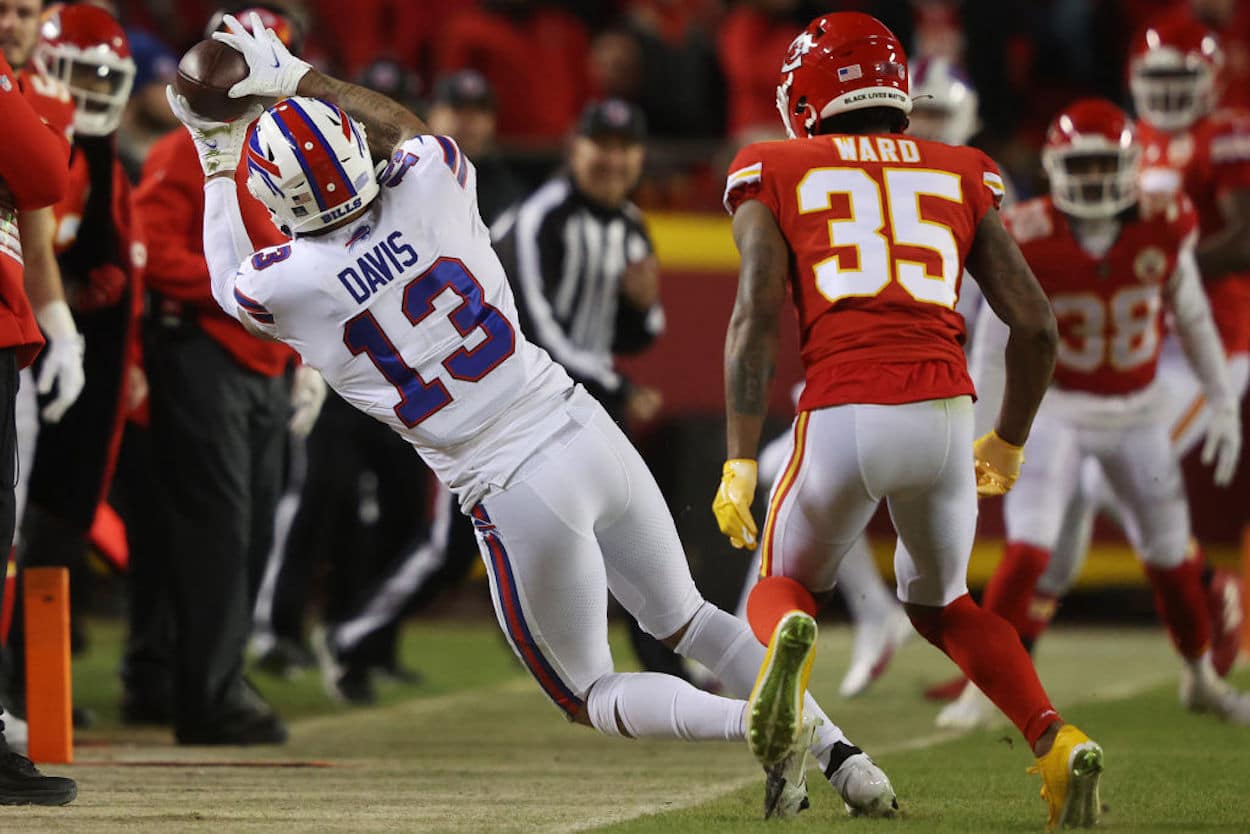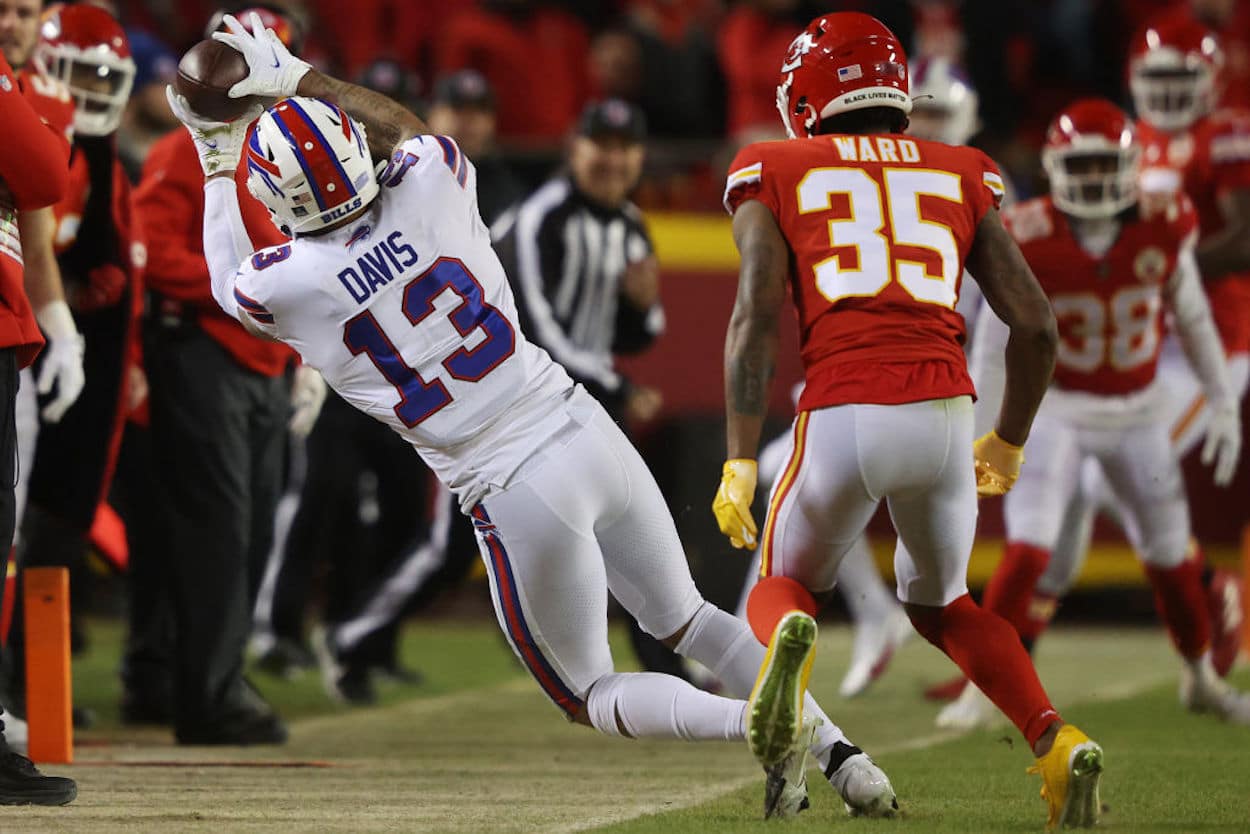 Gabe Davis is a name all football fans must know heading into the 2022 campaign. He'll be entering his third season in the league with the Buffalo Bills and has as much upside as any player out there.
Davis was the WR4 on the Bills roster last season, but the 23-year-old exploded in the AFC Divisional Round against the Kansas City Chiefs. He caught eight passes for a career-high 201 yards and four touchdowns. This breakout performance, in which he became the first player in NFL history to catch four touchdowns in a single postseason game, gave everyone a glimpse at Davis' potential when playing in a larger role.
The UCF product played in 16 games last year but only started four of them and has yet to eclipse more than 35 receptions or 600 receiving yards in a single season. 
Part of what was holding him back last year were the receivers ahead of him on the depth chart. With Emmanuel Sanders and Cole Beasley out of the picture in Buffalo, Davis will be Josh Allen's second option, giving way for him to receive more touches throughout the season.
Jerry Jeudy, Denver Broncos
Jerry Jeudy is already battle-tested, even though he's only played two NFL seasons. His rookie year was filled with highs and lows, as he finished with 856 receiving yards and three scores but also had the third-most drops in the league with 10. Fast-forward to year two, and he was forced to miss an entire month with a high ankle sprain. Jeudy was never the same when he returned, finishing 2021 with 467 yards and zero touchdowns.
During this time, he was catching passes from the likes of Drew Lock and Teddy Bridgewater. Both are OK options at quarterback but aren't the most accurate passers, and the receiver's numbers suffered because of it.
That shouldn't be an issue anymore with Russell Wilson throwing him the ball in Denver. Having an elite quarterback leading the charge should make a sizable difference in Jeudy's production. Plus, the Broncos hired an offensive-minded head coach in Nathaniel Hackett, who should make Denver's passing attack the most efficient and dynamic it's been since the Peyton Manning era.
Jeudy has been slightly disappointing since entering the league, but with Wilson at quarterback and Hackett at head coach, there's no reason he shouldn't set career highs in 2022.
Rashod Bateman, Baltimore Ravens
Following the departure of Marquise Brown this offseason, Rashod Bateman found himself as the top receiver in Baltimore heading into the new campaign.
Bateman didn't have the most impressive rookie year. He started in just five games and went for 515 yards and one touchdown. His lack of production was slightly due to him and Lamar Jackson not being on the field enough together. Both players missed five games at separate parts of the season, which resulted in them only playing six full games together last season.
Either way, his numbers should look a lot different in 2022.
Two other receiver options from last season, Brown and Sammy Watkins, are no longer on the team. Mark Andrews is still around, but opposing teams will recognize his presence and try to lock him down, forcing other players to step up.
The Ravens invested a first-round pick in Bateman, and with no other reliable options on the roster, it is his time to be Jackson's top wideout. The opportunity has presented itself, and he should take full advantage this season.
Josh Palmer, Los Angeles Chargers
Josh Palmer had a rough start to his rookie campaign but came alive toward the end of the season, catching a touchdown in three of the Chargers' final five games.
Now in year two, Palmer will be looking to make a big jump despite having his work cut out for him in Los Angeles. He'll be the third receiver on the depth chart behind veterans Keenan Allen and Mike Williams. In most situations, this wouldn't allow for a breakout season, but it does for Palmer, who will be in the mix of one of the best offenses in the NFL.
The Chargers finished with the fourth-most yards last season. With most of the offensive pieces returning and Justin Herbert likely being an MVP candidate next season, there's no reason the offense shouldn't be equally, if not more, explosive in 2022.
Palmer has already made a big impression on the coaching staff in training camp and continued to make plays in the preseason. He should carry over that success into the regular season, and with more snaps and targets, he'll be another name to watch on the dynamic Chargers offense.
Rondale Moore, Arizona Cardinals
At first glance, it may not seem like Rondale Moore is in a position to break out. However, this is the perfect opportunity for him to showcase his potential.
The Arizona Cardinals had a relatively busy offseason. Christian Kirk, the team's leading receiver in 2021, left in free agency for the Jacksonville Jaguars, while All-Pro wideout DeAndre Hopkins is going to miss the first six weeks of the regular season for violating the league's PED policy.
This means the best returning receivers on the Cardinals roster for the first six weeks will be Moore and 34-year-old AJ Green. Arizona did trade for Marquise Brown to help incentivize Kyler Murray to stay, but every throw won't go his way, and the QB will have to spread the ball around to keep defenses on its heels.
Moore did have flashes of brilliance as a rookie, going for 182 receiving yards in his first two games. However, he couldn't maintain that level of play throughout the season, as he only managed 253 receiving yards the rest of the way. Still, the 22-year-old provided plenty of versatility on offense as both a receiver and rusher.
A large number of his targets were on short throws (8.1 yards per reception, 1.4 average depth of target), where he primarily lined up in the slot and out of the backfield. Head coach Kliff Kingsbury will have to scheme up some plays that allow him to get open further down the field beyond short routes and quick screens.
Moore should see an increase in targets and be one of Murray's go-to pass catchers, especially during the time when Hopkins is sidelined.
Stats courtesy of Pro-Football-Reference.