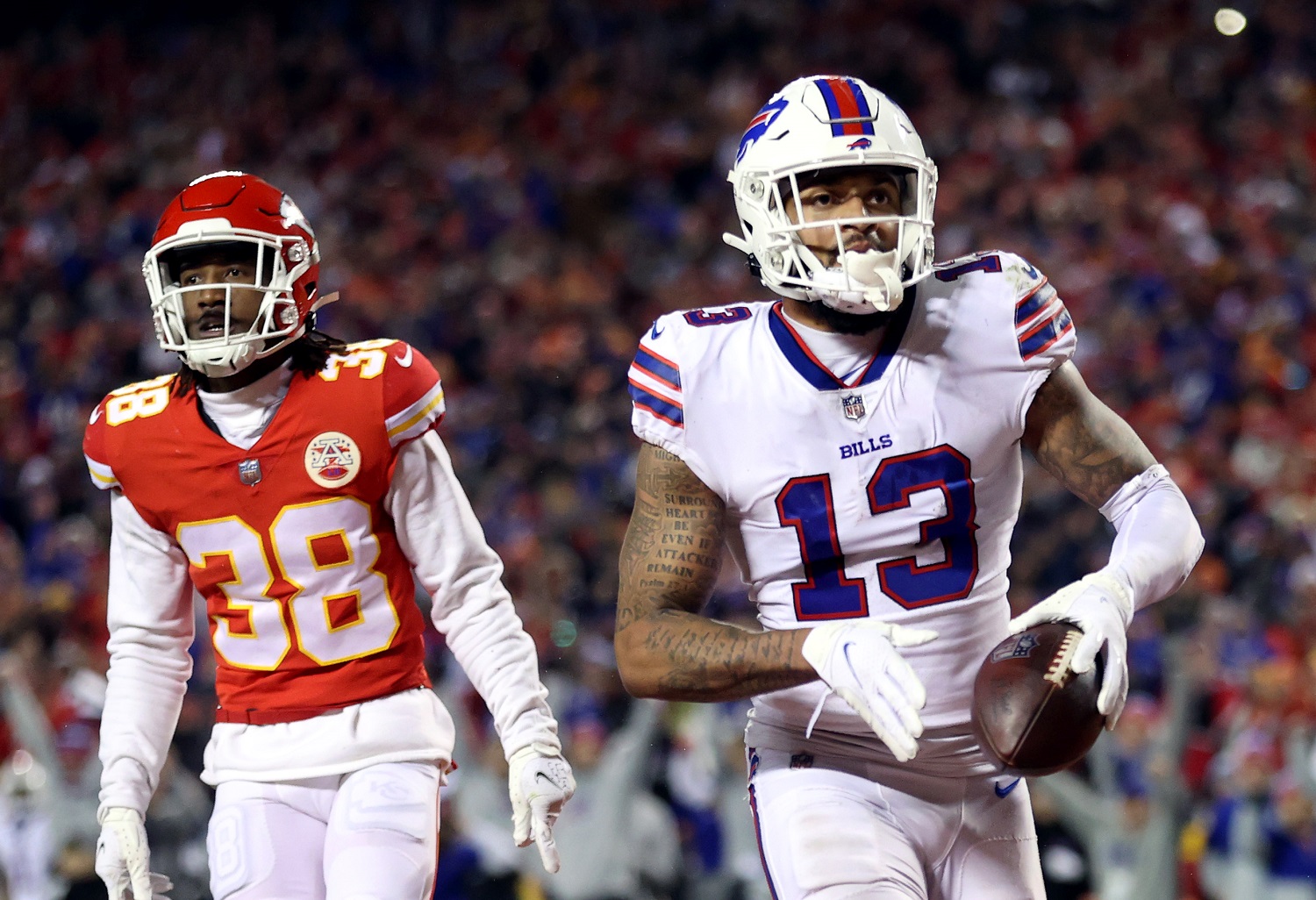 Everything You Need to Know About Gabriel Davis, the Buffalo Bills' Record-Setting Receiver
Gabriel Davis capped his second NFL season with an effort for the ages. The Buffalo Bills receiver made eight catches for 201 yards and four touchdowns in the Divisional Round loss to the Kansas City Chiefs in overtime.
If not for Patrick Mahomes behaving like Patrick Mahomes when the Kansas City Chiefs needed him most, Gabriel Davis would be the talk of NFL circles after quite possibly the greatest weekend of playoff football ever.
All four Divisional Round games Saturday or Sunday came down to a winning score on the final play. Field goals to close out regulation settled three contests. The fourth saw Mahomes and the Chiefs beat Josh Allen and the Buffalo Bills in overtime, 42-36, on a touchdown pass to Travis Kelce on the right edge of the end zone.
The play negated a breakout performance from Davis, practically an afterthought selection at wide receiver in the 2020 NFL Draft.
Gabriel Davis' career day nearly carried the Buffalo Bills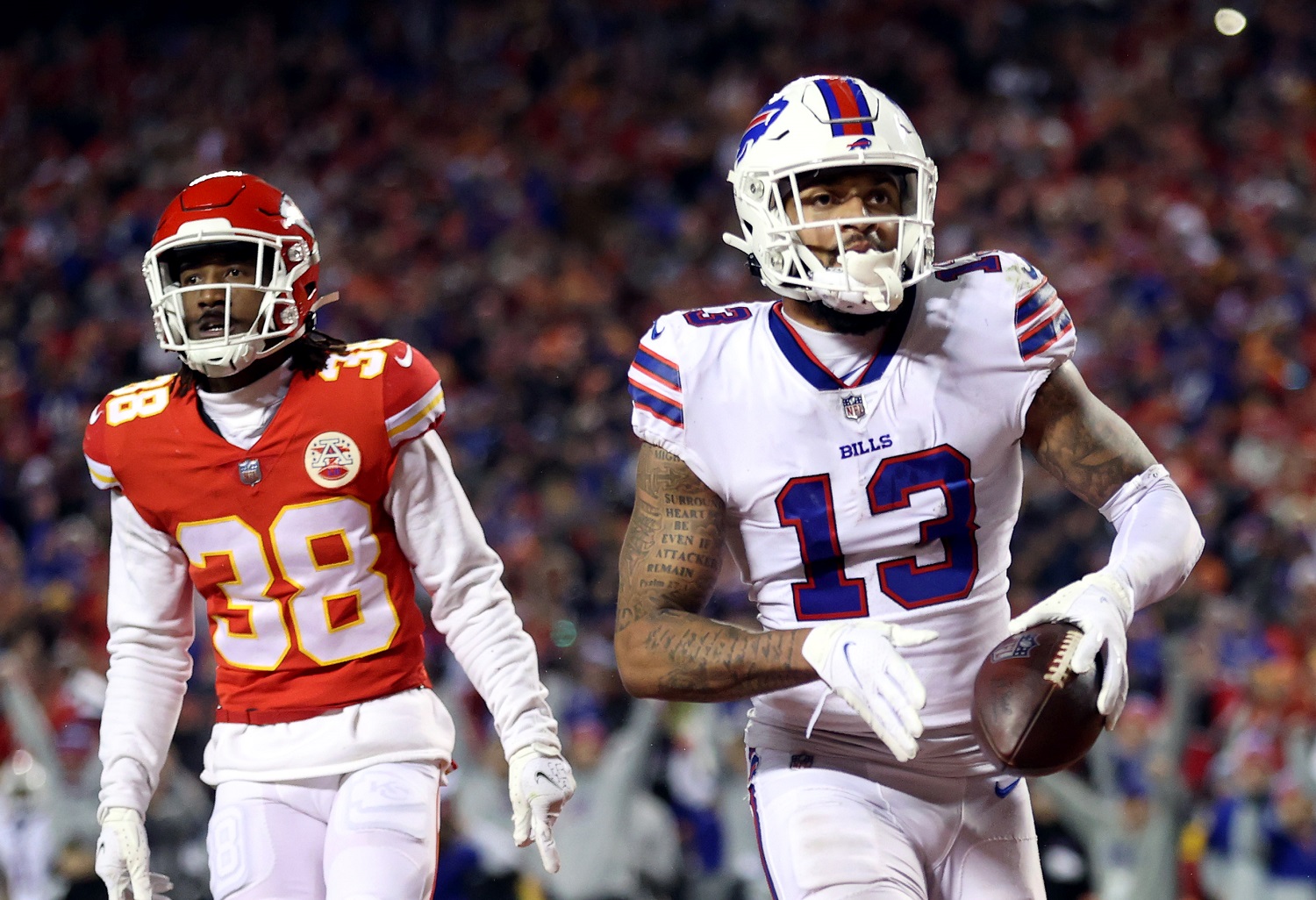 Until Sunday's heartbreaking loss, Gabriel Davis' stat line in four career playoff games was a modest six catches for 126 yards and a touchdown, with the score coming a week ago in the Super Wild Card Weekend domination of the New England Patriots after the outcome was no longer in doubt.
That wasn't the case in the Divisional Round against the Kansas City Chiefs. Davis went for eight catches, 201 yards, and four touchdowns. While people were comparing the exploits of Patrick Mahomes and Josh Allen to Peyton Manning and Tom Brady, Davis was doing his best Jerry Rice imitation. His scoring rampage set a record for TD receptions in an NFL playoff game. And the Bills needed every one of them.
Davis' 18-yard catch in the second quarter sent the game to halftime tied. His 75-yarder late in the third quarter came three plays after the Chiefs retook momentum and built a nine-point lead on Mecole Hardman's 25-yard jaunt.
In the fourth quarter, Davis put Buffalo ahead twice: on a 27-yarder just inside the two-minute warning and a 19-yarder with :13 to go. Patrick Mahomes' wizardry made it for naught, but that didn't diminish Davis' brilliant day of playing high-stakes catch with Allen.
The Buffalo Bills drafted Gabriel Davis in 2020
Gabriel Davis was born on the Florida-Georgia border north of Jacksonville on April 1, 1999, and played football as a teen at Seminole High in Sanford, Florida, less than an hour north of Orlando. There, he earned all-state honors following the team's 12-1 season that ended with Davis making 11 catches for 182 yards and two touchdowns in a 37-34 playoff loss.
Davis stayed close to home for college, accepting a scholarship half an hour to the south at the University of Central Florida. Davis played extensively in 2017 as an 18-year-old true freshman, finishing with 27 catches for 391 yards and four TDs.
As he filled out to 6-foot-2 and 210 pounds, Davis' role at UCF grew. He caught 53 balls for 815 yards and seven touchdowns in 2018, then added 72 catches for 1,241 yards and a dozen scores as a junior. He finished his UCF career with 23 touchdown catches, second in school history.
Davis skipped his senior season to enter his name into the 2020 NFL Draft. That draft will be remembered for being conducted virtually in the early days of the pandemic, and it appears destined to be recalled as potentially a legendary one for quarterbacks (Joe Burrow,  Justin Herbert, Jalen Hurts) and wideouts.
The Buffalo Bills made Davis the 128th pick overall, late in the fourth round, and the 17th receiver to come off the board. Led by CeeDee Lamb, Justin Jefferson, and Tee Higgins, eight of the 16 ahead of Davis already have 80 or more catches in their first two regular seasons.
The Buffalo Bills have found a weapon to add to Josh Allen's arsenal
It wasn't long ago when the Buffalo Bills had issues quarterback at wide receiver. Drafts, trades, and free agency have allowed GM Brandon Beane to rebuild, primarily around quarterback Josh Allen and receiver Stefon Diggs, in his second season following a trade with the Minnesota Vikings.
Cole Beasley has been a high-volume catcher, too, and journeyman Emmanuel Sanders just gave the Bills a solid first season.
Suddenly, Gabriel Davis looks like much more than just a No. 4 guy on the depth chart after becoming the ninth receiver in NFL history to amass 200 receiving yards in a postseason game, second only in team history to 240 yards by Eric Moulds against the Miami Dolphins in a 1998 Wild Card contest.
Davis made 35 catches for 599 yards and seven touchdowns in 2020 as an NFL rookie. He followed in the just-completed season with another 35 catches for 549 yards and six scores.
However, he made 25 receptions for 416 yards over the final eight regular-season games, signaling a growing role in the offense and making Davis a player to watch in the 2022 season.
All stats courtesy of Pro Football Reference.