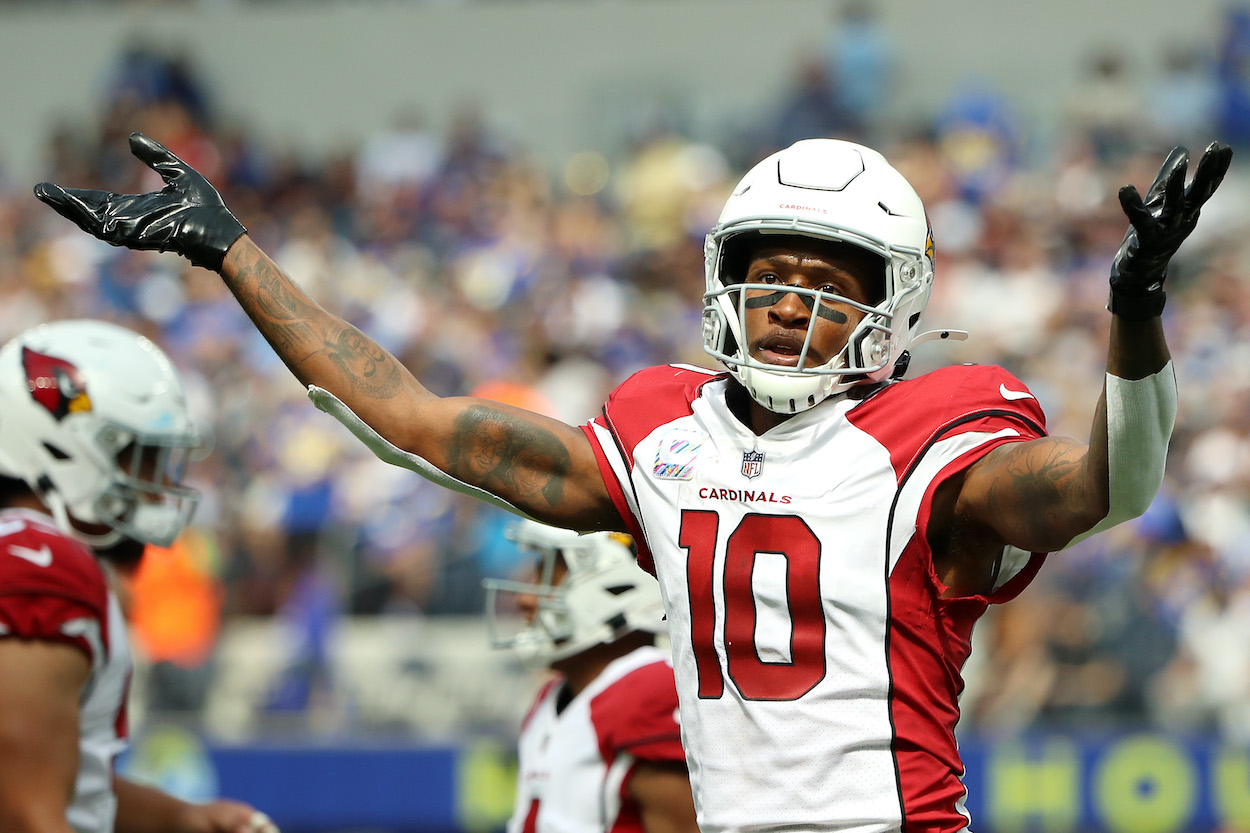 DeAndre Hopkins Vows to 'Get to the Bottom' of How He Tested Positive for PEDs
Suspended Arizona Cardinals WR DeAndre Hopkins doesn't know how PEDs got in his system and he is on a mission to find the cause of his failed drug test.
As the NFL world came down from and looked back at the 2022 NFL Draft, shocking news broke. Arizona Cardinals star wide receiver DeAndre Hopkins will miss the first six games next season for violating the league's performance enchaining drug (PED) policy.
Shortly after the news came out, Hopkins' agent, and the player himself, denied any wrongdoing. They also vowed to uncover what mysterious substance could have caused this failed drug test.
Arizona Cardinals WR DeAndre Hopkins will miss six games due to a positive PED test after missing eight games last season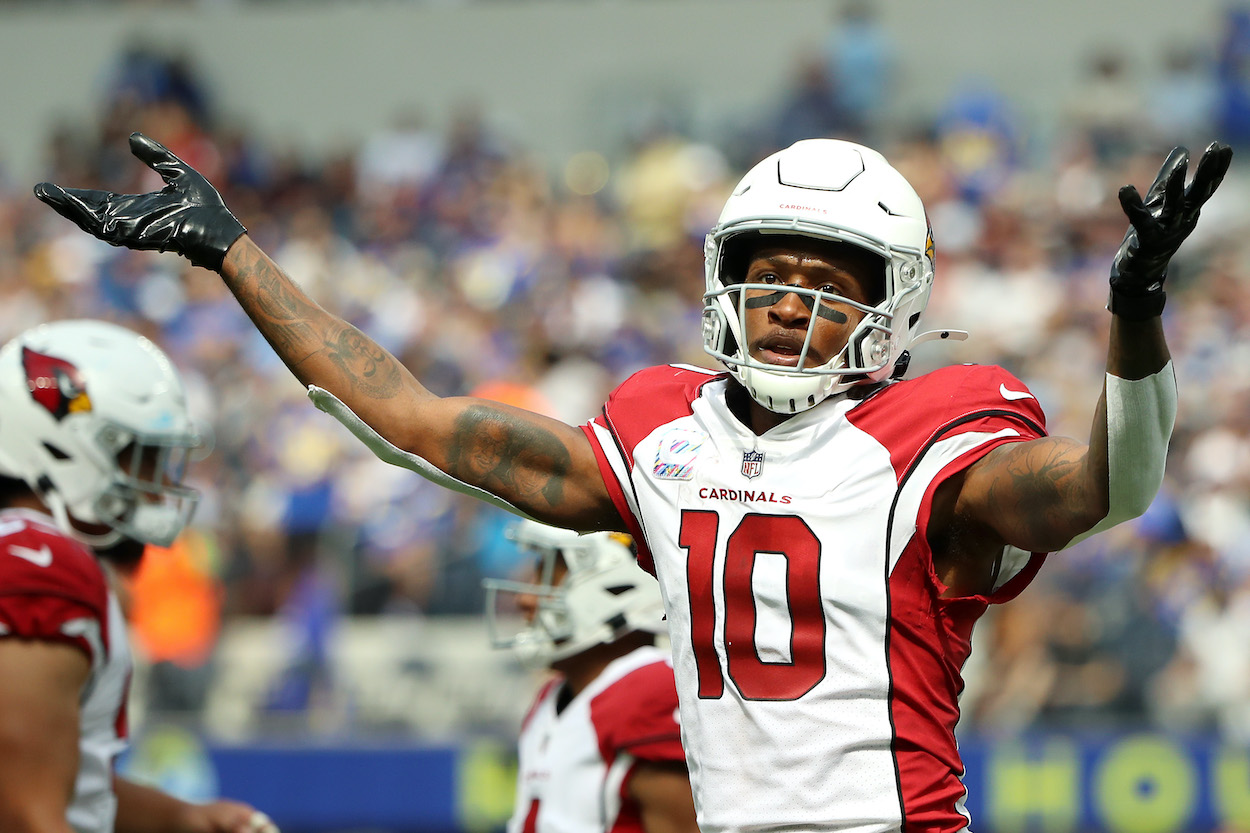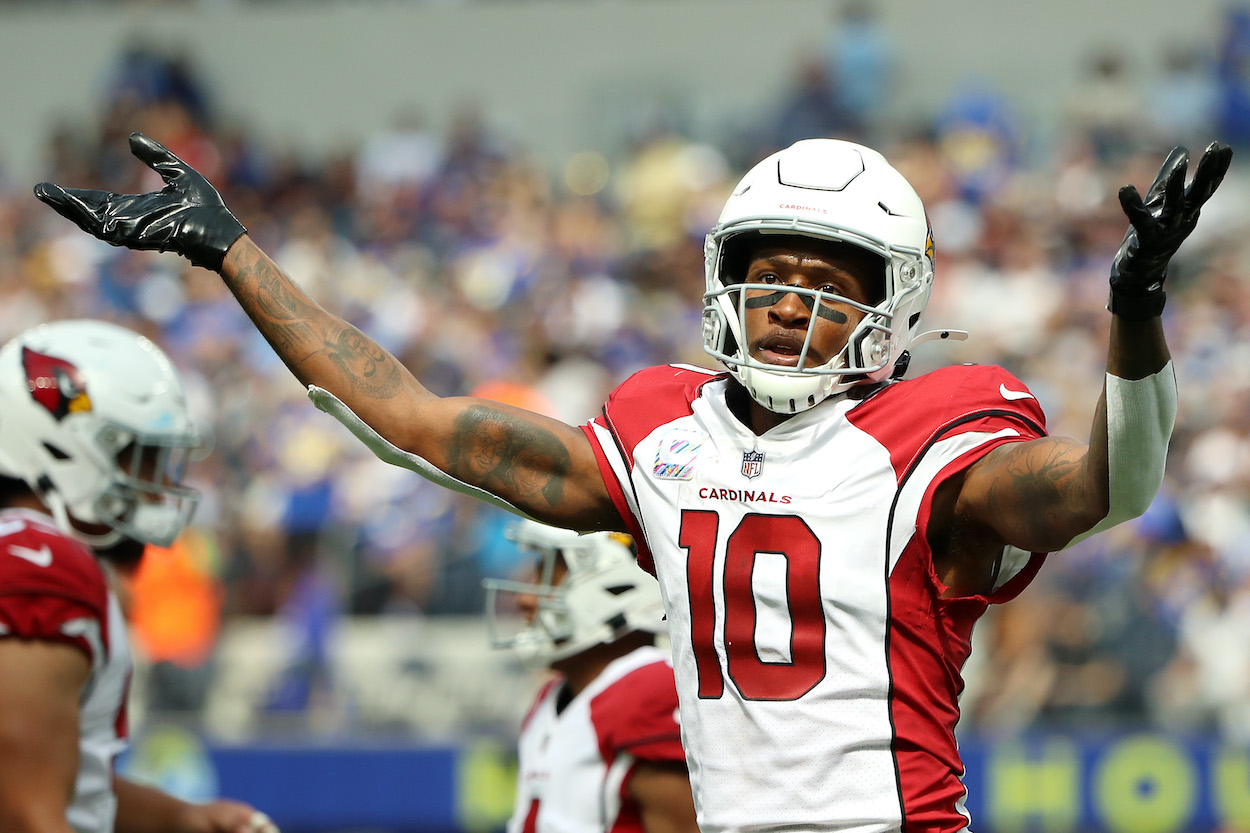 DeAndre Hopkins has been an absolute iron man throughout his nine-year NFL career. He missed just two games between his rookie season in 2013 and the 2020 season.
While that might not be all that notable for some daintier outside receivers in the league, it is for Hopkins. The 6-foot-1, 212-pound former Clemson Tiger is one of the most physical pass-catchers in the league. Staying as healthy for as long as Hopkins has is an impressive feat.
In 2021, the WR's impressive record of health took a hit.
Hopkins played the first eight games of the season, although his stats weren't up to his usual standards. He didn't have more than seven catches in those games and never hit the 100-yard mark. He did catch two touchdowns twice, though.
Hopkins would miss Weeks 9, 10, and 11 with a hamstring injury before returning for Weeks 13 and 14. In Week 14, he suffered a knee injury that required MCL surgery and cost him the Cardinals' final four regular-season games and the team's playoff tilt against the Los Angeles Rams.
This is a major blow to the organization. Last season, the Cardinals went 8-2 with Hopkins in the lineup, with the two losses coming in the games he got injured. Without the star wideout, the Cards were 3-5.
Hopkins and his management released statements denying any wrongdoing and vowing to find out what happened
After the news of DeAndre Hopkins' PED suspension broke, both the wide receiver and his "brand manager" put out similar messages. Both statements explained when the failed drug test happened (in November, when Hopkins was out with his first injury), claimed Hopkins has never taken PEDs, and announced that they are working to find out what happened.
Both Hopkins on his personal Twitter account and brand manager Doug Sanders — via Adam Schefter on Twitter — admitted the WR tested positive for "trace amounts of a banned substance."
Hopkins and Sanders also both noted that he's never tested positive before in his career and that he's "extremely diligent" and "very mindful" of what he puts in his body.
Sanders also revealed that Hopkins and his team are "currently testing every product he used to figure out how this could have happened and will release any new information as soon as we have it."
Similarly, Hopkins announced, "I fully intend to get to the bottom of this. As soon as I have any new information I will share."
The six-game suspension will cost the All-Pro $5.23 million
The DeAndre Hopkins PED suspension will be costly to the Arizona Cardinals and the player personally.
When the Houston Texans traded Hopkins to the Cardinals ahead of the 2020 season, the WR signed a complicated contract extension that basically runs through the 2024 season. The full details of the deal are on Spotrac.
As a result of this PED suspension, Hopkins will miss 1/3 of the regular season. It is an unpaid suspension, so he'll forfeit 1/3 of his 2022 cap hit, which is $15.73 million. That means he'll lose $5.23 million, and the remainder of his $4.43 million salary this year becomes unguaranteed.
Because of the nature of his extension, Hopkins lost less money with the suspension happening in 2022 than he would in 2023 or 2024. A six-game ban in those seasons would cost him between $8-$10 million.
On the field, the Cardinals traded their first-round pick in the 2022 NFL Draft for former Baltimore Ravens WR Marquise "Hollywood" Brown, who will bolster a wide receiver corps that already lost Christian Kirk in free agency this offseason to the Jacksonville Jaguars.
All stats courtesy of Pro Football Reference