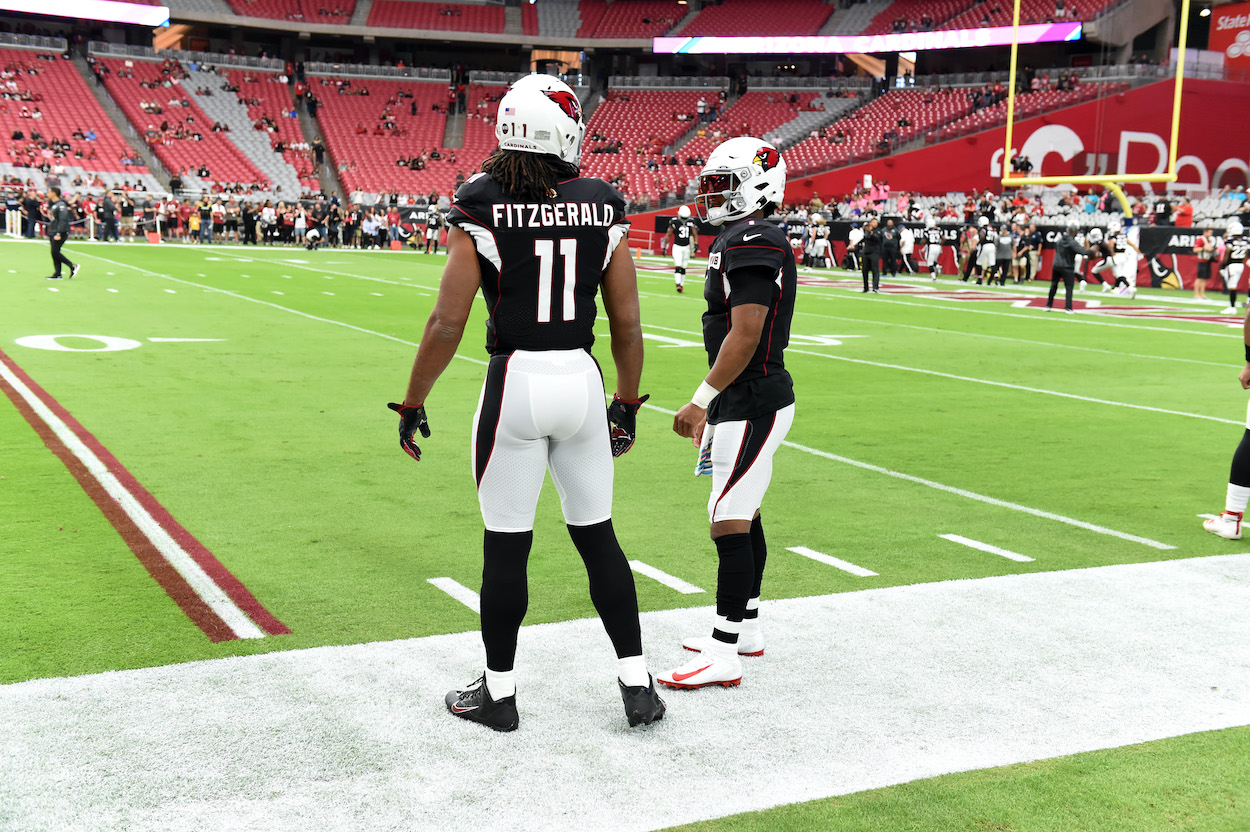 Larry Fitzgerald Allegedly Crushed Kyler Murray Behind His Back: 'They Rolled out the Red Carpet Too Early'
People are piling on Arizona Cardinals QB Kyler Murray these days, including his former teammate Larry Fitzgerald according to Greg Jennings.
Arizona Cardinals quarterback Kyler Murray is throwing a fit this offseason. His goal is to get a long-term, big-money extension from the organization after just three years in the NFL. The problem is, while Murray is good and improving on the field, negative comments about his off-field behavior are coming out seemingly every day, including one from Cardinals legend Larry Fitzgerald.
The fact that the usually ultra-positive wide receiver said something negative about his former QB is interesting. What makes it more fascinating, though, is that he didn't share these comments publically. The quotes about Murray attributed from Fitzgerald came from fellow retired WR Greg Jennings on a national sports talk show.
Kyler Murray's reputation has taken a hit recently
Arizona Cardinals QB Kyler Murray was the darling of the NFL through seven games. The Cards had the best record in the NFL at 7-0, and Murray was a genuine MVP candidate.
In Week 8, Murray lost to the Green Bay Packers and missed the next three games with an ankle injury. The Cardinals went 4-6 in their last 10 games and Murray 2-5 after the undefeated start.
The season ended with a whimper for Murray. He and his squad took a 34-11 beat down from eventual Super Bowl champions Los Angeles Rams on Super Wild Card Weekend.
To make things worse, Murray's personal reputation took a hit after the season as well.
ESPN's Chris Mortenson tweeted that Cardinals sources told him, "Murray is described as self-centered, immature and finger pointer." He also reported that "Murray is frustrated with franchise and was embarrassed by playoff loss to Rams and thinks he's been framed as the scapegoat."
This report coincided with the QB scrubbing his Instagram account of Cardinals mentions and Murray's agent, Erik Burkhardt, going on the warpath with the franchise. Burkhardt is demanding a new contract for the third-year player. Although, the Cardinals can have under contract for two more seasons, with franchise tag options after that.
If all that wasn't bad enough, the usually diplomatic Cardinals great Larry Fitzgerald allegedly piled on, according to former NFL receiver Greg Jennings.
Murray's former wide receiver Larry Fitzgerald piled on, according to Greg Jennings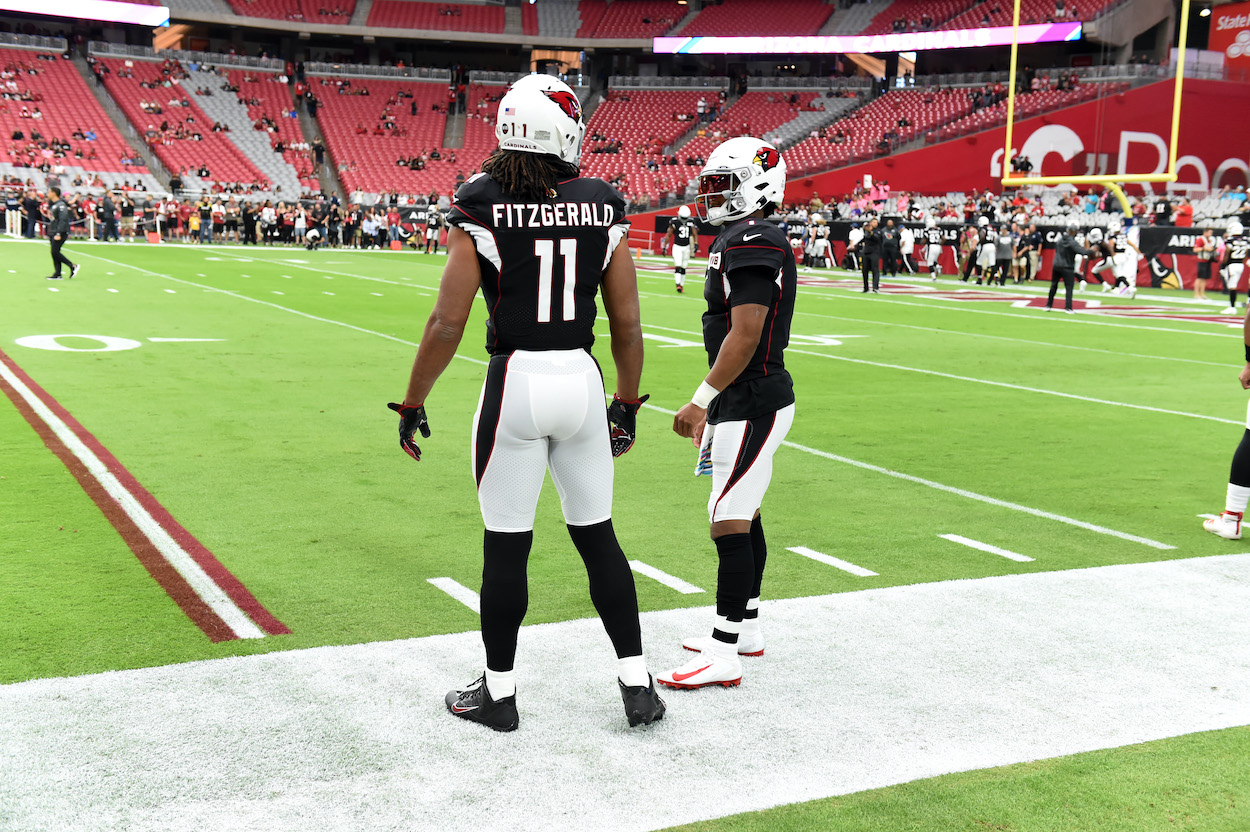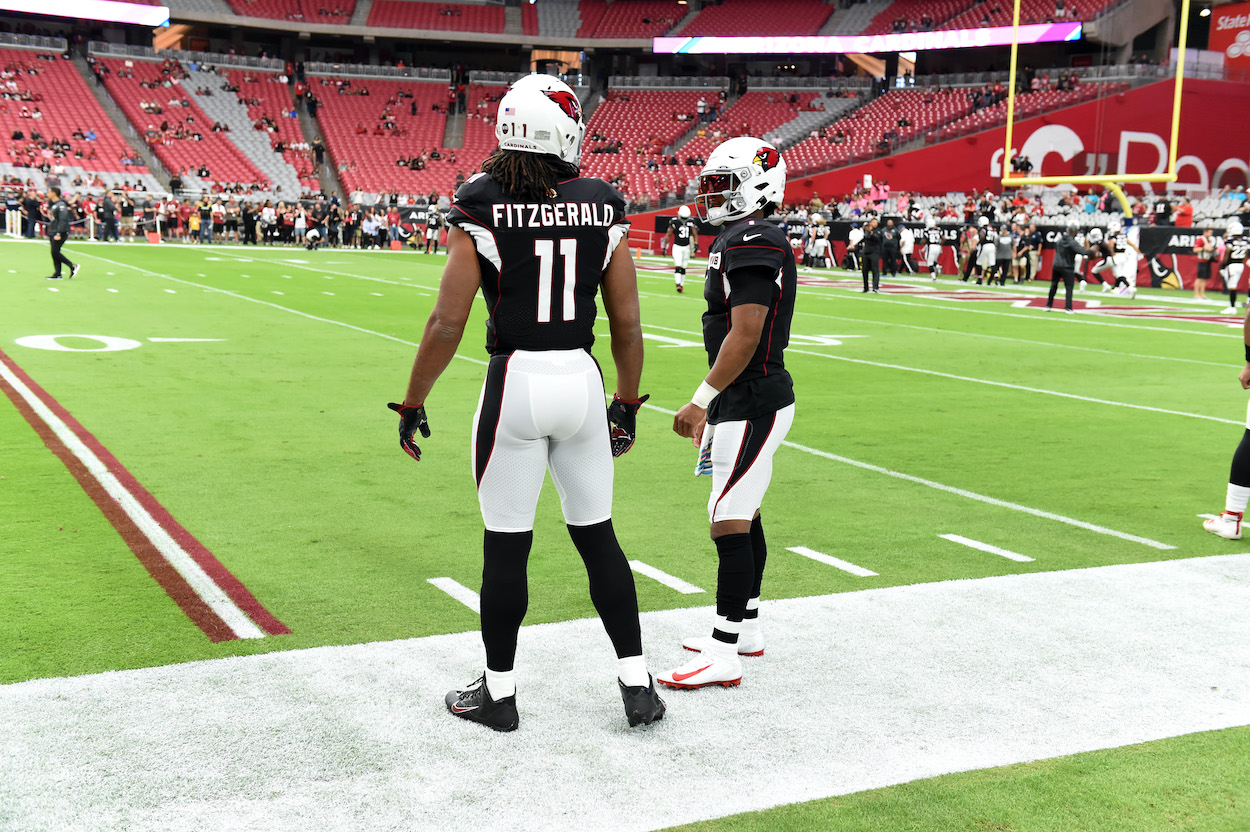 On the March 1 episode of The Herd with Colin Cowherd, former Green Bay Packers WR Greg Jennings joined the show to share his hottest NFL takes.
Cowherd asked Jennings whether he would give Kyler Murray a significant contract extension. Jennings responded by sharing what seems to be a private conversation between himself and Murray's former Cardinals teammate, Larry Fitzgerald:
You can't pay him. [The Cardinals] created this problem. And my good friend Larry Fitzgerald, he loves the organization, and, obviously, everyone there loves him. But I remember sitting down and talking to him and asking him bout Kyler. And he said one of the things that he felt was that they rolled out the red carpet too soon. Too soon for a young guy. They gave him everything that he wanted. Anything. He had free reign, and it started to show in his personality and the way he carried himself. When you do that, when you make that decision early, you set yourself up to fail.

Greg Jennings on
Whether Fitzgerald knew those comments were for public consumption or not is unclear, but either way, they're out there now.
None of this bodes well for Murray getting a new deal. It seems like his spoiled demeanor was an open secret around the franchise and in NFL circles for a while, and now it's public.
All that said, Murray is a young, improving QB, and that is worth its weight in gold in pro football. So, despite all this, should the Arizona Cardinals extend Murray this offseason?
Will the three-year veteran get a new contract? 
The last three young QBs to get big-money deals were Patrick Mahomes, Dak Prescott, and Josh Allen. These three stars make between $40-$45 million per year.
Allen got his extension heading into his fourth season and Mahomes heading into his fifth. Prescott played out his four-year deal (with no fifth-year option as a fourth-round pick) and spent one year under the franchise tag before signing his massive extension heading into season six.
Lamar Jackson and Baker Mayfield, Allen's fellow Class of 2018 draft picks, are both heading into their fifth-year extensions without long-term contracts.
Kyler Murray now wants the Josh Allen treatment, despite his performance not measuring up to the Buffalo Bills QB. Allen's stats are better all around, and he has three playoff appearances, and three playoff wins under his belt to Murray's one and none, respectively.
Mayfield has one more postseason win, and Jackson has made the postseason three times and won a game, not to mention he took home the 2019 NFL MVP Award.
All this means that Murray is looking to both cut the line and put his name in the same category as the top QBs in the entire league. Unfortunately for him, he's just not there, either on or (apparently) off the field yet.
However, there's no way Murray or his agent agrees with that statement, which means the Arizona Cardinals could be in for an ugly battle with their franchise QB this offseason.
All contract figures courtesy of Spotrac