Sportscasting NFL Staff Midseason Awards, Super Bowl 56 Predictions
It's hard to believe, but we're already at the midpoint of the 2021 NFL regular season. Okay, so we're actually at the midpoint plus one game as this is being released a couple of days after the Miami Dolphins' surprising Week 10 win over the Baltimore Ravens. And that actually does come into play just a touch here as these statements from our NFL team were gathered earlier in the week. But you obviously get what we're doing here.
This 2021 NFL campaign has certainly been an interesting one, hasn't it? Some teams are doing exactly what they were expected to do. And some obviously are not. It's been extremely difficult to figure out exactly which teams are the real deal (forgive me…so many State Farm commercials this season) in the AFC, but five teams in the NFC are essentially already locks for the postseason.
We'll close things out with our Super Bowl 56 picks, but let's first get to a few midseason awards, starting with NFL MVP.
NFL MVP
Brandon Austin: If we're talking injuries, no team has been hit harder than the Baltimore Ravens. They've lost key players on both sides of the ball due to season-ending injuries. Yet they're 6-2, good for 2nd place in the AFC. They don't do that without Lamar Jackson.
Tim Crean: I'm a proponent of the MVP going to the best player on the best team and, in the first half of the 2021 season, that player was Kyler Murray. He's banged up now, which is the inherent problem with a 5-foot-10 (ish?) QB, so he might slip in the MVP race as time goes on. For the first nine weeks, though, Murray was the man.
Jake Elman: Matthew Stafford looks like a man reborn on the Los Angeles Rams. The Detroit Lions are winless without their longtime starter. If that doesn't define Most Valuable.
David Esser: The NFL's MVP award has become quite murky over the last few seasons. What the voters prioritize tends to change on a yearly basis. With that said, it historically goes to the best player on the best team. Right now, that's Kyler Murray. It helps that he's a fresh face in the MVP conversation as well. Voters tend to like that.
Andrew Kulha: While Derrick Henry is the most valuable in terms of his overall impact for the Titans, and we all saw what losing Aaron Rodgers looked like for the Packers, Tom Brady is playing like there's no end in sight. He's thrown for 2,650 yards and 25 touchdowns, leading the league in touchdown passes and behind only Matthew Stafford in yardage. Incredible.
Luke Norris: At this point, I'm going to go with Matthew Stafford, but my gut says Tom Brady will win it at the end of the year. And he'd certainly deserve it if he continues to play the way he has in this first half of the year. But it's been a blast to watch Stafford finally look like he's having some fun after all those years in Detroit. Brady, Aaron Rodgers, and Kyler Murray will all be right there. Whichever NFC team ends up with the best record might just see their QB win the award. So let's not rule Dak Prescott out either.
Stephen Sheehan: Is it possible that a 44-year-old version of Tom Brady is actually better than he was during his peak with the New England Patriots? The seven-time Super Bowl champion leads the league with 25 touchdown passes and has the Tampa Bay Buccaneers in a position to potentially earn the No. 1 seed in the NFC. Oh, he's done that despite losing Gronk and Antonio Brown to injuries. That's an MVP.
Matthew Wadleigh: This one is tough. Lamar, Brady, and Stafford all have legitimate arguments to win the MVP award. But, I'm going to go with Stafford as well. The Rams are on a collision course for the NFC title game, and this team looks leaps and bounds different with Stafford at the helm.
Comeback Player of the Year
Brandon Austin: No-brainer here. Dak Prescott's return has rejuvenated this Cowboys team that was a laughing stock without him in 2020. No other candidate has had as much of an impact on his team.
Tim Crean: Joe Burrow needs to get some love in this category, even if Dak Prescott is the consensus answer. In what basically amounts to the second half of his rookie season after his devastating knee injury, Burrow is tied for third-most TD passes in the league (20) and has the Bengals very much in the AFC playoff hunt.
Jake Elman: Dak Prescott is healthy and coming up clutch for the Dallas Cowboys. Now we'll see if he can truly show he deserved the big bucks by reaching the Super Bowl.
David Esser: It's Carson Wentz, baby! He led the league in interceptions in 2020 and was benched for a second-round rookie. Now he's top-10 in passer rating and QBR, and at least has the Colts in the mix for a Wild Card spot.
Andrew Kulha: Joe Burrow deserves some major love. After having his rookie season cut short, all he's done is throw for 2,497 yards and 20 touchdowns so far this season.
Luke Norris: Given the severity of his injury a season ago, Dak Prescott is the easy call here for me. Cowboys fans simply have to hope that calf injury doesn't hinder his second half too much.
Stephen Sheehan: Dak Prescott may have run into trouble in Week 9, but there's no doubt he's cemented his status as the Comeback Player of the Year by torching defenses on a weekly basis. As long as he avoids further injuries, this should be his award.
Matt Wadleigh: As stated above, it is Dak Prescott. The only other choice is Joe Burrow, but Prescott needs to take this award home.
Offensive Rookie of the Year
Brandon Austin: Ja'Marr Chase is the runaway choice for me. He silenced the preseason noise by torching defenses week after week. He's top 5 in receiving yards and touchdowns. The connection with Joe Burrow is undeniable.
Tim Crean: Ja'Marr Chase went from unable to catch in the preseason to first-half offensive rookie of the year in just over two months. Now the only question is, how many teams will draft their young QB's favorite college WR next year?
Jake Elman: Anyone who called Ja'Marr Chase a bust in August should be banned from ever watching the NFL again. Or make them sit through a Lions game.
David Esser: The NFL might as well announce this award tomorrow. It's Ja'Marr Chase by a landslide. Not only is he the best rookie in the NFL, he's already one of the best overall wide receivers. A complete stud.
Andrew Kulha: We seem to have a consensus on Ja'Marr Chase. He's such an explosive player and so much fun to watch.
Luke Norris: At this point, this isn't much of a race as the clear choice is Ja'Marr Chase. Yes, Mac Jones has been the best rookie quarterback, but he won't be competing for First-Team All-Pro honors at the end of the year. Chase will.
Stephen Sheehan: While watching Ja'Marr Chase make top-flight corners look average has been entertaining to watch, he's only touched the ball 48 times. On the other hand, Mac Jones —  the fifth quarterback taken in the first round — has easily been the best rookie signal-caller, and thanks to his solid play, the New England Patriots look primed to make the playoffs after Cam Newton failed to accomplish that feat in his first and only season in Foxborough.
Matt Wadleigh: As much as I want to mention Rashawn Slater, an OL isn't winning this award. Instead, it is Ja'Marr Chase. Remember when people were panicking after Ja'Marr Chase's drops in the preseason? That feels like forever ago. Chase is destroying the competition, and the LSU connection is perfect for the Bengals.
Defensive Rookie of the Year
Brandon Austin: Teams will regret passing on Micah Parsons for "character" issues. He's as good as advertised and then some. His versatility makes him so dangerous. Plus, he brings a certain confidence to this defense that it lacked last season.
Tim Crean: This should be a clean sweep, with Micah Parsons winning in a landslide. He might be the best linebacker and the best defensive end drafted in 2021.
Jake Elman: Micah Parsons is the real deal. Cowboys fans can only hope we look back at his rookie season showing as "mediocre."
David Esser: Take your "never draft a linebacker in the first round" takes and chuck them out the window. Micah Parsons is completely transforming the Cowboys' defense. Similar to OROY, the NFL could announce this award tomorrow, and no one would bat an eye.
Andrew Kulha: Micah Parsons can play inside linebacker, outside linebacker, and even put his hand down in the dirt and play on the edge of the line. He's the NFL's equivalent of a 5-tool prospect in baseball.
Luke Norris: Remember when the Cowboys seemed to be so focused on getting a top cornerback in the NFL Draft? But then Jaycee Horn and Patrick Surtain II got snatched up? I'm pretty sure most Dallas fans are now fine with Micah Parsons as a backup option. That's obviously my way of saying he's my pick here.
Stephen Sheehan: Dallas made a smart decision to get rid of Jaylon Smith and actually play a linebacker who has the skills needed to succeed on Sundays. Micah Parsons' frightening combination of speed, explosion, and power has totally transformed the Cowboys' oft-criticized defense. It's scary to think that he's just scratching the surface of his potential.
Matt Wadleigh: Another easy choice: Micah Parsons. It is hard to believe that he is a rookie, yet he has made the transition to the NFL flawless in every aspect.
Offensive Player of the Year
Brandon Austin: Cooper Kupp has arrived, ladies and gentlemen. The talent was always there, but he now has a competent quarterback, and it shows. His elite route-running skills have established him as one of the better receivers in the NFL right now.
Tim Crean: When you lead the league in receptions, receiving yards, receiving touchdowns, and receiving yards per game, you're the first-half offensive player of the year. So congratulations to Cooper Kupp.
Jake Elman: Cooper Kupp is on pace for 139 catches, 1,924 yards, and 19 touchdowns. That'll do.
David Esser: Cooper Kupp surpassed 1,000 receiving yards in nine games. That's absurd. Paired up with an elite QB in Matthew Stafford, Kupp is proving that he's one of the most complete WRs in football.
Andrew Kulha: Surprised not to see Lamar Jackson mentioned yet. There was a point in the season where he put up more total offensive yards by himself than a handful of teams. He's a big play waiting to happen.
Luke Norris: As these are simply midseason awards, I have to roll with Derrick Henry here. It's unfortunate for the Titans that he'll be out for the foreseeable future, but he was on pace for a second consecutive 2,000-yard season before he went down.
Stephen Sheehan: Jonathan Taylor deserves the spotlight for showcasing why the league made a massive mistake by letting him slip to the second round of the 2020 draft. Not only does he have 840 rushing yards and eight touchdowns as a ball-carrier, but he's also hauled in 23-of-27 targets for 293 yards and another score. A true every-down back with breakaway speed, Taylor has been the best all-around offensive player this season.
Matt Wadleigh: Eastern Washington's finest. That is, Cooper Kupp. The Rams offense is a juggernaut with Stafford running the show, and Kupp has reaped the benefits more than anybody else. Can you imagine what happens when Cam Akers comes back healthy?
Defensive Player of the Year
Brandon Austin: I would've said Trevon Diggs before he got torched by the Broncos. Myles Garrett has been a model of consistency and is one of the most dominant players in the league regardless of position. The numbers speak for themselves.
Tim Crean: Trevon Diggs is the winner here by a slight margin over Garrett. While sacks are important, interceptions are game-changing, and Diggs gobbled those up at a historic rate during the first half of the season. And, for bonus points, he only has one less touchdown than his All-Pro WR brother, Stefon, through eight games.
Jake Elman: Myles Garrett is terrorizing opposing offensive linemen and should become the first player since Aaron Donald in 2018 to top 20 sacks. Can he break Al Baker's single-season record of 23 sacks?
David Esser: Trevon Diggs is going to get votes here because of his lofty INT total, but it's worth pointing out that his actual coverage grades aren't the best. He's just an awesome ballhawk. With that said, Myles Garrett and his league-leading 12.0 sacks takes the cake here. He could easily finish with 20-plus sacks this season. (Honorable mention: Darius Leonard. He has four forced fumbles and two INTs).
Andrew Kulha: I haven't seen a ballhawk like Trevon Diggs in a long time. He's such an effortless cover man, and I love his playing style. He's a wide receiver who happens to be a great corner.
Luke Norris: At this point, I think the award belongs to Trevon Diggs. Not only does he lead the NFL in picks with seven, but he's also the leader in passes defended with a dozen. Myles Garrett certainly deserves some votes as well as he leads the league in sacks, racking up 12 in nine games. But T.J. Watt is right there with 11.5. And he's done that in just seven games.
Stephen Sheehan: Myles Garrett should finally win his first of several Defensive Player of the Year Awards this season. He's already racked up 12 sacks, and 23 quarterback hits in nine games, putting him on pace to shatter his previous bests of 13.5/28 that he posted in 2018. There isn't a more physically gifted defensive end on the planet, and Garrett uses his rare athleticism to wreak havoc on a weekly basis.
Matt Wadleigh: Myles Garrett and Trevon Diggs have cases to be made here. However, I'm going with T.J. Watt. The Steelers All-Pro edge rusher got PAID and is proving why he is worth every penny. He is half a sack behind Garrett and has one more tackle. The race between the Steelers and Browns is tightening up in more ways than one.
Best Coach
Brandon Austin: Similar to the case for Lamar Jackson, the Ravens have been dealt a bad hand in 2021. Still, they have found a way to win close games. They get up every time they're knocked down. At 6-2, Baltimore has as good a chance as any team in the AFC to make a run.
Tim Crean: Mike Vrabel played for two of the best coaches in the last 40 years in Bill Cowher and Bill Belichick and learned that a good offensive line, a tenacious defense, and minimizing mistakes will win you football games in any era. In a year with no AFC superpowers, why can't a team like this with the best first-half coach in the NFL make a deep run?
Jake Elman: Matt LaFleur has held his team's boat steady since an ugly Week 1 loss to the New Orleans Saints. If he keeps the team winning amid the Aaron Rodgers drama, this award should be his.
David Esser: The Titans are a solid football team on paper, but nothing wildly special. The fact that they are 7-2 is a huge testament to Mike Vrabel's ability. They've also already beaten the Seahawks, Chiefs, Bills, Rams, and Colts twice. Those aren't cheap wins.
Andrew Kulha: Matt LaFleur took his team to the desert on Thursday Night Football and beat an unbeaten Arizona Cardinals team without multiple starters, including Davante Adams. The Packers have been hit terribly hard with the injury bug this season, but all LaFleur does is win.
Luke Norris: Kliff Kingsbury is probably the easy call here, but I'm going to go in a different direction. And perhaps this might surprise some people, but I'm going to go with Bruce Arians here. Sure, the Bucs were expected to do well given the fact they returned all 22 starters from the Super Bowl-winning squad. But how many times have we seen a defending champion disappoint? Arians has his team focused and it will not shock me if Tampa Bay becomes the first back-to-back champ since Brady and Belichick's Patriots more than a decade and a half ago.
Stephen Sheehan: Kliff Kingsbury entered the season on the hot seat. All his team did was get off to a 7-0 start before losing to the Green Bay Packers by a touchdown. The Arizona Cardinals look capable of going on a deep playoff run in the third year of the Kingsbury era.
Matt Wadleigh: If you want to call me a homer, go for it. But Brandon Staley has done wonders with the Chargers. This team is night and day better than the 2020 edition with Anthony Lynn running the show. The aggressiveness is evident, and Staley's unreal 4th down calls are becoming the norm. Oh, and this team could very well sneak away with the AFC West crown.
Worst Coach
Brandon Austin: Mike McCarthy is the worst coach of any 6-2 team I've ever seen. Week after week, he makes questionable decisions. He's been gifted with a talented team that makes him look better than he really is.
Tim Crean: I'll be the one to say it: it's Kyle Shanahan. I know, I know. He's an offensive genius! He's the son of a legendary coach! He's friends with Sean McVay! The truth is, though, he's got one more win in five seasons than Matt Nagy has in four. If his name were Kyle Smith, he'd be fired already.
Jake Elman: I'll defend Matt Nagy where I can, but he handled the Justin Fields situation poorly all summer and fall. Why he wouldn't want to hype his new quarterback up is beyond me, and it could go a long way in costing Nagy his job. That and the 3-6 record.
David Esser: Surprisingly, it's not Urban Meyer. Instead, I'd like to nominate a different first-year head coach: Robert Saleh. The Jets' offense looks just as bad under Saleh as it did Adam Gase, and their defense (Saleh is a former DC) ranks third-worst in the NFL in expected points contributed by the defense. Now they're starting Mike White for the second week in a row? It's just gross all around. I feel bad for Zach Wilson.
Andrew Kulha: I'm going to say something controversial here. Andy Reid has been lauded many times over as an offensive genius. The fact that he hasn't been able to diagnose Patrick Mahomes' issues this season, and the offense looks so stifled despite having Mahomes, Travis Kelce, and Tyreek Hill? Reid is my choice.
Luke Norris: Urban Meyer has no business being an NFL head coach, and Trevor Lawrence's career will suffer due to this ridiculous experiment by the Jaguars. I'll stop there before I get into a 3,000-word editorial.
Stephen Sheehan: Brian Flores has watched his stock fall dramatically over the last few months. Coming off a 10-6 season, the Miami Dolphins have easily been the most disappointing team in the league, winning just two games and raising serious doubts about the direction of the franchise. Plus, let's not ignore the drama created by all the talk about potentially trading Tua Tagovailoa for Deshaun Watson, either.
Matt Wadleigh: You have to give Dan Campbell a pass here. So, I am going with Matt Nagy. Seriously, what was he thinking starting Andy Dalton? This Bears team somehow made the playoffs a year ago (yes, really). Nagy's time in Chicago should have ended long ago.
Biggest Surprise (Team or Player)
Brandon Austin: No one expected the Cardinals to start out as hot as they did or even be on track to come out of the tightly-contested NFC. Kyler Murray was playing at an MVP level before getting hurt. It will be interesting to see if they stay near the top in the second half of the season.
Tim Crean: You could have told me before the season that the Kansas City Chiefs would be 5-4 at the halfway point, and the defense would be all-time bad, and I would have believed you. If you told me Patrick Mahomes would look terrible, throw for less yards than Jordan Love, lead the league in picks, and that Andy Reid would have no answers to fix all that, that's where I would have said, "no way!" But that's where we are.
Jake Elman: The Kansas City Chiefs are the easy pick, but I've been disappointed in the Washington Football Team. What happened to that supposedly elite defense? Maybe it's time for another name change.
David Esser: The Las Vegas Raiders. Despite all the controversy and constant injuries, they're 5-3 and have a real shot at winning an AFC West division that contains the Chargers and Chiefs. It's all very impressive stuff from an organization that doesn't even have a permanent head coach at the moment.
Andrew Kulha: I'm honestly surprised the Rams have lost two games. Stafford has taken their offense to the next level, and Aaron Donald and Jalen Ramsey are on their defense. They've lost to two good teams, but they have had weaknesses exposed.
Luke Norris: This is where I'll go with Kliff Kingsbury and the Arizona Cardinals. I don't think anyone would have guessed the Cards would be 8-1 and sitting in the top spot in the NFC at the halfway point. But remember when the Steelers were 11-0 last year and only finished third in the AFC before losing in the first round of the postseason? I'm getting that same kind of vibe with this Cardinals team for some reason.
Stephen Sheehan: What happened to the electrifying version of Patrick Mahomes? Despite overhauling their entire offensive line, the Chiefs have experienced some struggles protecting their franchise QB. As a result, the highest-paid player in the NFL shockingly ranks 16th in QBR….behind the Dolphins' disappointing duo of Tua Tagovailoa and Jacoby Brissett.
Matt Wadleigh: Cordarrelle Patterson. This is his fifth team in nine seasons. Known as a glorified return man, Patterson has somehow become the starting running back and a receiving threat. Oh, and the Falcons are battling for a playoff spot — somehow. I guess they didn't need Julio Jones after all.
Most Overrated Team
Brandon Austin: Even after their rough start, the Kansas City Chiefs are still the most overrated team. I'm tired of the narrative that you can't bet against Patrick Mahomes. He's part of the reason the Chiefs are where they are. No matter how good he is, he cannot make up for a historically bad defense.
Tim Crean: As much as it pains me to admit, it's the Buffalo Bills right now. Until offensive coordinator Brian Daboll gets his head out of his — I mean, calls better plays, and Josh Allen starts making smarter decisions, the Bills aren't the Super Bowl contender people think they are.
Jake Elman: Please stop trying to sell me on the New Orleans Saints. I didn't like them with Jameis Winston, and I don't like them now. They're not winning the NFC South, and I wouldn't be shocked if they miss the playoffs completely.
David Esser: The Green Bay Packers. I get it, they're 7-2, and one of those losses came with Jordan Love under center. However, we've seen this story time and time again. I'm taking the Bucs and Rams over the Packers in the playoffs all day, every day.
Andrew Kulha: Arizona Cardinals. Until I see Kliff Kingsbury win anything of importance, I can't trust him. Stemming from his time with Texas Tech, he's always been all flash and little substance.
Luke Norris: Given what I wrote on the Cardinals in the previous category, they're my pick here as well. Are they a good football team? Absolutely. Am I sold on them as a great football team yet? Absolutely not.
Stephen Sheehan: The Los Angeles Chargers may have a 5-3 record, but they're not a true Super Bowl contender at this point. Sure, Justin Herbert has looked fantastic…at times. And the defense has shown flashes of greatness…at times. But Brandon Staley's squad suffered losses to the Cowboys, Patriots, and Ravens (a 34-6 blowout), which suggests the Chargers are still a year away. Plus, a point differential of -2 doesn't look very impressive.
Matt Wadleigh: Buffalo Bills (hot take alert). In all seriousness, this team has absolutely zero running game. Josh Allen is 2nd on the team in rushing, just 36 yards behind Devin Singletary. That is NOT good at all. Sure, the defense is good, but a one-dimensional offense isn't enough, especially with a cluster of AFC teams fighting for the playoffs.
Most Underrated Team
Brandon Austin: The Titans are severely underrated, in my opinion. Many thought their season was over once Derrick Henry went down, but they went and spanked the Rams in prime time. Mike Vrabel is a tough coach, and the players love him. You can never count out an inspired ball club.
Tim Crean: Did the Cincinnati Bengals lose to the Bears and the Jets? Yes. That said, they have a young, explosive offense and an underrated defense that both have the potential to get better in the second half. Don't sleep on the Bengals; they could make noise in the next nine weeks and contend for a playoff spot despite the slip-ups.
Jake Elman: Keep your eye on the Indianapolis Colts over the next few weeks. Frank Reich doesn't get enough love, and Carson Wentz has played far better than anyone wants to admit. The 2021 AFC lacks a dominant team, and that could pave the way for a deep Colts playoff run.
David Esser: Jake beat me to the punch, but I'm 100% on the Colts bandwagon. They got seriously unlucky early on with injuries and an overall tough schedule. Now that everyone is healthy again, they look comparable to their 2020 selves. Oh, and that Carson Wentz guy is balling, even with the odd boneheaded turnover.
Andrew Kulha: I have to give the Packers the nod here, even at 7-2. They won seven in a row without David Bakhtiari, Jaire Alexander, and Za'Darius Smith. Those are three of their top five players, and they are expected to come back at some point this season. If Green Bay ever hits full strength, look out.
Luke Norris: I've gotta go with the Titans here. Yes, they're 7-2. Yes, they're currently the No. 1 seed in the AFC. But listen to the talking heads on the big networks, and they certainly don't get the love that many other teams do. And as Brandon mentioned, they suffered a significant loss when Derrick Henry went down and went out and torched the Rams on Sunday Night Football. And they did it on the road.
Stephen Sheehan: The Patriots are only one game above .500, but they're trending in the right direction and have the pieces on both sides of the ball to make a serious run in the wide-open AFC. New England's re-tooled defense ranks fourth in points allowed, the ever-evolving offense is a top-10 scoring unit, and the presence of Bill Belichick gives this team a legitimate chance to do damage in the playoffs.
Matt Wadleigh: Stephen will be happy about this: New England Patriots. I have zero idea why people ever discredit Bill Belichick. They spent a ton of money in free agency, and so far, it is working. Suddenly, the Patriots are right on the heels of the Bills in the AFC East.
Best Quote
Brandon Austin: "Everybody can b**** and complain about how tough this city is to play in. Just play better man, this city will love you." — Philadelphia Eagles center Jason Kelce on Ben Simmons (thanks, captain obvious)
Tim Crean: "Hands on shoulders is my philosophy." — Former WFT head coach Steve Spurrier's advice to fellow former Florida Gators coach Urban Meyer
Jake Elman: "He's a stud. Come on, now. That's Mike White." — New York Jets running back Ty Johnson.
David Esser: "You take you a deuce, you don't sit there and look at it. You flush it and move on. We gon' flush it and move on." — Philadelphia Eagles QB Jalen Hurts
Andrew Kulha: "I've owned you all my f***** life! I own you, I still own you." — Green Bay Packers QB Aaron Rodgers to Chicago Bears fans
Luke Norris: Mine actually has to include two. "He's not quite comfortable with that yet. I know that might sound silly, but if you've never done it, it's something that we need to keep [working on] so that we can make that call in that situation." — Jacksonville Jaguars head coach Urban Meyer on his decision to not run a quarterback sneak with Trevor Lawrence after going for it twice on fourth-and-inches on the goal line — "No. I feel comfortable. Obviously, I haven't run it in a game, but I feel comfortable … No, QB sneak is something we can always get to, and I feel comfortable with." — Lawrence, 6-foot-6, on the idea of running quarterback sneaks — Just goes to show how clueless Meyer is.
Stephen Sheehan: "If my mom could go out there and work three jobs, I can go out there and play three positions. Why can't I do what she did for us?" — Atlanta Falcons receiver/running back Cordarrelle Patterson
Matt Wadleigh: "It's a sacred mantle for somebody to call you Coach." — Chargers HC Brandon Staley after the Jon Gruden situation
Who will play in Super Bowl 56?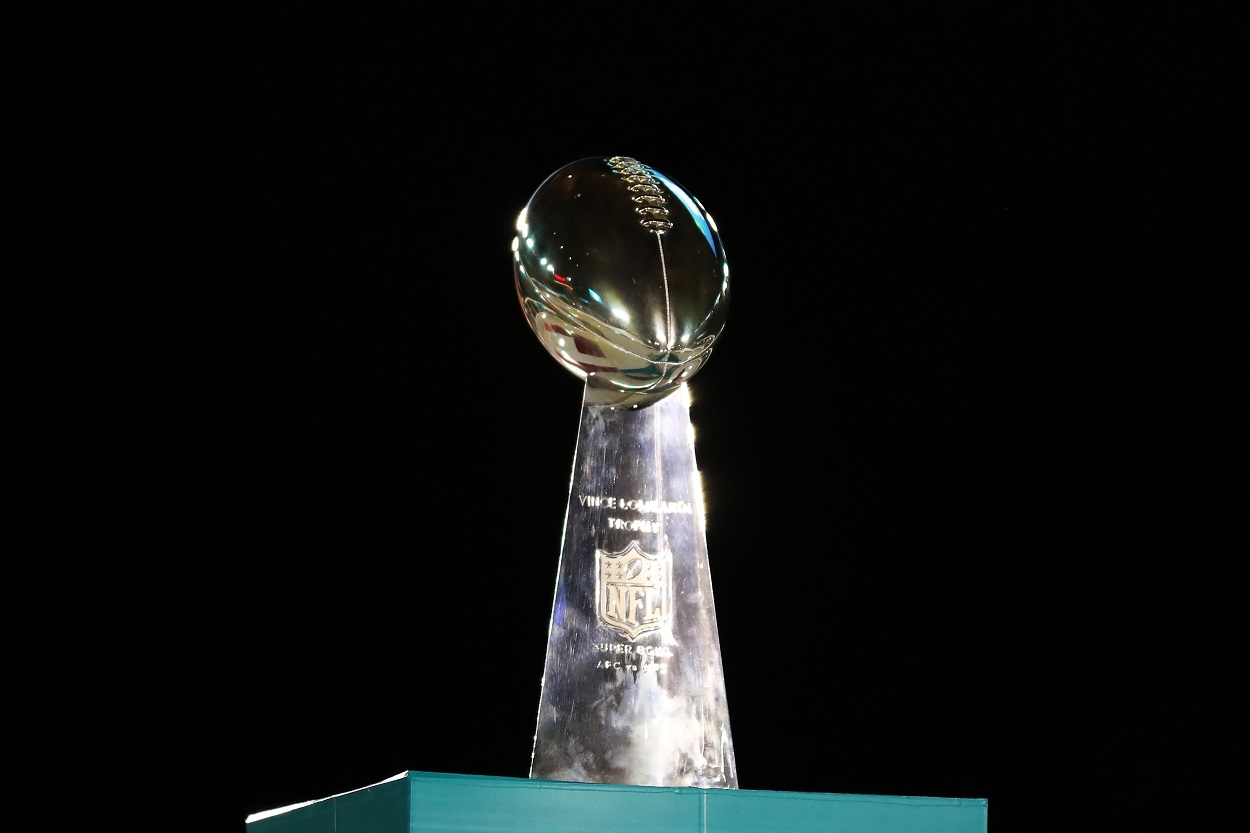 Brandon Austin: Baltimore Ravens vs. Tampa Bay Buccaneers 
The Ravens have battled a lot of adversity so far this season but have taken every jab on the chin. This is a resilient football team with the best player running the show. The AFC is wide open, and this may be the best chance for Baltimore to get it done. The NFC goes through Tom Brady. I think they'll get healthy at the right time and will be a tough out for any other contender. Lamar vs. Brady in the Super Bowl is must-see TV.
Tim Crean: Buffalo Bills vs. Green Bay Packers
Despite saying the Bills are currently the most overrated team, the defense is so good it can make up for offensive struggles, and although it's been rough in the first half, I have confidence Dabol and Allen can rediscover their 2020 form. As for the Packers, the 2021 offseason started off being all about Aaron Rodgers, it's all about Aaron Rodgers at the halfway mark, and there is no reason to think it won't still be all about Aaron Rodgers on the very last day of the season.
Jake Elman: Los Angeles Rams vs. Cincinnati Bengals
This feels like one of those years where a random team is going to make a playoff run. The Bengals have a deep offense and an improved defense. If they can bounce back from two rough losses and get back on track, I fully expect a deep playoff run. As for the Rams, Matthew Stafford is the NFL's best quarterback story, aside from Mike F-ing White, of course. Give me these two with the Rams winning 28-24.
David Esser: Tampa Bay Buccaneers vs. Baltimore Ravens
The AFC is a complete mess at the moment, and Lamar Jackson is playing unbelievably well late in ball games. This feels like the year he and the Ravens finally sneak through to the Super Bowl. I stopped betting against Tom Brady a long time ago. As long as he's healthy, he's my pick to be in the Super Bowl.
Andrew Kulha: Green Bay Packers vs. Baltimore Ravens
As I mentioned earlier, the Packers are eventually going to get healthy. At that point, they'll have arguably the deepest and most battle-tested team in the league to go along with the reigning MVP and league's best wideout in Davante Adams. In the AFC, I just don't see a true powerhouse, but I trust John Harbaugh and think Lamar Jackson is finally going to take that next step in the playoffs. Wink Martindale is also one of the best coordinators in the NFL.
Luke Norris: Dallas Cowboys vs. Buffalo Bills
Why the hell not?
Stephen Sheehan: New England Patriots vs. Tampa Bay Buccaneers
The Titans don't have Derrick Henry, the Bills just lost to the Jaguars, the Ravens have the 21st-ranked scoring defense, and the Chiefs clearly aren't the same caliber team they've been in recent years. Meanwhile, the Patriots have a top-five defense, a top-10 scoring offense, the greatest head coach of all time, and a rookie quarterback who led Alabama to a national championship in January. Meanwhile, the Buccaneers still have the most sheer talent of any team in the NFL, and when's the last time Aaron Rodgers won a big playoff game?
Matt Wadleigh: Tampa Bay Buccaneers vs. Kansas City Chiefs 
Yes, Patrick Mahomes is struggling. But the AFC is a total toss-up at this point. Somebody has to win it, and once Mahomes and the Chiefs start clicking, watch out. On the NFC side of things, Tom Brady just doesn't slow down, and the Bucs have infinite weapons. A repeat — and an 8th Super Bowl for the GOAT — is happening in February. As much as I want to pick the Rams, it just is hard to bet against Brady — especially in the playoffs.
Stats courtesy of Pro Football Reference