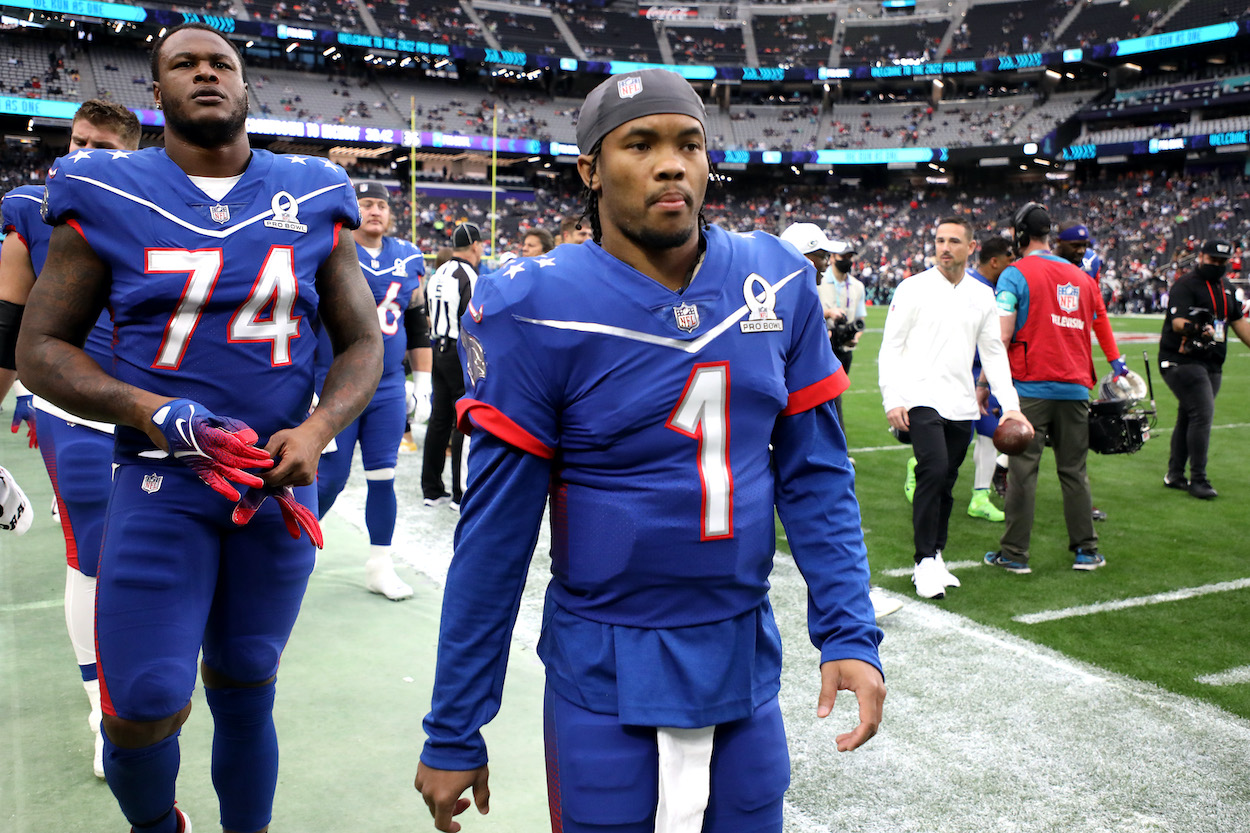 Kyler Murray Just Pressured the Arizona Cardinals to Make a $28 Million Decision By Scrubbing His Instagram
Arizona Cardinals QB Kyler Murray seemingly just took a major shot at his own team on Instagram over his currently unclear long-term contract situation.
The Arizona Cardinals are now officially on the clock to make a major decision on their Pro Bowl quarterback Kyler Murray's contract. The third-year QB seems to have put the team on notice that he wants a decision on his fifth-year option or possible extension with his latest move on social media. 
Kyler Murray scrubbed his Instagram of all mentions of the Arizona Cardinals
Kyler Murray has 1.3 million Instagram followers and follows 459 accounts. That number used to be at least 460, but the QB no longer follows his current NFL team, the Arizona Cardinals. 
The unfollow was part of a massive social media move where Murray scrubbed his Instagram account of any mention of the Cardinals. His bio now simply says, "Green Light," followed by what look to be Chinese characters. 
The QB also left two posts up on his page. One is a post from Dec. 9, 2018, with a picture of Murray as an Oklahoma Sooners signal-caller from when he won the Heisman Trophy. The other is from this past Sunday and is a snap of him at the Pro Bowl. 
This most recent post could be a subtle reminder that the Cardinals now owe Murray even more money if they want to keep him long-term. 
The Cardinals need to make a $28 million decision on the Pro Bowl QB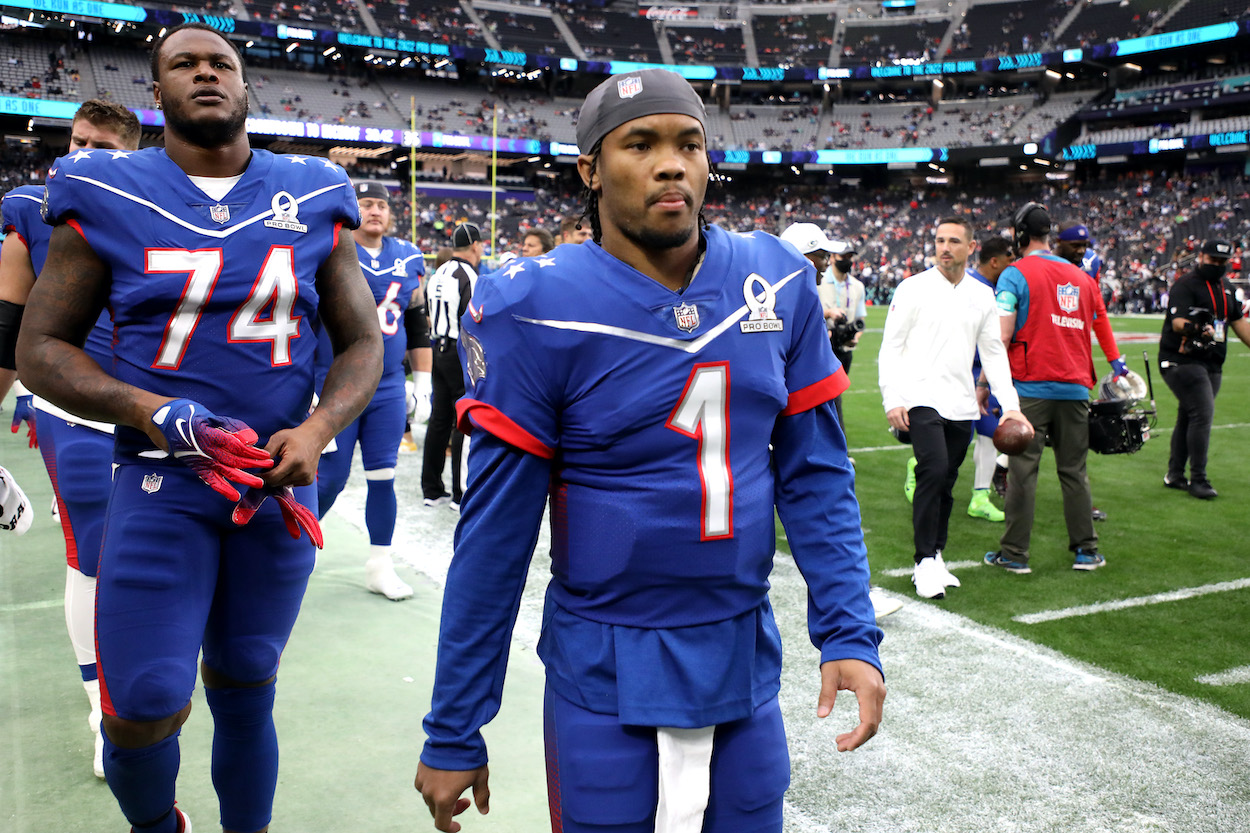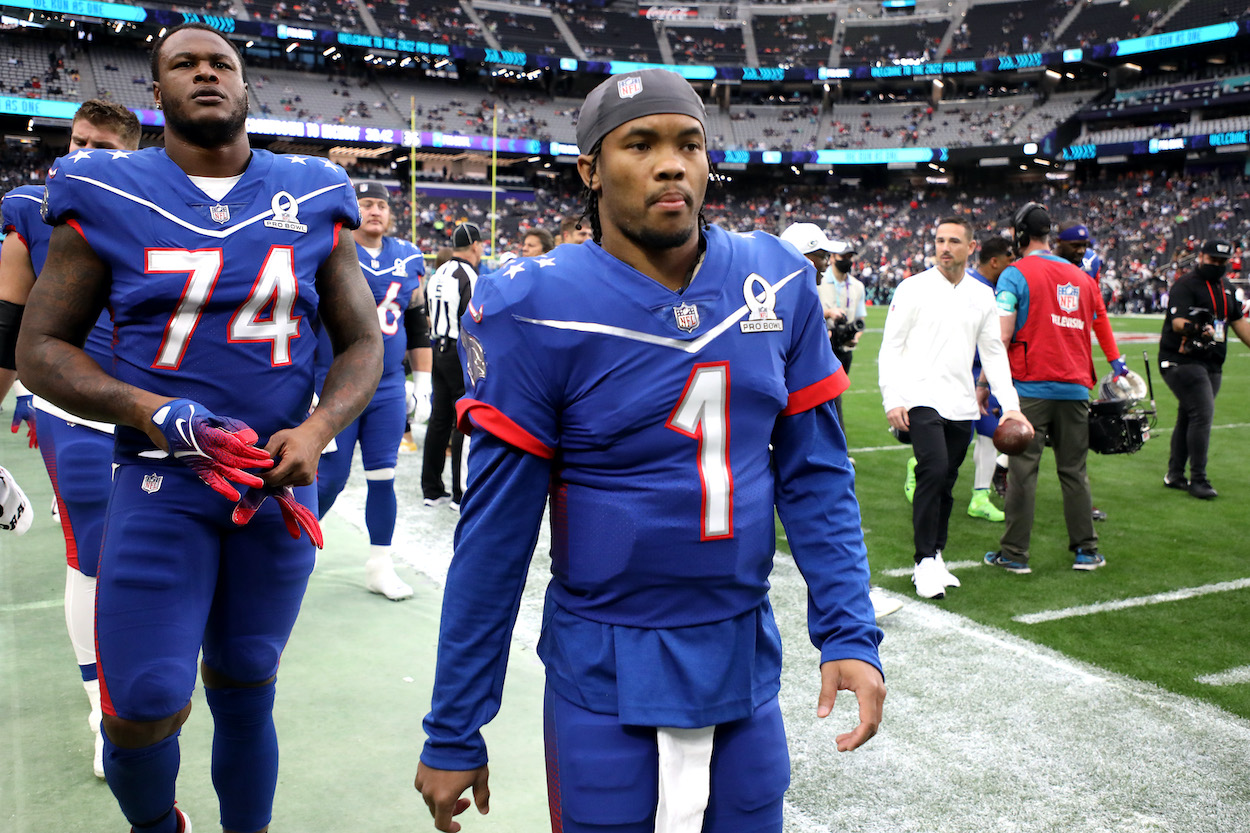 Kyler Murray is heading into the fourth and final guaranteed year of his rookie deal in 2022. The contract will pay him $11.3 million next season. 
If the Arizona Cardinals want to keep Murray past 2022, the organization has a few options.
The first is to exercise the fifth-year option built into all first-round rookie deals. Thanks to the QB making his second Pro Bowl, this option just got more expensive. That honor increased his option by around $3 million, per Spotrac's Nick Korte (h/t Sports Illustrated), which would bring his 2023 salary to around $28 million. 
The other option is to give Murray a long-term extension. This could give the Cardinals more control over the salary cap hits they take from the contract. However, those numbers would likely be much higher than the fifth-year option. The last three Pro Bowl QBs to get long-term deals (Josh Allen, Patrick Mahomes, Dak Prescott) got an annual average value of $40-$45 million per season. 
The window for accepting 2019 draftees' fifth-year option opened in early January 2022, per NFL.com. Now teams have until May 2, 2022, to decide yay or nay on the extra year. 
All signs point to the Cardinals picking up Murray's option, but the recent social media move adds intrigue to the process. Does Murray want a long-term deal instead? Is he mad that the franchise waited this long to offer the extra year? 
What makes this whole Murray vs. the Cardinals scenario even more interesting is that the QB no longer has his biggest leverage weapon — Major League Baseball — because of the language of his contract. 
Murray doesn't have the leverage of baseball due to his contract language
The fact that Kyler Murray is even in the NFL right now is somewhat of a surprise.
Murray is also an excellent baseball player, and the Oakland A's drafted him No. 9 overall in the 2018 MLB Draft. While several players — Bo Jackson, Deion Sanders, Brian Jordan — have played both sports professionally, Murray is the only one who went in the first round of both drafts, per NFL.com. 
Murray used the leverage of playing two sports in the past. Prior to the 2019 NFL Draft, he reportedly demanded $15 million from the A's to focus on baseball full time, per Mike Leslie of WFAA in Dallas on Twitter. 
Unfortunately for Murray, threatening the Arizona Cardinals with a return to baseball isn't in the QB's best interest financially. In Murray's NFL contract, there is language that would void his deal if the "player participates in any baseball-related activities."
Whether he stays with the Cardinals or not, Murray would likely have to give up $100 million or more in guaranteed salary that should come his way to start over in a sport that doesn't even have a labor deal right now.  
Since baseball is off the table, it looks like Instagram is the QB's Plan B, and he pulled that lever this week. 
Your move, Cardinals. 
All contract figures courtesy of Spotrac