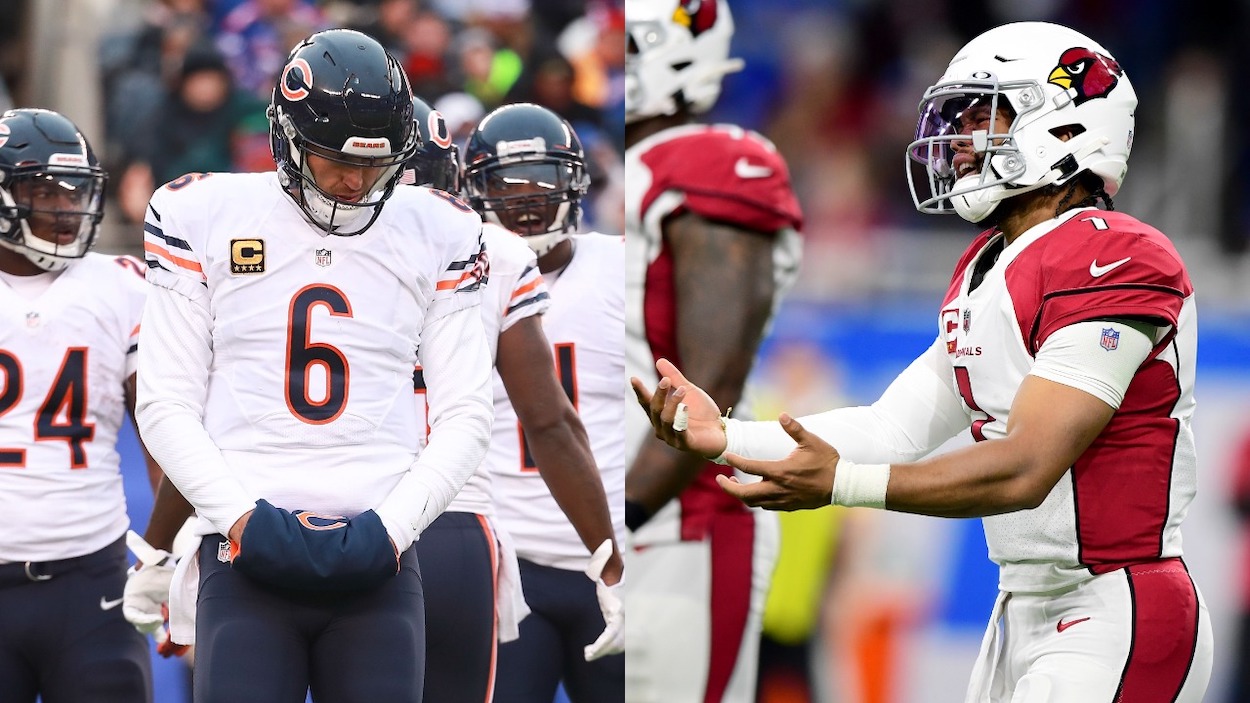 Former Arizona Cardinals QB Carson Palmer Takes a Completely Unprovoked Shot at Jay Cutler While Defending Kyler Murray's Bad Body Language: 'Awful, With a Capital A and a Capital W'
Former Arizona Cardinals quarterback Carson Palmer says that, yes, the team's current QB Kyler Murray has bad body language, but at least it's not as bad as Jay Cutler's.
During a horrific Week 15 loss to one of the worst teams in the NFL, Arizona Cardinals quarterback Kyler Murray not only played badly, but he also had terrible body language while doing so. Carson Palmer used to play the same position for the same team, and he stuck up for Murray and buried his former rival, Jay Cutler, in the process.
While Palmer doesn't think Murray's body language is good, he doesn't see it as the same sized problem the QB now faces with the loss of his No. 1 wide receiver, DeAndre Hopkins.
NFL quarterbacks need to have good body language, but they often don't
The quarterback is the general on the field for an NFL team. They are in charge, and the person players look to in moments of adversity.
Ideally, a franchise QB will have good body language at all times or, better yet, no body language at all.
The best compliment a signal-caller can get is that when you look at them on the field, you can't tell whether they are winning or losing, whether they've just thrown a touchdown or an interception.
One of the best and most successful QBs in league history, Joe Montana, is even nicknamed "Joe Cool." Tom Brady, the GOAT, is also known for his calm demeanor, although he can get a little hot with the trash-talking from time to time.
When it comes to bad body language, though, plenty of NFL QBs in history fit the bill.
From all-time busts like Ryan Leaf to one of the all-time greats in Peyton Manning (who famously lampooned his bad body language in a Saturday Night Live sketch), plenty of signal-callers have had a hard time hiding their frustration on the field.
One of the most infamous bad-body-language quarterbacks is former Denver Broncos, Chicago Bears, and Miami Dolphins QB Jay Cutler.
The former Vanderbilt Commodore played 12 seasons of pro football. He has the 30th-most passing yards (35,133) and 33rd-most passing touchdowns (227) in NFL history.
Despite the impressive stats, Cutler has a 74-79 record as a starter, and at least some of this is attributed to his bad body language. His on-field and sideline demeanor was so aloof and detached that the internet took to Photoshop-ing cigarettes into his mouth to create "Smokin' Jay Cutler" memes.
Carson Palmer defended Kyler Murray's body language by taking a shot at retired QB Jay Cutler
Joining host Dan Patrick on the Dan Patrick Show, former Arizona Cardinals QB Carson Palmer discussed current Cardinals signal-caller Kyler Murray's own issues with body language after the team's shocking 30-12 upset by the Detroit Lions in Week 15.
"He's showing blame, and I don't know if he's aware of it,'" Patrick said of Murray. "But his body language was bad yesterday."
That's when Palmer took a completely unprovoked shot at his infamous contemporary, Jay Cutler.
"The good news is, his body language is not 'Jay Cutler bad.' It's bad, but it could be worse," Palmer explained.
When Patrick interrupted and asked, "How do you explain Jay Cutler's body language?" Palmer responded, "Awful. With a capital A and a capital W."
Palmer then turned his attention back to Murray and explained:
No doubt, it's bad. And I just look back at [Murray's] short career. He only played one year in college. He only had one opportunity in college to really be 'the guy,' and be the leader and be the captain. And be the guy that can't have bad [body] language. Then he thrust right into the NFL and started Week 1. So, he hasn't had the ups and downs. He hasn't had the peaks and valleys and the adversity that makes you be tough. That makes you put on a winning face and not have a losing face or have that bad body language. He hasn't gone through that as a player yet. But it's bad. There's no doubt about it. You can tell his teammates and the guys around him sense it. That's something that Kyler's definitely gotta work on.  

Carson Palmer on Kyler Murray and Jay Cutler
Murray can work on the body language all he wants, but it might not make a difference this season without his best offensive weapon.
Murray has struggled since returning from injury and losing DeAndre Hopkins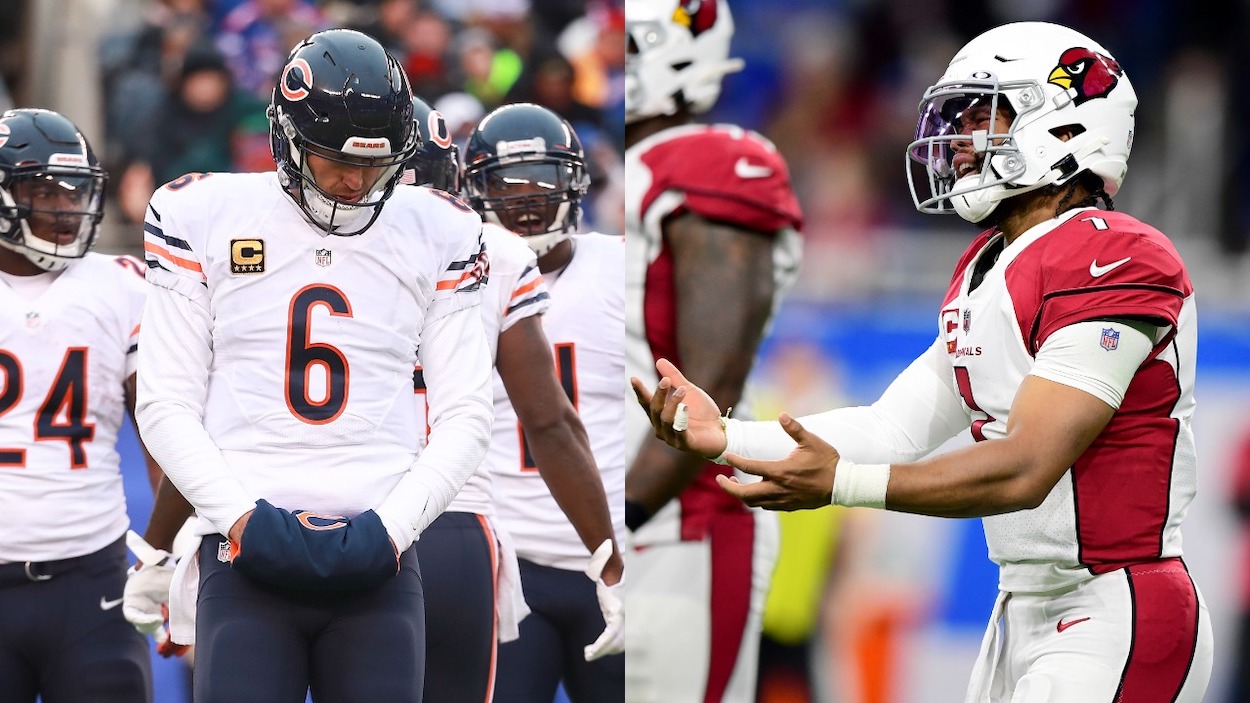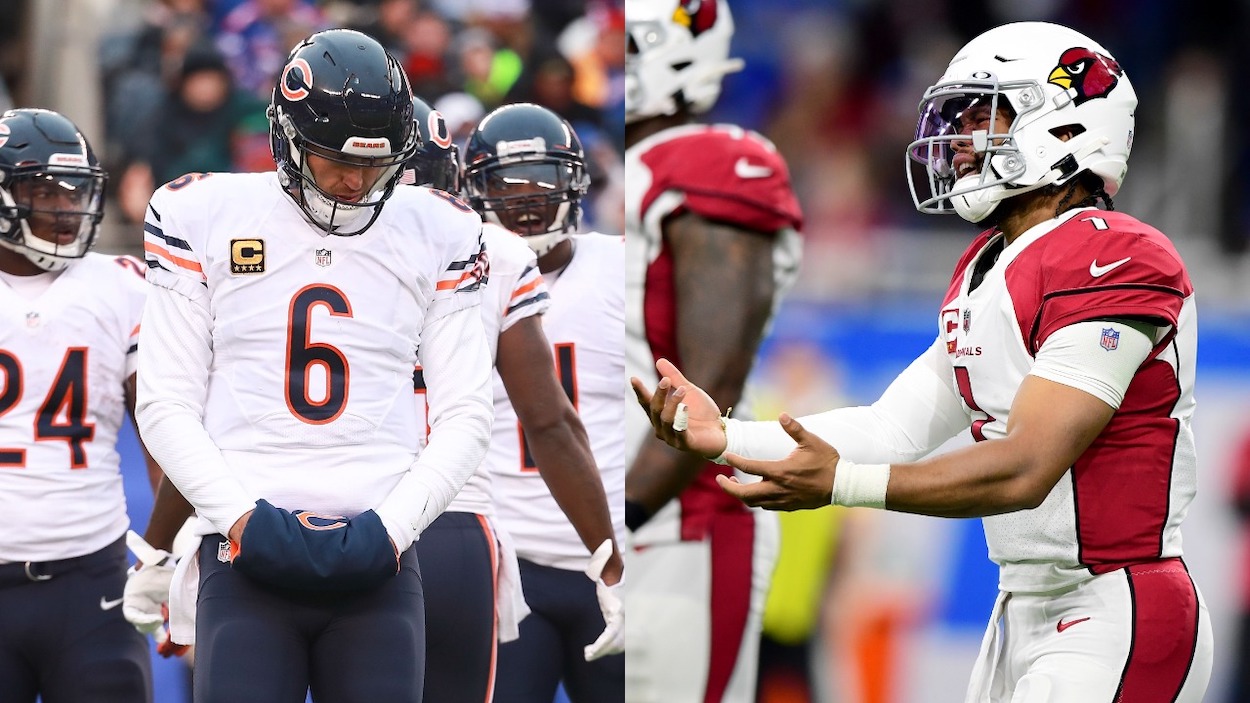 The 2021 Arizona Cardinals started the season like a house on fire. An opening day 38-13 beatdown of the Tennessee Titans was the beginning of the run that gave the Cardinals a 10-2 record and the No. 1 seed in the NFC through 13 weeks.
The team even survived QB Kyler Murray missing three games, going 2-1 in that stretch.
However, Arizona is now on a two-game losing streak that coincided with superstar WR DeAndre Hopkins going out for the year with a torn MCL. This slide culminated with the team's unthinkable loss to the now 2-11-1 Detroit Lions.
Carson Palmer thinks that the loss of Hopkins — more than Murray's bad body language or anything else — could doom the Cardinals, even if they can hang on to the top spot in the NFC West, with the Los Angeles Rams, also 10-4, nipping at their heels.
Palmer told Dan Patrick:
I am concerned about [the Cardinals]. Seeing DeAndre Hopkins on the sideline. I mean, that has been Kyler Murray's blanket of security. There is no doubt. When Kyler gets back in the pocket, and he can't see what's going on, he just finds a way to find DeAndre somewhere else. … The bigger issue, outside of losing to Detroit is, they lost DeAndre Hopkins down the stretch. … This is when DeAndre makes game-winning plays. In December and into January. And, unfortunately, now we'll really see what Kyler's made of.

Carson Palmer on DeAndre Hopkins
Murray and Arizona face two playoff teams in the Indianapolis Colts and Dallas Cowboys in Weeks 16 and 17 before ending the season with the division-rival Seattle Seahawks.
We absolutely will see what Murray is made of in this Hopkins-less stretch. And we'll get to see if he can get his Jay Cutler-like body language under control and lead his team to crucial Ws.
All stats courtesy of Pro Football Reference