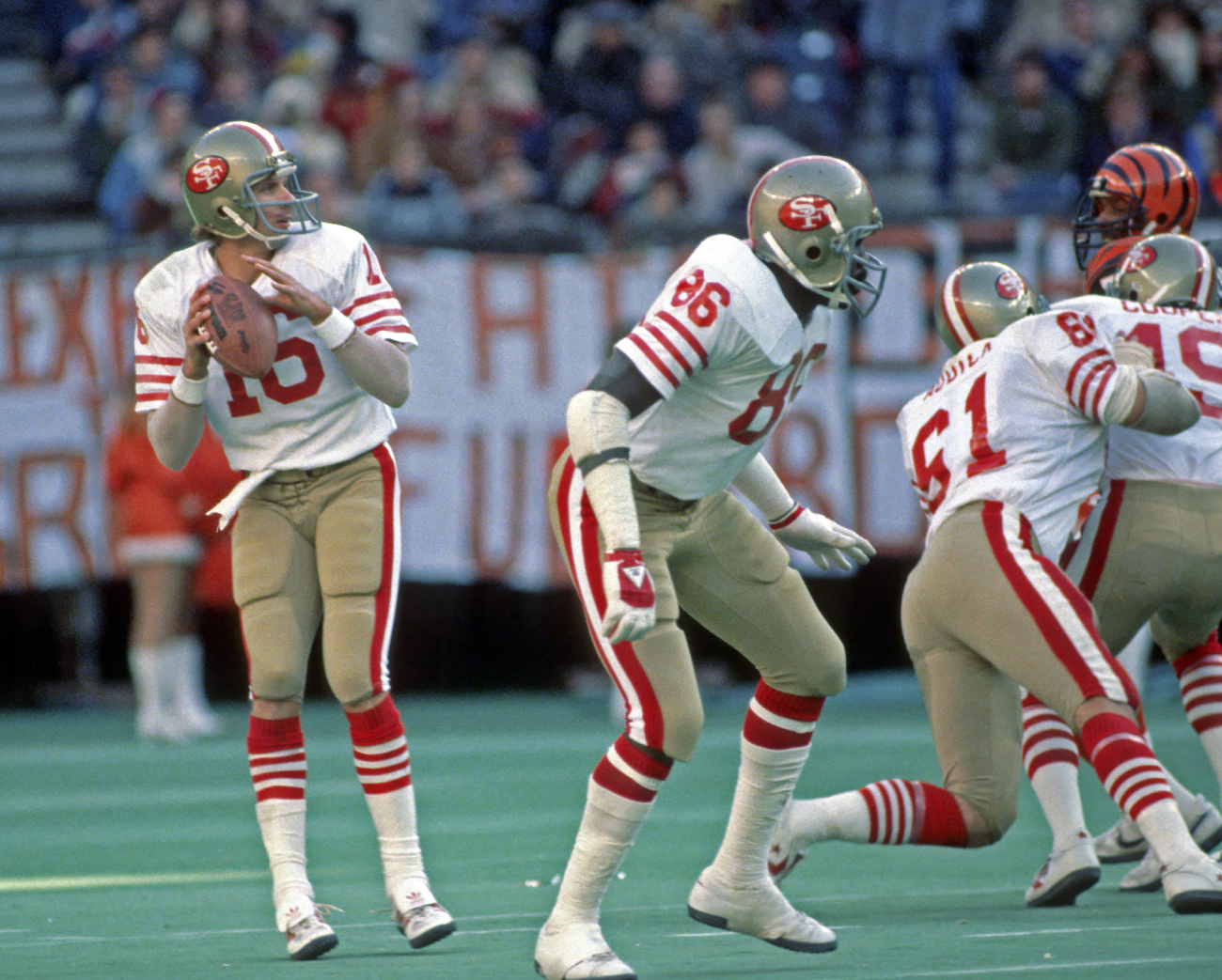 Joe Montana Tells Russell Wilson How He Got the Nickname 'Joe Cool'
Former San Francisco 49ers legendary quarterback Joe Montana reveals one reason why his nickname is 'Joe Cool.'
We've seen the recent video of quarterback Tom Brady screaming at his offensive line. Miami Dolphins quarterback Dan Marino was known for yelling at his wide receivers. Former San Francisco 49ers quarterback Joe Montana, however, usually kept his cool. Montana rarely, if ever, got mad during his playing days and recently explained why.
Joe Montana's legendary career
Joe Montana spent 15 years in the NFL, the first 13 of them with the San Francisco 49ers. Montana played his college football at Notre Dame and was a third-round draft pick in 1979 by the 49ers. He was widely regarded as the top quarterback in the league.
It took Montana two seasons before he really got going in the NFL. In 1989, he became the full-time starter. During that season, he went 13-3 and led the league in passing completion at 63.7%. He made the first of his eight Pro Bowls and won the first of his four Super Bowls in 1981.
Montana led the league in passing completion five years. He led the league in touchdown passes twice and was also a two-time MVP. Montana missed all of the 1991 season with an elbow injury and played just one game in 1992. He then played the 1993 and 1994 seasons with the Kansas City Chiefs and went 19-10, including playoffs. Montana was inducted into the Pro Football Hall of Fame in 2000.
Joe Montana explains why he never got mad on the field
It's easy to understand why Joe Montana was known as 'Joe Cool' during his playing days. Part of the reason was he never lost it on the field. He never blew a fuse. At least publicly, Montana never showed his emotions and rarely, if ever, yelled at a teammate or coach.
During Wednesday's DangerTalk podcast with Seattle Seahawks quarterback Russell Wilson, Montana explained why he never took anything out on his teammates as many quarterbacks have been known to do. "You can't remember the bad stuff. It puts bad things in your mind," Montana said. "You know how fast things happen out there and if you're thinking about that, you're in trouble.
"People always say, 'I never saw you yelling or screaming.' You know what, why am I going to yell and scream? I'm going to make mistakes. Do I want to throw an interception? No. Does that guy in front of me want to miss a block? No. Does that guy want to drop a pass? No. It happens. Those guys on the other side get paid, too. As long as you get the best of them the majority of the time and get to where you want to get, it's OK."
Montana apparently took after his coach Bill Walsh
While Joe Montana was mild-mannered, his head coach, Bill Walsh, was the same away. Montana recalled a time when Walsh was upset at Montana and it pales in comparison to how many other coaches react to a bad play on the field.
"Our coach (Bill Walsh), and your coach (Pete Carroll) seems to be the same way, was pretty even-keeled," Montana said on the DangerTalk podcast Wednesday. "When things happened, he had a certain understanding about it. He did things a different way and he understood in a different way.
"The maddest I've ever seen him get at me was I threw an interception in the red zone, in the end zone one time. I used to go right from the field to Bill and then to the phone. I knew I was in trouble and he looked at me and said, 'what was that?' and I said, 'I think that was an interception, coach.' He said, 'try not to let that happen again.'" He's gotten madder than that, but not at me. He would let me know in other ways, but from that point, I went over to the phone first and then back over to see him."