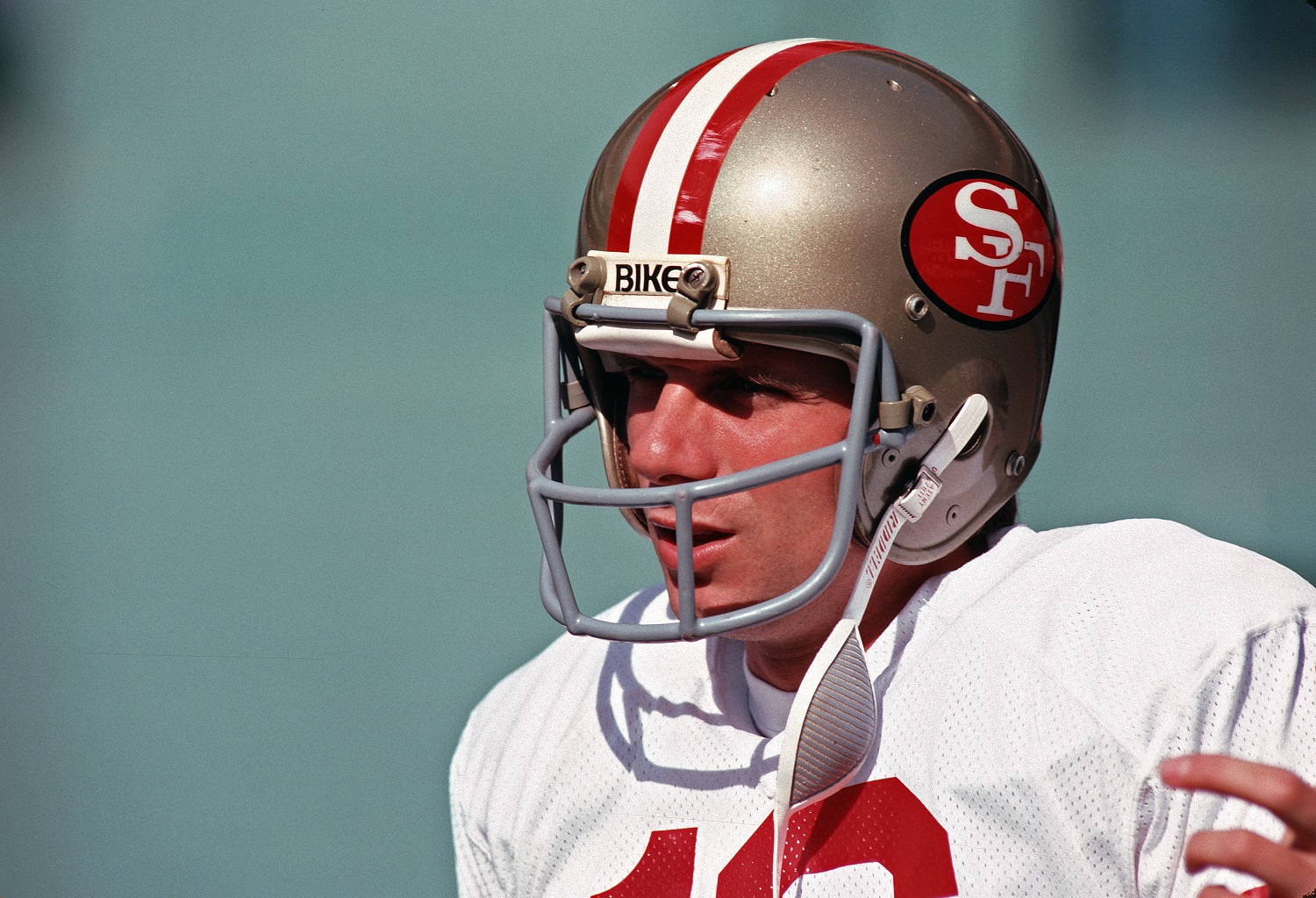 Joe Montana's Most-Admired 49ers Teammate Wasn't Jerry Rice or Ronnie Lott
Joe Montana's choices for most-admired teammate and the defender he's happy to not have to see again might rate as surprises.
Jerry Rice was the best dresser on the team and Ronnie Lott was one of the three guys that Joe Montana would want by his side in a foxhole. But neither was the player that the Hall of Fame quarterback considered to be his most-admired teammate.
Joe Montana didn't mind playing in the Superdome
Retired quarterback Joe Montana, one of the most accomplished players in the history of the NFL, joined Atlanta Falcons signal-caller Matt Ryan for a discussion about life outside of sports, which was followed by a short but wide-ranging Q-and-A on football topics.
Montana was a veteran of 13 seasons with the San Francisco 49ers and two with the Kansas City Chiefs. Ryan is about to enter his 13th season with the Falcons. Both have a wealth of knowledge about the league, its players, and cities.
A few of the answers were vague. For instance, Montana was asked about his greatest comeback win and cited a victory over the Eagles "when Buddy Ryan was there. I think we scored three or four touchdowns in the last quarter to win."
On the other hand, some answers were no-brainers, including naming Jerry Rice as the best-dressed 49ers player.
As for the toughest place to play, Montana came up with a surprise. Although Kansas City has a reputation for being a difficult venue due to the crowd noise and Buffalo has swirling winds that are tough on medium and long throws, Montana singled out the old Giants Stadium in the New Jersey Meadowlands.
Ryan chimed in to nominate the Superdome in New Orleans, another noisy stadium because of the roof.
"I was going to say New Orleans, but I never lost there," Montana countered with a laugh.
"You dominated the old NFC West," Ryan said. "I notice you didn't say the Georgia Dome."
Replied Montana: "Anywhere inside was always great for us weak-armed quarterbacks."
More about his San Francisco 49ers teammates
When asked which teammate he'd trust to watch his children or grandchildren, Joe Montana singled out Keena Turner, a linebacker with the San Francisco 49ers from 1980-90. Turner remains with the club as a front-office executive.
The question generating the funniest response from Montana was about who, outside of family members, he would want by his side in a foxhole. He picked the 49ers' Ronnie Lott, Cris Carter of the Minnesota Vikings, and Mike Quick of the Philadelphia Eagles.
"(Quick) and Cris Carter were insane. He made the craziest catches I've ever seen in my life," Montana said. "And then I played with them in the Pro Bowl, and they both said, 'If you're in trouble, just throw me the ball.' I go, 'I've got one ball, I've got two guys that want it.'"
Joe Montana's most-admired teammate
With his 198 career sacks, Reggie White was an understandable choice for Joe Montana's defensive player he would never want to face again. But it did raise an interesting point: The 49ers and New York Giants battled for a stretch for NFC supremacy, so Lawrence Taylor might have been the guy Montana would least want to face again.
However, Montana gave some insight regarding that issue with his choice of lineman John Ayers as his most-admired teammate.
"He was an offensive guard who handled Lawrence Taylor better than anyone," Montana said.
Ayers played for the 49ers from 1977-86, starting 133 of his 148 regular-season appearances with the team. He was the starting guard on San Francisco's first two Super Bowl champions.
Ayers died of liver cancer in 1995 at the age of 42. Offensive coordinator Bobb McKittrick lavished praise on Ayers in a San Francisco Chronicle obituary.
"We felt he won his great battles with Randy White (of the Dallas Cowboys). He also did a great job against Lawrence Taylor," McKittrick said. "More important than that was the kind of person he was. He was unselfish, a consummate team player. … He was liked as much by the squad as anyone we've ever had."