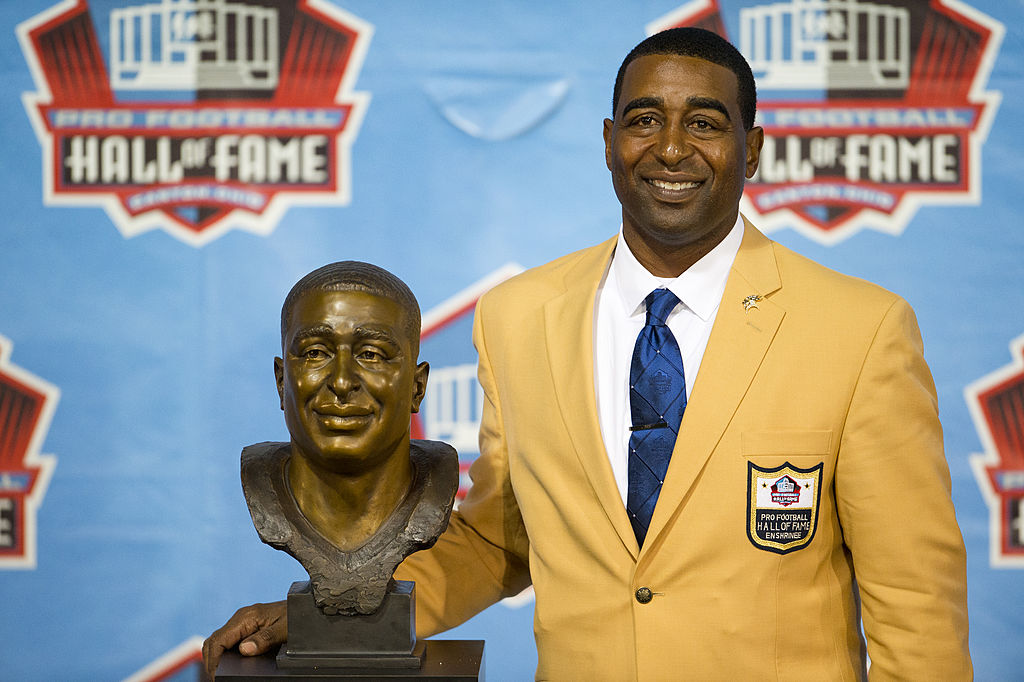 What is Cris Carter's Net Worth?
Cris Carter had a Hall of Fame football career before moving into the media. But what is the former Minnesota Vikings' net worth?
It goes without saying that professional athletes make a great deal of money. While a sizable chunk of that income comes from their game checks, the brightest NFL stars can rake in even more cash from endorsement deals and media opportunities. For an example of that, look no further than Cris Carter.
While the former wide receiver had a Hall of Fame career on the field, he's also spent plenty of time as a TV host and analyst. With all of that work under his belt, what is Cris Carter's net worth?
Cris Carter's Hall of Fame football career
Coming out of high school, Cris Carter showed promise as both a basketball and a football player. While he arrived at Ohio State hoping to play both sports, he decided to spend all of his time on the gridiron; that move paid off in spades.
During his first three years in Columbus, Carter pulled in 168 passes for 2,725 yards and 27 touchdowns. The receiver secretly signed with an agent before his senior season, however, and was ultimately ruled ineligible for NCAA action.
Despite missing his senior year, Carter found an NFL job with the Philadelphia Eagles. While the receiver made an immediate impact in the City of Brotherly Love, he was cut after three seasons; behind the scenes, Carter was struggling with a drug problem, and head coach Buddy Ryan had enough.
The Vikings, however, couldn't ignore Carter's talent and claimed him off of waivers. Although his first few seasons in Minnesota were quiet, the receiver eventually emerged as a star; from 1993 through 2000, he racked up more than 1,000 receiving yards and pulled in as many as 17 touchdowns per season.
Carter would play 12 total seasons with the Vikings before spending the final year of his career with the Miami Dolphins. By the time he hung up his helmet for good, the receiver had caught 1,101 passes for 13,889 yards and 130 touchdowns. He was eventually inducted into the Pro Football Hall of Fame as a member of the class of 2013.
Moving from the NFL into the media
When star athletes retire, they usually don't fade into obscurity. Cris Carter followed that trend, landing a series of media gigs.
Carter spent some time with HBO's Inside the NFL and Yahoo! Sports before joining up with ESPN. He then made the move to Fox Sports in 2016, where he appeared on several of the network's daily shows.
The former receiver eventually became the co-host of his own show, "First Things First," where he worked alongside Nick Wright and Jenna Wolfe, but everything changed in November 2019. Carter was reportedly unhappy that Fox didn't include him in the NFL broadcasts and let the network know about it. That conflict, however, earned the receiver a suspension and, ultimately, cost him his job.
What is Cris Carter's net worth?
During his NFL playing career, Cris Carter earned roughly $32.5 million. While his exact salaries from ESPN and Fox aren't publically known, it's safe to assume that the networks paid him a pretty penny.
Based on that reality, it's tough to pin down Carter's exact earning. Celebrity Net Worth estimates it at approximately $9 million, but it's not clear if that number includes his time with Fox Sports. Most other sources, however, believe, the former wideout is worth somewhere in the neighborhood of $20 or $25 million.
While Cris Carter might be out of a job at the moment, he's also a Hall of Famer with plenty of television experience. Once the 2020 NFL season kicks off, you'd have to assume he'll land another gig and keep increasing his net worth.