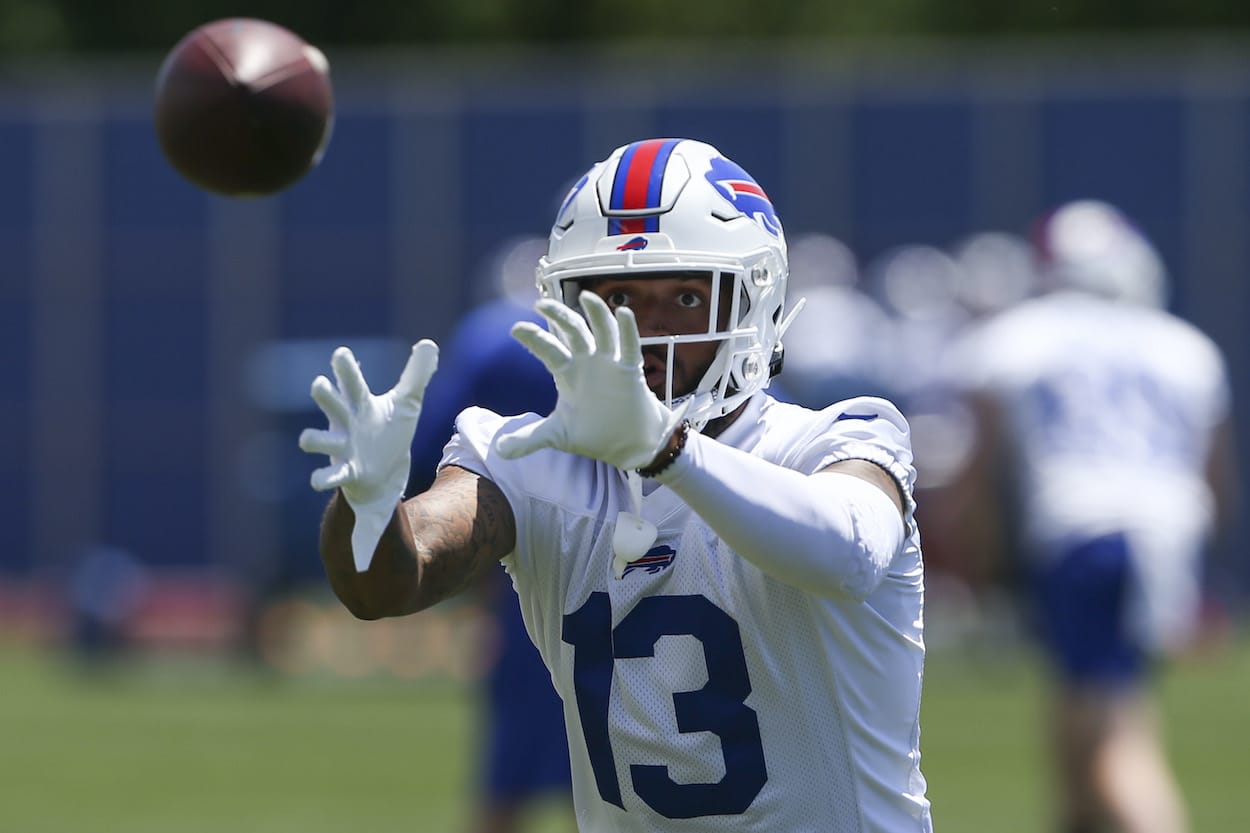 Buffalo Bills News: A Bulked-Up Bill is Poised for a Breakout 2022 Season
Buffalo Bills WR Gabriel Davis is 'bigger, faster, stonger,' than last season and could be a candidate for a classic third-year WR breakout season.
The last memory Buffalo Bills fans have of the 2021 NFL season is Kansas City Chiefs tight end catching the game-winning touchdown to knock the Bills out of the playoffs. Before that was the abominable 13-second defensive meltdown that allowed the game to go into overtime in the first place. Before that, though, was an epic performance by second-year wide receiver Gabriel Davis. And going into year three, he's a player who could have one of those famous breakout seasons for third-year wide receiver.
Gabriel Davis 2021 season
With the 128th pick of the 2020 NFL Draft, the Buffalo Bills selected Gabriel Davis, WR, Central Florida.
Davis was the 17th WR picked that season. While Justin Jefferson and CeeDee Lamb have become stars from that group, none of the other selections have truly become stars.
The 6-foot-2, 210-pound Florida native has put up two nice seasons so far in Buffalo as the third or fourth option behind Stefon Diggs, Cole Beasley, and Emmanuel Sanders. His regular season stats for seasons one and two are:
2020: 62 targets, 35 catches, 599 yards, seven touchdowns
2021: 63 targets, 35 catches, 549 yards, six touchdowns
After two solid seasons, Davis broke out on a national stage in the 2021 AFC Divisional Round classic vs. the Kansas City Chiefs. In an iconic quarterback duel between Josh Allen and Patrick Mahomes, Davis became Allen's go-to target.
The wideout caught eight of 10 targets for 201 yards and four TDs.
It was the perfect performance to suggest that Davis could have a breakouts season in 2022. And, apparently, the WR hit the weight room this offseason like he's ready for a bigger role.
Davis is in great shape for the 2022 Buffalo Bills season
With Cole Beasley and Emmanuel Sanders gone this season, Gabriel Davis is the Buffalo Bills No. 2 wide receiver. And a recent report from Pro Football Focus' Doug Kyed suggests this is a good thing for quarterback Josh Allen and company.
Kyed spoke with Davis' trainer Bert Whigham, who told him that the third-year wideout "hasn't missed a workout since the end of the 2021 season" and had bulked up from his program weight of 210 pounds to 227.
"He's bigger, faster, stronger," Whigham told Kyed. "He's put on muscle. People say that's too big, but he's 23 years old. He's just growing into his natural body. You're going to see a big receiver."
If the buzz on Davis is accurate, it could mean big things for the '22 Bills. A reliable and explosive big target and red zone threat across from Diggs could make the offense even more dynamic than the '21 version.
And if Davis does break out this year, he'll join a large but exclusive group: The breakout third-year wide receiver.
The third-year WR breakout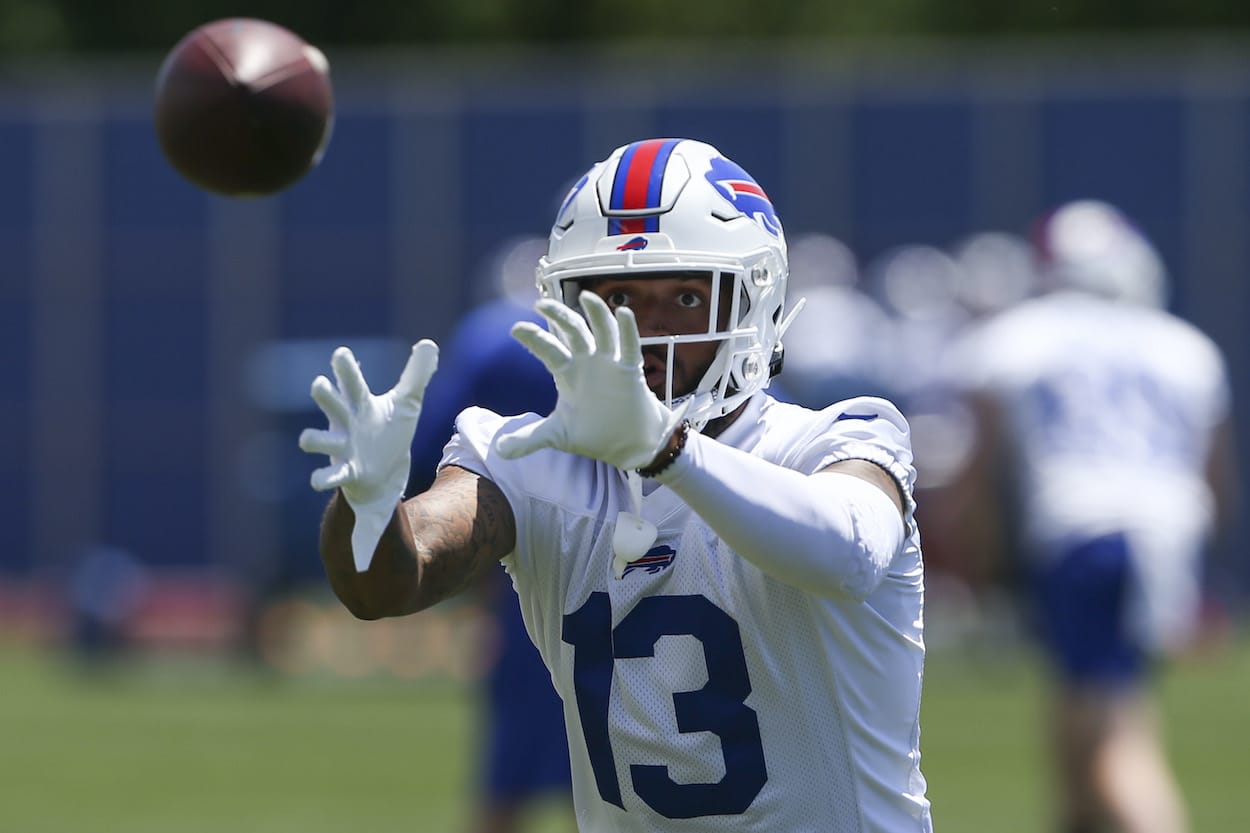 Historically, star wide receivers have their breakout season in Year 3.
Players like Michael Thomas, Tyreek Hill, Cooper Kupp, Mike Evans, DeAndre Hopkins, T.Y. Hilton, Roddy White, Reggie Wayne, Cris Carter, Terrell Owens, and Keyshawn Johnson all fit this bill.
In 2021, third-year WRs DK Metcalf and A.J. Brown were already stars. However, Deebo Samuel, Hunter Renfrow, and Dionte Johnson all had their best statistical seasons.
The 2022 third-year WR breakout candidates include names like Jerry Jeudy, Jalen Reagor, Tee Higgins, Michael Pittman Jr., Laviska Shenault, K.J. Hamler, Chase Claypool, and Van Jefferson.
These are all players to watch (and draft in fantasy football) in 2022.
If the reports are right, though, and dovetail with the last performance we saw from a soon-to-be third-year receiver in last season's playoffs, Gabriel Davis could lead this list.
All stats courtesy of Pro Football Reference