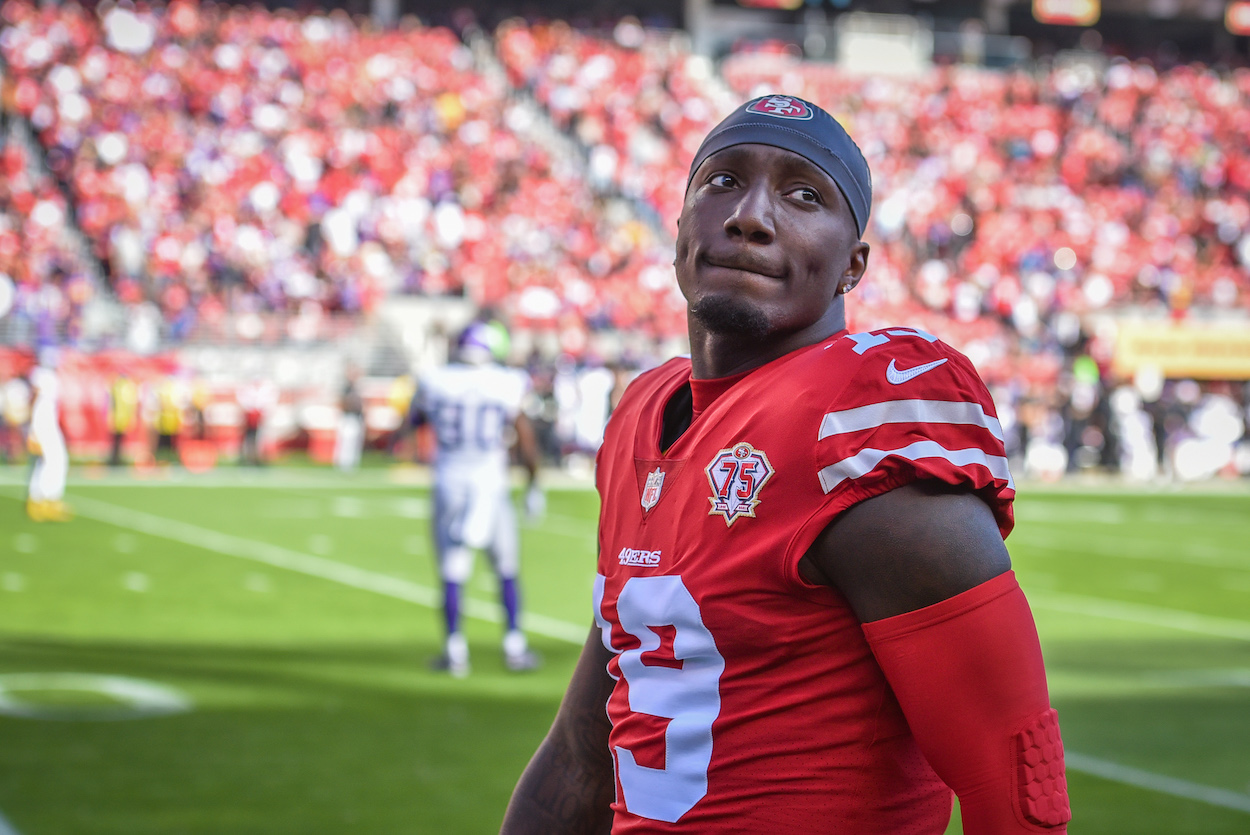 Deebo Samuel Explains the Origin of His Nickname: 'I Used to Fight a Lot'
San Francisco 49ers WR Deebo Samuel explains where he got his nickname from and how the movie character that inspired it influences his game on the field.
Tyshun Raequan Samuel is not a household name to NFL fans. However, San Francisco 49ers wide receiver Deebo Samuel is a name everyone now knows after his incredible All-Pro 2021 season. Before Samuel and the 49ers beat the Dallas Cowboys to move on to the Divisional Round of the playoffs, the do-everything offensive weapon sat down with FOX's Kristina Pink and told her how Tysun became Deebo when he was a kid.  
Deebo Samuel had an incredible 2021 season 
The San Francisco 49ers selected WR Deebo Samuel from South Carolina No. 36 overall in the 2019 NFL Draft.
Samuel had a nice rookie season, playing in 15 games. He caught 57 balls for 802 yards and three touchdowns while also carrying the ball 14 times for 159 yards and three more scores. The former Gamecock's numbers dipped dramatically in year two. He only featured in seven games thanks to a hamstring injury.
Fully healthy coming into the 2021 season, Samuel was poised to have a breakout year, and he certainly did.
San Francisco head coach Kyle Shanahan used Samuel all over the field in 2021. He lined up in the backfield so much this season he's even taken to calling himself a "wide back" instead of just a wide receiver.
Samuel ended the year with 77 catches for 1,405 yards and led the league in yards per catch (18.2). He also ran the ball a whopping 59 times for 365 yards and scored eight TDs on the ground and six through the air.  
These numbers not only helped the 49ers make the playoffs and reach the Divisional Round (so far) but also earned Samuel his first Pro Bowl and All-Pro nods.
Samuel's nickname comes from the movie 'Friday'
As Deebo Samuel became a name that more and more NFL fans are familiar with this season, some are surprised to find out that Deebo isn't his given name.
Ahead of the San Francisco 49ers vs. Dallas Cowboys Wild Card matchup, Samuel sat down with FOX's Kristina Pink and explained the origin of his now-famous nickname:
Deebo is a character from Friday, and my dad actually gave me that nickname probably around six, seven-years-old because I used to fight a lot and bully kids when I was little. So, my dad gave me the nickname 'Deebo,' and it stuck since.

Deebo Samuel on the origin of his nickname
Deebo is an iconic character from Ice Cube's classic 1995 movie Friday, portrayed by the late actor Tiny "Zeus" Lister Jr. In the film, Deebo is the neighborhood bully who steals money from the main characters, Craig (Ice Cube) and Smokey (Chris Tucker).  
Pink also asked Samuel what characteristics he and the fictional Deebo had in common. The pass-catcher says he brings an "aggressive bully-ball" mentality on the field, much like Friday's Deebo undoubtedly would if he took to the NFL gridiron.
The San Francisco 49ers will try to bully the Green Bay Packers on Saturday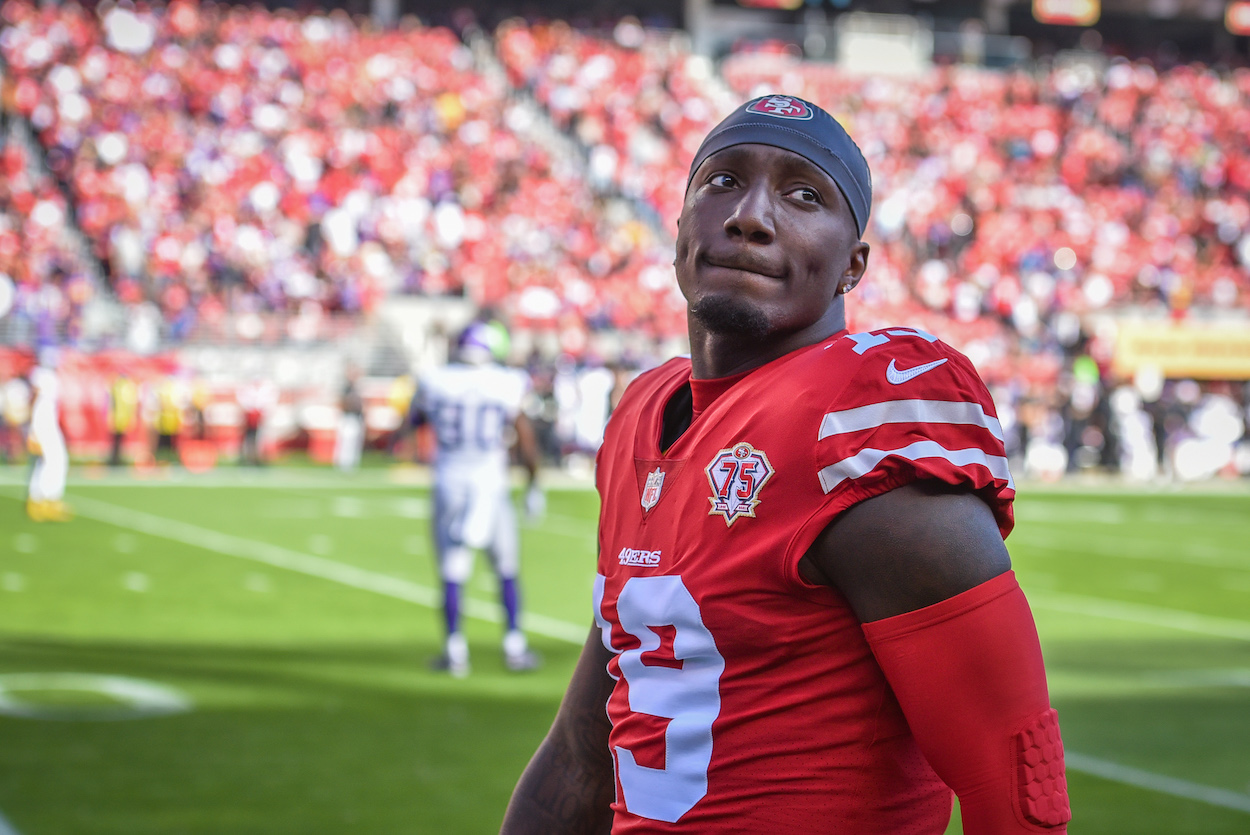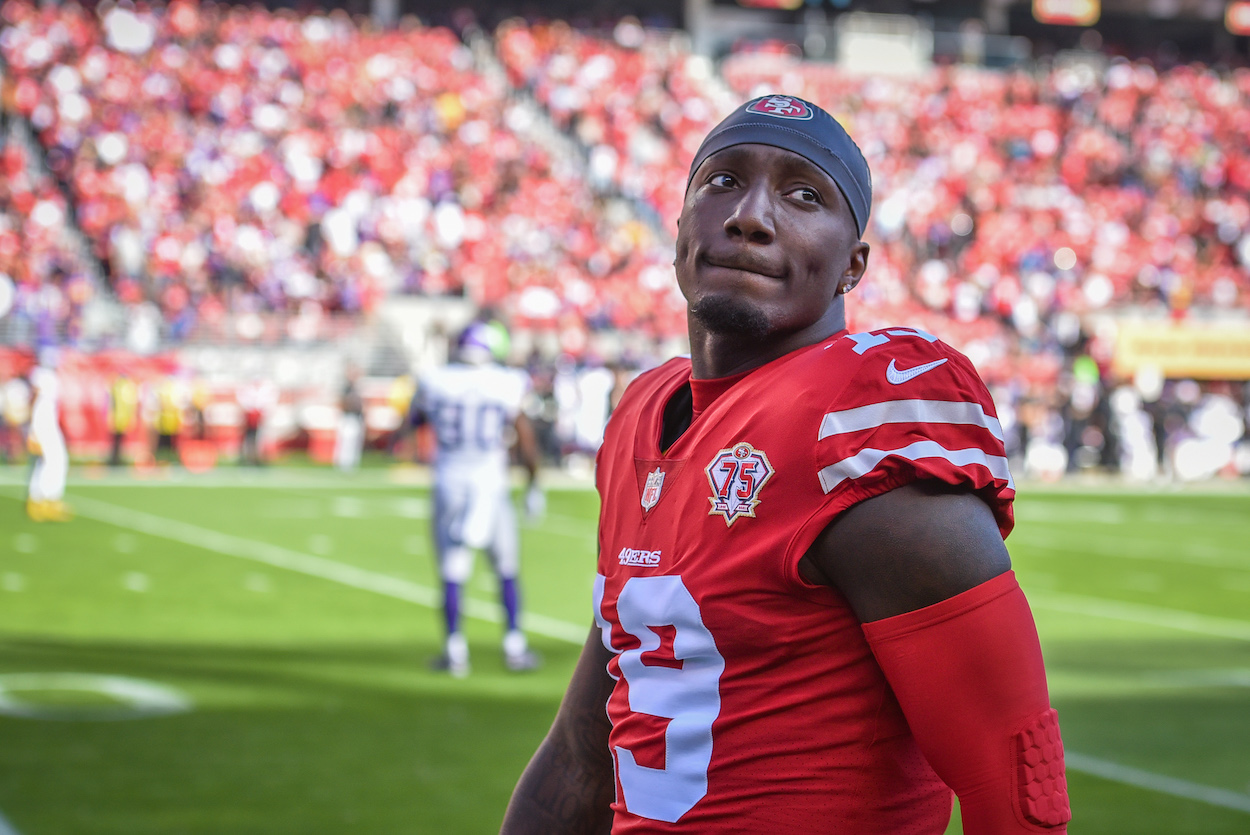 Being a bully is a good analogy for what Deebo Samuel and the San Francisco 49ers will have to do in the Divisional Round when they travel to Green Bay, Wisconsin, to face Aaron Rodgers and the Packers.
The Packers were the best team in the league in the regular season. And, they are coming off a nice, cushy first-round bye last week. Rodgers is playing at an MVP level, and WR Davante Adams is an All-Pro. Also, both sides of the ball could be getting back key players like OT David Bakhtiari, CB Jaire Alexander, and LBs Za'Darius Smith and Whitney Mercilus.
That said, Samuel and his 49ers are one of the hottest teams in the NFL, winning eight of their last 10 games. And the temperature in Lambeau Field is forecasted at 11-degrees Fahrenheit for Saturday night. While that may be an advantage for the team that lives there, you can also make an argument that the team that runs the ball best (and bullies the other team) will get a leg up, and that should be San Francisco.
That's the key to victory for the 49ers: Be like Deebo.
If pass-rusher Nick Bosa and linebacker Fred Warner can play, the defense attacks Rodgers hard, and RB Elijah Mitchell and Samuel can make some tough, big plays, the underdog Niners have a good chance. Furthermore, if QB Jimmy Garoppolo can stop himself from throwing soul-crushing interceptions, San Fran will have a great chance.
If Samuel and the 49ers can throw a haymaker and drop the best team in the NFC, they'll have their fans quoting one of Friday's most famous lines to Rodgers and company.
"You got knocked…"
All stats courtesy of Pro Football Reference