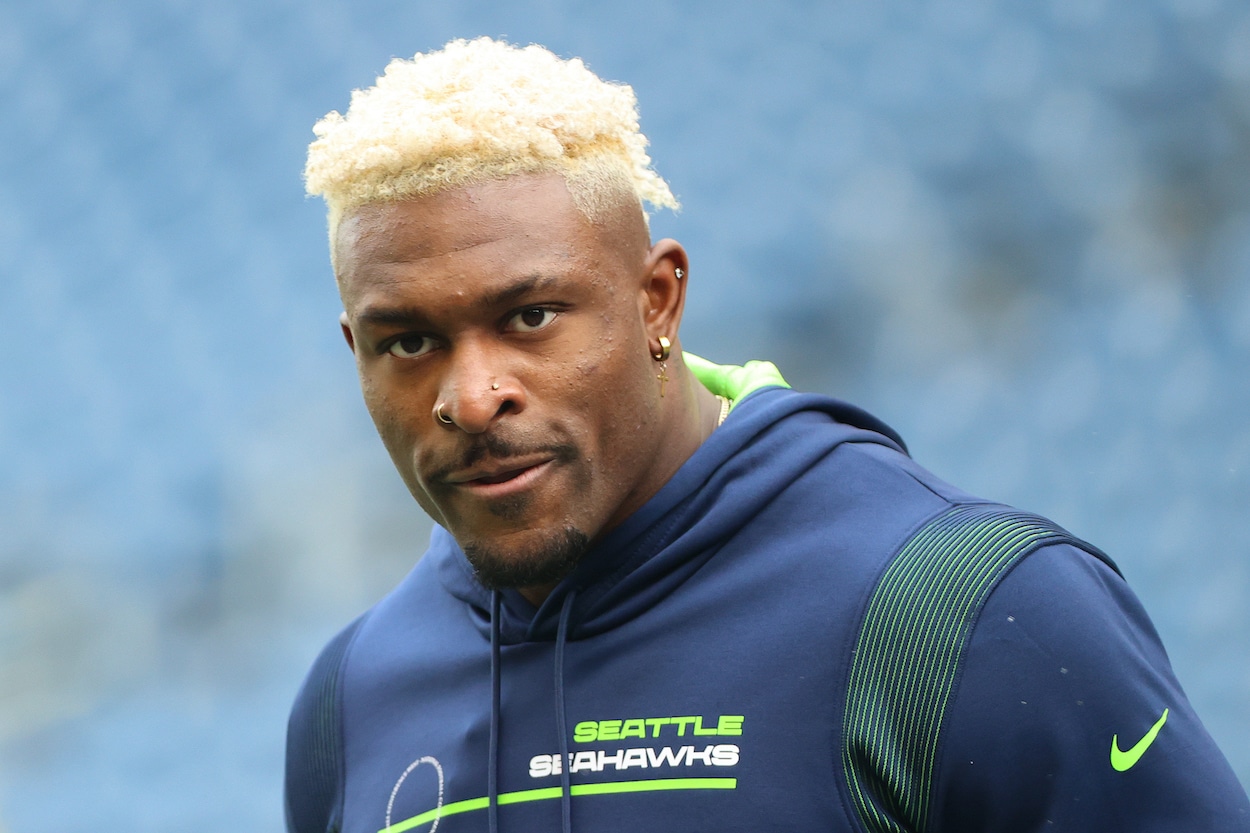 Seattle Seahawks Could Take $93K of DK Metcalf's $3.9M Salary to Send a Message to the Disgruntled Wideout
Seattle Seahawks star WR DK Metcalf is holding out of mandatory mini camp and the team can fine him up to $93,085 for skipping it.
NFL teams are currently hosting their mandatory offseason minicamps. Unlike voluntary OTAs, as the name suggests, all players under contract are required to show up at these events unless excused by the franchise. One NFL star who is currently absent and unexcused from his team's minicamp is Seattle Seahawks wide receiver DK Metcalf. This absence could result in hefty fines for the productive pass-catcher.
Seattle Seahawks WR DK Metcalf's tough offseason 
This offseason hasn't been great for Seattle Seahawks wide receiver DK Metcalf.
The summer started with the organization trading his starting quarterback, Russell Wilson, to the Denver Broncos. Then, instead of going out and getting a big fish to replace Wilson or even drafting a top QB in the NFL draft, the Seahawks decided to stand pat.
This inaction means that the Seahawks starting signal-caller next season will likely be either Geno Smith, Drew Lock, or Jacob Eason. Smith and Lock have a combined 21-34 record as starting QBs, and Eason has thrown five NFL passes.
To add insult to injury, wide receivers around the league are getting huge new contracts at an accelerated rate. Davante Adams, Tyreek Hill, Stefon Diggs, Mike Williams, and Christian Kirk all got big-money free-agent deals or massive extensions.
Even Metcalf's best bud and former Ole Miss teammate, A.J. Brown, cashed in. He got a four-year, $100 million contract with $57.2 million guaranteed when the Tennessee Titans traded him to the Philadelphia Eagles.
With the lack of a reasonable starting QB and extension talks going nowhere with his current team, it's not shocking that Metcalf is sitting out this minicamp. However, it will cost him.
The Seahawks can fine its wide receiver up to $93,000
As a second-round pick in the 2019 NFL Draft, DK Metcalf signed a four-year, $4.5 million contract with $1.7 million as his rookie deal. He made $1.8 million in 2019, $703,457 in 2020, and $911,914 in 2021.
In 2022, Metcalf will get a significant raise in the last year of his deal. He's currently on the books for $3.9 million. While that's a great deal of money for the average person, it's peanuts for one of the top pass-catchers in the NFL.
In three seasons, Metcalf hasn't missed a game in his career and is averaging 72 catches for 1,056 yards and 10 touchdowns a season. By comparison, A.J. Brown, drafted 13 picks ahead of Metcalf, has missed six games and averages 62 catches for 998 yards and eight TDs per season.
Despite obviously deserving a new contract, the Seahawks and Metcalf haven't yet agreed on a deal. So, after showing up for Seahawks voluntary OTAs last month, Metcalf has decided to stay in California and rehab his foot injury instead of attending mandatory minicamp.
The NFL's collective bargaining agreement allows teams to fine players who skip these minicamps up to $15,515 for the first missed day, $31,030 for the second, and $46,540 for the third. That adds up to a grand total of $93,085.
That fine is a lot more significant for a player making $3 million a year than for one making $25 million.
What is DK Metcalf trying to do? 
It's unclear exactly what DK Metcalf's endgame is with this mini minicamp holdout.  
He obviously wants a lucrative long-term contract extension, but whether he wants it somewhere else, other than with the Seattle Seahawks, is unclear.
The franchise is in a strange spot heading into 2022. Russell Wilson is gone, but the organization doesn't seem like it's in full rebuild mode. The Seahawks are 18th in the league in average age (26.1) and 13th in total cap spending ($227.1 million).
If Metcalf does want out, it will be more difficult now than before the draft when teams knew who had what picks in the upcoming selection process. However, there would still likely be several suitors, with the Chicago Bears leading the pack.
Assuming Metcalf would stay in Seattle, getting the deal he's looking for could be difficult. The Seahawks brain trust, led by general manager John Schneider and head coach Pete Carroll, say they want to keep the wideout. Although, after WRs started getting massive contracts this offseason, Schneider said on a Seattle radio show (h/t ESPN), there was "a sense of shock" in the front office around the new going rate.
After minicamp, news on Metcalf's situation (and others) will slow down as the NFL goes on collective vacation until mid-July. Then the rubber really meets the road when training camps start.
If Metcalf decides to keep his holdout going into camp, he faces fines that start at $40-$50K a day.
All stats courtesy of Pro Football Reference and contract figures courtesy of Spotrac
Like Sportscasting on Facebook. Follow us on Twitter @sportscasting19 and subscribe to our YouTube channel.