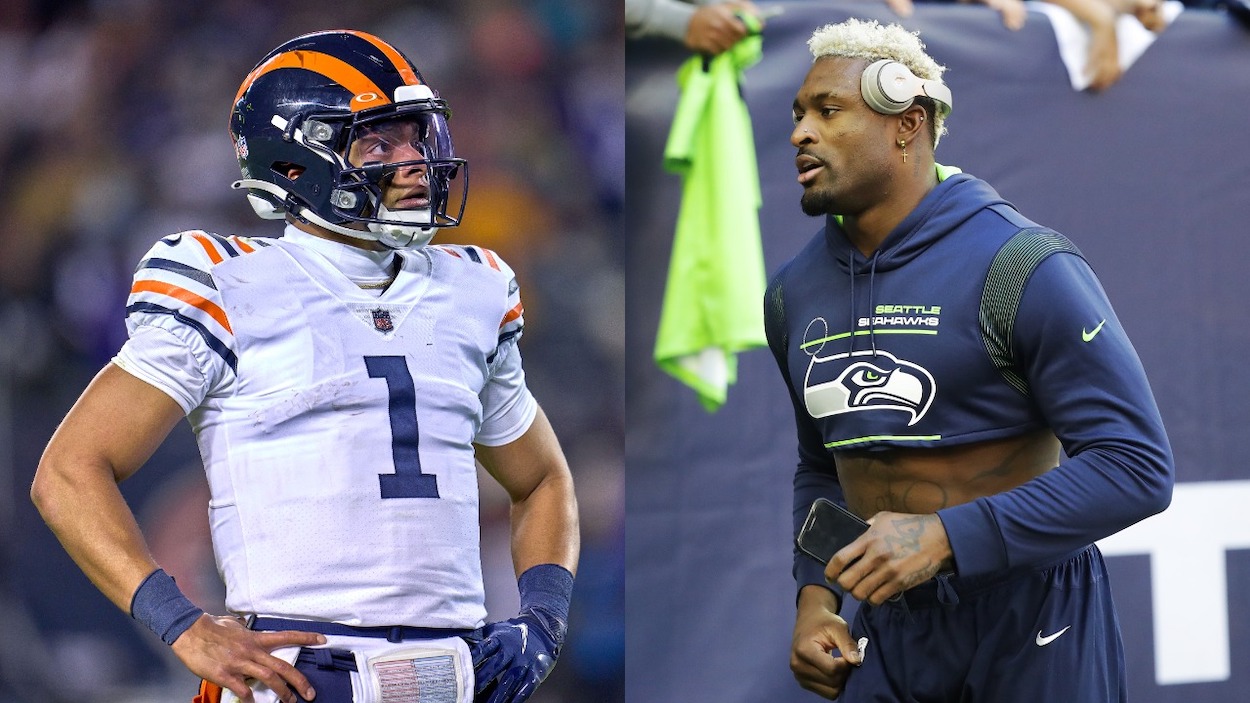 Chicago Bears Rumors: Chris Canty Thinks the Bears Should Pillage Future Drafts for DK Metcalf, and He's Right
If the rumors are true that Seattle Seahawks WR DK Metcalf is on the block, the Chicago Bears need to trade for him for Justin Fields' sake.
As the Seattle Seahawks teardown continues, Pro Bowl wide receiver DK Metcalf may be the next player to go. If that is the case, ESPN analyst Chris Canty says that the Chicago Bears are the ideal landing spot, and he's absolutely right.
The Chicago Bears desperately need a high-quality wide receiver
Justin Fields and the Chicago Bears need wide receivers. Period.
The cupboard was relatively bare last season, and the Bears lost three of the franchise's top four WRs from last season. Allen Robinson II (38 catches in 2021) signed with the LA Rams, Damiere Byrd (26 catches) signed with the Atlanta Falcons, and Marquise Goodwin (20 catches) is still a free agent.
Only top pass-catcher Darnell Mooney (81 catches) remains from last season's top four.
The team did bring in Byron Pringle (42 catches) from the Kansas City Chiefs and Equanimeous St. Brown (nine catches) from the Green Bay Packers. This pair isn't going to get it done, though, if the Bears hope to develop Fields and win games in the process.
The team can draft a WR in the 2022 NFL Draft, but it won't be one of the top prospects. Ex-Chicago general manager Ryan Pace traded away this year's first-round pick to draft Fields in 2021.
With most of the top free-agent wideouts off the market, that leaves the Bears with precious few options at the position. That's why former NFL defensive lineman and current ESPN analyst Chris Canty has a suggestion: Trade for Seattle Seahawks WR DK Metcalf.
Chris Canty thinks the Bears should mortgage their draft future for DK Metcalf
Seattle Seahawks star receiver DK Metcalf was "shocked" by the Russell Wilson trade and Bobby Wagner cut. Now, rumors are rampant that the 6-foot-4, 235-pound pass-catcher is the next on the block.
On the ESPN morning show Get Up!, the hosts discussed Metcalf's best landing spots if the Seahawks decide to move him as part of the franchise's apparent rebuild. Chris Canty went first, telling his co-hosts:
I'm gonna roll with the Chicago Bears. It's all about being able to develop the young quarterback. That's what it comes down to. Justin Fields, being able to get the most out of him going into year two. Now, the Bears don't own their first-round draft pick this year. That belongs to the New York Giants. That's a top 10 pick. But there's nothing that precludes them from trading future draft capital in order to bring back a true No. 1 receiver. And, oh, by the way, because you have a quarterback in a rookie deal, you can go ahead and give that dude that bag.
While plenty of NFL pundits have crushed the Bears before for trading away draft capital (including yours truly), this would be different, and here's why.
Why trading for Metcalf would be a smart move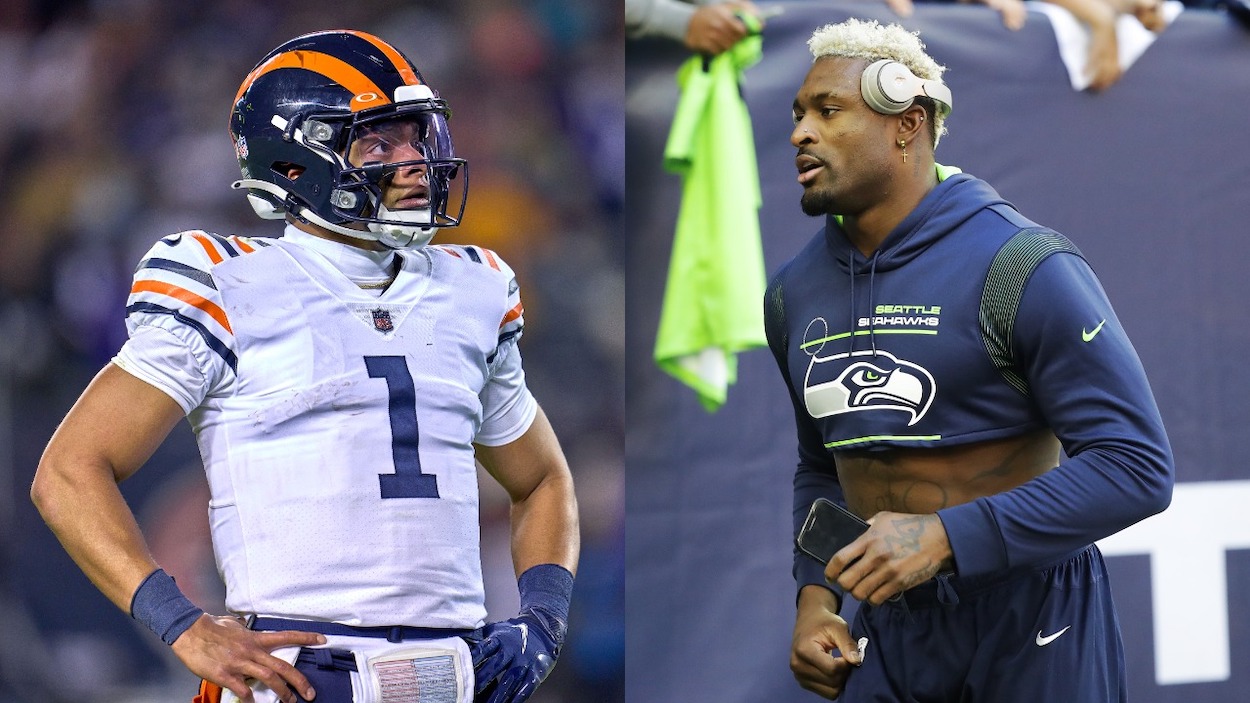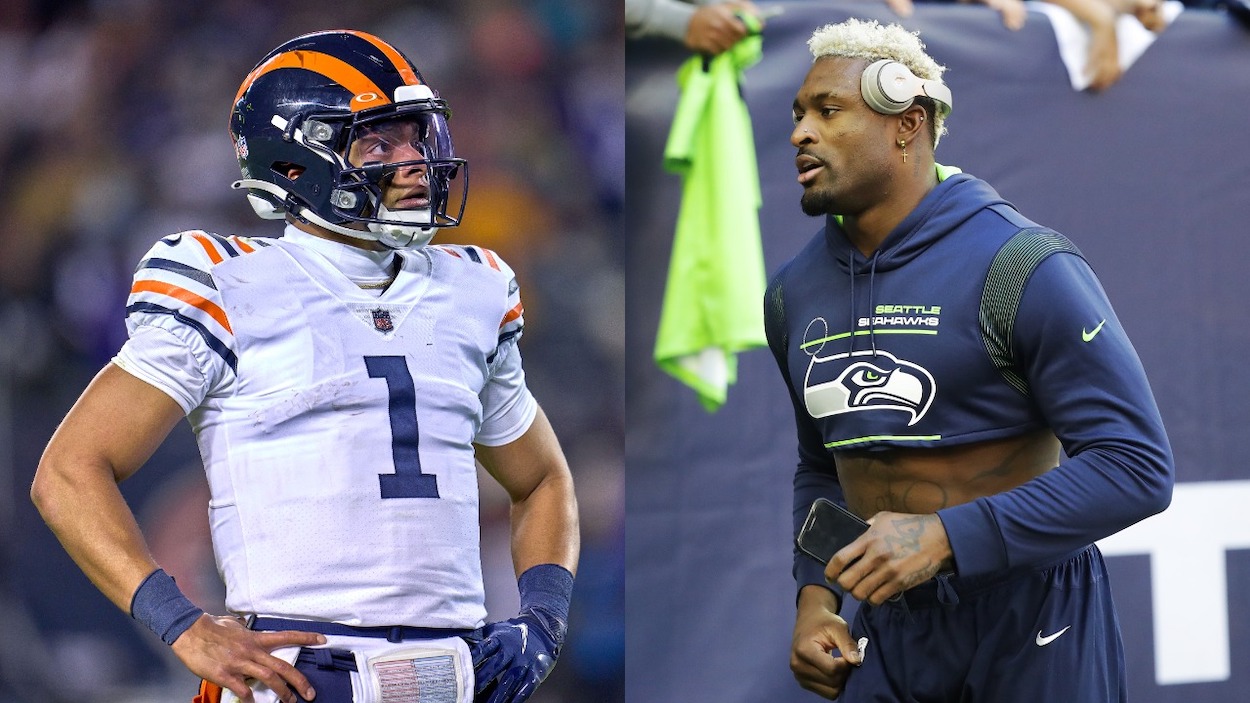 The NFL draft is a crapshoot, an inexact science at best.
Any team that consistently gives up picks to pinpoint a specific player that they "know" is going to be a star is not a smart team. Time after time, teams that trade back for more bites of the apple have better results than teams that trade up for one coveted target.
That's the draft, though. While there's usually a 50/50 chance that a WR prospect will turn out good, there's a 100% chance that DK Metcalf is awesome. We know this.
As the LA Rams have proven lately, giving up unknown draft picks (even high ones) for known commodities can be a smart move.
Metcalf would give Justin Fields a lightning-fast freight train of a target to help him grow as a passer. In three seasons, Metcalf has averaged 72 catches for 1,056 yards and just a smidge under 10 touchdowns a season.
If the Bears are lucky, they'll get a WR in the first round of the 2023 draft who will come close to those numbers. Why not give up that pick (and probably a little more) to get Metcalf now for 2022?
Chris Canty is right, a Chicago Bears/DK Metcalf trade would make a lot of sense, and the Bears should pull the trigger on this deal sooner rather than later if they can.
All stats courtesy of Pro Football Reference