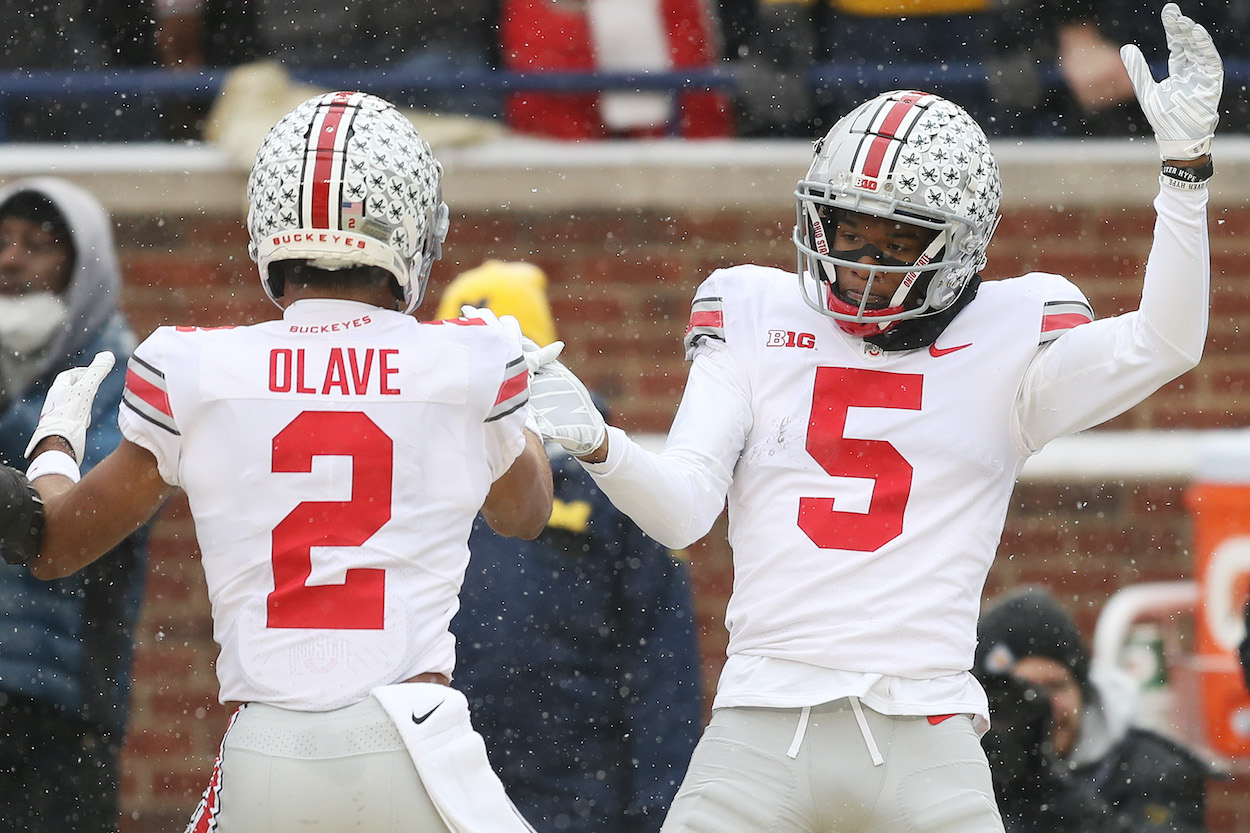 Rich Eisen predicts a Rookie WR Will 'Transform an Offense' Like Justin Jefferson and Ja'Marr Chase Did
In the last two NFL drafts, a pair of rookie wide receivers broke out and became two of the league's best pass-catchers. After watching a deep and talented WR group at the NFL Combine, NFL Network's Rich Eisen believes that the 2022 class has the potential to produce players like Justin Jefferson ad Ja'Marr Chase who can transform …
In the last two NFL drafts, a pair of rookie wide receivers broke out and became two of the league's best pass-catchers. After watching a deep and talented WR group at the NFL Combine, NFL Network's Rich Eisen believes that the 2022 class has the potential to produce players like Justin Jefferson ad Ja'Marr Chase who can transform a team's offense.
LSU wide receivers Justin Jefferson and Ja'Marr Chase have taken the NFL by storm
Quarterback Joe Burrow gets most of the credit for propelling LSU to its 2020 championship. He didn't do it alone, though. That team also included two pass-catchers who dominated in the NFL from their rookie seasons.
The Minnesota Vikings took Justin Jefferson No. 22 overall in the 2020 NFL Draft. Ironically, it was the pick the team got from trading Pro Bowl wideout Stefon Diggs to the Buffalo Bills.
In year one in the pros, Jefferson caught 88 balls for 1,400 yards and seven touchdowns. That effort landed him in his first Pro Bowl and garnered him a second-team All-Pro nod and second-place in the Offensive Rookie of the Year voting (to Justin Herbert). Year two was even better with 108 catches for 1,616 yards and 10 TDs, plus another Pro Bowl and second-team All-Pro appearance.
In 2021, the Cincinnati Bengals took Jefferson's running mate at LSU, Ja'Marr Chase, No. 5 overall. With his old QB Burrow under center, Chase put up 81 catches for 1,455 yards and scored 13 TDs. Those numbers got him on the Pro Bowl squad, second-team All-Pro list, and won him Offensive Rookie of the Year.
It also helped propel the Bengals to a Super Bowl.
These two WRs — along with others such as CeeDee Lamb and Jaylen Waddle — proved that drafting a wideout in the first round is a worthwhile investment for NFL teams these days.
NFL Network's Rich Eisen predicts the 2022 WR draft class will continue this trend.
Rich Eisen predicts big things from the 2022 wide receiver draft class
Rich Eisen spent the week of the NFL Combine hosting NFL Network's coverage of the event. Live from Indianapolis, Eisen got a firsthand look at the wide receivers vying to be the next Justin Jefferson or Ja'Marr Chase.
These WRs greatly impressed the host. Speaking with guest host Ryan Leaf on his own Rich Eisen Show, the former Sportscenter anchor predicted big things from this draft class at the wideout position:
I think, again, yet another draft where the wide receiver position will just keep stocking up teams with one after another after another of kids that can really, really, really, change the game. The last two years, you've seen a rookie receiver from LSU come in and transform an offense that he joins. You'd be hard-pressed to sit here and say that somebody that we saw here last night won't do the same. I mean, they're all really, really good.

Rich Eisen on the 2022 NFL Draft wide receiver class
While Eisen stopped short of making a precise prediction as to which receivers would have Jefferson and Chase-like seasons, he did single out another duo who played together in college.
The host said that seeing Ohio State's Chris Olave and Garrett Wilson "with his own two eyes" was "really amazing." However, he noted that the entire position group in this draft is "stocked."
Who are the top WRs in the 2022 NFL draft class?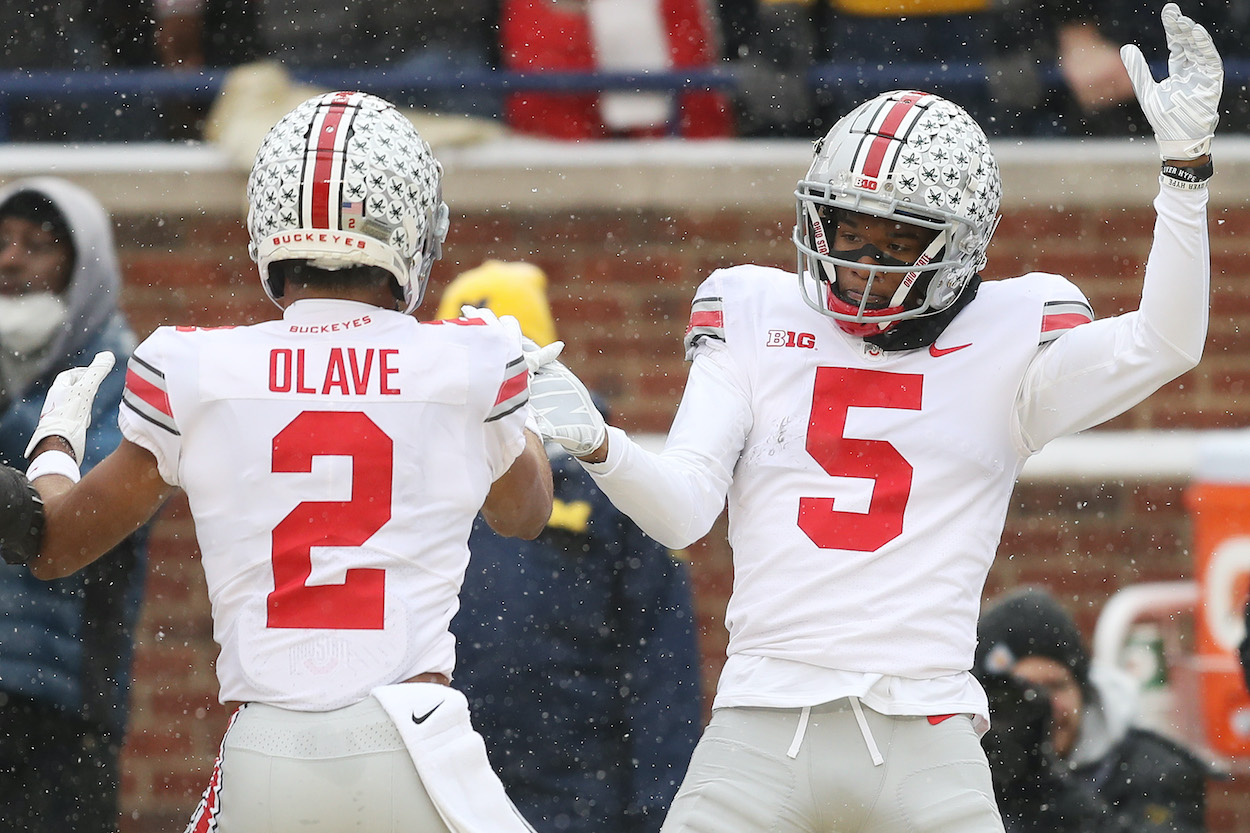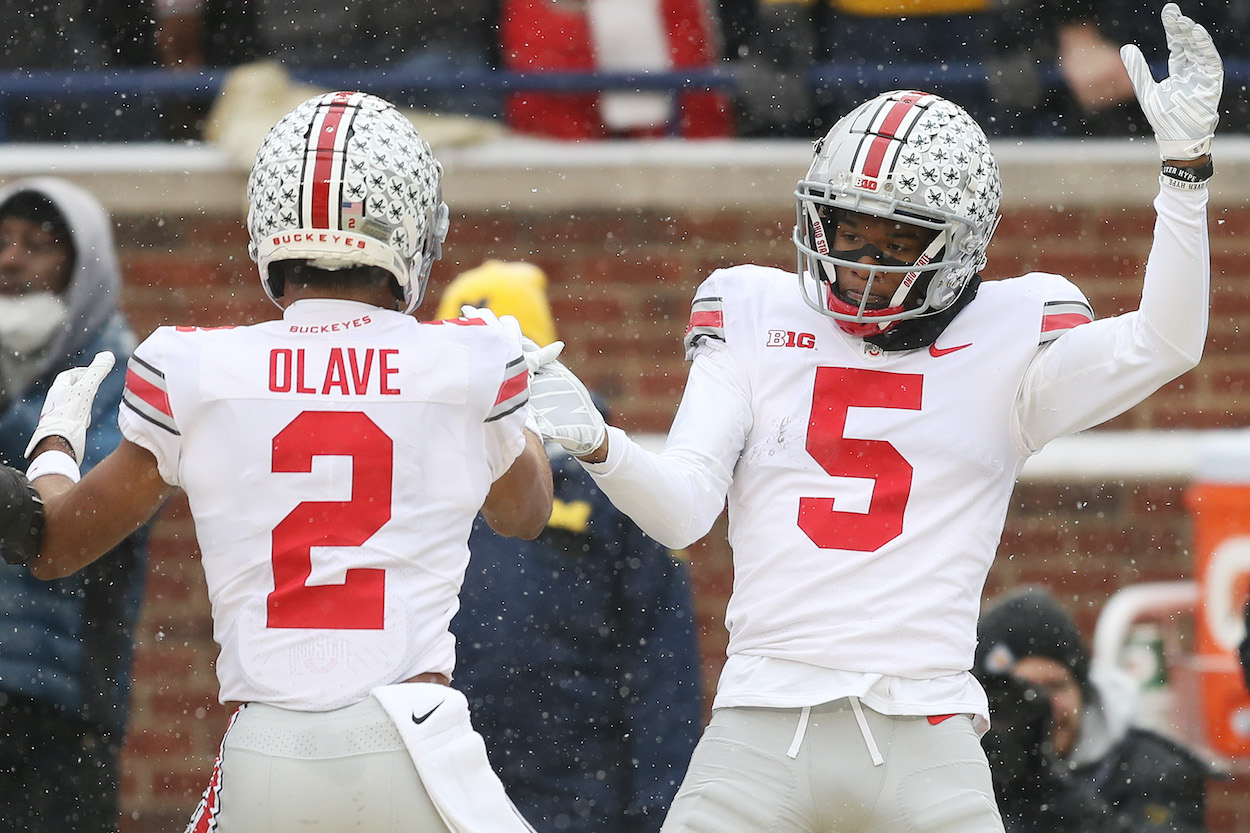 As Rich Eisen noted, the wide receiver headliners from Day 1 of the 2022 NFL Draft will be Ohio State's Chris Olave and Garrett Wilson. Both pass-catchers ran sub-4.4-second 40-yard dashes at the combine. Wilson clocked an (unofficial) 4.37, and Olave blazed through at 4.26. However, their official times were revised to 4.38 and 4.39, respectively, per Sports Illustrated.
CBS Sports' Ryan Wilson's post-combine mock draft had Wilson going No. 11 to the Washington Commanders and Olave heading to the Kansas City Chiefs at No. 30.
There will be other WRs coming off the board in the first round as well who could be this coming season's breakout at the position. USC's Drake London and Alabama's Jameson Williams (coming off an ACL tear) should also go on Day 1. Arkansas' Treylon Burks, Penn State's Jahan Dotson, and Memphis' Calvin Austin III could all end up in Round 1 as well.
Obviously, where these players end up will be a significant factor in how they perform during their rookie seasons. That said, as Jefferson and Chase have shown, first-round wide receivers can dictate their team's offensive success as much as the team dictates theirs.
All stats courtesy of Pro Football Reference