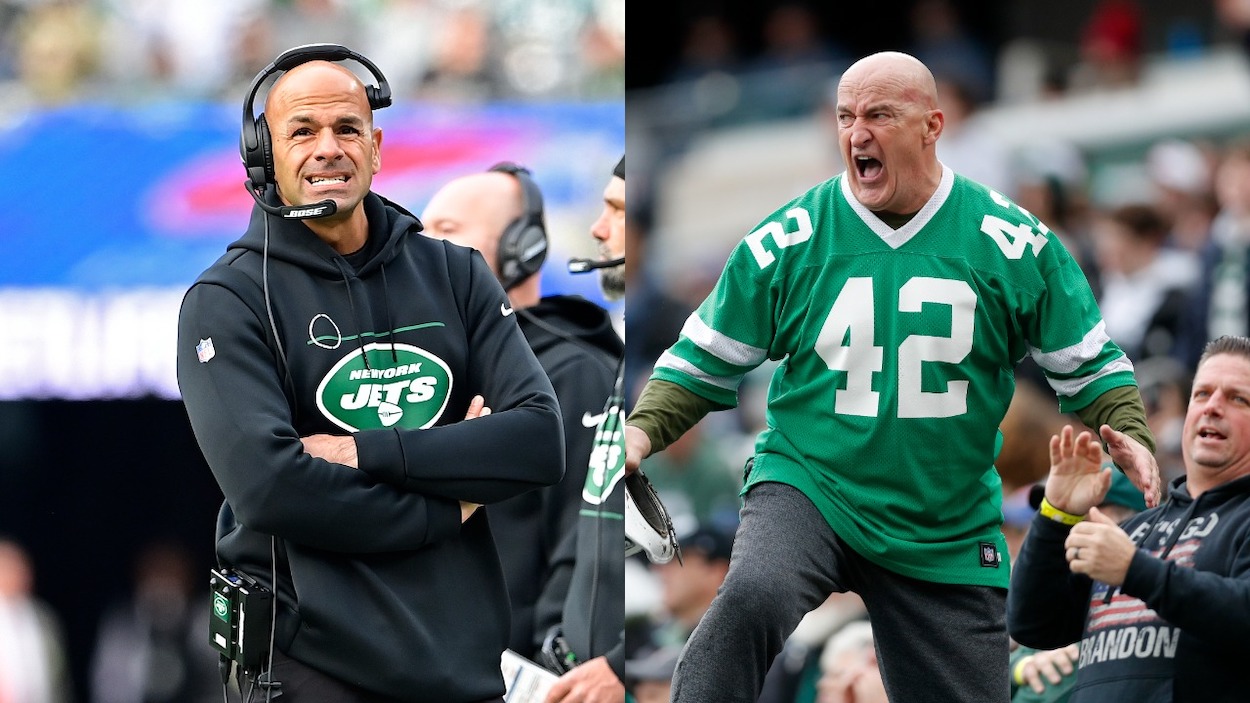 New York Jets Fans Plead With Robert Saleh to Not Repeat Draft Mistakes: 'The Safety Is Just Going to Sit There'
The New York Jets have the No. 4 pick in the 2022 NFL Draft and the team's fans are terrified they'll screw it up like they have in the past.
Saying that the New York Jets haven't drafted well in the first round in the last decade is an understatement. The team's track record with high picks is brutal, and, in this year's NFL Draft, the team has two selections in the top 10.
Jets fans are so concerned that the organization will mess up its chance to turn the franchise around that one season ticket holder resorted to begging head coach Robert Saleh not to repeat past mistakes.
The New York Jets have made plenty of first-round mistakes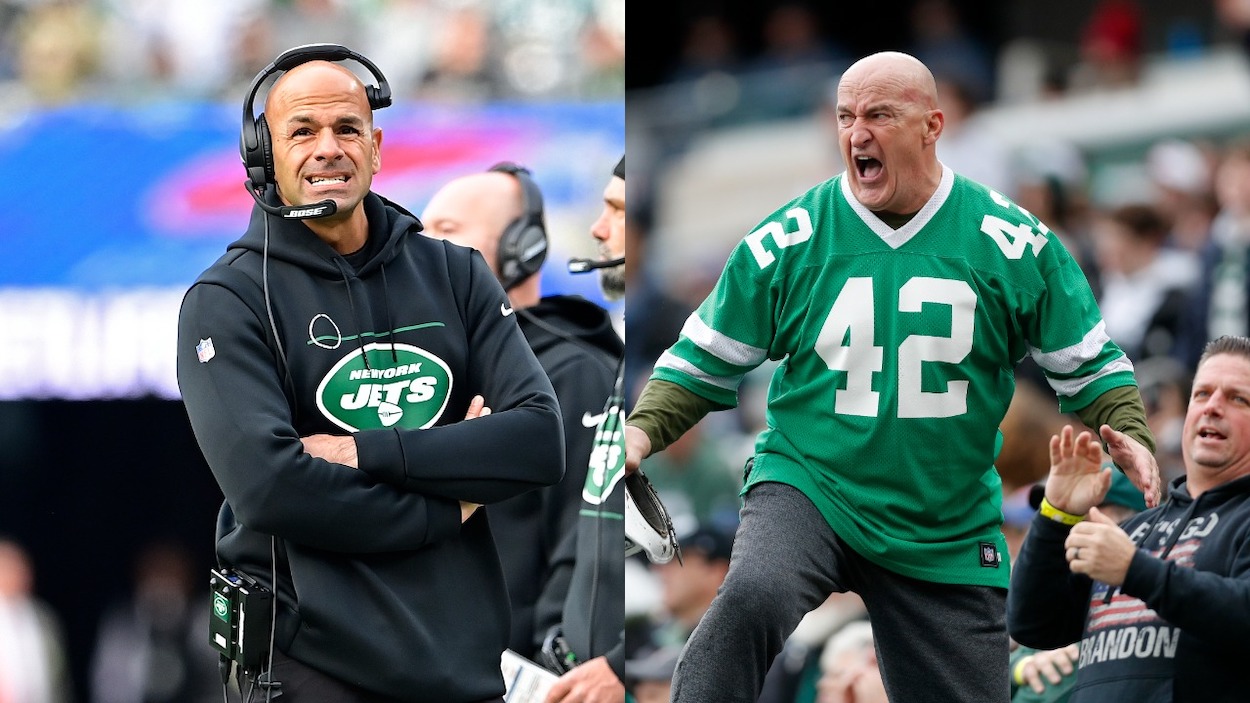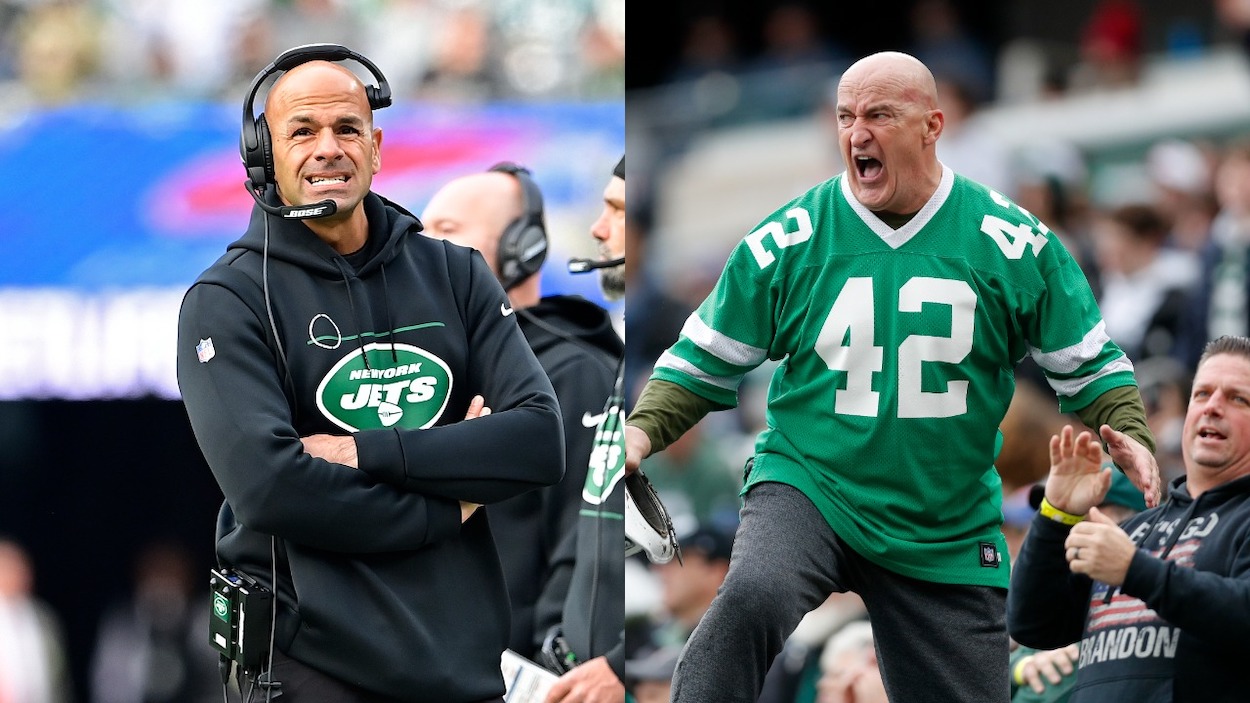 Offensive tackle Mekhi Becton (No. 11 overall, 2020) has played 15 games in two years. Defensive tackle Quinnen Williams (No. 3, 2019) is a solid starter but not yet a Pro Bowl-level player. And the jury is still out on 2021's two first-rounders, quarterback Zach Wilson (No. 2) and guard Alijah Vera-Tucker (No. 14).
QB Sam Darnold (No. 3 overall, 2018) was 13-25 as a Jets starter and now, at 24, plays for the Carolina Panthers. Safety Jamal Adams (No. 6, 2017) plays for the Seattle Seahawks, DT Leonard Williams (No. 6, 2015) plays for the New York Giants, and DT Sheldon Richardson (No. 13, 2013) plays for the Minnesota Vikings.
Darron Lee (No. 20, 2016), Calvin Pryor (No. 18, 2014), Dee Milliner (No. 9. 2013), and Quinton Coples (No. 16, 2012) are out of the league.
That's how the last decade of first-round picks is going for the New York Jets.
Now, the Jets own the Nos. 4 and 10 picks in the upcoming 2022 NFL Draft. General manager Joe Douglas has only been with the organization since 2019, and head coach Robert Saleh started in 2021.
While the faces are new, the green and white name and logo are the same, which terrifies Jets fans. That's why one recently begged Saleh on a conference call not to repeat past regimes' draft mistakes.
Jets season ticket holders begged coach Robert Saleh not to make the same mistakes in 2022
There are no sure-thing QBs at the top of the 2022 draft. While that doesn't matter in some ways to the New York Jets because they drafted Zach Wilson last year, it also means there are no signal-callers teams will pick in the top three, pushing a more talented player down to the Jets' No. 4.
When the Jets pick, there will be some highly-regarded offensive linemen and cornerbacks, possibly one of the top two edge rushers — Michigan's Aidan Hutchinson and Oregon's Kayvon Thibodeaux — and Notre Dame safety Kyle Hamilton.
It's the last player that scares Jets fans to death, as Hamilton reminds many Gang Green supporters of Jamal Adams in 2017.
The possibility of drafting another safety in the top six picks has pushed Jets fans so far that one diehard begged Robert Saleh not to do it on a conference call with season ticket holders. The fan pled with the head coach, per Tyler Greenwald of USA Today:
I think I speak for all Jets fans – we want to see somebody on the defensive line picked. We're looking for a defensive end, an edge rusher, instead of a cornerback or safety because without an edge rush, the safety is just going to sit there.

A New York Jets season ticket holder on the team's 2022 draft
The former defensive coordinator didn't tip his hand. But he did loosely agree with the sentiment, saying, "You're right. It starts up front."
Now that we know where Jets fans stand and (kind of) where the head coach does, who should the Jets pick on Thursday, April 28, 2022?
Who should the team take No. 4 overall? 
At the top of the 2022 NFL Draft, beauty is in the eye of the beholder — and in the needs of the roster.
While there is no consensus top pick, there is a small handful of players that most experts have (in order of personal preference) in their top eight. This top tier includes OTs Evan Neal (Alabama), Ikem Ekwonu (NC State), and Charles Cross (Mississippi State), EDGE's Aidan Hutchinson (Michigan), Kayvon Thibodeaux, CBs Ahmad "Sauce" Gardner (Cincinnati) and Derek Stingley Jr. (LSU), and S Kyle Hamilton (Notre Dame).
What's interesting about the New York Jets' situation is that, while a team won't jump ahead of their pick at No. 4 for a QB or WR, teams might select players at those coveted potions before the No. 10 pick, pushing a second top 8 guy to GM Joe Douglas' team.
According to PFF's final 2021 offensive line grades, the Jets unit was ranked 11th in the league, and that was without star tackle Mekhi Becton. If a top-eight lineman slips to the 10th spot, Douglas can consider it. That position shouldn't be in play at No. 4, though.
Ideally, Gang Green will have either Hutchinson or Thibodeaux fall to them. If that happens, we should see Douglas' 40 time as he sprints to the podium to hand in the card.
If both fall to four (unlikely but not inconceivable), then Hutchison is the pick. He's bigger, and his floor is higher than Thibodeaux. Plus, he has a potential culture-changing personality.
If both pass rushers are gone, that's where it gets interesting.
The angry Jets fans are right. You can't pick Hamilton here. If EDGE isn't an option, Douglas and Saleh should take Gardner or Stingley. Because of Gardner's superior size, he's the better option in Saleh's defense.
All that said, if the Jets do make the Jets-iest pick possible and take Hamilton, the resulting Jets fan draft day meltdown will be entertaining to watch.
Like Sportscasting on Facebook. Follow us on Twitter @sportscasting19