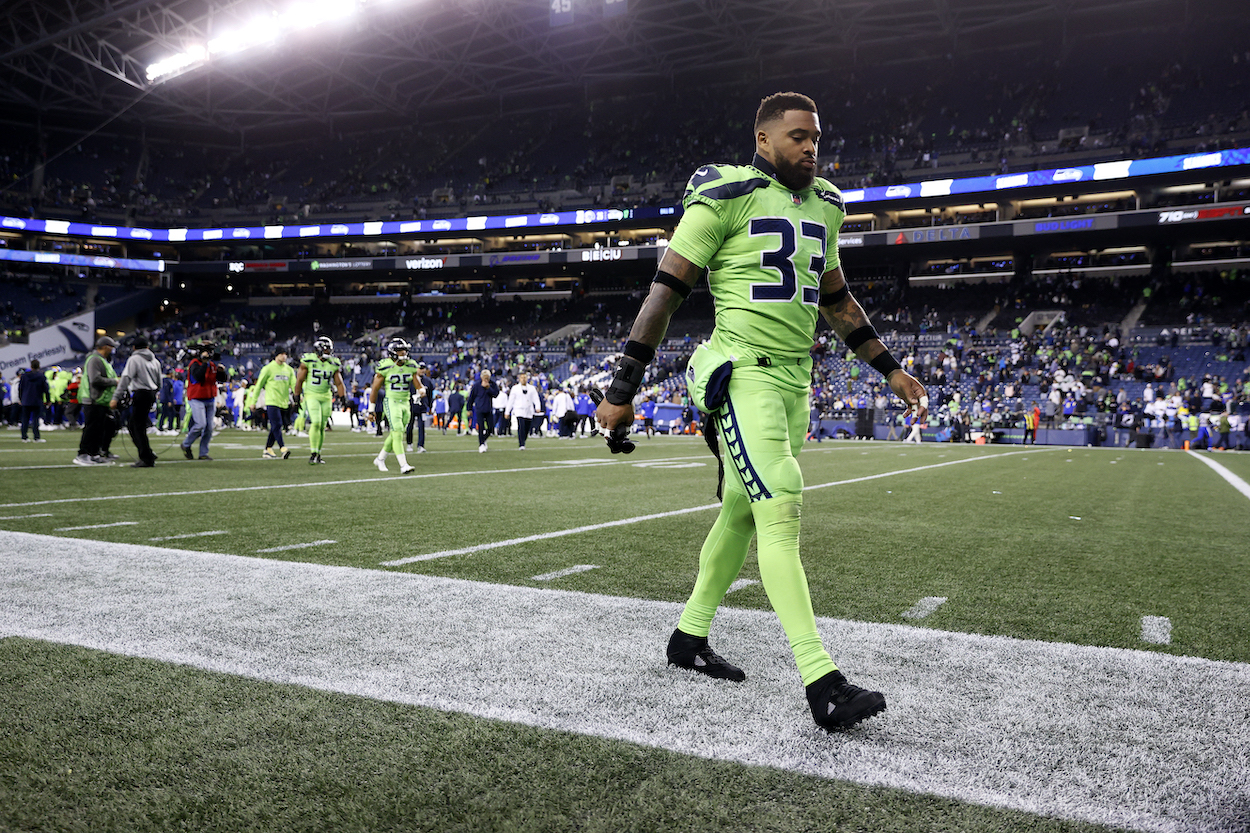 Jamal Adams Takes an L Right in the Face Mask After Seahawks Safety Proclaims 'I'm the Best in the Nation'
Seattle Seahawks safety Jamal Adams gleefully touted his skills in his 'Sunday Night Football' intro but couldn't back it up on the field in a crucial moment.
Seattle Seahawks safety Jamal Adams thinks a lot of himself. The former LSU Tigers standout took his nationally televised opportunity to introduce himself on Sunday Night Football and made it all about him and how great he believes he is. The problem was when the time came to back it up on the field, he came up woefully (and hilariously) short.
Jamal Adams talked trash then embarrassingly fell flat
A longstanding tradition on Sunday Night Football is for players to introduce themselves. Any NFL fan is very familiar with the starting lineups being presented this way each Sunday evening. Al Michaels (or this time, Mike Tirico) says something to the effect of, "Let's meet the [insert team here] 's defense, and the players say their name and what college they attended.
The majority of players do this in a completely straightforward manner ("Tom Brady, Michigan"). However, others add a little flair to support their school ("The U" or "The Ohio State University").
There are a few players who shout out their high school ("Fletcher Cox, Yazoo City High School"). And, an even smaller group that gets very creative ("Terrell Suggs, Ball So Hard University").
Few have made as bold a proclamation as Jamal Adams, though.
When it came time to call his own name last Sunday when the Seattle Seahawks took on the Pittsburgh Steelers, the safety took the opportunity to introduce himself to the national viewing audience by stating, "Jamal Adams, I'm the best in the nation!"
While the outburst surely made some chuckle, the problem was, when the game called on Adams to step up, he fell flat on his face. Or, more accurately, took one right in the face.
Adams choked in a crucial moment
The New York Jets selected Jamal Adams No. 6 overall in the 2017 NFL Draft. That's high for a safety, which is not a premium defensive position like pass-rusher or cornerback.
Taking a safety at the very top of the draft isn't always a disaster. Eric Berry (2010, Kansas City Chiefs) and Sean Taylor (2004, Washington Football Team) both went No. 5 overall. These two were transcendent playmakers. If teams draft a player at safety that high, they better get a player like those guys.
Adams is not a transcendent playmaker. However, the Seahawks do pay him like one.
After coming to the Pacific North West from New York, Seattle signed Adams to a four-year, $70 million deal with $38 million guaranteed. What have the Seahawks gotten this season for their investment? So far in 2021, not much. Adams has no sacks, no interceptions, no QB hits, three tackles for a loss, and an equal amount of QB hurries and touchdowns allowed (two).
In the prime-time matchup against the Pittsburgh Steelers Sunday, Adams had an opportunity to make his first mark on the 2021 NFL season. With star quarterback Russell Wilson out and backup Geno Smith and company scratching and clawing to pull out a win, Steelers QB Ben Roethlisberger gifted Adams his hero moment late in the game.
With less than two minutes to play in a 17-17 game, Roethlisberger threw over the middle on 3rd-and-15. Adams jumped the route, cutting in front of Dionte Johnson. An interception, which the safety could have taken at least back to the 50 with minimal effort, could have won the game for Seattle.
Instead, the ball hit Adams — "the best in the nation!" — right in the face.
The game ultimately went to overtime and the Steeler won 23-20. While Adams certainly didn't lose the game himself, he quickly became the butt of plenty of jokes.
The Adams trade has been a disaster for the Seattle Seahawks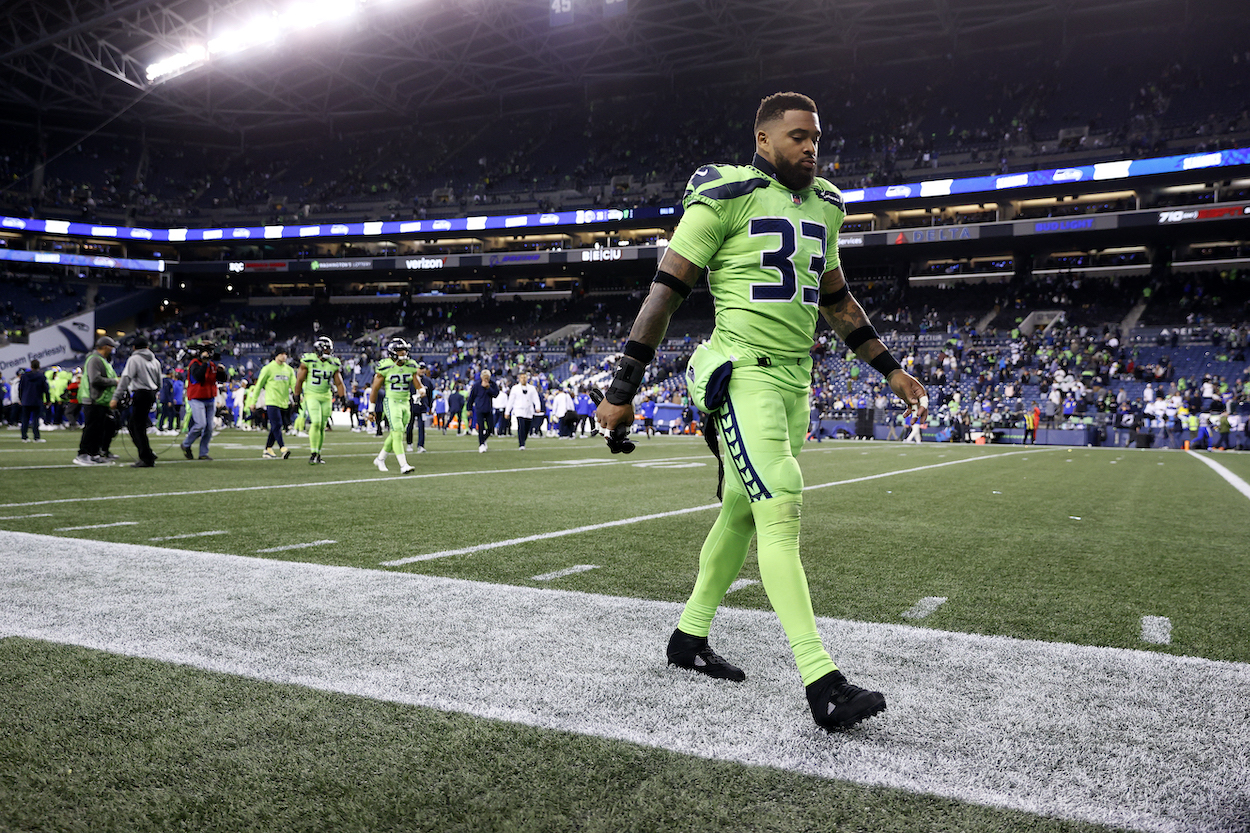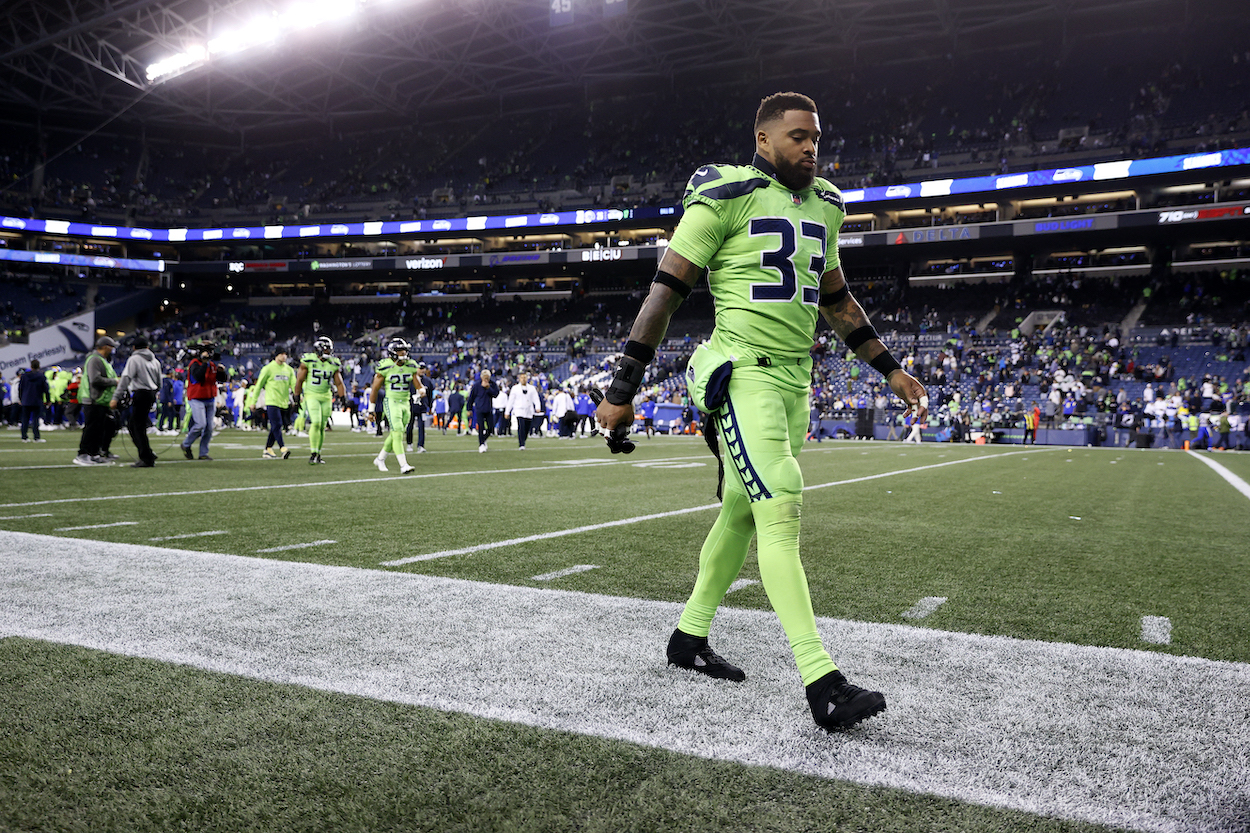 While the social media brigade has a lot of fun with Jamal Adams' riches to rags night, the safety — and specifically the deal that brought the safety to Seattle — is no laughing matter for the Seahawks and their fans.
Pete Carroll and the Seahawks paid a hefty price to bring Adams in. They coughed up 2021 first- and third-round picks and a 2022 first.  
It was a gamble at the time but a calculated one. Adams had 10 sacks in his first two seasons. He also made two Pro Bowls and got a first-team All-Pro nod in 2019. Seattle is a team that has been all-in on going for a Super Bowl the past few seasons, and adding a 25-year-old star on defense made some sense.
The problem with Adams is that he is a throwback blitzing, run-stuffing safety in a league that passes more and more by the week, seemingly. During his first season in Seattle, he did manage 9.5 sacks and 11 tackles for a loss but contributed no interceptions.
His stats (and overall contribution) are worse this season because teams are scheming plays that stop him from blitzing and force him into pass coverage. In Week 5, Los Angeles Rams speedster Desean Jackson burned him for a big play and tight end Tyler Higbee beat him in the endzone for a touchdown.
There is one more sneaky irony of Adam's braggadocious intro. If you look closely at the fine print under his name on the graphic, you'll see "PFF Rank 62 out of 85."
That's right. Adams is currently ranked as one of the worst 23 (qualifying) safties in the NFL.
Despite his struggles, Seattle is likely stuck with Adams for the next two-plus seasons. The team doesn't have a viable out in his contract that wouldn't cost them double-digit millions on the cap until after 2023.
All stats courtesy of Pro Football Reference and contract figures courtesy of Spotrac