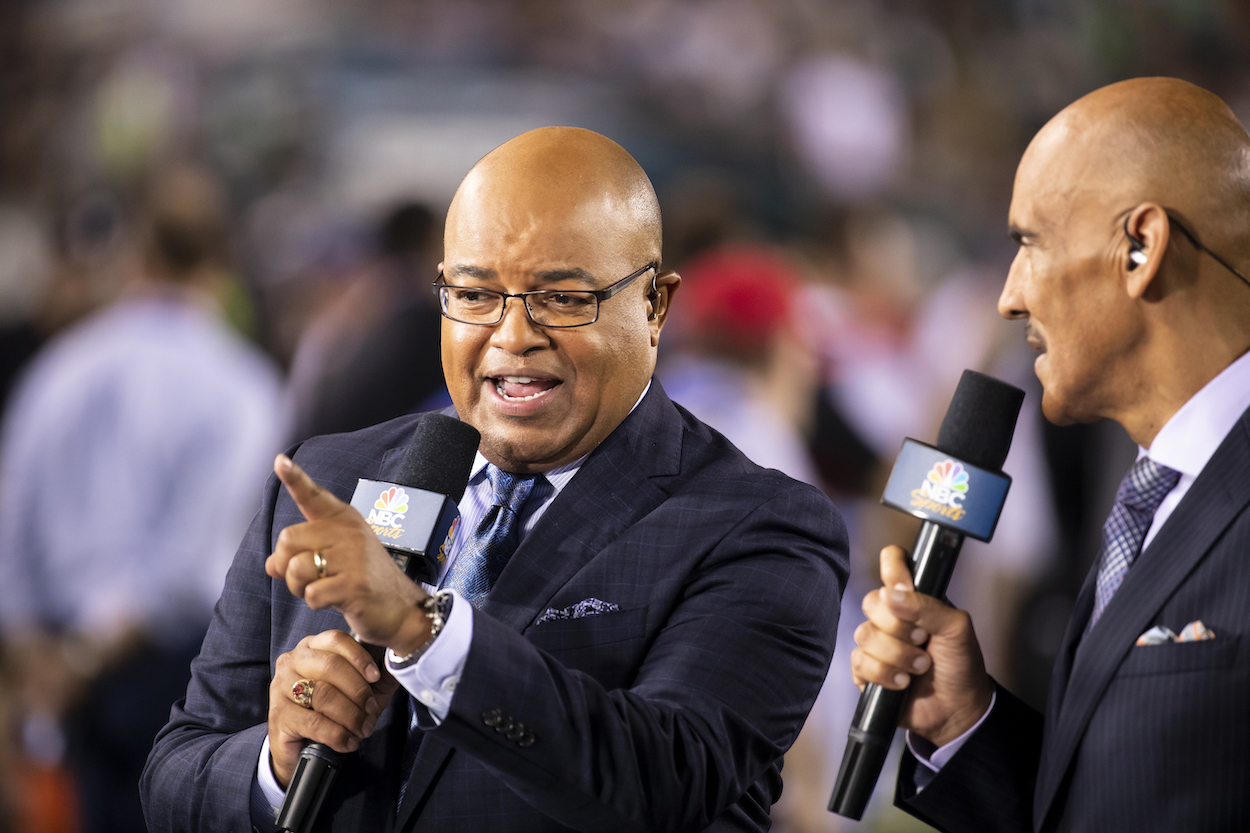 Tony Dungy and Mike Tirico Let Jon Gruden off the Hook for Racially Insensitive Language During 'Sunday Night Football' Delay: 'We Need to Accept That Apology and Move On'
Las Vegas Raiders coach Jon Gruden got a pass from his friends Tony Dungy and Mike Tirico on 'Sunday Night Football' for his racially insensitive email in 2011 about NFLPA head DeMaurice Smith.
When the Buffalo Bills and Kansas City Chiefs went to the locker room for halftime during their Sunday Night Football game, NBC's studio crew of Mike Tirico, Tony Dungy, and Drew Brees had no idea what they were in for. During a 75-minutes lightning delay, the pundits had to unexpectedly fill airtime, which meant they revisited the news and highlights of the day, including the Jon Gruden scandal. 
Dungy and Tirico, who are Black, weighed in on Gruden's use of racially insensitive language from a 10-year-old recently unearthed email. They concluded that, while the language was inappropriate, they both know Gruden and don't think he's racist. Therefore, people need to let him off the hook. 
Las Vegas Raiders head coach Jon Gruden apologized again for language in a 2011 email 
As part of a Wall Street Journal investigation into misconduct in the Washington Football Team organization, a 2011 email came to light from then-ESPN analyst Jon Gruden to then-WFT president Bruce Allen, per ESPN. 
In the email, while expressing his frustration with the league and the player's union over the 2011 lockout, Gruden said of NFL Players Association president DeMaurice Smith, who is Black, he has "lips the size of michellin tires." 
Gruden has since explained that he uses the term "rubber lips" for someone who is lying. He says that is what his comment referenced. Despite the self-proclaimed innocent nature of the comments, the Raiders head coach has apologized more than once. 
The latest mea culpa came following his team's 20-9 loss to the Chicago Bears. Gruden said in a post-game press conference: 
You know, I'm not going to answer all of these questions today, I think I've addressed it already. I can't remember a lot of the things that transpired 10 or 12 years ago, but I stand here in front of everybody apologizing. I know I'm not — I don't have an ounce of racism in me. I'm a guy that takes pride in leading people together. And I'll continue to do that for the rest of my life. And, again, I apologize to De Smith and anybody out there that I have offended. 

Jon Gruden on racially insensitive email
Both Smith — who the NFLPA reelected as president the day this story broke — and Raiders owner Mark Davis released statements condemning the Gruden and the language he used in the email. 
Mike Tirico and Tony Dungy shared their thoughts on Gruden and the email
During the unexpected lightning delay of Sunday Night Football, longtime announcer and analyst Mike Tirico and former NFL coach Tony Dungy had time to weigh in on Gruden's most recent apology after his Sunday game. 
Dungy was the first to comment, saying: 
What Jon Gruden did in that email — definitely insensitive, definitely inappropriate, definitely immature — I thought he attacked the character of a man. But he apologized for it. He said it wasn't racially motivated. I have to believe him. I think this was an incident that was 10 years ago. He apologized. I think we need to accept that apology and move on. 

Tony Dungy on Jon Gruden
Tirico weighed in next, acknowledging their relationship and vouching for the embattled coach: 
That 2011 timeline, that's when Jon and I were calling 'Monday Night Football.' We were partners for seven years, traveled the country together, and I'm as close personally with Jon as probably anybody who I've been around in the league, given the length of the relationship. And I can echo what Tim Brown said on a Sirius XM satellite radio interview in the last 24-hours or so. I never saw or heard anything that he would say that was a racial tone to it in any way from Jon over time. That doesn't mean that what was in the email was right — it was wrong. He has said as much — repeated that after the game today, but that's just personnel observation, trying to be candid with our audience.  

Mike Tirico on Jon Gruden
NFL insider Mike Florio followed up these comments. He shared that it is unlikely the NFL or the Las Vegas Raiders will suspend Gruden. The reasoning is that he was not an employee of either entity at the time of the email. 
Both NBC analysts have a long history with the Las Vegas Raiders coach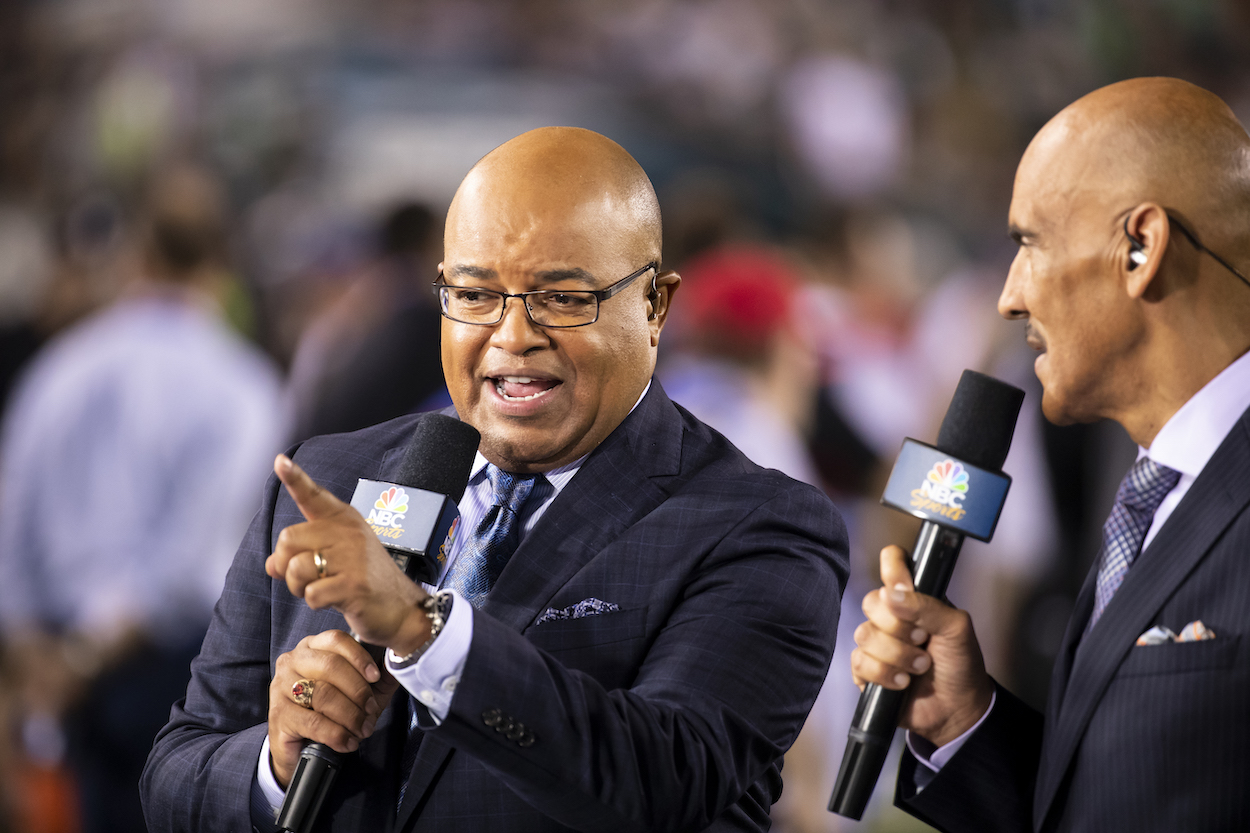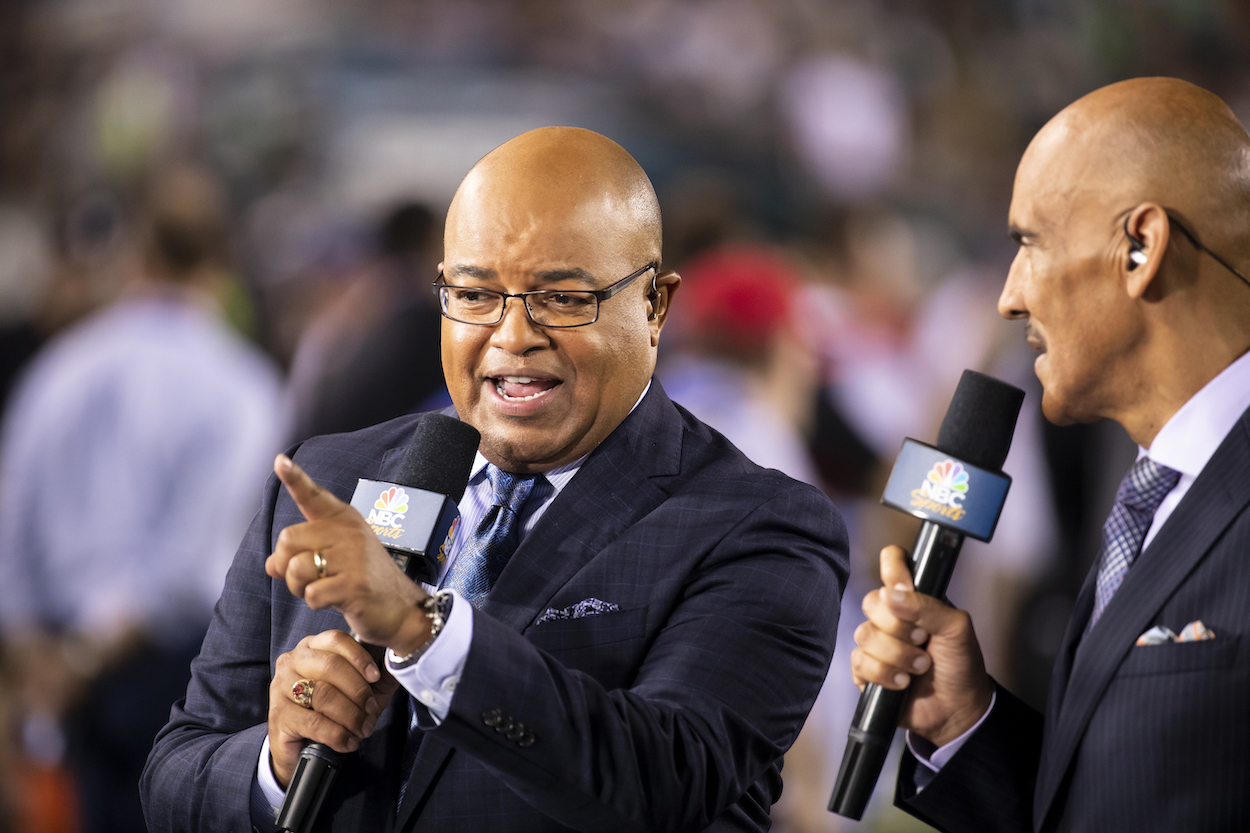 Both Dungy and Tirico have a history with Gruden that goes back years. 
In early 2002, the Tampa Bay Buccaneers fired Dungy after six seasons with the franchise for failing to make a deep playoff run. The Glazer family then brought in Gruden to replace him. Coming off his first stint with the Raiders, the new coach won the 2002 Super Bowl, largely with Dungy's players. 
As he alluded to in his comments, Tirico did the play-by-play for Monday Night Football from 2006 to 2015. From 2009 to 2017, one of his color analysts was Gruden. This means that the two were partners in the booth during the period Gruden sent this email. 
The whole Gruden situation is a fascinating study in relationships and the media, especially when compared with the Urban Meyer scandal. 
Meyer doesn't have the relationships or track record in the NFL that Gruden does. The media is also almost unanimously skewering him for his transgressions. While much of that results from his own doing, and there are several other significant differences, it is hard not to see the parallels between Meyer and what's happening to Gruden. 
Meyer is an outsider who dared to try and bring his college ways to the NFL. When he messed up, the media was there to pounce. Gruden, who spent years as part of the NFL media machine and is well-liked in those circles. He seems to be getting much softer treatment from his friends and former colleagues, as evidenced by Trico and Dungy's comments on Sunday night.
Like Sportscasting on Facebook. Follow us on Twitter @sportscasting19