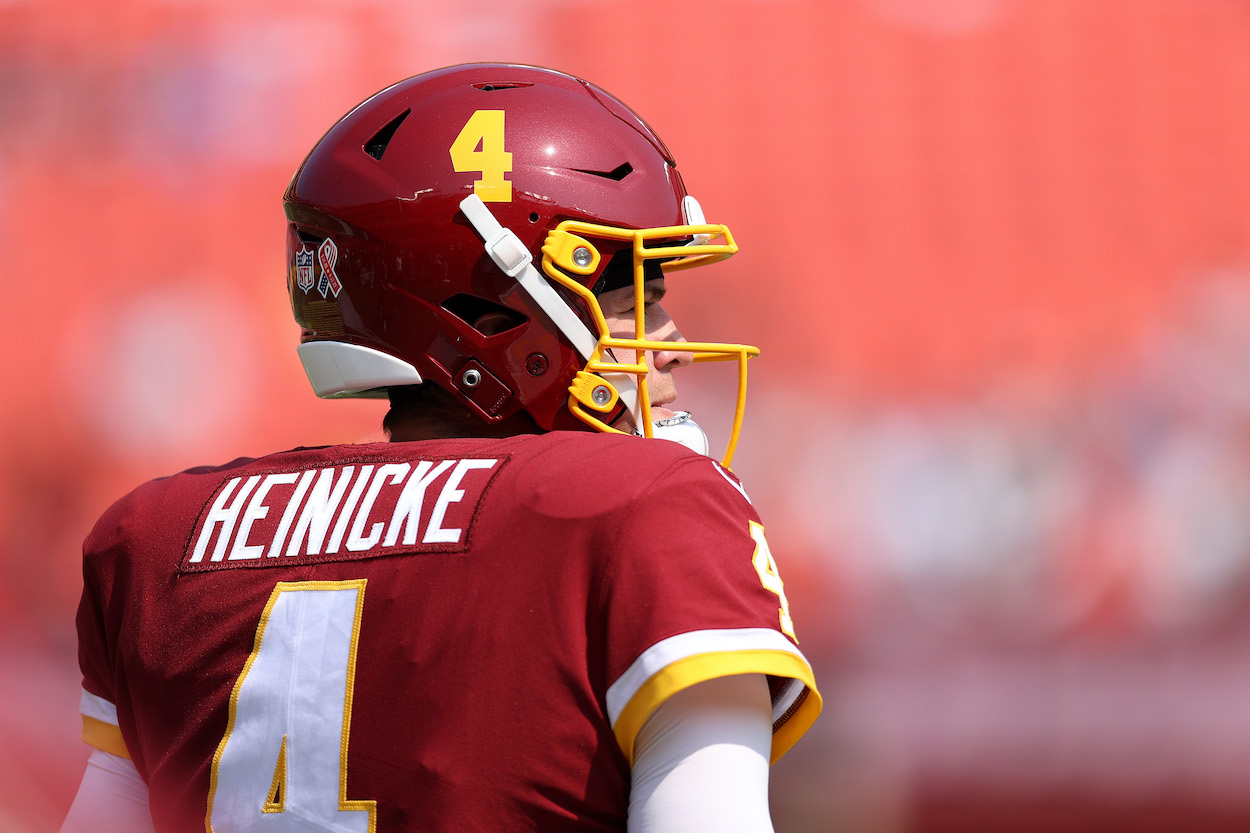 Taylor Heinicke Gets a Major Beer Sponsorship Deal, but It's Not the One You'd Think
WFT QB Taylor Heinicke has a last name that lends itself perfectly to a beer sponsorship, but the brand he should rep dropped the ball. Another big beer brand stole the signal-caller instead.
When Washington Football Team quarterback Taylor Heinicke first burst on the scene at the end of the 2020 season, almost every football fan did the exact same thing at one point or another: called him "Taylor Heineken." Now that the QB has taken over for an injured Ryan Fitzpatrick, most NFL aficionados know how to pronounce his name. Even so, the Dutch beer giant that (almost) shares his name missed a perfect marketing opportunity and lost out to a company that makes an American tailgating classic.  
Taylor Heinicke should have been the perfect Heineken pitchman
The Heineken/Taylor Heinicke marketing opportunity was obvious, even to the quarterback himself.
After bouncing around the NFL (mostly in training camps and on practice squads) for a few years as an undrafted free agent out of Old Dominion and spending time as a backup in the short-lived XFL reboot, Heinicke finally got his shot with the Washington Football Team last season.
After appearing in just two regular-season games, Heinicke started under center for WFT's Wildcard Playoff game against the eventual Super Bowl champion Tampa Bay Buccaneers.  
Running the unit opposite QB GOAT Tom Brady, Heinicke produced a memorable game for Washington. He ended the contest 26-of-44 for 306 yards with a touchdown and an interception. It was good enough to get his team within one score (and a 2-point conversion) of the future champs as the final score was 31-23.
The QB recently told reporters that, after his commendable playoff performance, he reached out to Heineken in hopes of getting some sort of deal going:
It was after the Tampa game last year. I really tried to give them something, and my agent said that they had sent me a 24-pack at home. I hadn't received it, and they said they can't deliver to my address — there's a gas station down the street that has Heineken, so, you know.

Taylor Heinicke on Heineken
Heineken missed the boat as the company seemingly didn't try that hard even to get the burgeoning NFL starter a free case of beer.
According to ESPN reporter John Keim, after he told the Heineken story, the QB said he "maybe has to start shooting for Bud Light."
That was a prophetic statement.
The QB is now known as 'Taylor BudLighticke'
While Heineken may not have seen the value in perusing a Taylor Heinicke to be a pitchman, another major beer company did. Bud Light, an NFL tailgate and stadium staple for years, heard Heinicke's pleas and answered the call.
Just days after the WFT QB recalled his imported beer fail, he posted a shot of a Bud Light care package on his Instagram account. The company sent him a hat, two 12-packs, a case of Bud Light Seltzer, and a custom-made 3-pack with "Bud Lighticke" emblazoned on it.
"With a name like Heinicke, there's only one beer that it makes sense to partner with…," the signal-caller wrote, "I'm joining @budlight and its #ForTheFans campaign (Sorry Heineken) #OfficiallySponsored #TeamBudLighticke (pronounced Bud-Light-uh-KEEEE!)"
Bud Light also announced the partnership on its Twitter account, proclaiming that they "SIGNED" the NFC East passer.
The whole thing was a stroke of marketing genius that shouldn't be a supervise coming from Bud Light. The King of Beers has long understood that the NFL is the king of advertising and marketing in America.
Any missed NFL marketing opportunity is a big miss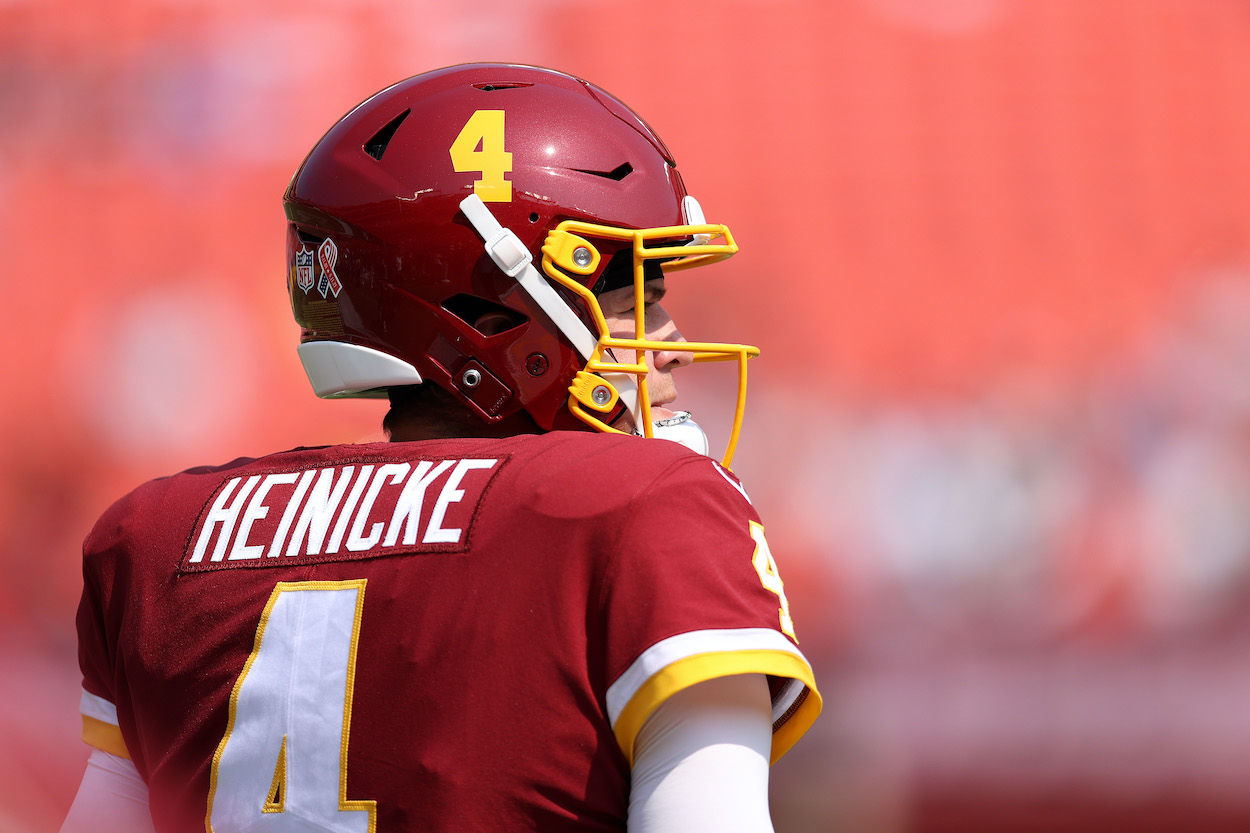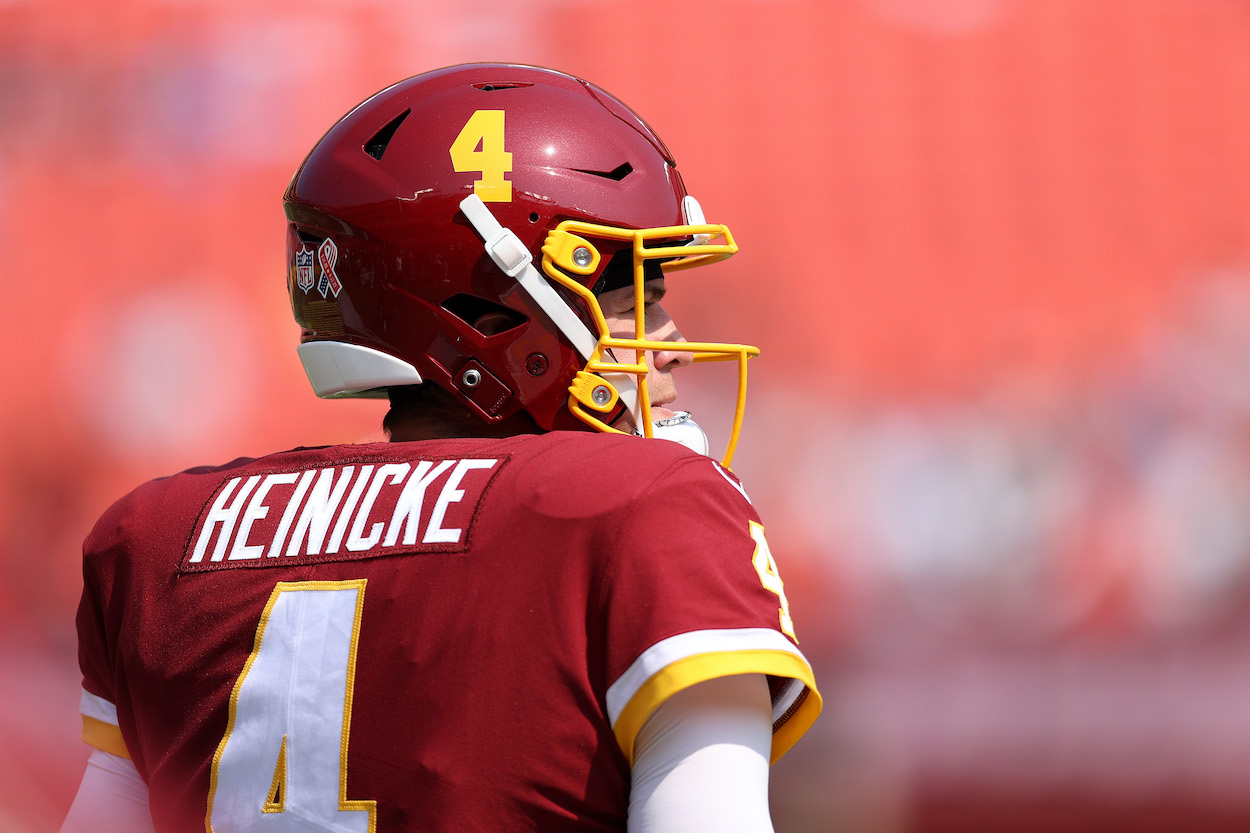 Even though Taylor Heinicke might not be a household name yet for casual NFL fans, even a minor marketing opportunity in pro football is huge for companies.
The NFL isn't just America's favorite sports league. It is one of the most powerful and influential corporations in the United States.
The league made $16 billion in 2019 and, even during a pandemic in 2020, still brought in $12 billion, per Reuters. Most of this 25% drop came from individual teams losing out on gameday-based revenue with no or limited fans last season. The league's $9.5 billion in revenue stayed largely the same.  
The NFL is also one of the last bastions of appointment-viewing live TV. It is one of the only types of programming that people watch live and have to sit through commercials. That makes the league a marketing powerhouse.
It is why companies pay such a premium for airtime during football games. Brands — especially ones that covet 25-54-year-old men like beer, pizza, snacks, and certain specialized pharmaceutical products — pay upward of $400,000 for a 30-second spot during an NFL game, per FOX Business. During the Super Bowl, the most-watched live TV event in the country, that price skyrockets to north of $5 million for half a minute.
Bud Light, possibly the most American of beers, seems to understand the power of the NFL marketing machine better than Heineken. In doing so, they scored a big win with their coup of Taylor Heinicke — excuse me, Taylor BudLighticke.