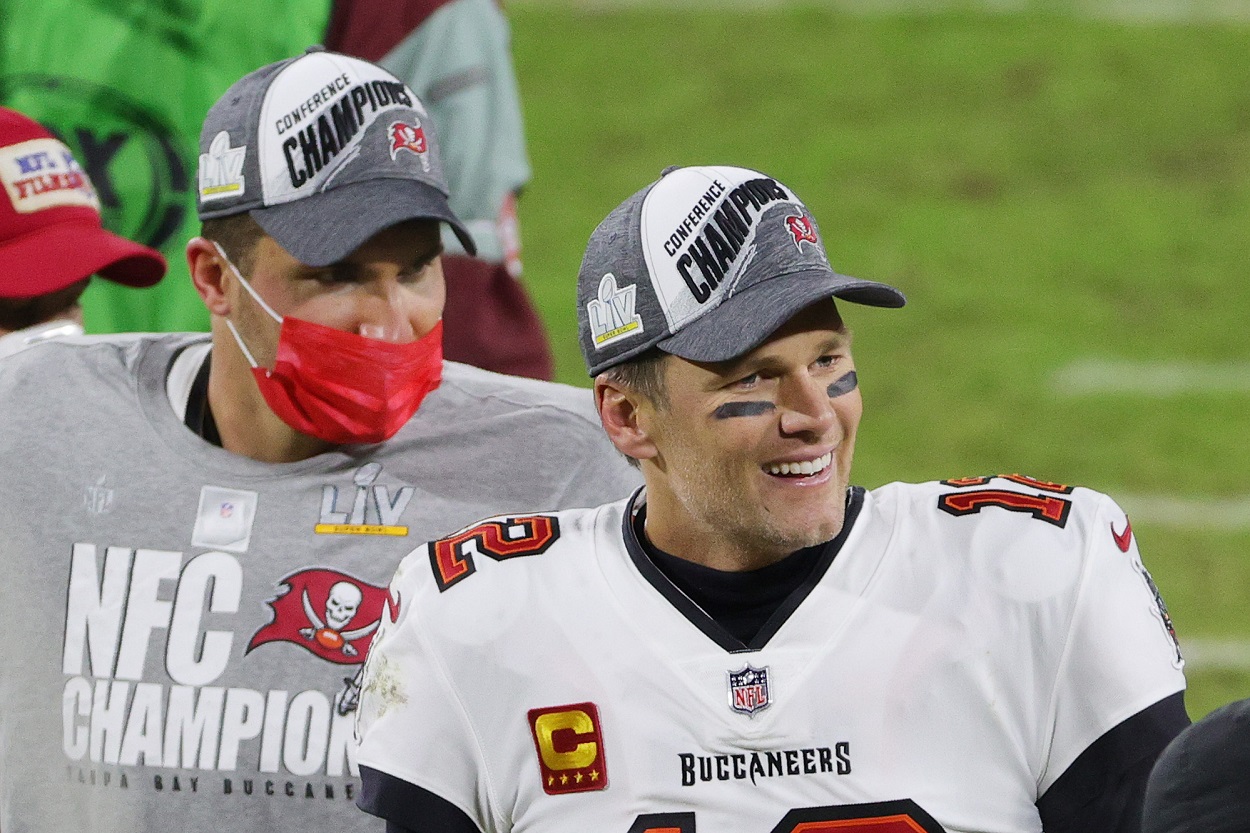 Why an Incredible Ad Featuring Tom Brady and Rob Gronkowski Has Been Ridiculously Banned From Airing During Super Bowl 55
A hilarious T-Mobile ad featuring Tampa Bay Buccaneers stars Tom Brady and Rob Gronkowski has been banned from airing during Super Bowl 55.
Tom Brady and Rob Gronkowski are one of the most dangerous quarterback-receiver combinations in NFL history. Yes, Gronk is a tight end but you know what we're saying here. The two have combined for the second-most TDs of all time, won three Super Bowl titles together with the New England Patriots, and are now set to make yet another title game appearance together, this time as members of the Tampa Bay Buccaneers.
While we'll obviously be seeing TB12 and Gronk on the field at Raymond James Stadium this Sunday for Super Bowl 55, we were apparently also supposed to see them during one of the highly-anticipated commercial breaks during the game, which is always an attraction in itself.
However, the ad the two shot for T-Mobile, which is absolutely hilarious, has apparently been banned from airing on CBS and the reasoning seems to be due to the NFL's partnership with Verizon.
Tom Brady and Rob Gronkowski won three Super Bowl titles together with the New England Patriots
Tom Brady and Rob Gronkowski were teammates with the New England Patriots for nine seasons and were easily one of the most lethal duos in the NFL during that stretch. The two had amazing chemistry, especially in the red zone, and hooked up for touchdown after touchdown as the Pats won division title after division title on the way to AFC Championship after AFC Championship and Super Bowl after Super Bowl.
In the nine seasons TB12 and Gronk spent together, the two combined for 14 Pro Bowl selections and seven All-Pro selections as the Patriots won nine AFC East titles, five AFC titles, and three Super Bowls.
Gronkowski seemingly rode off into the sunset and retired following the Pats' Super Bowl win over the LA Rams following the 2018 season while Brady played one more season in New England before taking his talents to Florida to sign with the Tampa Bay Buccaneers. Gronkowski soon followed the duo now has the chance to win a fourth ring together.
Gronk ended his one-year retirement to join TB12 with the Tampa Bay Buccaneers
Rob Gronkowski certainly kept himself busy in retirement with numerous projects and had signed a deal with WWE not long before Tom Brady signed with the Buccaneers. Just over a month after TB12 signed his two-year deal with Tampa Bay, Gronk officially ended his retirement from the NFL and was traded from the Patriots to the Bucs, which actually led to a hilarious "warning" from Vince McMahon.
While Gronkowski wasn't Brady's main target during the 2020 season, the two hooked up 45 times, including seven touchdowns, as the Buccaneers went 11-5 on the way to their first postseason berth in 13 years. Gronk had just two catches on seven targets in Tampa Bay's three road wins on the way to Super Bowl 55 but was a key blocker and still demanded a lot of attention in the red zone, which allowed Brady to utilize his other weapons.
It obviously remains to be seen what Gronk's role will be against the Chiefs but he was at least supposed to get a little attention in a hilarious Super Bowl ad for T-Mobile. But that's apparently not going to happen now.
An ad featuring Tom Brady and Rob Gronkowski has been banned from airing during Super Bowl 55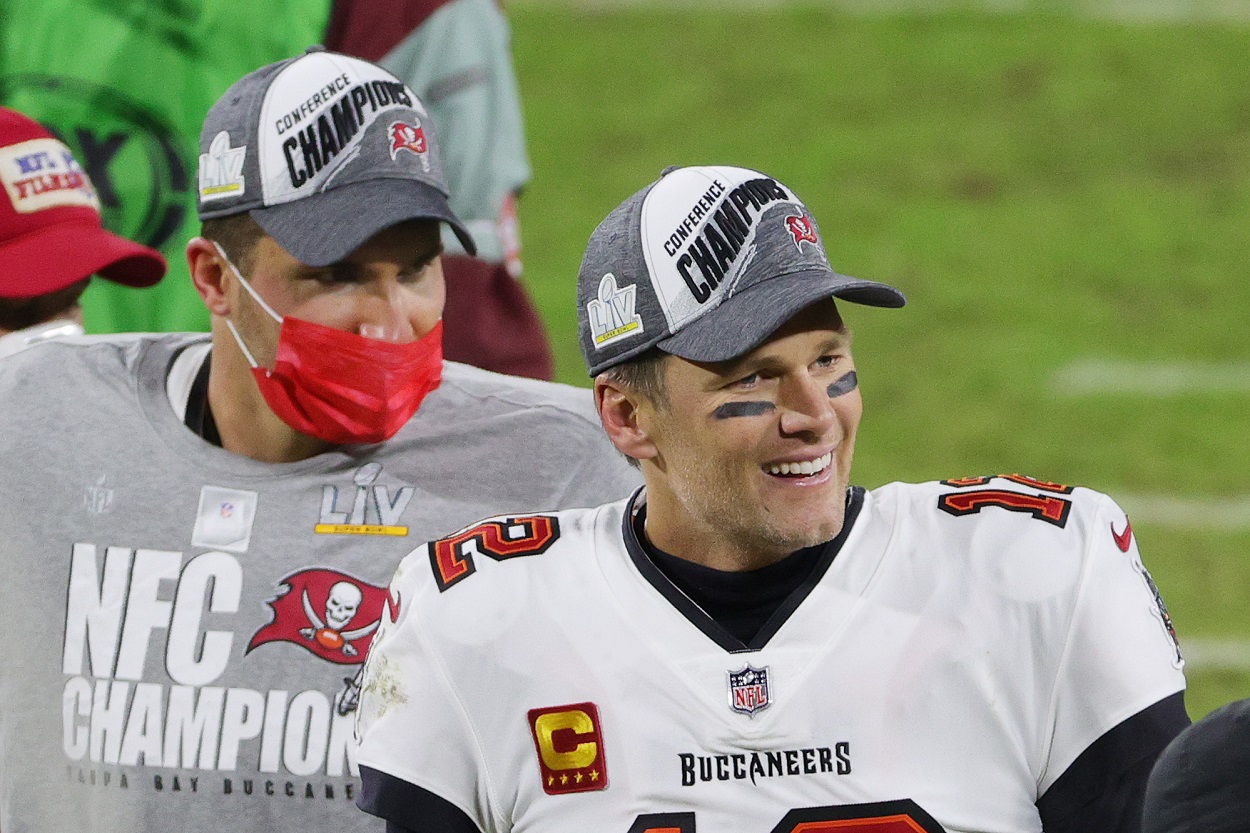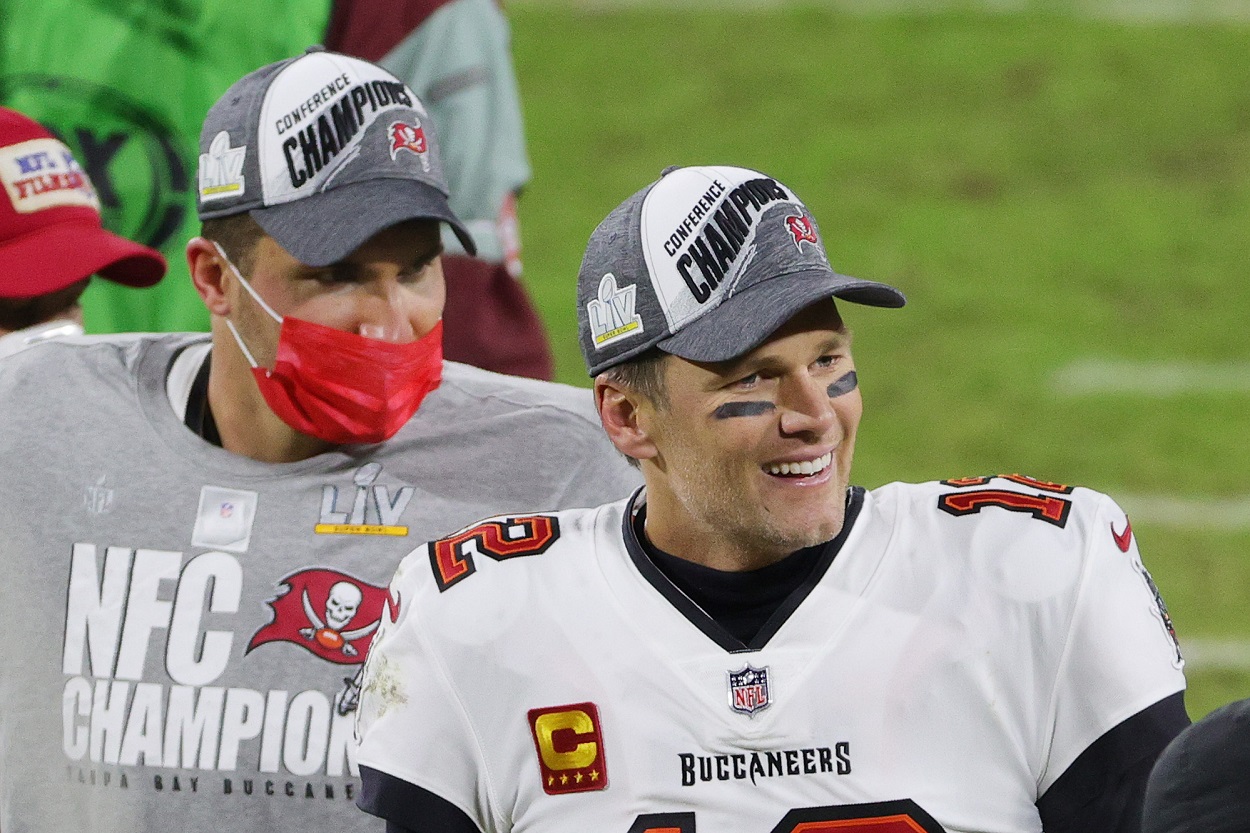 As everyone knows, commercials are a big deal on Super Bowl Sunday and have been for quite some time. There are plenty of people who don't care about the actual game whatsoever and simply tune in for the ads, which are often the best ones we see all year long.
Well, as it turns out, one of the big spots that was set for Super Bowl 55 was a T-Mobile add starring Tom Brady and Rob Gronkowski. The spot features a fictionalized account of how the two ended up reuniting with the Buccaneers following some miscommunication between the two due to bad reception during a phone call. You know what? It's better if you just watch for yourself. Take a look.
Now, the reason we can all watch that hilarious ad now is that T-Mobile released it early due to the fact they aren't being allowed to air it during Super Bowl 55. Sure, they're still getting some air time but they just can't run this particular spot.
In a press release, T-Mobile says the Tom Brady-Rob Gronkowski ad has been "banned" from airing during Super Bowl 55 due to a "protected telco rights deal," which one can only assume is a reference to the partnership that began in 2019 between the NFL and Verizon. Here's a look at a few excerpts of the release (h/t Boston.com).
"We made this amazing ad starring the amazing Tom Brady and Rob Gronkowski. Even after editing, the spot was still banned 'based on the … protected telco rights deal.' So, watch and decide for yourself … what might the 'official telco sponsor' not want you to see?"
It's not known if the ban came from the NFL or CBS.
Stats courtesy of Pro Football Reference