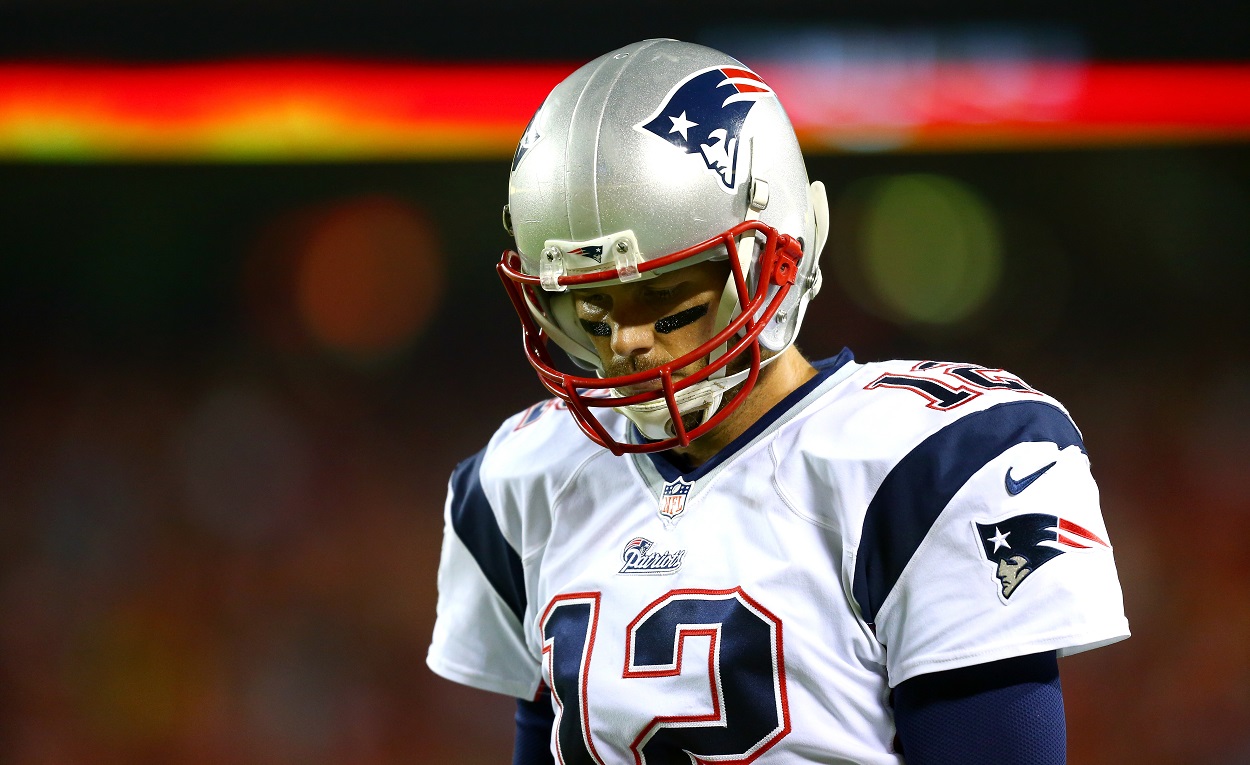 Some Thought Tom Brady's Career Was Finished After He Got Benched in a Brutal Loss to the Kansas City Chiefs Back in 2014
In 2014, Tom Brady got benched in a brutal loss to the Chiefs, leading many to believe that his career might be on the decline.
In 20 seasons with the New England Patriots, it wasn't often that Tom Brady got benched by Bill Belichick. But that's exactly what happened back in Week 4 of the 2014 season, a campaign in which TB12 didn't get off to the greatest start, which led many to wonder if it was time for the then-37-year-old to start thinking about hanging up his cleats.
New England had just used a second-round pick to draft Jimmy Garoppolo, who many saw as the future of the team, and some were even calling for Jimmy G to replace Brady after his horrific Week 4 performance. Oh, we forgot to mention that the Patriots' opponent that week was the Kansas City Chiefs…you know, the team Tom Brady will face Sunday in Super Bowl 55 at the age of 43.
Brady's career obviously wasn't on the decline as he went on to lead New England to a Super Bowl title that very season and then tacked on two more over the next four years.
Here's a quick look back on the day Brady got benched and how he responded.
Tom Brady got off to a bit of a rocky start in 2014
Coming into the 2014 NFL season, Tom Brady and the New England Patriots were, as usual, one of the favorites to win the AFC. They'd made the AFC Championship Game the previous season, losing to Peyton Manning and the Denver Broncos, and were coming off their fifth consecutive AFC East title.
However, in their season opener, the Pats were stunned by the Miami Dolphins, 33-20, and Brady certainly didn't look like himself. He completed just 51.8% (29-56) of his passes that day for 249 yards and a touchdown and simply couldn't get the offense going.
The following week, he threw for just 149 yards, one of the lowest totals of his career, although New England still blew out the Vikings, 30-7. In Week 3, Brady looked better, completing 24 of 37 passes (64.9%) for 234 yards and a touchdown in a 16-9 victory over the Raiders but things took a turn in Week 4 against the Chiefs.
Tom Brady was benched after a dismal performance against the Kansas City Chiefs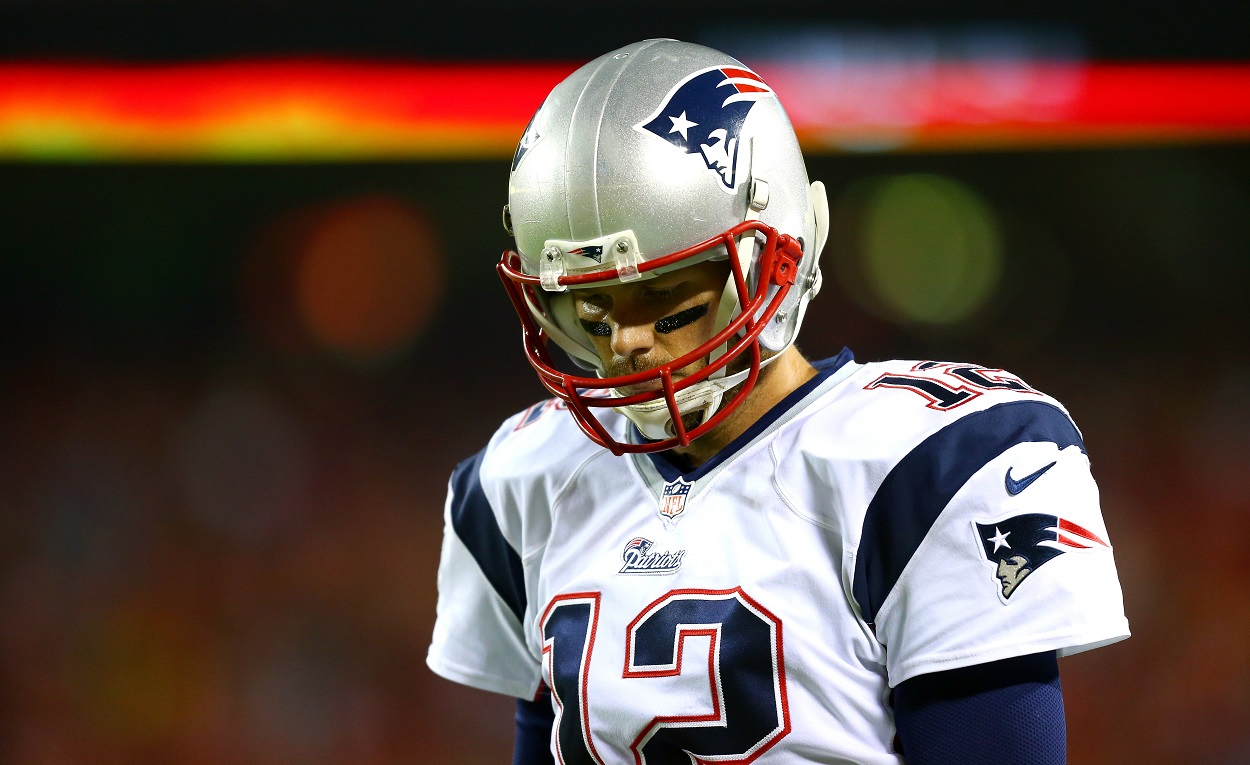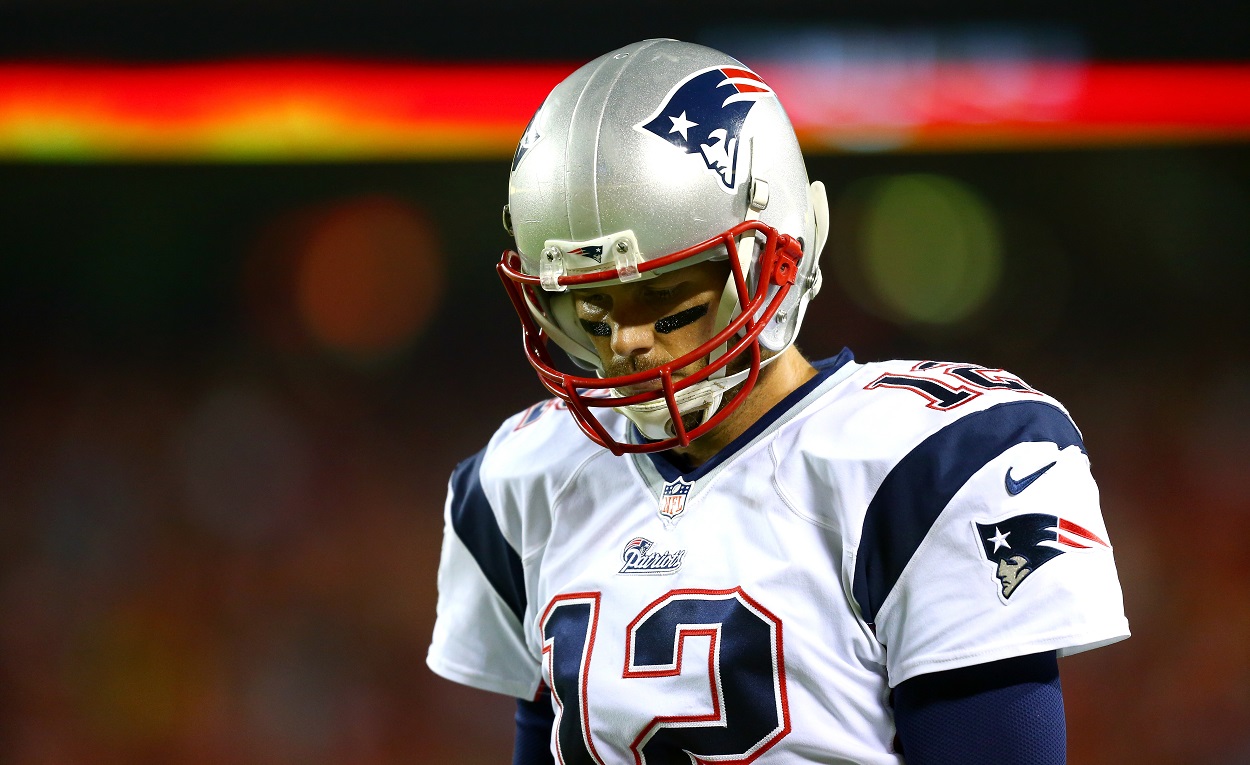 The Week 4 matchup between New England and Kansas City took place on a Monday night at Arrowhead Stadium, a night when the Chiefs were attempting to set a new Guinness World Record for the loudest outdoor sports venue, a record they achieved in the first half by recording a noise level of 142.2 decibels. Between the noisy crowd and the Kansas City defense, Tom Brady and the Pats had a rough night.
Brady completed just 14 passes that night for 159 yards but 44 of those came on a touchdown pass to Brandon LaFell in the third quarter. Outside of that one play, TB12 struggled to get anything going. He threw two interceptions, one of which was returned for a touchdown, and also lost a costly fumble.
With the Chiefs up big, Belichick had seen enough and benched the then-three-time Super Bowl winner and brought in Jimmy Garoppolo, who closed things out by completing six of seven passes for 70 yards with a touchdown pass to Rob Gronkowski, which was the final scoring play of the lopsided 41-14 loss.
The game brought Tom Brady's passing yards average down to 197 and his completion percentage down to 59%, the lowest of his career. While some were calling for Jimmy G to step in on a full-time basis, Bill Belichick stuck with Brady and TB12 responded just as one might expect.
TB12 and the Patriots lost only two more games the rest of the way and won the Super Bowl
After losing two of their first four games in 2014, the Patriots lost just two more games the rest of the season and defeated the Seahawks in Super Bowl 49, the franchise's first title in a decade.
As for Tom Brady, he seemed to take that benching personally as he went on to have yet another fantastic season overall. He upped his completion percentage to 64.1% for the year and threw for 4,109 yards and 33 touchdowns against nine interceptions and was then named Super Bowl MVP after completing 37 of 50 passes (74%) for 328 yards and four touchdowns.
Over his final five seasons in New England, Brady led the Patriots to three more Super Bowls, winning two of them, and was also named NFL MVP following the 2017 season. And in his first year with the Bucs, he's got them in the Super Bowl for the first time in 18 years. Not bad for a guy who a lot of people thought was washed up.
Stats courtesy of Pro Football Reference