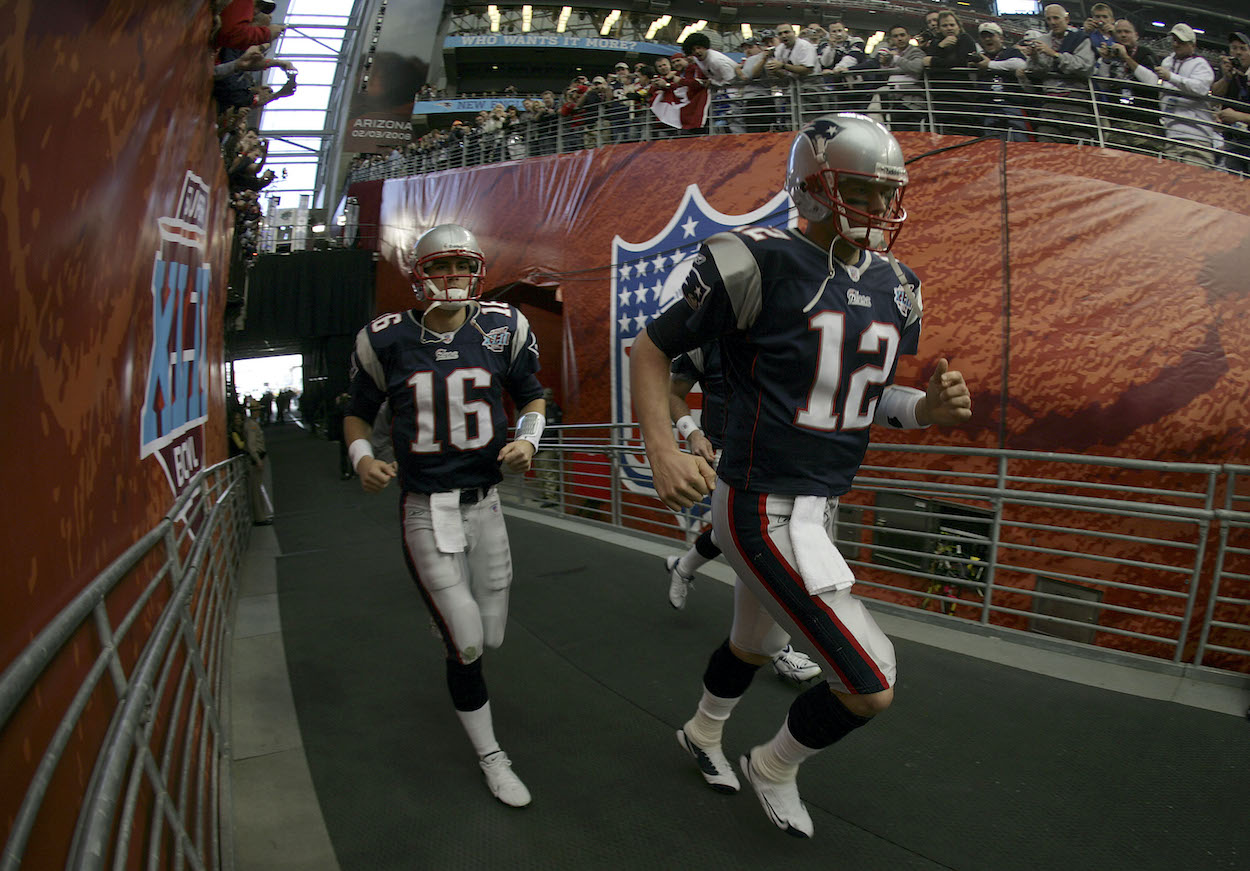 Tom Brady Once Got Pranked by His Backup, Then the Young QB Found His Car on Blocks: 'Don't Mess With People Who Have More Money Than You Do'
Tom Brady and Matt Cassel once got in an epic prank war that sucked the whole Patriots team in and Bill Belichick had to step in and stop it.
You don't mess with Tom Brady. This is true on the field, and, apparently, it is true in the locker room and in the parking lot too. Matt Cassel, Brady's former backup for the New England Patriots, learned this lesson the hard way when he played with the seven-time Super Bowl-winning QB from 2005 to 2008.
Cassel recently told the story of how he thought he got the best of Brady until the current Tampa Bay Buccaneers signal-caller proved otherwise during a prank war that Bill Belichick had to step in to stop.  
Matt Cassel was the first Tom Brady backup to find success
Being Tom Brady's backup in New England has traditionally been a springboard to opportunity in the NFL.
But, before players like Jimmy Garoppolo, Jacoby Brissett, and even Ryan Mallett got chances in the NFL based on their proximity to TB12, there was Matt Cassel.
Cassel spent four years at USC but didn't start a single game at quarterback. He was the primary backup to two Heisman Trophy winners, Carson Palmer and Matt Leinart. At 6-foot-4, 225-pounds with a strong arm, though, the California native's talent was enough for the Pats to select him in the seventh round of the 2005 NFL Draft.  
In his first three seasons as Brady's backup, Cassel threw a grand total of 39 passes. Then, in the opening game of the 2008 season, Kansas City Chiefs safety Bernard Pollard hit Brady low, and the then-three-time Super Bowl Champion tore the ACL and MCL in his left knee.
With Brady gone for the season, Cassel stepped in admirably. He guided the team to an 11-5 record while throwing for 3,693 yards and 21 touchdowns with 11 interceptions. With Cassel at the helm, the Patriots barely missed out on the last Wildcard spot via a tie-breaker with the Baltimore Ravens.
After the impressive understudy performance, Bill Belichick traded Cassel to the Chiefs for a second-round pick, and the former backup signed a six-year $63 million deal during the 2009 offseason.
Cassel played 10 more seasons in the NFL. In 2010, he led the Chiefs to a 10-6 record and made the Pro Bowl. He spent the last six seasons of his career mainly as a backup again with the Minnesota Vikings, Buffalo Bills, Dallas Cowboys, Tennessee Titans, and Detroit Lions.
Cassel pranked Brady, and the revenge was swift and massive
Pro athletes have a good amount of downtime in their workdays and often turn to pulling pranks on each other to pass the time. While Matt Cassel was backing up Tom Brady with the New England Patriots, the team had a legendary prank war that Cassel described this week on the Pat McAfee Show 2.0.
The battle started when Brady wedged his foot against the lunchroom door, causing Cassel to run into it and spill his lunch all over himself.
The battle escalated as Cassel filled Brady's beloved Air Force 1 sneakers with Gatorade powder and his underwear with Atomic balm. Brady responded by dumping a "full shake" over his backup's head, and Cassel retaliated by doing the same to Brady with a trash can.
As any NFL team that's gone punch-for-punch with Brady on the field knows, though, he's the GOAT because he knows how to sink the dagger.
The superstar told Cassel he had until the end of practice to apologize for the pranks and start calling him "Daddy Longshanks." Cassel refused. He then described the moment when he realized he should have just done what Brady asked:
I come in, and there's literally three tires from my car in front of my locker. The fourth one's hidden somewhere in the facility. I go out, and I look, and my car's on blocks. Completely on blocks. Had to get a ride home for like three or four days before I started calling [Brady] 'Captain Longshanks' for a little while. … And I do remember thinking — and it's a good lesson — just don't mess with people who have more money than you do.

Matt Cassel on prank war with Tom Brady
Even though Cassel learned his lesson about messing with Brady, the New England Patriots prank war didn't end there.
Bill Belichick stopped the Patriots' prank war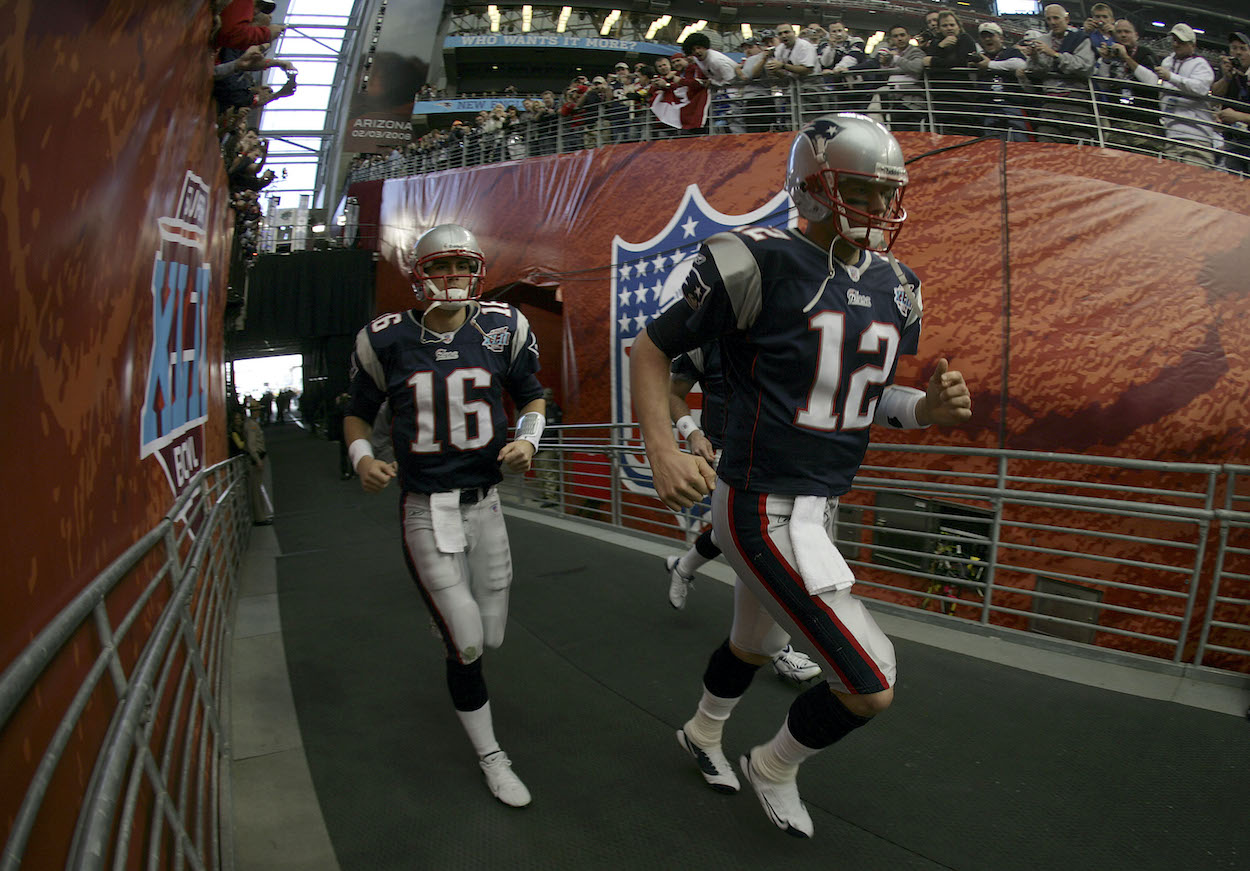 After the incident with Cassel's car, the prank war continued.
Cassel explained that the Patriots' offensive linemen at the time, led by three-time Pro Bowl tackle Matt Light, also got in on the action. The group took foam peanuts, put them in Brady's car, and "literally filled it to the brim." They even put confetti in Brady's AC vents.
When the team found out about this prank, they all congratulated Cassel on getting Brady back. However, the backup was sufficiently scared by Brady's last retribution that he distanced himself from this one.
The prank war might have continued indefinitely if Patriots head coach Bill Belichick heard about what was going on. Dropping into his best Belichick impersonation, Cassel explained:
Then Belichick got a hold of it, and he's like, 'Look, this isn't World War 3. You guys have got to stop this s*** before somebody gets hurt.' And so, at that point, we kind of shut it down.

Matt Cassel on Bill Belichick
Cassel's Patriots prank war tale is a fantastic story, but it also shed more light on the greatness of Brady. One of the keys to his success for so many years is that there are plenty of stories like this that show how, despite all his success, he is just one of the guys in the locker room.
It also reinforces one of the inalienable truths of the NFL: don't mess with Tom Brady.
All stats courtesy of Pro Football Reference; contract figures courtesy of Spotrac.