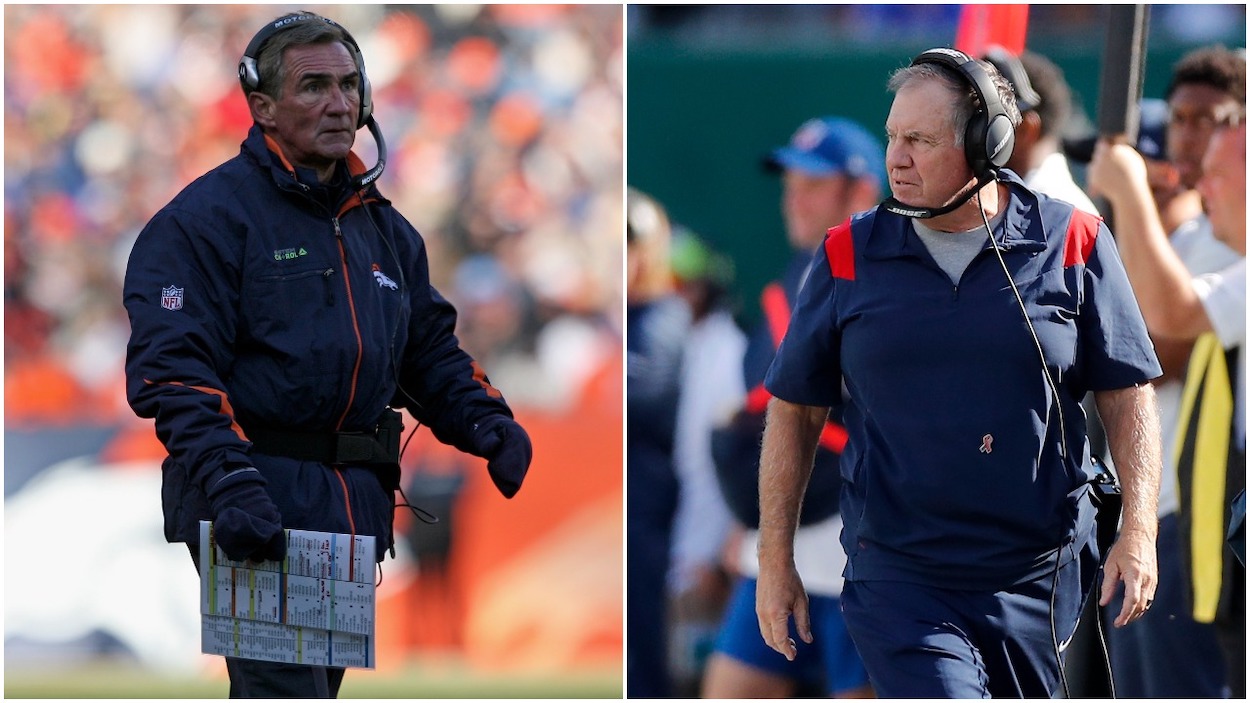 Mike Shanahan's Shocking Reaction to Spygate Might Have Saved Bill Belichick
Denver Broncos coach Mike Shanahan gave a very different answer to Roger Goodell in 2007 when most of the league was attacking Bill Belichick and the New England Patriots over the infamous Spygate scandal.
Mike Shanahan made many contributions to the NFL in his 20-year pro football head coaching career. In 2007, Shanahan may have made his biggest influence of all on league history, though. That's when he was one of the few voices defending Bill Belichick to commissioner Roger Goodell during the New England Patriots' infamous Spygate scandal.
What is Patriots Spygate?
If, for some reason, you mercifully don't remember the drama of Spygate, here is a quick refresher.
In Week 1 of the 2007 NFL season, the New England Patriots beat the New York Jets 38-14. The Jets coach at the time was former Patriots assistant Eric Mangini. Mangini alerted NFL security during the game that Belichick and the Patriots had an employee on the Jets' sideline filming their signals, per the New York Times.
Following a swift investigation, NFL commissioner Roger Goodell handed down historic penalties for the violation.
The league fined Belichick $500,000, the Patriots organization $250,000, and stripped the club of its 2008 first-round draft pick. It is the largest fine for a coach in league history. It was also the first time a team flat-out lost its first-round pick. Teams had lost draft picks for tampering in the past which they sent to other teams. But this was the first that was expressly taken away.
After issuing an apology for the incident, a tight-lipped Belichick refused to talk about it much more. He and his team did their talking on the field, going 16-0 in the regular season following Spygate. They ultimately finished 18-1 after losing in an all-time classic Super Bowl to the New York Giants.
Mike Shanahan stuck up for Bill Belichick to commissioner Roger Goodell
ESPN's Seth Wickersham is currently promoting his new book chronicling the New England Patriots Dynasty. The book is called, It's Better to Be Feared. On the Bill Simmons Podcast, he shared stories from the book about the 20 seasons that Tom Brady, Bill Belichick, and owner Robert Kraft dominated the NFL.
One anecdote Wickersham shared was from the immediate aftermath of Spygate. The writer says in the days following the story breaking, Commissioner Goodell called executives and coaches around the league to get their take on the situation.
Many of these NFL luminaries took this as an opportunity to get back at the man who coldly crushed them for the better part of the preceding decade. "It's like the height of their piousness," Wickersham said. "Ya know, it's 'he's a cheater, everything he does is dirty, you got suspend him,' all this stuff."
When Goodell called the Denver Bronco's Mike Shanahan, a respected head coach and a good friend of Belichick, he heard a different take on the matter:
He calls Mike, and he's like, 'What's going on here? What do you think about this?' And Mike says, 'Roger, I wish I had thought to do that myself. I'm mad at myself that Bill's out there — that Bill thought of it before I did. And I would have done it without even blinking because there's no punishment for it.' Nobody had ever been busted for taping signals, so why not push the envelope? Why not do it? And he said, 'You cannot say Bill Belichick's a bad guy. He's just better at it than everybody else is.'

Seth Wickersham on Mike Shanahan and Roger Goodell's Spygate conversation
While no one truly knows what effect the Shanahan call had on Goodell's final decision, a coach with the gravitas of Shanahan sticking up for Belichick had to help the situation in the Pats' coach's favor.
Mike Shanahan's NFL legacy 
When telling the story about the Shanahan/Goodell phone call, Wickersham describes the former as someone who "wasn't quite the genius [at the level] that Bill was, but he was still one of the better, smarter head coaches around the NFL."
That is an apt description. Shanahan is not one of the small handful of all-time great coaches in NFL history, but he is on the very next level of excellent head men.
The Eastern Illinois graduate came up in the NFL as an offensive assistant under Dan Reeves for the Denver Broncos. After a brief 20-game stint as head coach of the then-Los Angeles Raiders, Shanahan returned to take the reins in Denver, where he stayed for 14 seasons.
Shanahan's time in Denver is notable for two main reasons. The first is that he was the coach who finally helped get legendary quarterback John Elway over the hump. He lead the Broncos to back-to-back Super Bowl wins in 1997 and 1998. The second is that he, along with pioneering offensive line coach Alex Gibbs, popularized zone blocking and run plays that made 1,000-plus yard rushers out of previously unknown and underappreciated running backs. Examples of this include Terrell Davis, Olandis Gary, and Mike Anderson.
After Denver, Shanahan spent four tumultuous and relatively unsuccessful seasons under Daniel Snyder in Washington before retiring after the 2013 season.
Shanahan is currently 15th on the all-time NFL coaching wins list with 170. And, his two Super Bowl victories put him in a group of just 13 coaches who've won more than one Lombardi Trophy.
He is certainly not on the level of Bill Belichick (or Bill Walsh, Chuck Noll, Don Shula, Tom Landry, etc.). However, it would be hard to make a list of the top 20 NFL coaches ever and not put Shanahan on it.
All stats courtesy of Pro Football Reference