A Former Super-Bowl Winning QB is Ready to Label Zach Wilson a Bust Unless He Becomes More Like Mac Jones
Jets rookie QB Zach Wilson could be a major draft bust unless he learns something that Patriots rookie Mac Jones already seems to know.
The New York Jets selected BYU quarterback Zach Wilson No. 2 overall in the 2021 NFL draft. Thirteen picks later, the New England Patriots took Mac Jones from Alabama. The two (along with fellow 2021 first-rounders Trevor Lawrence, Trey Lance, and Justin Fields) will now always be linked throughout their NFL careers. Wilson and Jones more so than the rest because they are now AFC East rivals.
Former Super-Bowl winning QB Trent Dilfer recently joined podcast host Ryen Russillo to evaluate how the first-round rookies are faring through three games. While the jury is still out on all of them, Dilfer pointed out one thing Jones does that Wilson desperately needs to learn.  
Mac Jones has outperformed Zach Wilson so far in their rookie season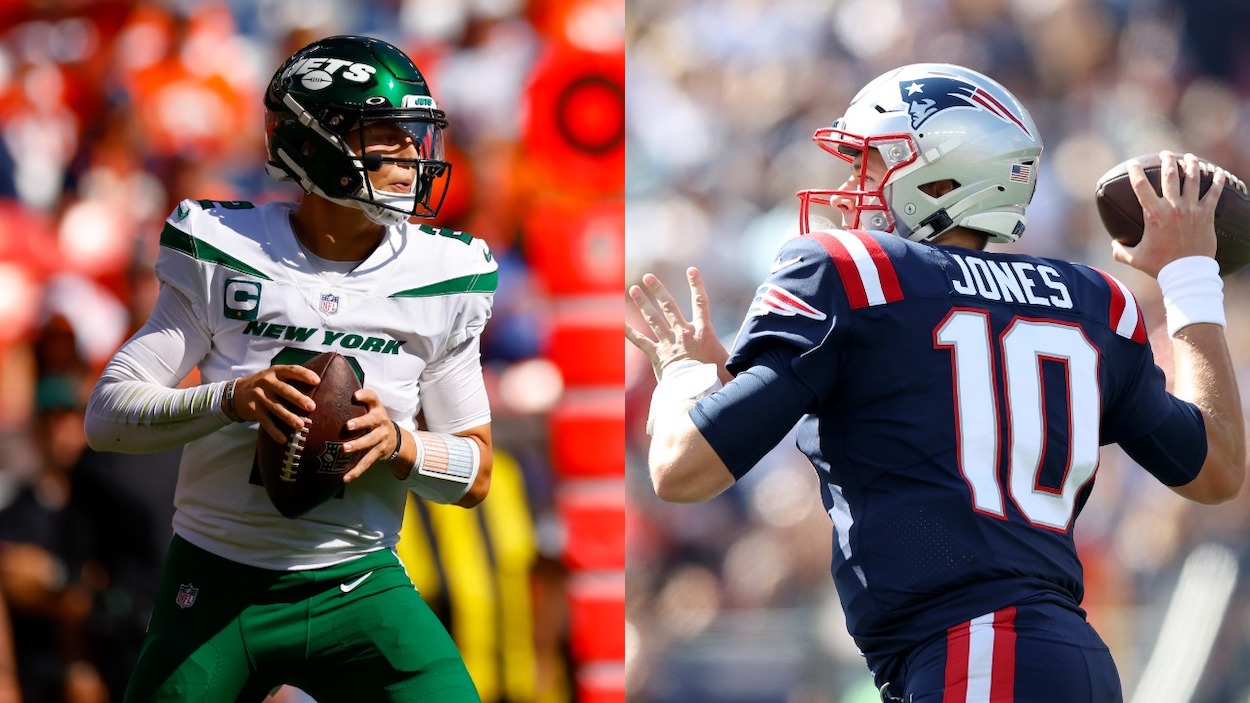 Zach Wilson and Mac Jones faced off head-to-head in Week 2. The New England Patriots won the game 25-6 over the New York Jets, and the No. 15 pick outperformed the Jets' No. 2 pick by a wide margin.
Jones produced an effective yet unspectacular outing that was more than enough to win the game for his team. His final stat line was 22-of-33 passing for 186 yards. He had no touchdowns, no interceptions, and was sacked three times.  
His opposite number had a horrific game.
Wilson was 19-of-33 for 210 yards and was also without a touchdown. The Patriots' defense had four sacks on the rookie passer as well as a stunning four interceptions, picking off his first two throws and four of his first 10.
The rest of the season has played out much the same way. Jones' overall numbers are 81-of-120 (67.4%) for 737 yards, two touchdowns, and three picks. Wilson is 58-of-105 (55.2%) for 628 yards and two touchdowns. He is also currently the most sacked QB in the league (15) and is tied for most interceptions (7) with No. 1 overall pick Lawrence.  
Trent Dilfer says Wilson must emulate Jones in a critical way, or he will be a bust
Trent Dilfer, who won the Super Bowl in 2000 with the Baltimore Ravens, thinks that Wilson needs to learn from New England Patriots quarterbacks. And not just the former QB Tom Brady, but from Jones too.
Dilfer told the host of the Ryen Russillo Podcast that the Jets QB's biggest problem is that he passes up quality, safe throws to look for something "bigger and better" downfield. It was an issue for the former BYU signal-caller in college and is an even more serious one in the pros.
He says that Wilson needs to stop "working everything down instead of working it up." This means the QB should evaluate the short throws first before looking for the home-run pass. Dilfer says it is something that Brady does so well and that his replacement in New England is also doing well so far in his rookie year.
The former ESPN-analyst-turned-high-school-coach said of Wilson:
Get the ball out of your hands, play the long game. If he learns that, he's going to be great. Guess what, if he doesn't learn that and you still see the bouncing around and the eyes doing this. Mac Jones eyes: Boom, boom, boom. Zach Wilson's eyes [clicking sound]. … If that doesn't get fixed: Bust. Not just next team. Bust. Because you're not talented enough, there's nobody talented enough to play that way.

Trent Dilfer on Zach Wilson and Mac Jones
The "bust" label is a powerful word to use with a quarterback who's only played three games, but, as a former NFL QB, Dilfer understands how important these route-reading concepts — that Jones does well and Wilson doesn't do yet — are to succeeding at the position.
The AFC East rivals face-off again on Sunday, October 24 
For better or worse, Zach Wilson and his Jets have another matchup against Mac Jones and the Patriots just four weeks after the first meeting. The two teams will face off again in Week 7 at Foxborough.
Between now and then, Wilson should have some time to improve. He faces the porous Tennessee Titans defense this week, the all-around bad Atlanta Falcons in Week 5, and has a bye right before the next Patriots matchup.
Jones has a tougher run. He goes against the man he will forever be compared to in Tom Brady this week (who brings a tough Buccaneers D with him) and the undermanned but over-performing Dallas Cowboys D in Week 6. He does have the Houston Texans in between, but overall, it's a tough stretch.
The two rookies will come into Game 2 as much more fully-formed NFL QBs than they were in Game 1. It could give Wilson a nice shot at redemption.
However, If Wilson is still struggling — especially if it's due to still trying to do too much, as Dilfer notes — this game could go a long way toward giving Wilson the dreaded moniker that Dilfer alluded to: draft bust.
All stats courtesy of Pro Football Reference