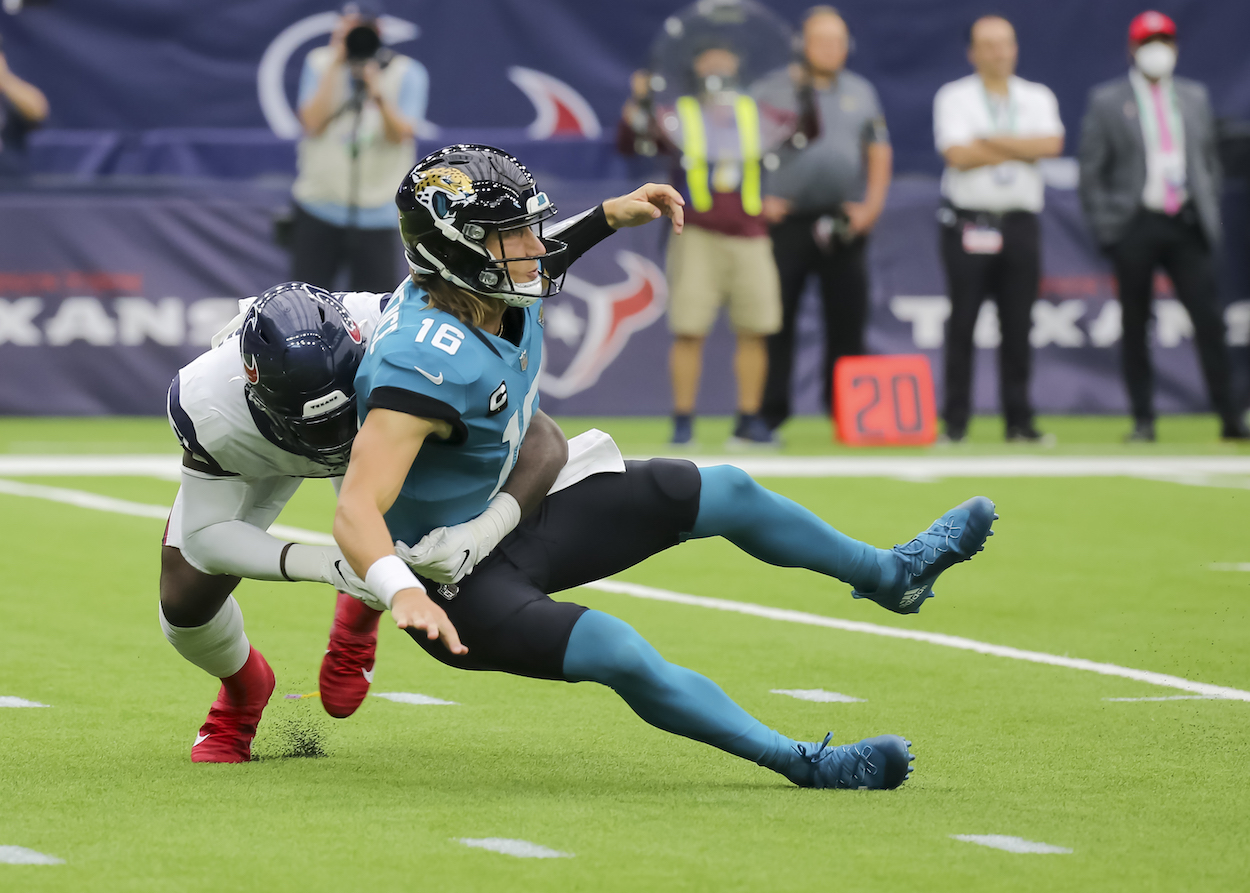 Trevor Lawrence, Peyton Manning, and Andrew Luck: What the 3 QBs Have in Common After Lawrence's Disastrous Debut
Trevor Lawrence had a terrible debut, but one thing he did that caused the team to lose actually puts him in pretty good company. No. 1 overall picks and excellent QBs Andrew Luck and Peyton Manning did the exact same thing.
Trevor Lawrence was the most heralded quarterback prospect to enter the NFL since Andrew Luck left Stanford or maybe even since Peyton Manning finished at Tennessee. While Lawrence certainly didn't look like we remember Luck or Manning in the Jacksonville Jaguars' 37-21 loss to the Houston Texans, his inauspicious debut actually puts him exactly in line with the two much-hyped prospects who turned into generational stars.  
No. 1 overall pick Trevor Lawrence struggled in Week 1 vs. the lowly Houston Texans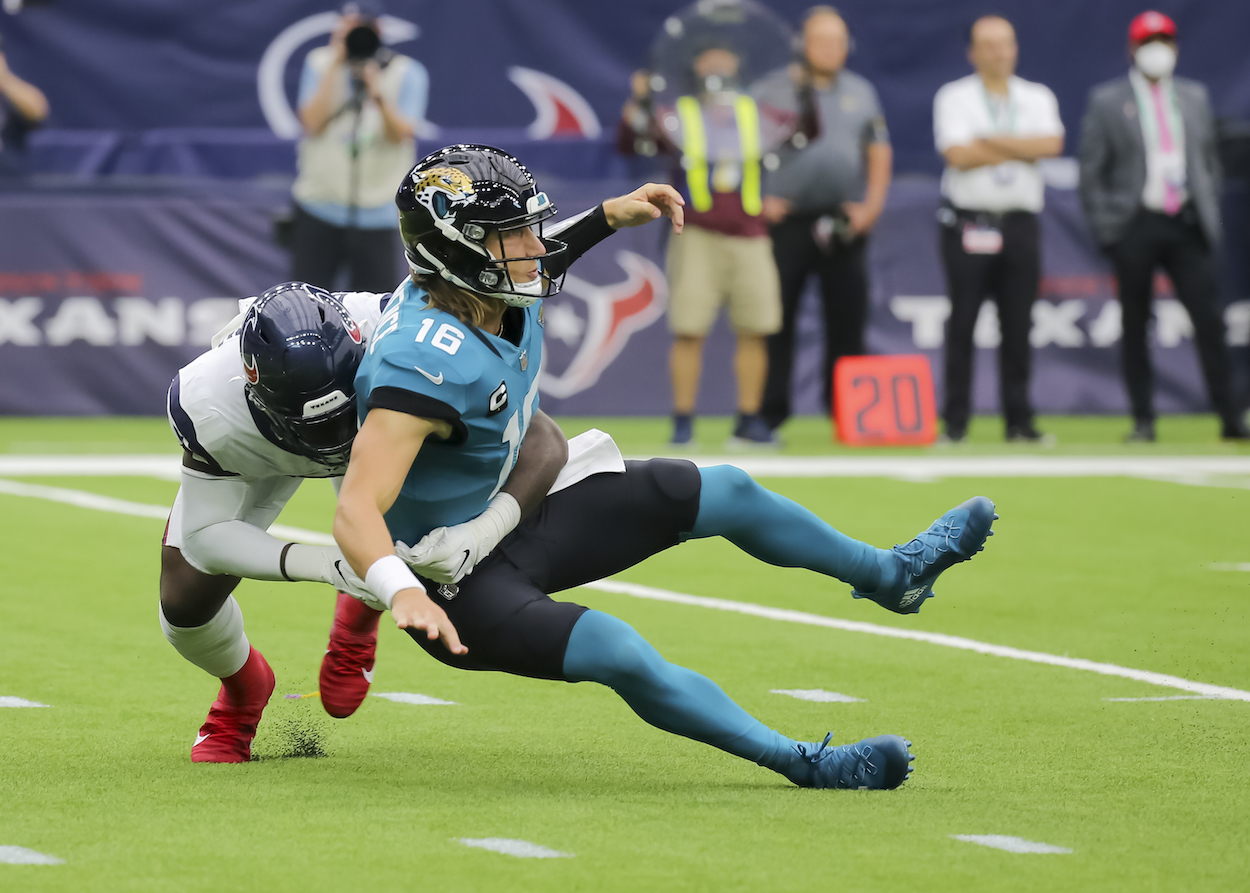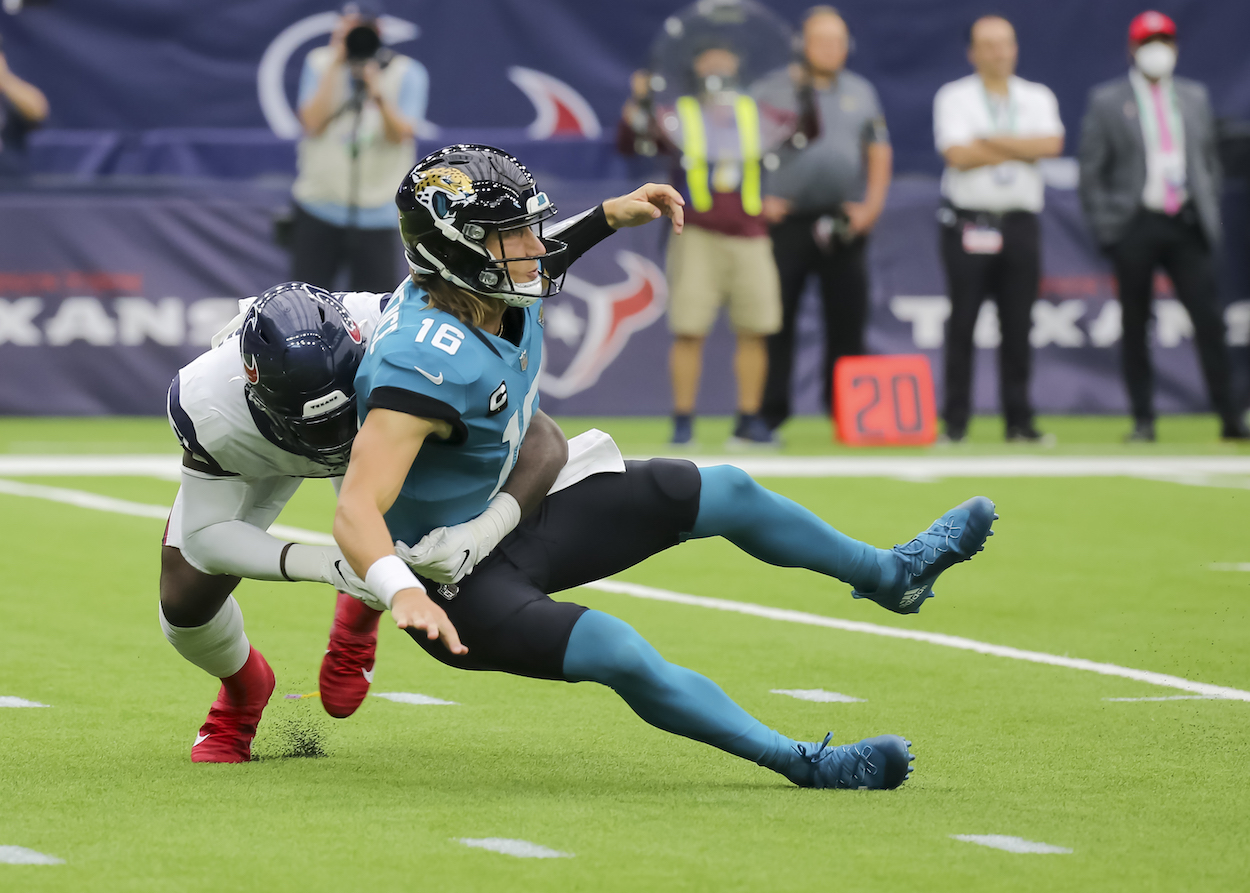 The hype around Trevor Lawrence in the NFL started three years ago when Lawrence made his debut for the Clemson Tigers. The Cartersville, Georgia native took over the starting job during his true freshman season and led Dabo Swinney's squad to a national title.
Lawrence was the prototypical modern NFL QB prospect at 6-foot-6 with a cannon arm and legs that could dance around and oncoming rush and take off when needed. It was only NFL rules that kept him in college three seasons. He would have been the No. 1 overall pick in the 2019 or 2020 draft as well.
As soon as Lawrence was eligible, the Jacksonville Jaguars made him the No. 1 pick in 2021 and promptly handed him the keys to the franchise. The signal-caller impressed enough in camp that the organization even traded away his veteran backup, Gardner Minshew.
Everything seemed to be going smoothly, right up until the regular season kicked off.
That's when the Texans, picked to be one of the worst teams in the league, blitzed Lawrence, both literally and figuratively. Houston's defensive coordinator Lovie Smith flummoxed the first-year passer. The D held Lawrence to 21-of-51 passing (54.9%), sacked him once, and picked him off three times. 
Despite 332 passing yards and three touchdowns, Lawrence's debut was far from spectacular. It did put him in some good company, though.
Lawrence joined Peyton Manning and Andrew Luck in the three-interception debut club
In 2012, Andrew Luck's first NFL action came against the Chicago Bears (coincidentally coached by Lovie Smith). The vaunted Bears D flustered Luck, winning the game 41-21. Luck's stat line was strikingly similar to Lawrence's. The Colts QB was 23-of-45 (51.1%) with a touchdown and three interceptions of his own.  
Fourteen years earlier, the Colts broke in another No. 1 overall pick in Peyton Manning. During his opener, Indy lost to the Miami Dolphins 24-15 and see if Manning's final numbers sound familiar. The Hall of Famer went 21-of-37 for (56.7%) for 302 yards, a touchdown, and, you guessed it: three interceptions.
One note for those wondering: Lovie Smith was the linebackers coach for the Tampa Bay Buccaneers in 1998, so he wasn't involved in Manning's debut.
The real test for Lawrence is whose footsteps he follows in next.
Luck rallied from that opening three-pick game to lead the Colts to an 11-5 record and a playoff appearance his rookie season. Injuries took their toll on Luck long-term, though, and after six successful seasons, he retired at 29.
Manning, on the other hand, finished 3-13 that first campaign and led the league in interceptions with 28. We all know how the rest turned out, however. Seventeen seasons later, Manning walked away as a 14-time Pro Bowler, seven-time All-Pro, five-time MVP, and two-time Super Bowl champ.
Urban Meyer and his prized QB are ready to put the loss behind them and move on
Trevor Lawrence and his first-year, former college head coach Urban Meyer both said all the right things after the loss, which, stunningly, was the first regular-season loss of Lawrence's career dating back to high school.
"We've all got our a** kicked before," Meyer said, per ESPN. "Let's tighten up and go. I believe in that team. I believe in our staff. Come back to work. Going to earn your captain's stripes and leadership stripes as a coach and leaders on the team. But I believe in those guys."
"It obviously sucks," Lawrence added. "Losing's always hard, especially when you feel like you're prepared and had a great week and really think we were ready. Just obviously didn't play well. It starts with me. I played really bad tonight."
The road doesn't get easier for Lawrence and Meyer, though. Although they do return to Duval County, where the stadium should be fuller than in recent seasons to welcome Lawrence, the Denver Broncos are coming to town.
While the 2021 version of the Orange Crush didn't have any picks, the unit did hold the New York Giants' Daniel Jones under 300 yards passing (267) and kept Saquon Barkley under wraps as well (27 all-purpose yards).
Win or lose, and no matter how many picks Lawrence throws Sunday, there is still a lot of football to play before the book is written on the talented QB.
Just remember, although Luck and Manning threw three INTs in their debut and turned out just fine, Sam Bradford and Dwayne Haskins did as well. So, you never know.
All stats courtesy of Pro Football Reference
RELATED: Trevor Lawrence Sent the Jacksonville Jaguars to Voicemail 3 Times Before Answering on Draft Night