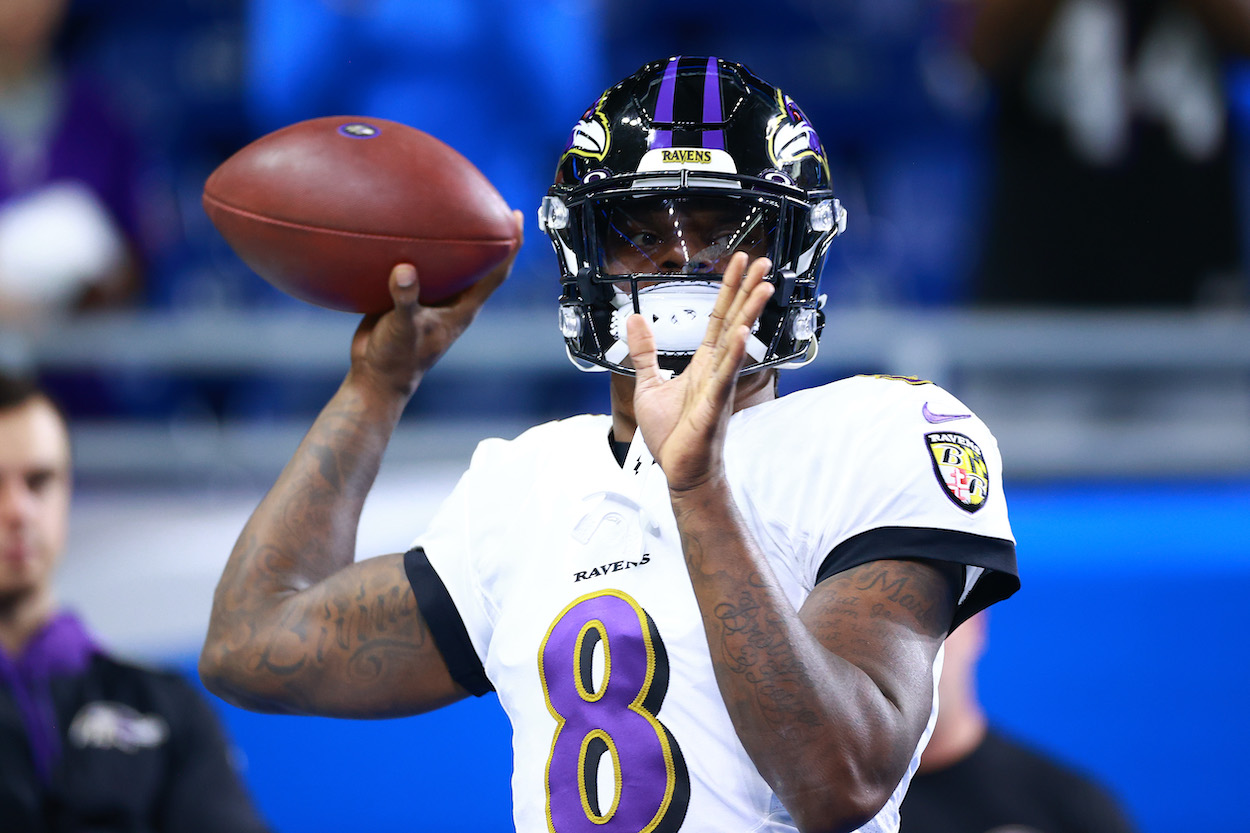 The Baltimore Ravens Are on Dangerous Ground as It Pertains to Lamar Jackson's Future
Lamar Jackson is negotiating his own contract extension (with the help of his mom) and this could be a bigger problem for the Baltimore Ravens than it is for him.
Baltimore Ravens' fourth-year star quarterback Lamar Jackson is currently the 472nd highest-paid player in the NFL based on his 2021 cap hit of $3.01 million. He is due a big raise next season with a fifth-year option for $23.01 million. However, the real payday will come with his first contract extension. The problem is, he is not using an agent, which could cost him money. If the Ravens try to low-ball him, though, it could be even worse for them, according to a former NFL executive.
Lamar Jackson does not have a traditional sports agent
Coming into the NFL as the No. 32 overall pick in the 2018 draft out of Louisville, Lamar Jackson didn't have a traditional agent. He negotiated his rookie contract — a four-year, $9.47 million deal — by himself, with the help of his mother, Felicia Jones, per CBS Sports.
The collative bargaining agreement between the NFL and NFLPA pretty well laid out Jackson's first contract and his $23 million fifth-year option.
This contract will be different.
Along with fellow 2018 draftee Baker Mayfield, Jackson is in line for enormous extensions that should pay them in the neighborhood of $40 million per year. This is in line with recent mega-extensions that Dak Prescott (four years, $160 million), $Patrick Mahomes (10 years, $450 million), and Josh Allen (six years, $248 million) signed in recent months.
Relying on yourself (a full-time football player) and your "business manager" mother seems like a dangerous game to play when this type of life-changing, generational wealth is involved.
According to one former NFL executive, though, negotiating with Jackson and Jones is actually a bigger minefield for the Ravens than for the QB and his mom.
A favorable extension for the Ravens could have long-term consequences
Not having a traditional sports super-agent, like many of the top QBs in the league do, might sound like a good thing for the Baltimore Ravens. However, former NFL executive Andrew Brandt says the opposite is true.
On his The Business of Sports Podcast, the former Green Bay Packers Vice President said that not having an agent while negotiating a franchise-altering contract extension is dangerous for both the player and the organization:
In terms of the risk allocation, on who's got more risk by Lamar negotiating his contract without an agent, I'm gonna say it's the Ravens. And I know that's counterintuitive, but I speak from experience. My experience is when you are a team and do a lopsided or even slightly unfair contract — well, depending on the level of player — it can come back to haunt you. And the greater the magnitude of player, the greater it will — not can, will — come back to haunt you.

Andrew Brandt on Lamar Jackson
Brandt goes on to explain that there are "whisper crews" in the NFL that will get in Jackson's ear and tell him he's not getting paid enough if he ends up with a below-market deal. This could sour the team's most important player on the organization and even lead to problems with other free agents down the road.
Jackson is a unique NFL QB which makes his extension interesting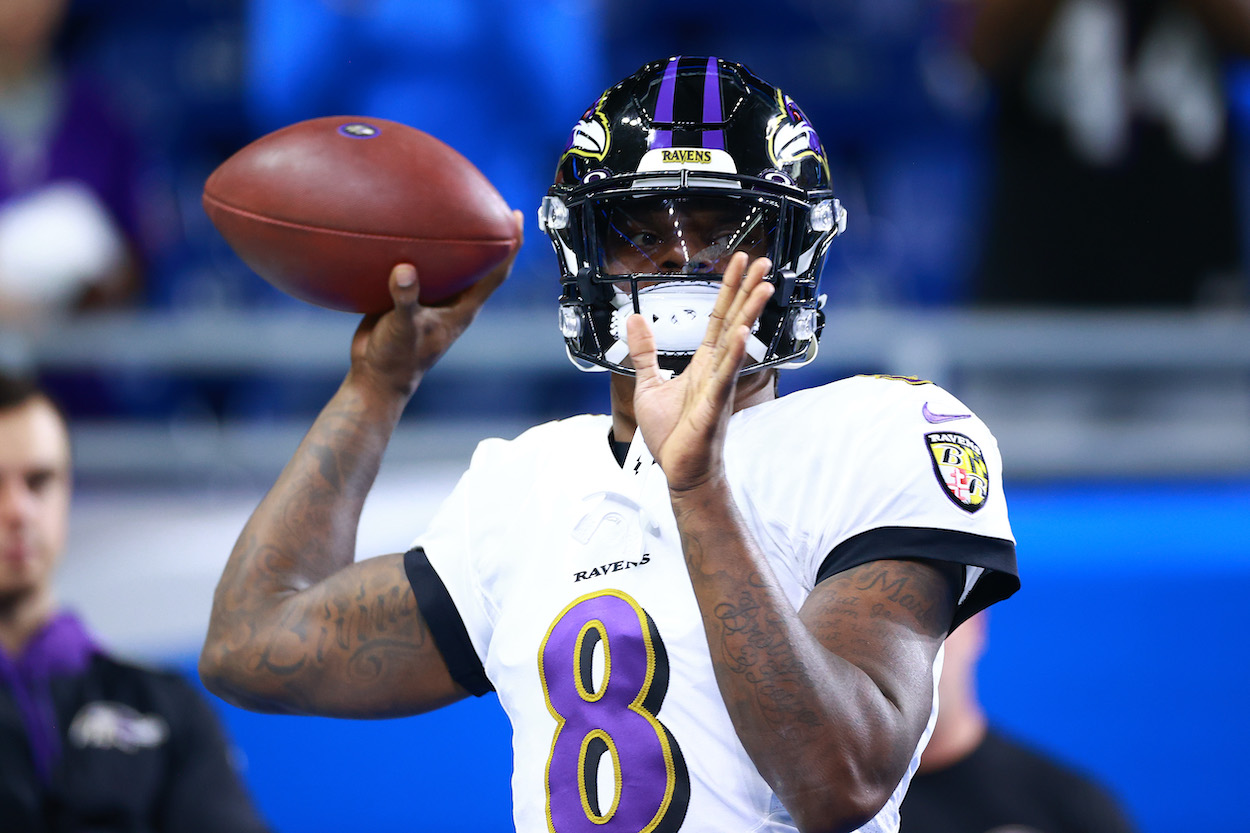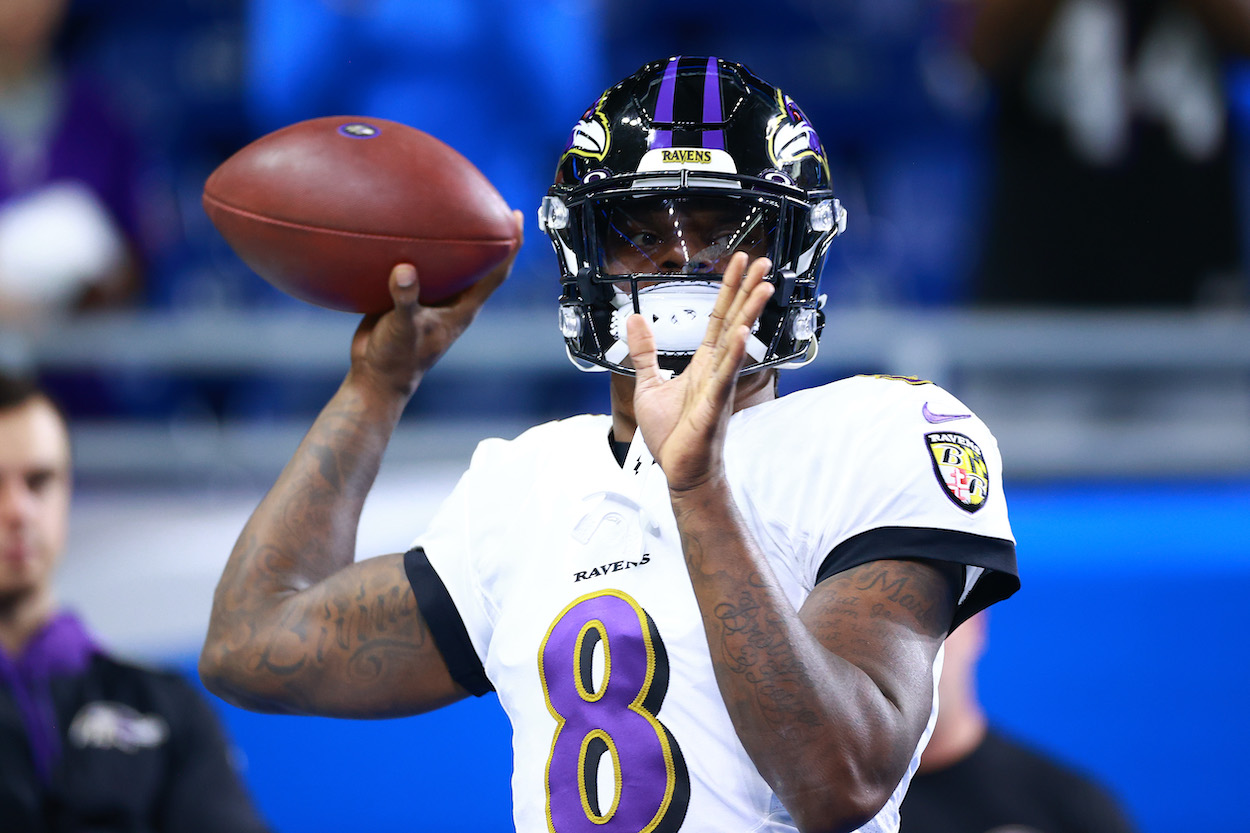 Lamar Jackson is not your average quarterback. His unique running-based style makes him different from most NFL QBs, including the other two stars drafted in 2018, Allen and Mayfield.
While he doesn't have the same prolific passing yards as Allen or Mayfield (7,846 to 10,514 and 11,895, respectively), Jackson has a better completion percentage (63.7% to 61.8% and 62.5%) and is relatively equal in touchdown passes (71 to 74 and 77).
In the rushing category, Jackson's rushing yards (3,157) dwarf Allen's (1,650) and Mayfield's (485) numbers.
The former Louisville Cardinal has also made the playoffs every year of his career and won the 2019 NFL MVP Award, while his counterparts have one (Mayfield) and two (Allen) career playoff seasons.
While it may seem like the 6-foot-2, 212-pound running quarterback may be more susceptible to injury than his more pocket-protected contemporaries, that doesn't seem to be the case. Since Jackson became the full-time Ravens starter toward the end of 2018, he's only missed two regular-season starts. One was for rest in Week 17 of 2019, and one was for COVID-19 in Week 12 of 2020.
Lamar Jackson is simply one of the best young quarterbacks in the league, despite the fact he doesn't get the job done the same way as most passers in NFL history have. He deserves an extension on par with Allen and the other young QBs in the league, and he should get one soon.
If he doesn't, it could be a major problem for his Baltimore Ravens.
All stats courtesy of Pro Football Reference and contract figures courtesy of Spotrac