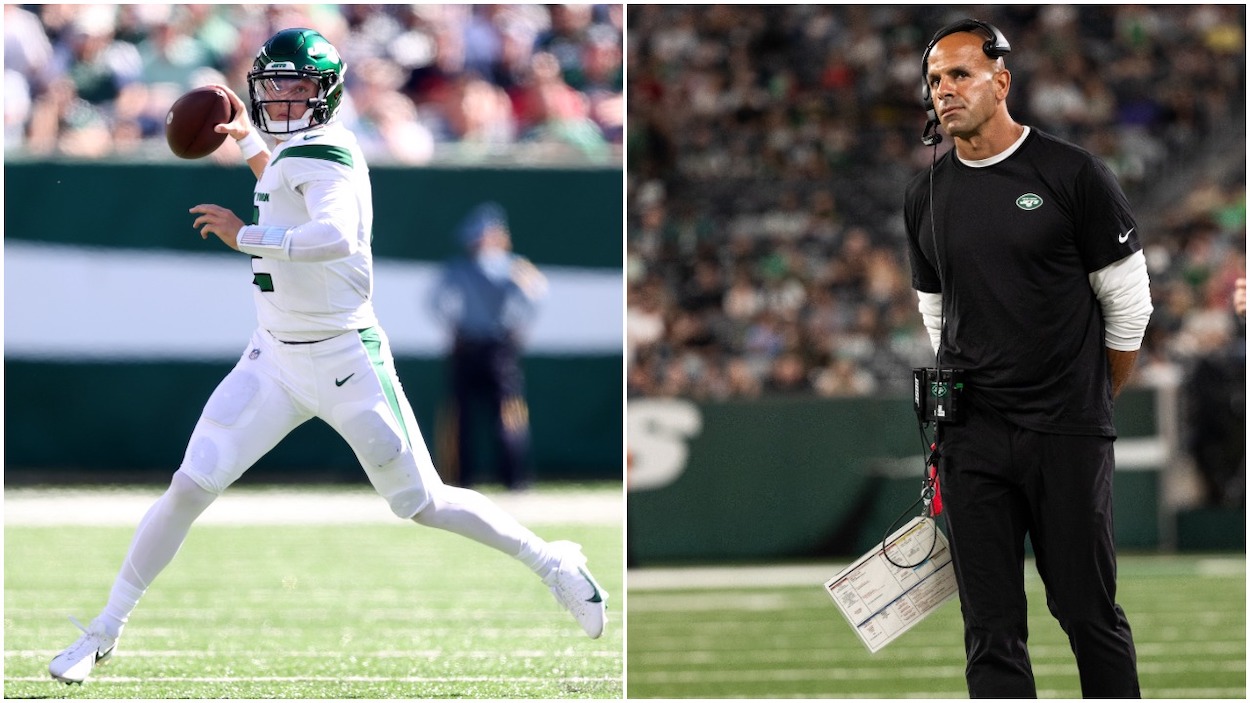 Zach Wilson's Biggest Problem Is He Isn't 'Boring' Enough According to His Head Coach Robert Saleh
Zach Wilson is nothing if not exciting, but his New York Jets head coach Robert Saleh wishes he would tone it down just a bit. Wilson can see exactly what the coach is talking about in his Week 3 matchup vs. the Denver Broncos.
Two games into Zach Wilson's career, one thing is certain: he's not boring. Any play that features the New York Jets QB under center could end in an exhilarating touchdown, a crushing interception, a breathtaking scramble that goes for 20 yards, or an infuriating scramble that ends in a 20-yard sack. His coach Robert Saleh wishes he was a little less exciting.
Zach Wilson struggled again in Week 2 vs. the New England Patriots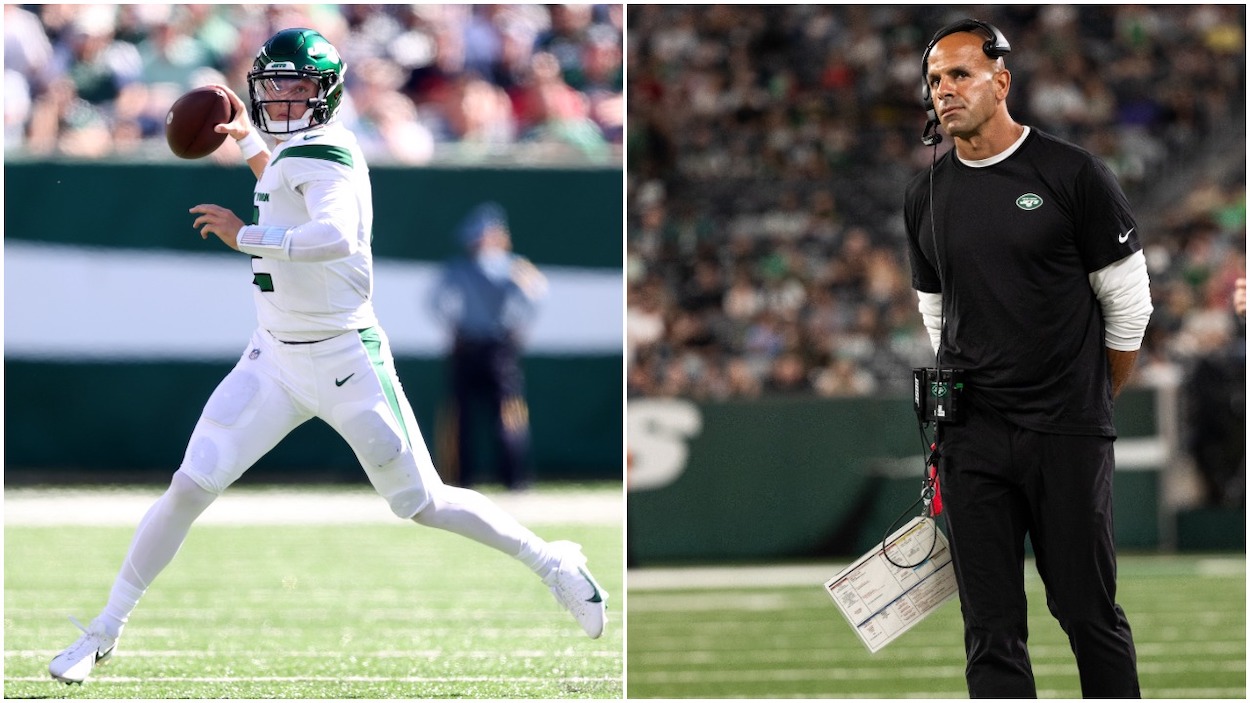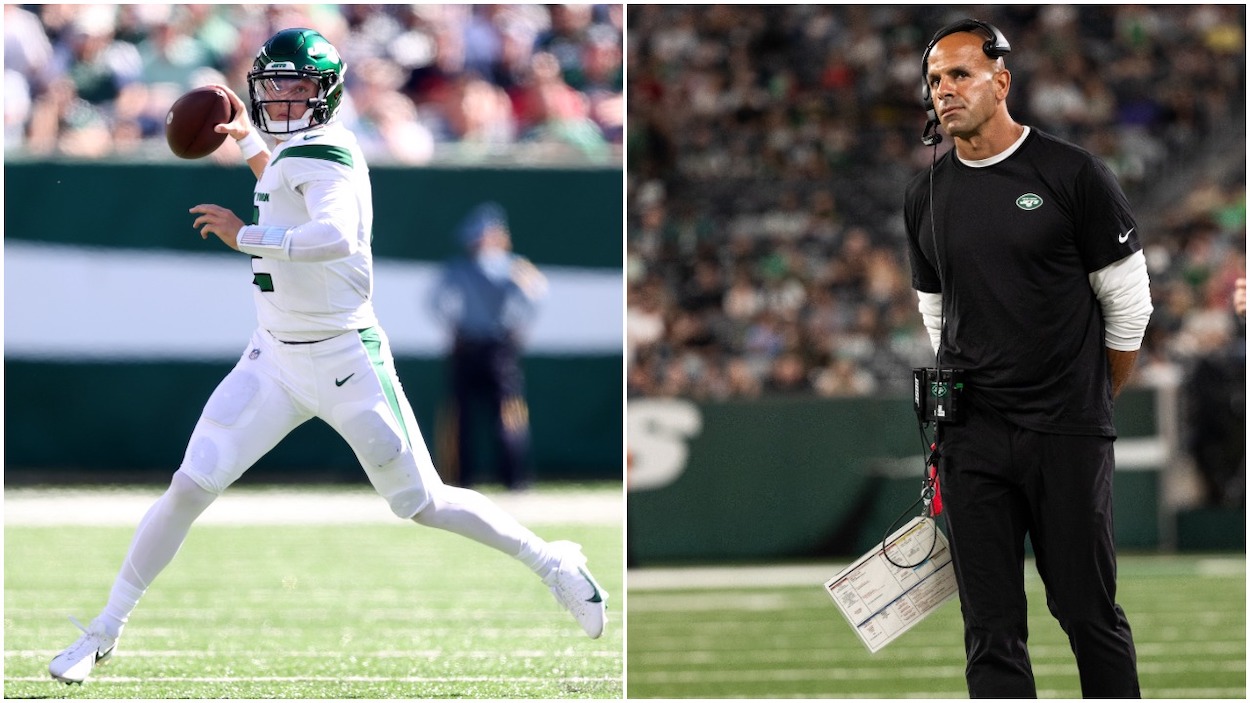 The No. 2 overall pick is now 0-2. Wilson and the Jets followed up a close, 19-14 loss to the Carolina Panthers (and the franchise's former signal-caller Sam Darnold), with a less impressive 25-6 dismantling at the hands of Bill Belichick and the New England Patriots.
The all-time great head coach and his defense made life miserable for Wilson. The young QB didn't do himself any favors either, though. The final stat line for Wilson was rough. The former BYU passer was 19-of-33 for 210 yards. The Pats also sacked him four times.  
The worst part of Wilson's day was his four interceptions. According to ESPN (h/t to Elias Sports Bureau), Wilson's four picks put him in some unwanted company. Two of the INTs came on his first two throws, which hasn't happened since Tavaris Jackson (Seattle Seahawks) did it in 2011. The next two came within his first 10 attempts, which only Kyle Orton (Chicago Bears, 2005) and Nathan Peterman (Buffalo Bills, 2017) have done before.
Several other Wilson interception statistics put him right up there in franchise history with ignominious former Jets QBs like Darnold, Geno Smith, and Mark Sanchez.
New York Jets coach Robert Saleh wants Wilson to be more 'boring'
After the game, first-year head coach Robert Saleh told reporters that, while many of Wilson's mistakes were a result of his confidence and competitiveness, he would like to see the QB dial it down occasionally and be OK with less enthusiastic style:
It's OK to play a boring game of football. That's really it. He's an electric dude. He's competitive as crap, and he wants to win so bad, but sometimes it's OK to be boring. That's probably the biggest lesson he can take out of this one.

New York Jets coach Robert Saleh on Zach WIlson
For his part, Wilson says what you see is what you get with him. "This is what we signed up for, right?" Wilson said of his game. "There's going to be games like this — the ups and downs."
Coming from the San Francisco 49ers organization, Saleh had his most successful season with game-managing passer Jimmy Garoppolo, so that style may be what he is looking for. At least for now, until Wilson gets a little more experience and discretion in the pocket.
The Denver Broncos will show the Jets QB how to be boring in Week 3
If Saleh wants boring, he's going to get it in Week 3. No 2-0 NFL team is more boring — and successful at it — than the Denver Broncos.
After several post-Peyton Manning seasons trying out "exciting" young QBs like Drew Lock, Paxton Lynch, Trevor Siemian, and Brock Osweiler, the franchise opted for a "boring" veteran in 2021, and it is paying off in a big way through two weeks.
Seventh-year pro Teddy Bridgewater has led the Broncos to an undefeated record through two weeks. The team beat the New York Giants Week 1 27-13 and took down the QB drafted ahead of Zach Wilson, Trevor Lawrence, and the Jacksonville Jaguars 23-13 in Week 2.
Bridgewater has been excitingly efficient in these two contests. He's averaging a 77.1% completion rate through two games and threw two touchdowns and zero interceptions in each game.
When the New York Jets travel to Mile High to face the Bridgewater and the Broncos this weekend, Saleh should take time to point out the "boring" way that the former Louisville passer picks the Jets D apart.
All stats courtesy of Pro Football Reference