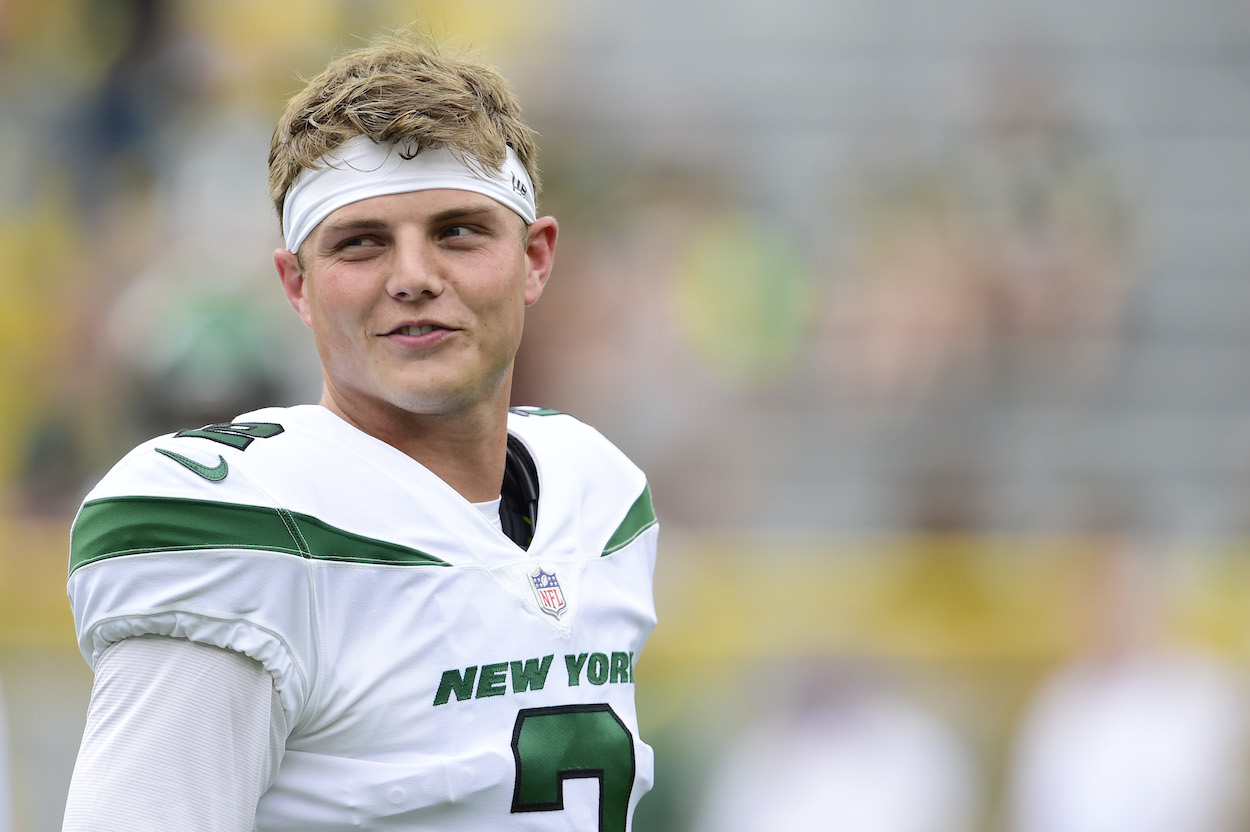 Is Zach Wilson Mormon?
Because the quarterback went to BYU, many fans will wonder about passers areligious affiliation and ask, is Zach Wilson Mormon? The answer is interesting, just like Wilson's extended family.
While top 2021 NFL draft picks Trevor Lawrence, Justin Fields, and Mac Jones plied their trades in the ACC, Big 10, and SEC, respectively, the New York Jets' No. 2 overall pick Zach Wilson toiled in relative obscurity to most football fans at Brigham Young University. BYU has produced several excellent NFL quarterbacks (Jim McMahon, Steve Young) and a Heisman Trophy winner (Ty Detmer). Still, what most know about the institution is that it is the largest university in the country associated with the Church of Jesus Christ of Latter-day Saints, which is the Mormon church. Because of this, NFL fans commonly ask, is Zach Wilson Mormon?
Zach Wilson grew up in Utah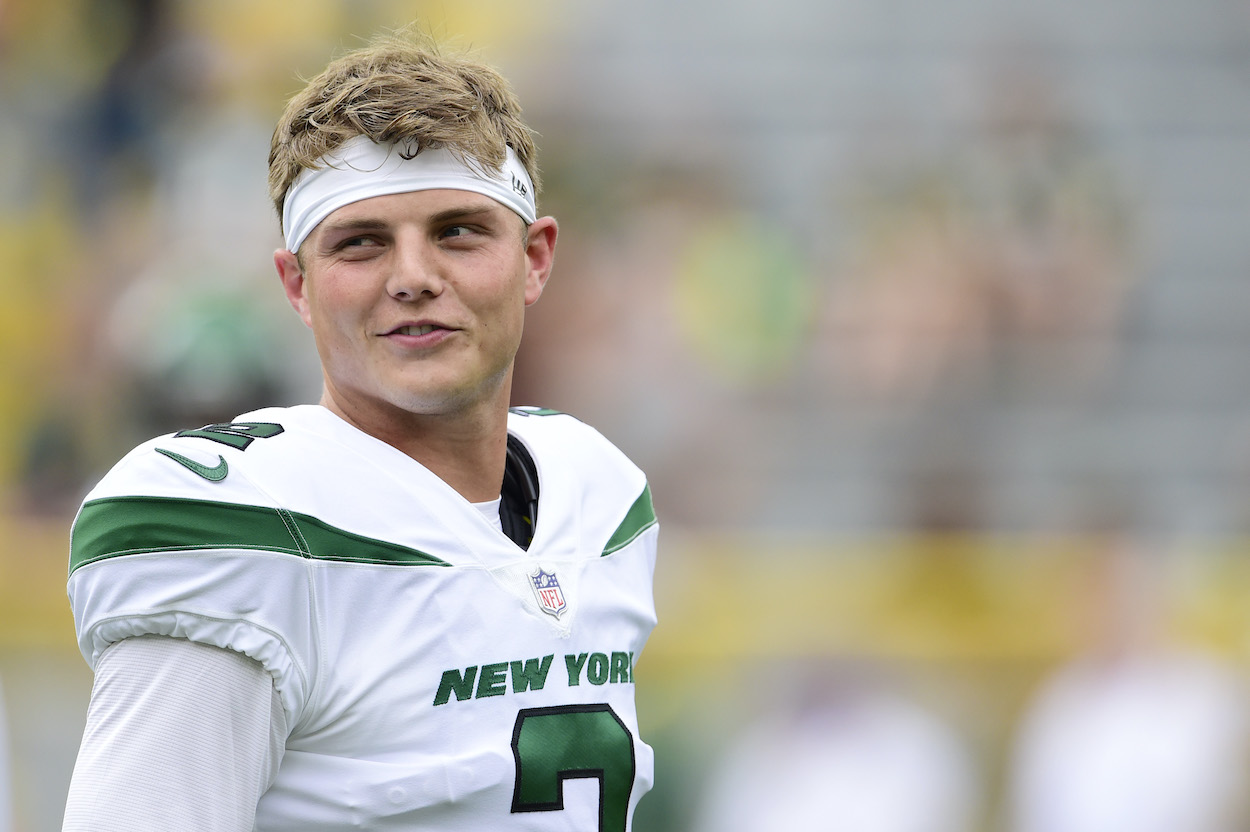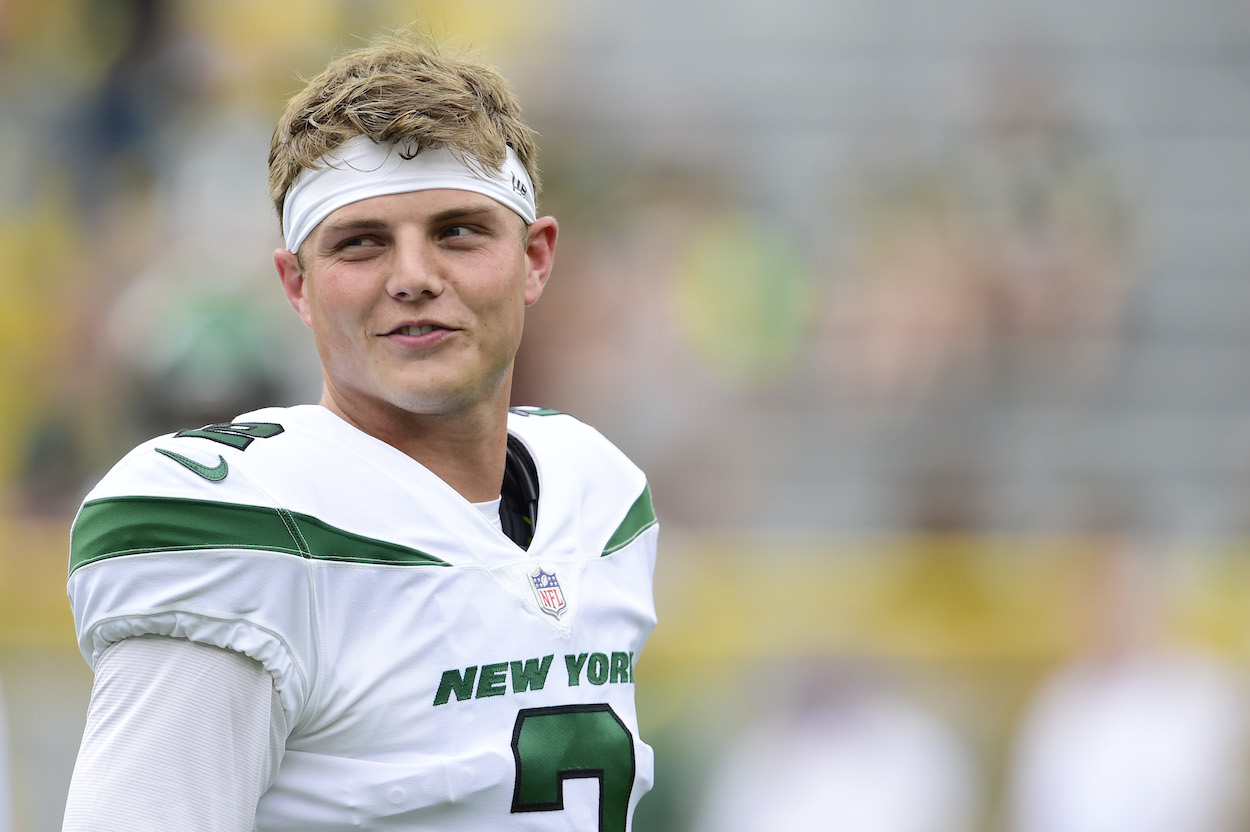 The New York Jets' Zach Wilson grew up in Draper, Utah, a suburb about 20 minutes south of Salt Lake City. Mike and Lisa Wilson raised their family just a few blocks away from Corner Canyon High, where Zach played high school football, per the Desert News.
The QB played varsity as a sophomore but only played in three games, completing 10 of his 16 passes, per MaxPreps. The following two seasons as a full-time starter, he started to shine. At the end of his prep career, Wilson had 353 completions for 5,842 yards with 45 passing touchdowns and 14 interceptions.
The young QB grew up a fan of the Utah Utes college program, but the school didn't give him an offer. Wilson initially committed to Boise State as a junior before de-committing and signing with the Utes biggest in-state rival, BYU.
Is Zach Wilson Mormon?
One of the reasons that BYU was a fit for the signal-caller is that Zach Wilson is Mormon.
However, Wilson isn't an active member of the church. The Utah native explained that while he is a member of the church, he isn't an active member and doesn't consider himself a representative of Mormonism like some other famed BYU alum, such as former NBA guard Jimmer Fredette and NFL players Taysom Hill and Daniel Sorensen. Wilson says:
It is not something I am against, it is just that I didn't grow up active in the church. I'm not that 'poster boy' for the church. … I was never really a churchgoer my whole life, just not involved much in it. My family and I hold the same morals and values that the church does, for sure, but I really didn't know a lot about the teaching and stuff until I got to BYU.

Zach WIlson on being Mormon
The Jets QB has given even more in-depth answers about his spirituality as well. "I consider myself a really spiritual person. I feel like I have always had a good relationship with God in my life," Wilson said. "At BYU, I have gotten into it a little bit more."
He also became more identifiable as a Morman at BYU. In school, he earned the nicknames "Mormon Mahomes" and "Mormon Manziel" based on his skill and playing style.
The New York Jets QB comes from a very successful family
While Zach Wilson is now the most famous person in his family, he isn't necessarily the most interesting or successful, and he's definitely not the richest. That is because of his mother's side of the family.
Lisa Wilson (née Neeleman) is one of seven children of Gary and Rose Neeleman. The oldest child, John, is a partner in a Seattle law firm, according to the Desert News, and the oldest daughter Julie "manages the family's 10,000-acre Zion Ponderosa Resort near Zion National Park."
Next is Pamela, a hotel manager for Wyndham, followed by Stephen, a former Utah State football player who became a trauma surgeon then started the largest health savings account company in the United States. Lisa, a mom and personal trainer comes next, and Mark is the youngest. He's an entrepreneur who's started multiple businesses in Brazil.
The most well-known Neeleman, though, is the second-oldest, David. He is an air travel luminary who came up with multiple air travel innovations we use today and founded JetBlue, among other airlines. His net worth is estimated at $400 million.
David organized a charter flight to take Wilson fans from Utah to Charlotte, North Carolina, to watch the Jets take on the Carolina Panthers in Week 1 of the NFL season.
All stats courtesy of Sports Reference