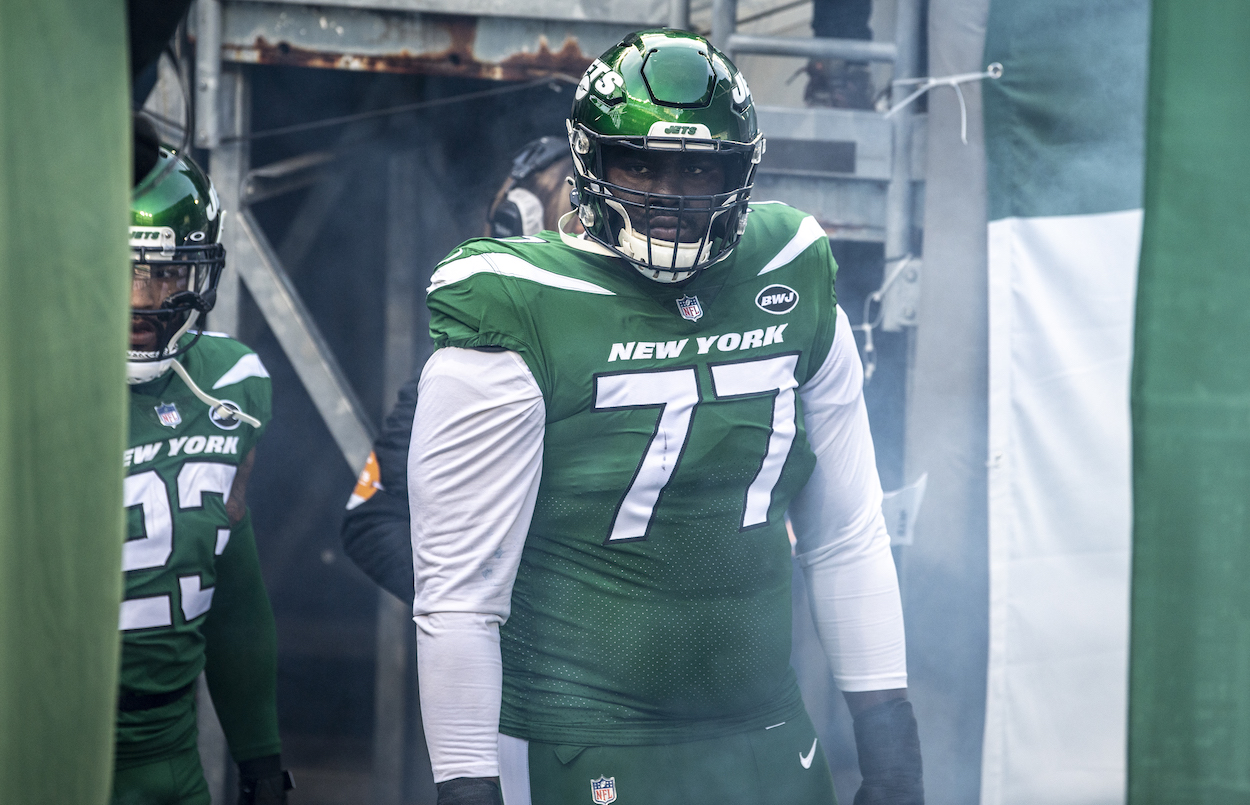 Zach Wilson Has Received Great News From the Jets' Weight Room Thanks to His Left Tackle Mekhi Becton
Offensive line protection is one of the determining factors is a rookie QB's success. If a workout video of tackle Mekhi Becton from the New York Jets weight room is any indication, Zach Wilson could have a good year with a clean pocket. Especially in the first six games where they face subpar pass rushes.
There are a lot of factors that go into a rookie NFL quarterback's success or failure. Their coaching, offensive scheme, and skill position weapons all play a role. The most critical piece, however, is the offensive line. That's why a Mekhi Becton social media video from the New York Jets weight room is good news for No. 2 overall pick Zach Wilson.
The Jets signed free agent linemen Dan Feeney and Morgan Moses this offseason and drafted guard Alijah Vera-Turner out of USC in the first round. Now, last year's first-round pick Becton's weight room video is one more sign Wilson may have a fighting chance in his rookie season.
Offensive line protection is key for rookie quarterbacks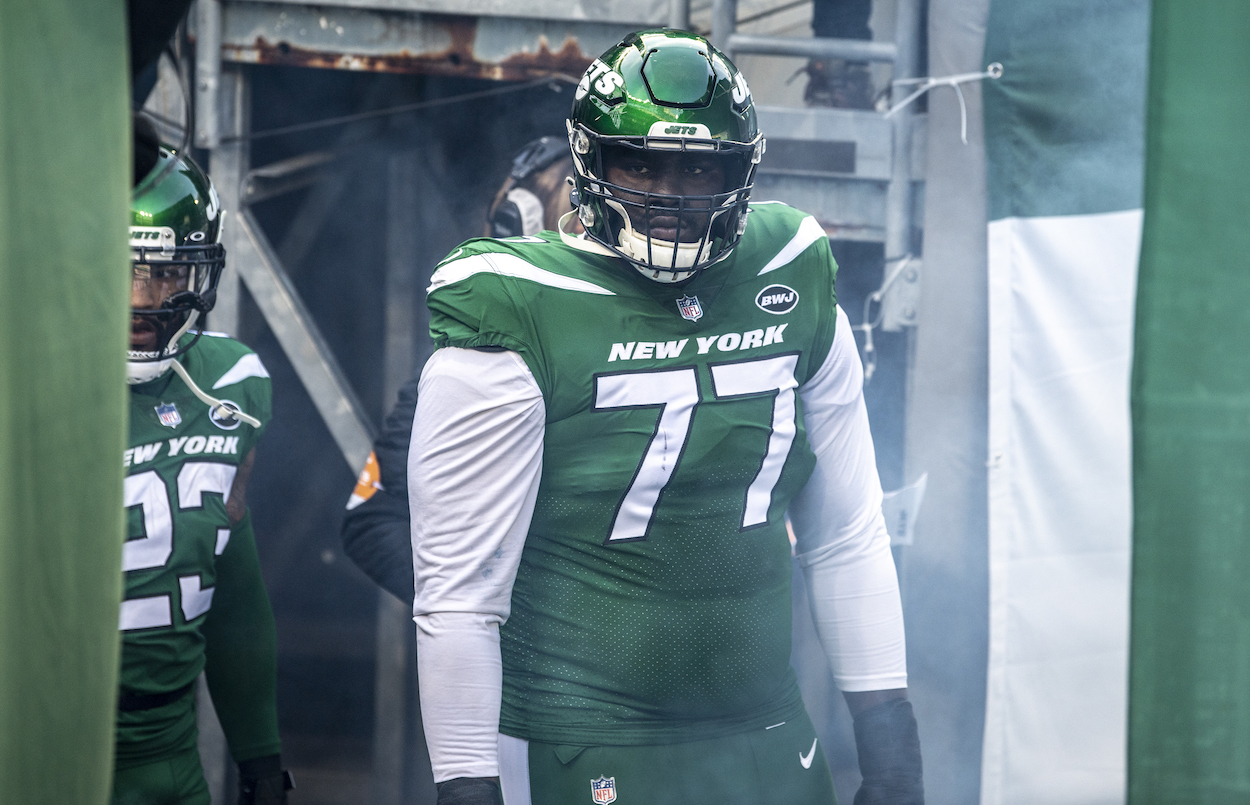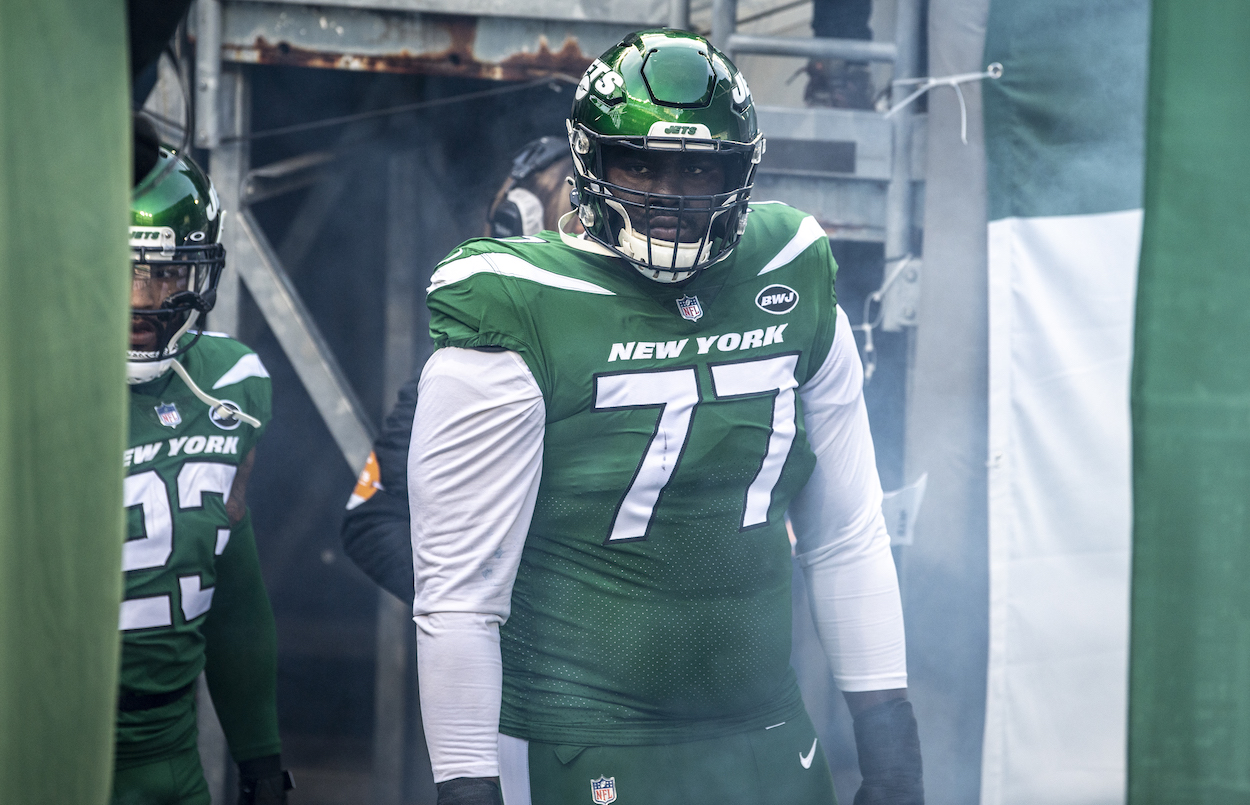 Drafting a quarterback in the first round of the NFL draft is a 50/50 proposition at best. There is no formula or magic statistic that will tell you whether or not a quarterback will become a star or a bust.
Once the season starts, though, there is something you can look at that may tell you how a signal-caller's career will play out: how many times they're sacked.
Notorious draft bust David Carr is by far the most sacked rookie QB in NFL history with 76 sacks in 2002, per statmuse. While all those sacks, of course, aren't on the O-line, his crew upfront was not great. The 2002 Texans started two rookies on the line, and not a single one of their five main starters ever made a Pro Bowl in their careers.
The rest of the top 25 most sacked rookies is a who's who of infamous draft busts. The list includes the likes of Tim Couch (56), Blake Bortles (55), Rick Mirer (47), Josh Rosen (45), and Geno Smith (43).  
There are a few QBs on the list who rebounded and had excellent careers — Warren Moon (47), Jim Kelly (43), and Andrew Luck (41) — but the busts far outweigh even the passable starters.
One QB to watch in the coming years is the Arizona Cardinals' Kyler Murray. He is sixth on the list with 48 in his rookie campaign.
Jets left tackle Mekhi Becton looks like he's in fighting shape ahead of the 2021 season
Pass protection starts with a quarterback's left tackle, and the Jets have a good one. New York selected Becton out of Louisville with the No. 11 pick in the 2020 NFL draft. Becton shot up draft boards after running a 5.11 40-yard dash at the combine at 6-foot-7, 364 pounds, according to ESPN.
While the Jets offensive line struggled in 2020, ranking 29th in PFF's rankings, Becton was a standout.
"[Becton's] 74.3 PFF grade ranked 19th out of 38 qualifying left tackles despite battling injuries," PFF's Ben Linsey wrote. "He showcased that his rare blend of size and athleticism could cause serious problems for defenders."
A recent workout video posted on Twitter might mean even more problems for defenders in 2021. The video shows the tackle flexing in the mirror, looking slimmer and more muscular than his 364-pound combine weight. He even tells the videographer he's "looking real swole-lyo."
This comes on the heels of disciplinary action by the Jets at the end of last season when Becton's weight ballooned to "around 380," according to the New York Post.
If Becton can stay in shape and, in turn, stay on the field in 2021, it will go a long way to helping Wilson stay off his back so he can develop into the 'unreal' NFL QB some analysts think he can.
Becton and the Jets face one good pass rushes in the first six games
The Jets' offensive line should have time to get comfortable protecting their new QB in the first third of the NFL season. The team faces five defensive lines that finished in the bottom half of PFF's pass-rushing rankings in 2020 in the team's first six games.
The team plays the New England Patriots (No. 23) twice, the Carolina Panthers (No. 17), Tennessee Titans (No. 31), and the Atlanta Falcons (No. 16) in the first six games.
The biggest test will come in Week 3 when the Jets travel to Mile High to face the Broncos. Denver ranked No. 9 in 2020, and that was without superstar pass rusher Von Miller. He missed the season with an ankle tendon injury suffered in practice days before Week 1. In his absence, third-year QB hound Bradley Chubb stepped up with 7.5 sacks and 19 QB hits.
If the newly slim Mekhi Becton and the new-look Jets O-line can keep Wilson upright during those first six games, it could be enough to give the QB and his line the confidence to produce a banner rookie season.
Like Sportscasting on Facebook. Follow us on Twitter @sportscasting19