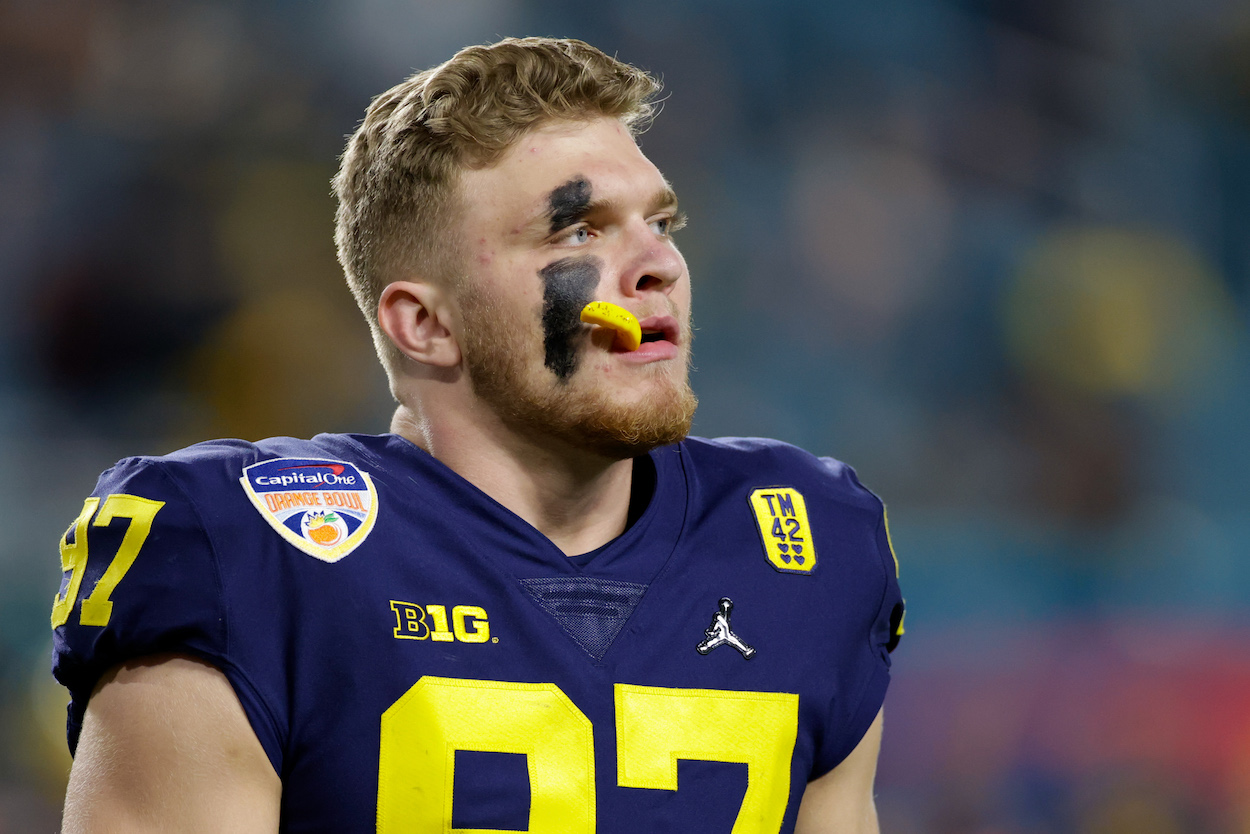 NFL Draft: Michigan's Aidan Hutchinson Is Devastated by Tom Brady's Retirement: 'That Goal Is Down the Toilet'
Top NFL Draft prospect Aidan Hutchinson had to reevaluate the quarterback he most wants to sack now that Tom Brady retired.
Michigan defensive end Aidan Hutchinson will soon be trying to sack NFL quarterbacks as a top prospect in the upcoming 2022 NFL Draft. Growing up, he always dreamed of the day he'd step on an NFL field and get to sack Tom Brady.
However, now that Brady is retired, Hutchinson has to go back to the drawing board. The pass-rusher needs to figure out some new QBs to put on his hit list. Luckily, there are a few good options.
Michigan's Aidan Hutchinson is a top prospect in the 2022 NFL Draft
Aidan Hutchinson is a Michigan man through and through.
He was born and raised in Plymouth, Michigan, about 20 minutes outside Ann Arbor. His parents are Michigan alumnus Melissa and Chris Hutchinson, the latter of whom played along the defensive line for the Wolverines football team from 1989-91 and was a team captain.
Aidan's two sisters attend UM as well, per MGoBlue.com.
Now, though, after three excellent seasons as a pass-rusher for the Wolverines, the 6-foot-6, 265-pound end is on his way to the NFL.
Aidan is in contention to be the No. 1 overall pick, too. The All-American finished his college career with 156 tackles, 28 tackles for a loss, and 18.5 sacks. During his senior season for Jim Harbaugh's team, he took a significant leap after missing most of his junior season with an ankle injury.
His 62 tackles, 14 sacks, and two forced fumbles in 2021 put him second in the Heisman Trophy voting (behind Alabama's Bryce Young) and made him just the third defensive player in history to finish in that spot for college's football's most prestigious award.
As Aidan heads to the NFL to chase pro quarterbacks, he will have to reset his goals slightly. As he recently told Jalen Rose and Dave Jacoby, the QB he's always dreamed of sacking is now suddenly no longer around.
Hutchinson has to reset his NFL goals now that Tom Brady retired
Aidan Hutchinson has always been a goal-driven person.
His mom told the Michigan Football website that when her son was in 7th grade, he wrote down his dream on a piece of paper and "taped it to his wall where he could see it every day. It said, 'I will play football at the University of Michigan.'"
As he prepares for the upcoming draft, Hutchison joined the Jalen & Jacoby show, and co-host Jalen Rose asked him about his current goals as he heads to the pros.  
"Tell me a quarterback that you're looking forward to sacking once you get to the NFL," the former NBA player asked his fellow Michigan alum. Hutchinson responded:
Originally, it was always my goal to sack Tom Brady. But, unfortunately, he has retired, so that goal is down the toilet. No more with that. I honestly gotta think about that. You gotta go to the top — dudes at the top now. So, hopefully, Aaron Rodgers stays in the league. Pat Mahomes, one of those dudes. Getting those dudes on the ground would be fun.

Aidan Hutchinson on sacking NFL QBs
Although Hutchinson has to change his primary target now that Brady is gone, the DE will still have plenty of incredible QBs to chase around the field.
The big question now becomes, what uniform will he be wearing when he goes after Rodgers, Mahomes, and the other signal-callers in the NFL?
Where will the Michigan pass-rusher fit best?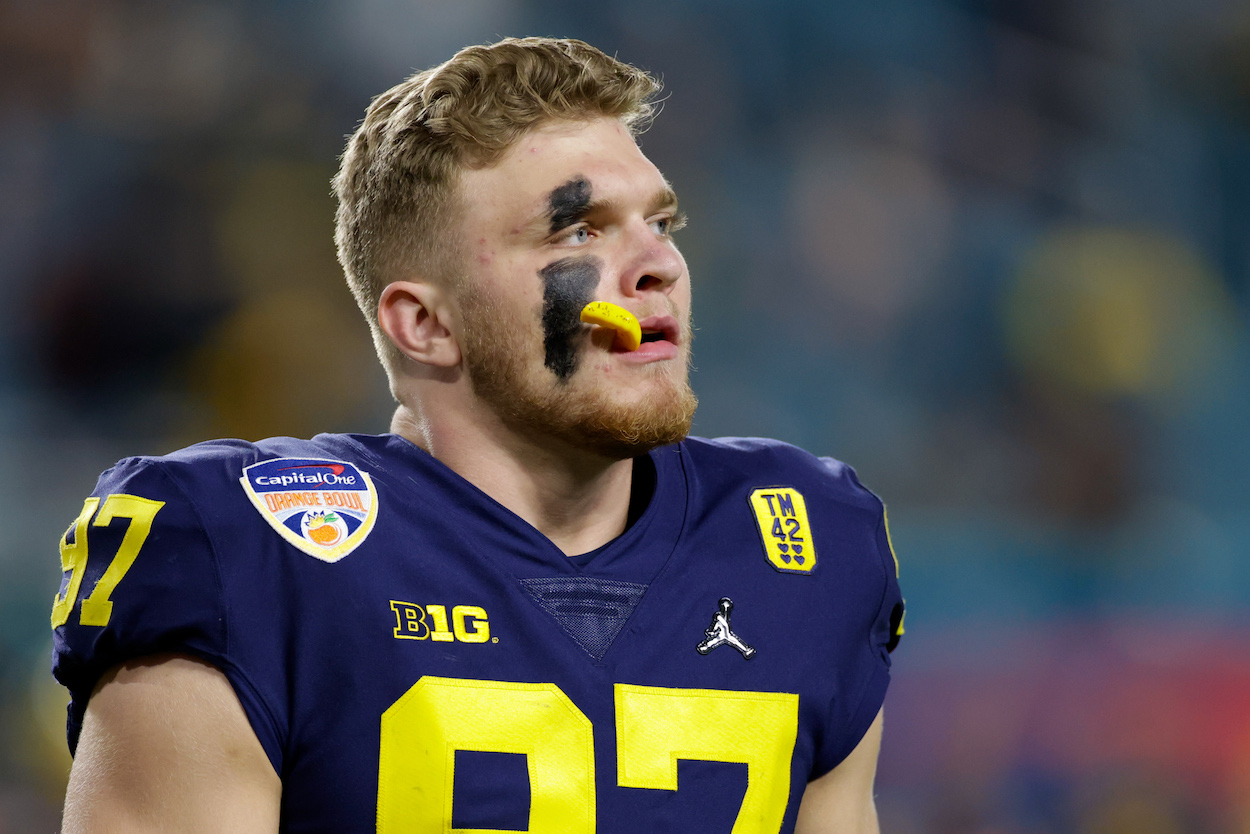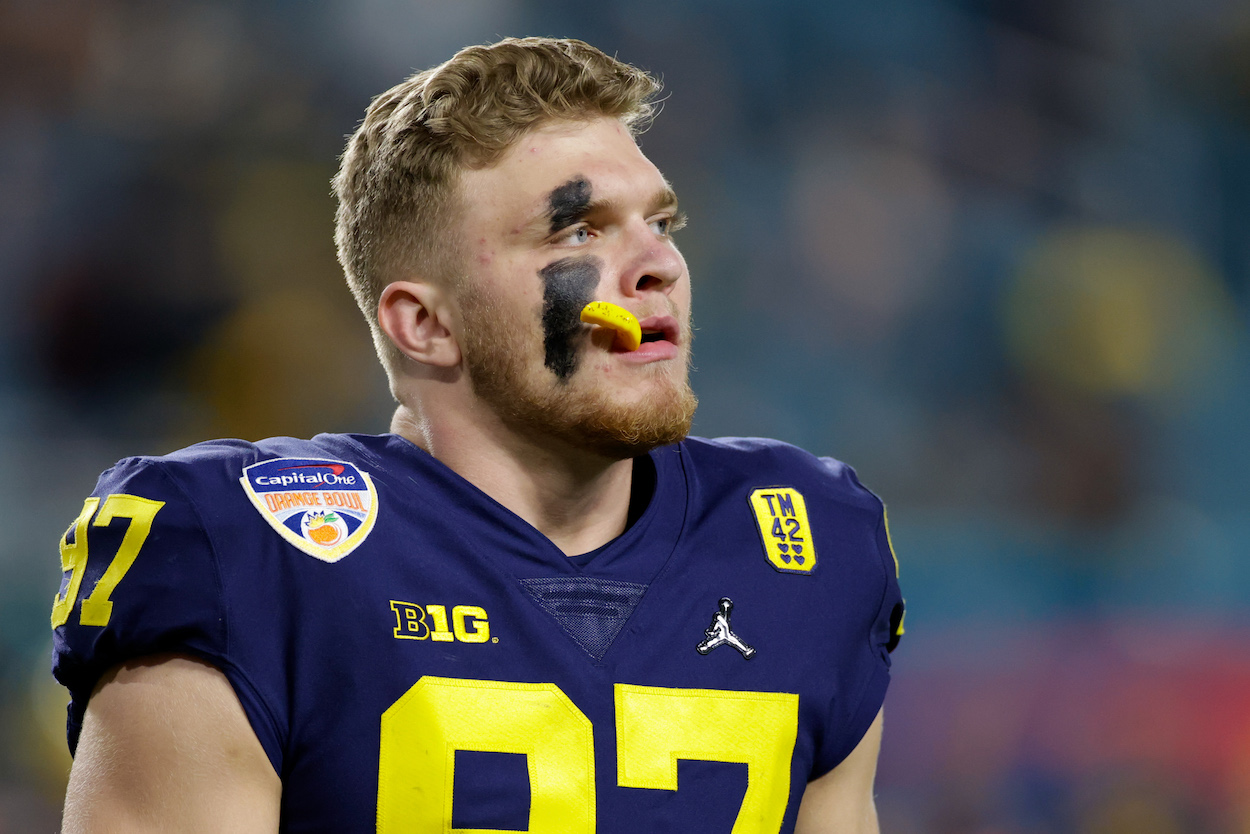 ESPN's draft expert Todd McShay has Aidan Hutchinson as the No. 1-ranked prospect in the 2022 NFL Draft. However, with the Jacksonville Jaguars drafting first overall, Hutchinson isn't a lock to go with the top pick.
While the Jaguars could use Hutchison on the other side of the D-line from Josh Allen to create an absolutely dominant pass rush, the team will likely focus on building around last year's No. 1 pick, Trevor Lawrence, on the other side of the ball. If this is the case, the Jags will likely take Alabama tackle Evan Neal.
That puts the Detroit Lions on the clock.
The Lions have a massive lack of talent at nearly every position, so drafting the best player available, especially at a premium position like pass-rusher, is ideal. Plus, that would keep Hutchinson in Michigan, which would be great from a PR perspective as well.
The only issue here is that there are several prospects behind Hutchinson and Neal, who are also potential game-changers. Depending on how things shake out at the NFL Combine, Notre Dame S Kyle Hamilton, Cincinnati CB Ahmad "Sauce" Gardner, or Oregon DE Kayvon Thibodeaux could catch the Lions' eye.
All that said, with the way things are going now, it looks like Hutchinson will be moving just 40 miles west to the Motor City, which will put Aaron Rodgers in his sites twice a year if the QB stays with the Green Bay Packers.
Like Sportscasting on Facebook. Follow us on Twitter @sportscasting19