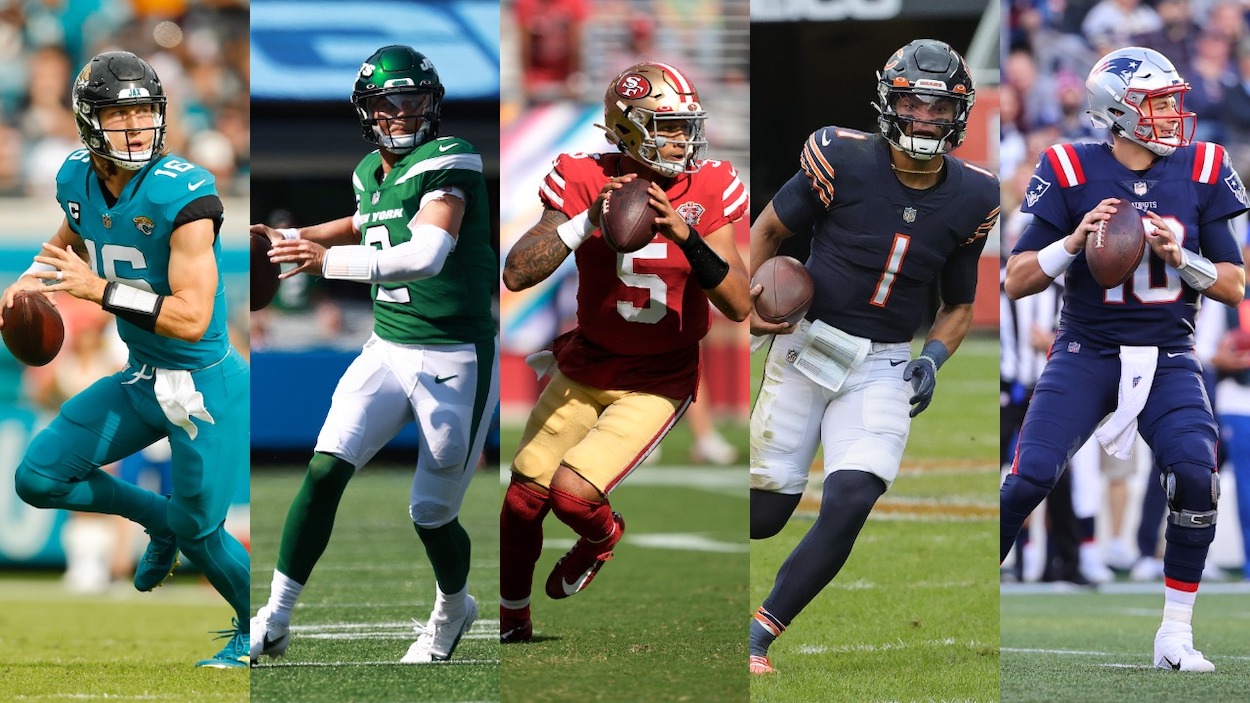 Ranking the Seasons of Trevor Lawrence, Mac Jones, and the Rest of the First-Round Rookie QBs Taken in the 2021 NFL Draft
The first-round rookie QBs from the 2021 NFL Draft all had interesting inaugural campaigns, but who had the best overall season?
The 2021 NFL Draft saw five potential franchise quarterbacks go in the first 15 picks. All five of these players — Trevor Lawrence, Zach Wilson, Trey Lance, Justin Fields, Mac Jones — saw time this season, and three of these signal-caller started every game they played. Now that the season is over, it's time to look back at which of these first-round rookie QBs had the best first season.
2021 first-round rookie QBs statistics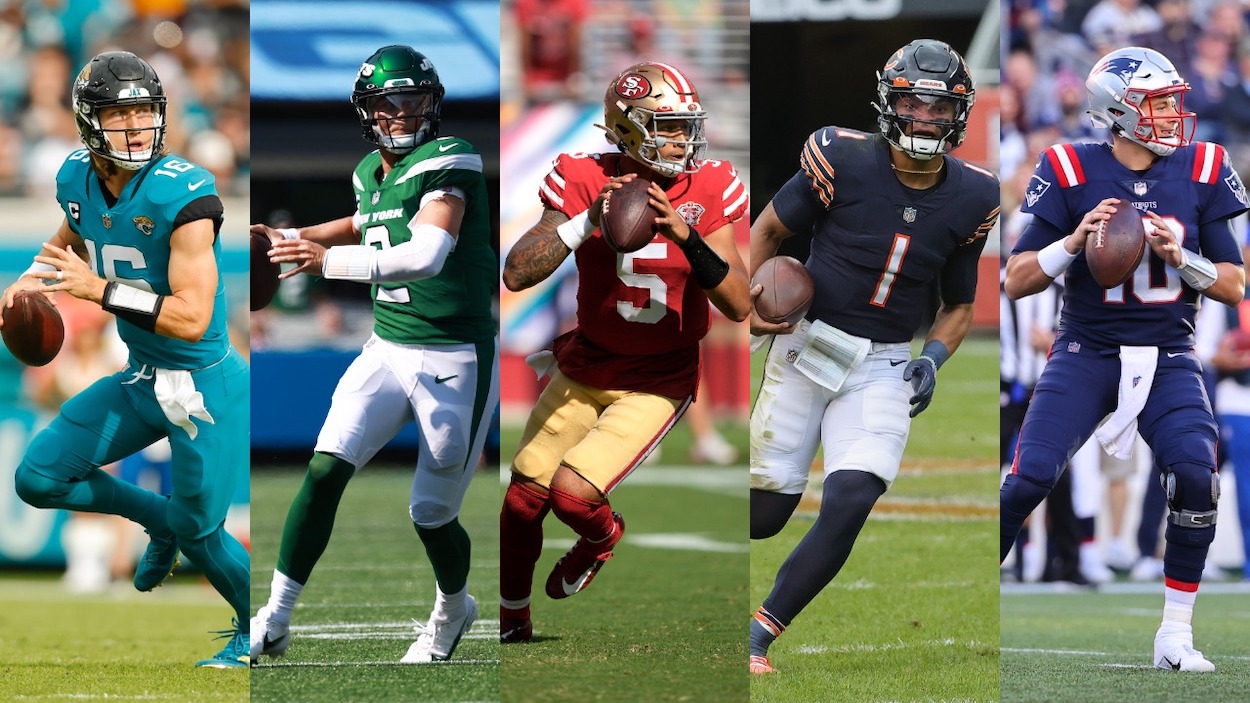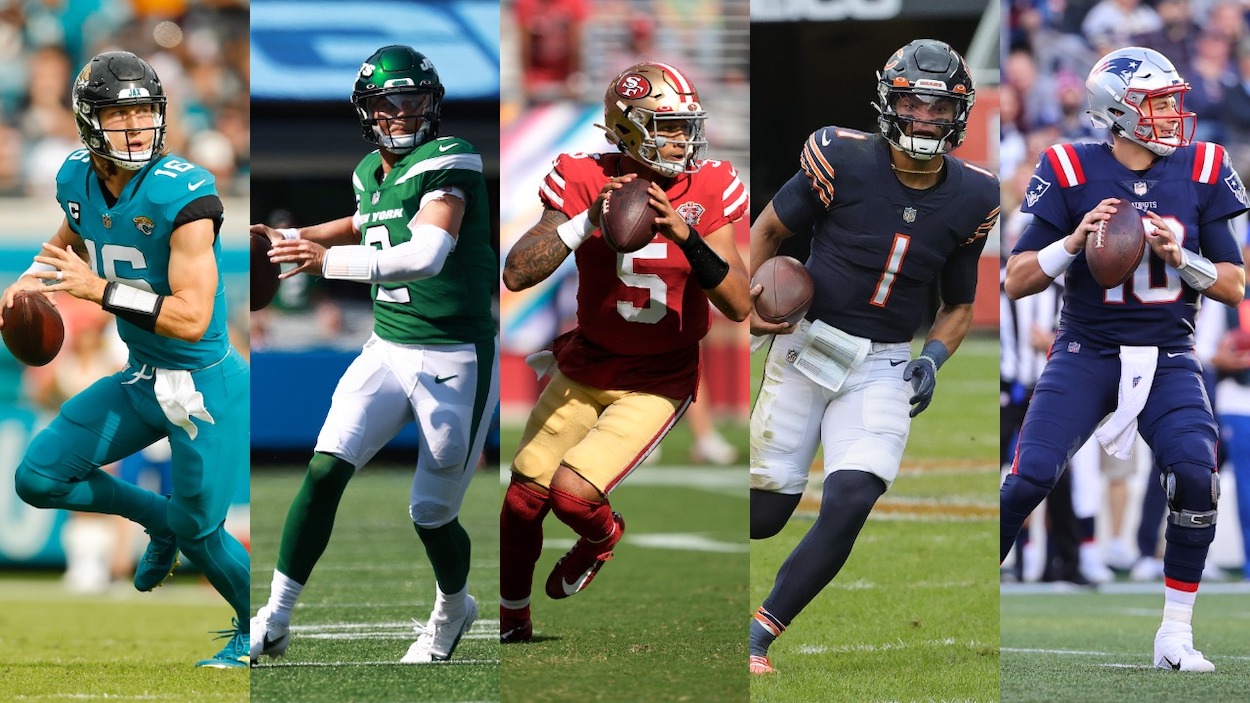 In the NFL, first-round rookie QBs aren't expected to sit for a prolonged period of time anymore. For the Class of 2021, that means that they all got out on the field at one point or another. Before we rank the best rookie seasons, here are the cold, hard stats.
| | | | | | | | | | | |
| --- | --- | --- | --- | --- | --- | --- | --- | --- | --- | --- |
|   Pick |   Player | Gms/ Gms Started |   Record | Cmp/Att | Cmp % |   Yards |   TDs |   INT | Rush Yards | Rush TDs |
| 1 | Trevor Lawrence | 17/17 | 3-14 | 359/602 | 59.5% | 3,641 | 12 | 17 | 334 | 2 |
| 2 | Zach Wilson | 13/13 | 3-10 | 213/383 | 55.6% | 2,334 | 9 | 11 | 185 | 4 |
| 3 | Trey Lance | 6/2 | 1-1 | 41/71 | 57.7% | 603 | 5 | 2 | 168 | 1 |
| 11 | Justin Fields | 12/10 | 2-8 | 159/270 | 58.9% | 1,870 | 7 | 10 | 420 | 2 |
| 15 | Mac Jones | 17/17 | 10-7 | 352/521 | 67.6% | 3,801 | 22 | 13 | 44 | 0 |
In this ranking, stats don't mean everything, but they do help tell the story. The first-round rookie QBs are ranked not just on how they did this year but also on what they showed that can help project them forward.
5. Trey Lance, San Francisco 49ers
If this were a letter grading system, Lance could get an incomplete for his rookie season. As the only first-round rookie QB who came in with a competent NFL QB ahead of him, it's not a surprise Lance didn't get a ton of run this year. When he did, though, there were promising signs.
He had a positive touchdown to interception ratio, an OK completion percentage, and when you throw out the three games he played five snaps or less, he had the best rushing yards per game in the class.
After an NFC Championship Game appearance, it looks like Jimmy Garoppolo is out this offseason, and Lance will take the reins in 2022. The talent he is inheriting will likely make him climb up this list next season, but for now, based on lack of opportunity, the former North Dakota signal-caller had the least impressive season in this group.
4. Justin Fields, Chicago Bears
It seems like after trading up for the second time in four years for a quarterback, Chicago Bears general manager Ryan Pace, and head coach Matt Nagy's plan was to keep Justin Fields on the shelf to save their jobs for one more year.
Neither of those things happened.
The team's 34-year-old starter, Andy Dalton, got hurt trying to scramble, forcing Fields onto the field. Nagy didn't seem to have a great plan to create a specialized offense built around the former Buckeye's best skills, and that's why the Fields went 2-8 as a starter, and Pace and Nagy lost their jobs.
While it seems like you can pin most of Fields' struggles on Nagy, the truth is, the jury's still out on whether the QB can be viable in the big league. Next season, he'll have a real chance with Matt Eberflus as head coach and former Green Bay Packers quarterback coach Luke Getsy as offensive coordinator. For now, though, he can't be higher than fourth on this first-round rookie QB list.
3. Zach Wilson, New York Jets
Zach Wilson is the most beguiling first-round rookie QB on this list. His stats aren't special. He only completed 60-plus% of his passes in four games and never threw for 300 yards or more. He also missed four games to injury.
However, he led the New York Jets to a major upset over the Tennessee Titans and, at times, showed flashes of Josh Allen/Patrick Mahomes-level passing and running acumen.
Wilson seems to have the highest variance of career outcomes of all the first-round rookie QBs. If someone from the future told you that, 10 years from now, Wilson would be the best QB in the NFL or signing autographs at car dealerships with Johnny Manziel, you'd probably believe them. For that reason, it makes sense that, after one year, Wilson is smack dab in the middle of this list.
2. Mac Jones, New England Patriots
When evaluating a first-round rookie QBs season, you have to look at the arc of the season. If the passer starts out like a house on fire but fades down the stretch, that's no reason for panic, but it's not a reason for supreme optimism either.
Mac Jones came into the league in a better situation than any of his four first-round rookie QB counterparts. With Bill Belichick and Josh McDaniels leading the way, the New England Patriots played perfectly to Jones' strengths. He had, by far, the best stats of this first-round rookie QB group. He also won the most games and made the Pro Bowl (as an alternate).
However, after a 9-4 start, Jones and the Pats went 1-4 down the stretch (including playoffs). That happened, in large part, because teams figured out they could dare Jones to beat them, and he couldn't. While the former Alabama signal-caller had the best season on paper, his effort felt much closer to his ceiling than the next rookie first-round QBs on this list, which is why he sits at No. 2.
1. Trevor Lawrence, Jacksonville Jaguars
Trevor Lawrence started his career as the best quarterback prospect in the 2021 NFL Draft and ended the season as the top first-round rookie QB. There were plenty of bumps along the way and not a lot of wins to make Jacksonville Jaguars fans feel good, but that's OK.
Lawrence survived the Urban Meyer fiasco and managed with a severe lack of talent on his offense, especially after losing fellow first-round pick RB Travis Etienne before the season. And, although he led the league in interceptions (just like Peyton Manning did as a rookie), 10 of those 17 picks came in just three bad games.
Lawrence made the best of a rough situation. He got better as the year went on, culminating in a massive upset over the division-rival Indianapolis Colts to knock them out of the playoffs. The arrow is pointing up on Lawrence, and there is no reason to think he's still not the best first-round rookie QB in the bunch heading into year two.
Like Sportscasting on Facebook. Follow us on Twitter @sportscasting19