Mac Jones Owes His NFL Success to the Time He Spent Not Starting at Alabama, According to Dan Orlovsky: 'The Quarterback Position Has Always Been, Can You Think and Can You Throw?'
New England Patriots rookie quarterback Mac Jones is taking the NFL by storm. The No. 15 overall pick is outplaying all his Class of 2021 counterparts so far. He's also an impressive 6-4 as a starter in his inaugural campaign. While some might attribute this success to his National Championship-winning time as the starting QB for the Alabama Crimson Tide, one NFL analyst says it has more to do with the years he was a backup with the storied college program.
Mac Jones sat behind Jalen Hurts and Tua Tagovailoa at Alabama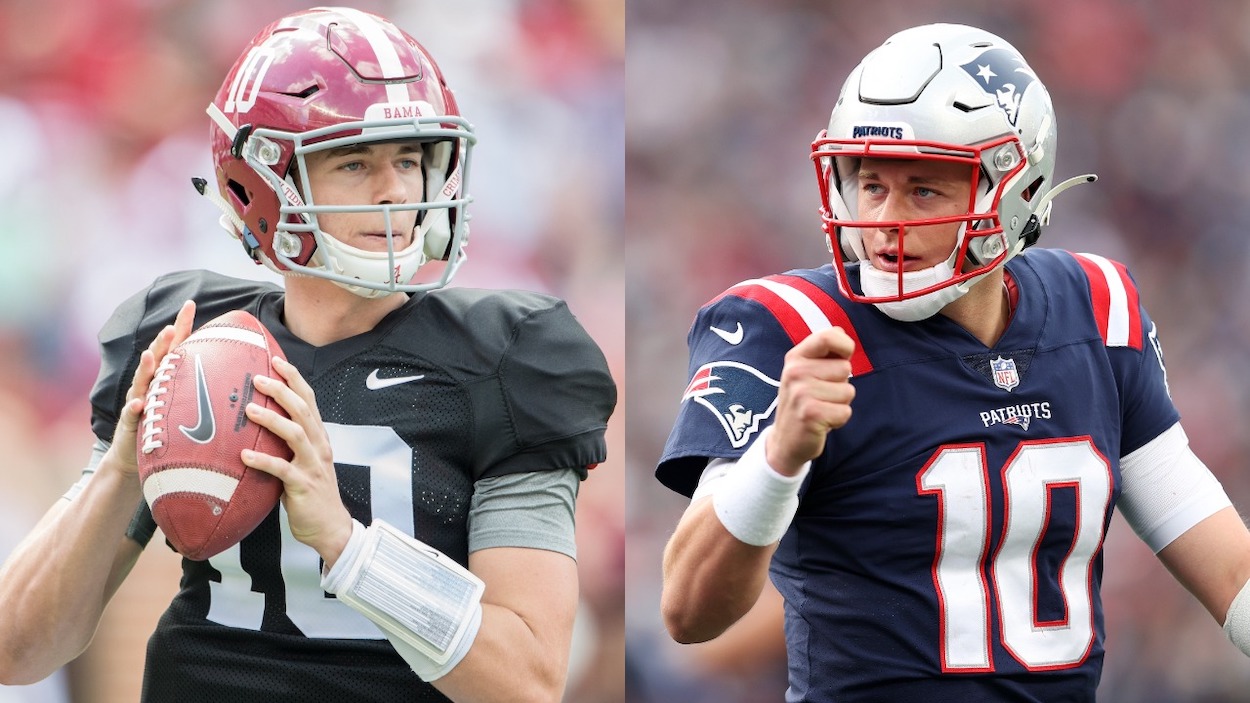 Quarterback Mac Jones from the Bolles School in Jacksonville, Florida, showed up on the University of Alabama campus in 2017. Along with him came another freshman named Tua Tagovailoa. Both these QBs were behind starter Jalen Hurts on the Crimson Tide depth chart.
Jones redshirted his first year on campus. His fellow freshman gained playing time throughout the season. This culminated in Tagovailoa relieving Hurts at halftime of the National Championship game and winning the title for Nick Saban's crew.
The following season Tagovailoa and Hurts split time with the true sophomore eventually taking the starting role while Jones was firmly third-string.
The next season, Hurts transferred, and after Tagovailoa suffered a season-ending injury, Jones took over. In 2020, he became the unquestioned starter and guided the Crimson Tide to a National Championship of his own.
Now that Jones is a budding NFL star, though, one NFL analyst says it was that time as a third-stringer, running the Alabama scout team, that helped the New England signal-caller become the immediate success he's become.
Dan Orlovsky says Jones running the Alabama scout team is a key to his success
Former NFL quarterback and current ESPN analyst Dan Orlovsky joined the Dan Patrick Show to discuss a number of football topics.
The conversation eventually turned to Mac Jones and Orlovsky, who also calls college football games occasionally, shared an under-the-radar reason that Jones developed into such a good passer. It relates to his time as a backup at Alabama:
I remember doing the Alabama/Arkansas game and sitting down with the people around Alabama and asking them about Mac Jones, and I'll never forget [then-Alabama OC] Steve Sarkisian … talking to me about how much better Mac was because he was the scout team quarterback playing against the Alabama defense. … And it made me think, you get so much better because you have to play so fast when you're playing scout team against the starters … you learn so much about what you can and cannot do, how you use these things, your eyeballs. How you use your brain. … At the end of the day, the quarterback position has always been, can you think and can you throw? And if you do those two things at an incredibly high level, consistently, you are going to be really, really, really good.

Dan Orlovsky on Mac Jones
Orlovsky also said that, despite all this, Jones dropped in the draft for a very specific reason. The former UConn Husky noted that "we're in an era where we've fallen in love with physical attributes" and that everyone is looking for the next athletic marvel like Josh Allen, Lamar Jackson, or Patrick Mahomes.  
However, Jones' time as a scout team signal-caller developed his brain and his arm in a way that makes him a prototypical traditional pocket-passing QB. And New England is reaping the benefits.
Jones has been so impressive that Orlovsky says he would take him much higher in the 2021 draft if the league held it again today.
Would he take him No. 1 overall, though?
Orlovsky also says he'd pick the New England Patriots rookie much higher in a 2021 redraft
The first round of the 2021 NFL draft featured five quarterbacks getting drafted. They were Trevor Lawrence (No. 1, Jacksonville Jaguars), Zach Wilson (No. 2, New York Jets), Trey Lance (No. 3, San Francisco 49ers), Justin Fields (No. 11, Chicago Bears), and Mac Jones (No. 15, New England Patriots).
So far, all five have started games. They've all experienced varying degrees of success, but Jones is by far the most successful, both in terms of wins and statistics.
After explaining the importance of playing scout team QB at Alabama, Dan Patrick asked Dan Orlovsky where he would pick Jones in relation to these other rookie signal-callers if the 2021 draft were held again today.
"If I redrafted, Dan, the first quarterback off the board?" Patrick asked.
"Trevor Lawrence," Orlovsky quickly responded.
"The second quarterback off the board?" Patrick inquired.
I think we're having a conversation. I really do. Now, I want to be fair. Zach Wilson, we understand the situation he's been in [with the New York Jets]. I think we're having a conversation because everything you need to be good at quarterback, Mac does. We haven't seen that out of Zach yet. Now, Mac has also been supported to show that. Zach has not. … Zach can still do things that Mac Jones just can't. He physically has the ability to do things that Mac Jones just cannot.

Dan Orlovsky on redrafting Mac Jones
While time will tell if Wilson, or Lawrence for that matter, can reach higher heights than Jones based on their physical gifts, for right now, the Patriots' Mac Jones is the best QB in the Class of 2021.
All stats courtesy of Pro Football Reference