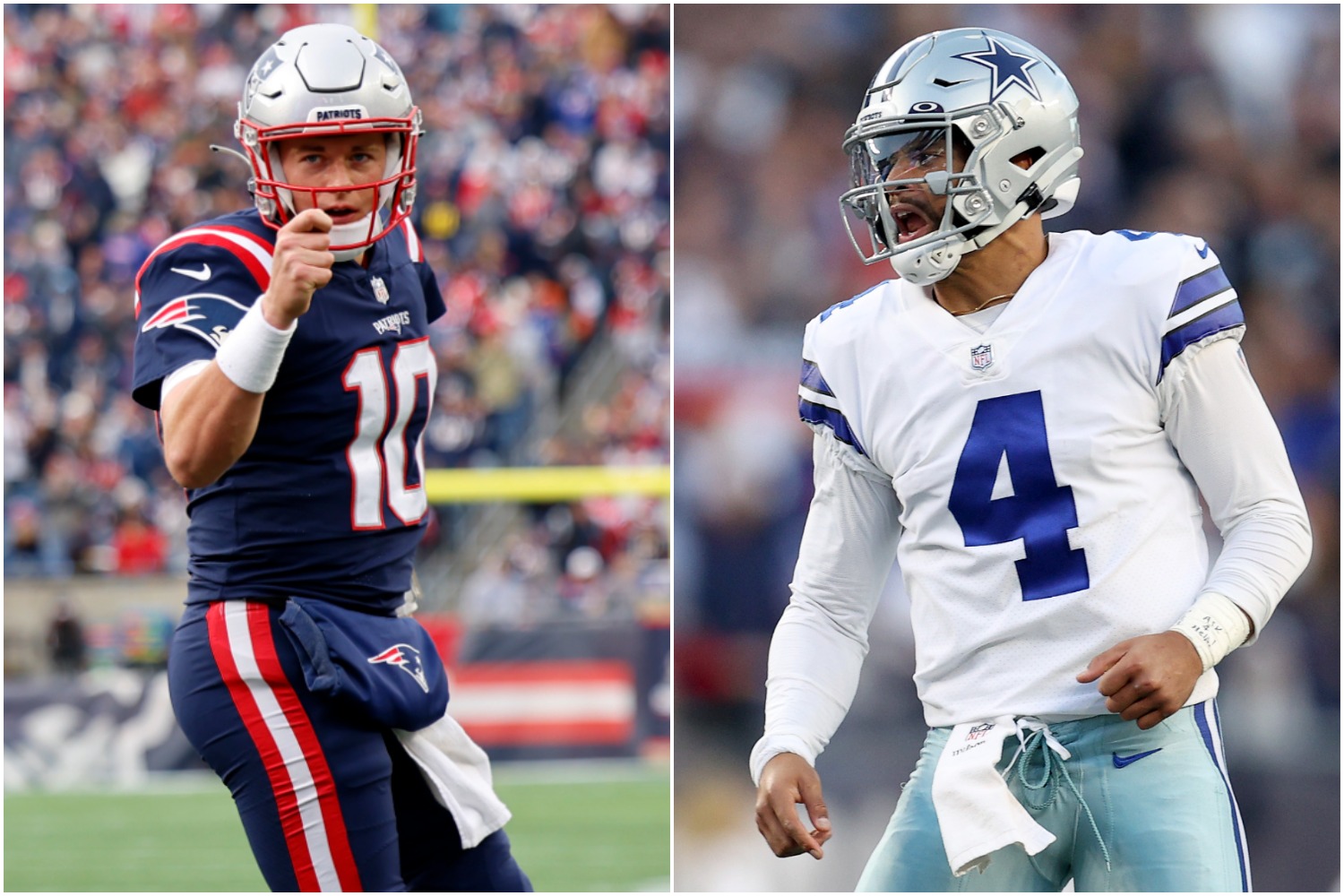 Dak Prescott is in Danger of Being Erased From NFL Record Books Courtesy of Mac Jones
Dak Prescott better prepare to see his name erased from NFL record books. Can Mac Jones keep playing at a high level for the red-hot New England Patriots?
It hasn't taken long for Mac Jones to prove the rest of the NFL made a massive mistake by letting him fall to the New England Patriots. In fact, there's little doubt the promising rookie would go ahead of several big-name prospects in a re-do of the 2021 draft. Tough, accurate, and intelligent, the former Alabama star looks destined to fill the void left by Tom Brady when he departed Foxborough for the warm weather of Florida.
While Patriots fans rightfully feel excited about what lies ahead, one of Jones' peers shouldn't be too thrilled at the moment. After all, Dak Prescott is in danger of being erased from NFL record books thanks to the talented first-year quarterback.
The Patriots and the Cowboys have starting quarterbacks who should capture individual honors in 2021
Bill Belichick and Mike McCarthy entered Week 1 with plenty of uncertainty at the most important position in sports. The Patriots' longtime leader made the bold decision to cut ties with Cam Newton and roll with Mac Jones, a player who only started 17 games in college. Meanwhile, the Cowboys' second-year head coach didn't exactly have an idea of what Dak Prescott would look like coming off ankle surgery and a summertime shoulder injury.
Luckily for both coaches, both quarterbacks have exceeded expectations.
Jones has provided Belichick with a significant upgrade over a washed-up version of Newton, showing the ability to run Josh McDaniels' system, diagnose coverages, and make checks at the line like a seasoned pro. And despite lacking elite arm strength and athleticism, the 6-foot-3, 217-pound signal-caller remains firmly in the mix for Offensive Rookie of the Year honors.
While Cincinnati Bengals wide receiver Ja'Marr Chase (44 receptions for 835 yards and seven touchdowns) certainly has a strong case to earn the coveted award, Jones should come out on top if he maintains a high level of play and continues to lead the Patriots to victories.
Down in Dallas, Prescott looks capable of capturing some individual hardware, too. Not only does the 28-year-old appear poised to win Comeback Player of the Year honors, but he also has an opportunity to secure his first MVP trophy.
With a 70.3% completion rate, 20 passing touchdowns, and a career-high quarterback rating of 110.8 in eight games, Prescott clearly belongs in the conversation for the league's most valuable player. However, while the veteran is in a fantastic position to pad his resume, he's also in danger of having his name erased from NFL record books.
Dak Prescott is in danger of having his name erased from NFL record books thanks to promising rookie Mac Jones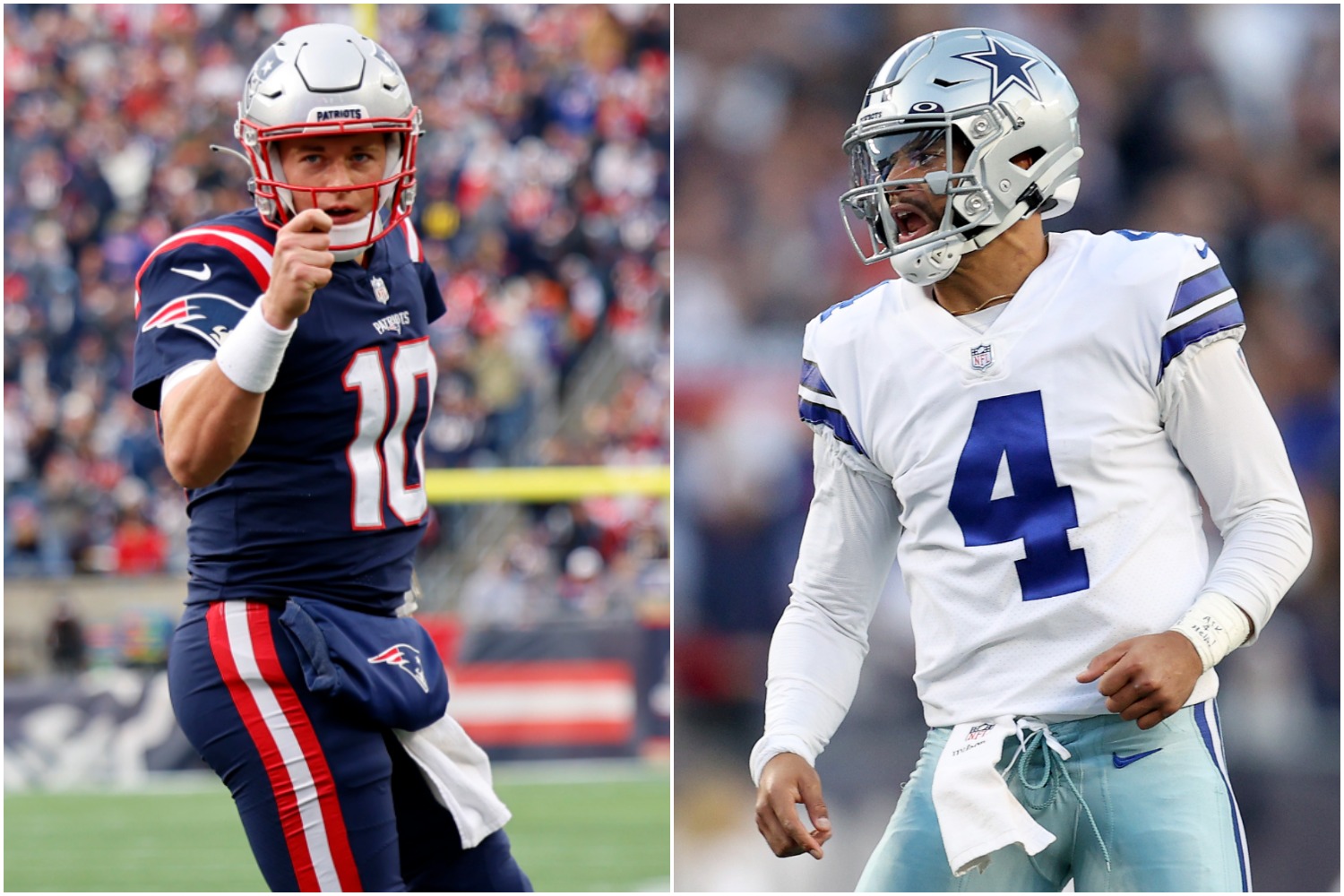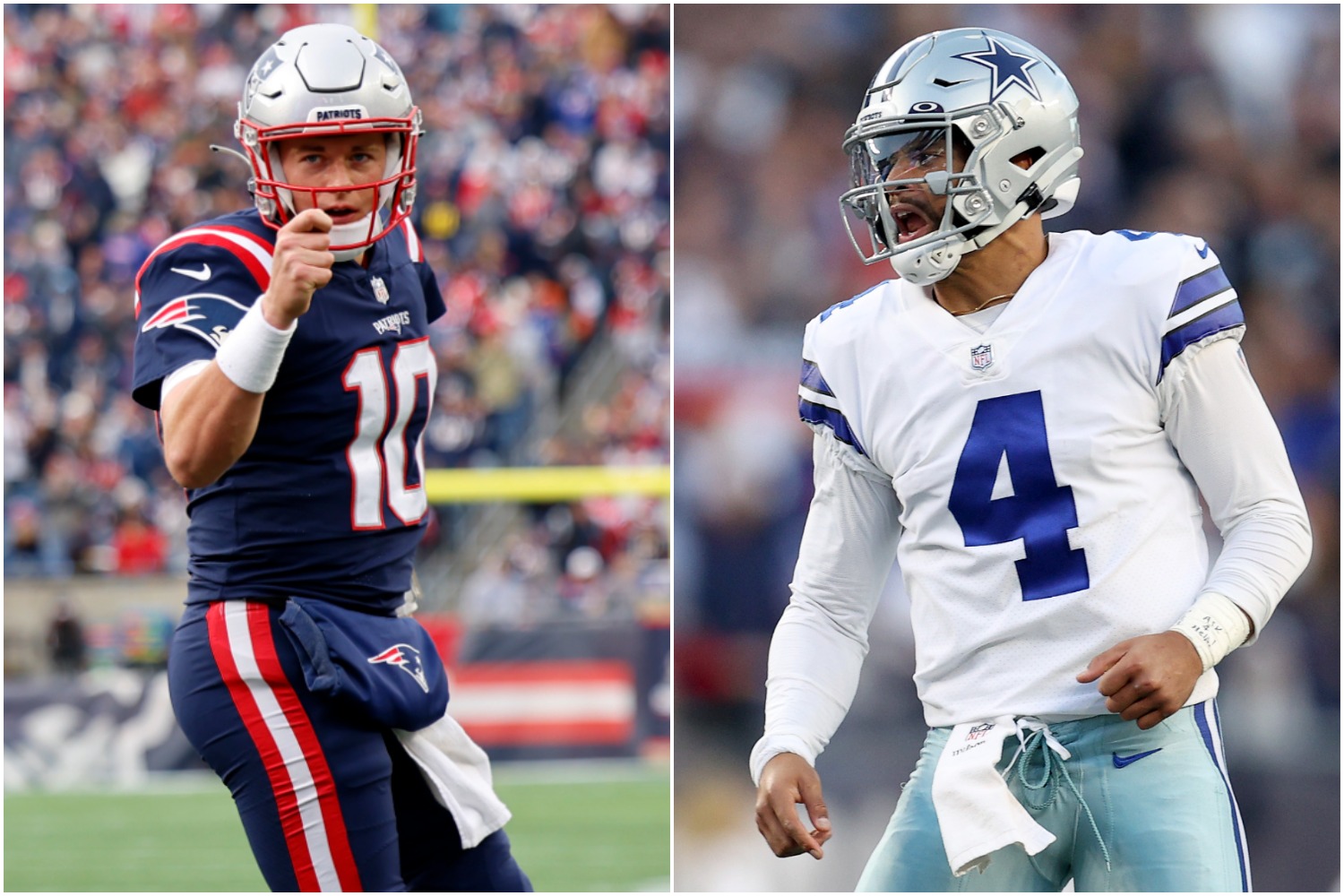 It's easy to see why Belichick used a first-round pick on Jones. After all, the 23-year-old Jacksonville native possesses many of the same qualities that helped TB12 shine in Foxborough. Most importantly, he delivers the ball accurately — a necessity in New England's timing-based passing attack.
And thanks to his ability to consistently hit his intended target, Jones has a chance to steal some of the spotlight away from Prescott.
Heading into a Thursday Night Football matchup against the Atlanta Falcons, the No. 15 overall pick owns a 69% completion rate. In fact, Jones has surpassed the 70% threshold in six of his first 10 starts. That puts him on pace to surpass Prescott's rookie record of 67.8%, which he set in 2016.
Of course, the Patriots can only hope their young quarterback enjoys the same level of success from a wins perspective. The Cowboys went 13-3 that year, with Prescott earning Offensive Rookie of the Year and Pro Bowl honors. Jones won't receive Pro Bowl recognition as a rookie, but it's impossible to look at his 2,333 passing yards, 13:7 touchdown-to-interception ratio, and 94.1 quarterback rating and not come away impressed.
And with the way New England's offense performed against the Cleveland Browns, it wouldn't be a surprise if he takes his game to another level down the stretch.
As long as the Patriots keep Jones out of harm's way, he should continue to complete passes at a prolific rate. That doesn't bode well for Prescott's chances of maintaining the record for the highest completion percentage by a rookie, but it does bode well for Belichick's chances of adding another Super Bowl ring to his collection.
Don't be surprised if Dallas and New England face each other again under much different circumstances
By ripping off four consecutive wins in convincing fashion, the Patriots have climbed up power rankings and put themselves squarely in the mix to earn a playoff berth. The defense has finally rounded into form, and the offense has shown tangible growth on a weekly basis. Currently sixth in points scored and second in points allowed, New England has a balanced squad that can make life difficult for opponents in all three facets of the game.
Ironically, Jones and Co. got on the right track following a crushing overtime loss to the Prescott-led Cowboys. And if they keep progressing, don't be shocked if a rematch happens.
Like New England, Dallas has a high-scoring offense (first in the NFL at 31.6 points per game) and a rock-solid defense (10th at 21.7 points per game). With plenty of blue-chip players on both sides of the ball, McCarthy's team has more than enough talent to represent the NFC in Super Bowl 56.
Given the wide-open landscape of the AFC, the Patriots have a legitimate shot to play for the Lombardi Trophy, too. So, despite their differences in style and experience, Mac Jones and Dak Prescott could face each other for a second time this season.
And if that occurs, the stakes will be much higher than in Week 6.
All statistics courtesy of Pro Football Reference.