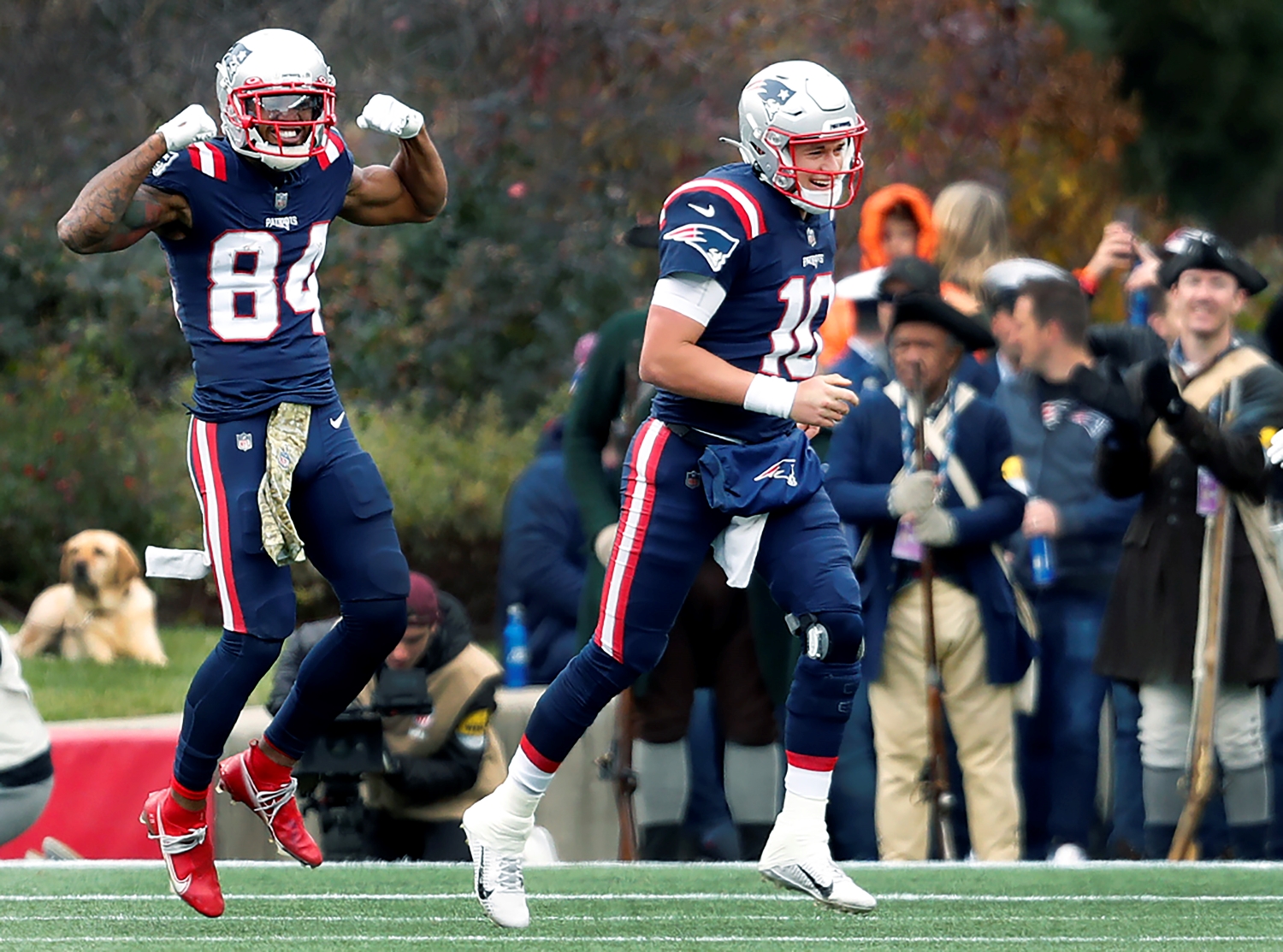 Mac Jones Just Proved Kyle Shanahan and John Lynch Are Completely Clueless Thanks to Some Help From a Pair of Former 49ers Players
Mac Jones just made the 49ers look even more foolish for passing on him thanks to some help from two players San Francisco essentially showed the door.
The San Francisco 49ers didn't have to mortgage their future to move up to the No. 3 spot in the 2021 NFL Draft. They also didn't have to take a raw quarterback with off-the-charts athleticism, elite arm strength and a glaring lack of experience.
Somehow, though, that's exactly what happened this spring. 
But it didn't have to go that way. 
After all, by trading up behind the Jacksonville Jaguars and New York Jets, the 49ers positioned themselves to take literally any other prospect in the draft besides Trevor Lawrence and Zach Wilson. Yet instead of selecting a pro-ready passer who seemed ideally suited for Kyle Shanahan's player-friendly scheme, San Francisco bet big on someone who clearly needed at least a year of seasoning to be ready to start.
Luckily for the athletically underwhelming Mac Jones, he landed in an ideal situation by falling to the New England Patriots. And while Trey Lance may develop into a star, even diehard 49ers fans would have to admit he has a long way to go. 
Unfortunately for Shanahan and general manager John Lynch, Jones just proved they botched the biggest decision in franchise history.
The irony of it all? 
The rookie's best performance wouldn't have happened without two veteran teammates who once suited up for the 49ers.  
On Sunday, Jones completely carved up a Browns defense that features superstar pass rusher Myles Garrett, a pair of first-round corners, and 2014 No. 1 overall pick Jadeveon Clowney. New England's starting signal-caller completed 19-of-23 passes for 198 yards and three touchdowns. He made a number of impressive tight-window throws, including a gorgeous 23-yard strike to Kendrick Bourne that put the Patriots up by two scores late in the second quarter. 
Of course, Bourne arrived in New England just over six months ago as part of Belichick's shockingly expensive free-agent class. An explosive wideout with excellent run-after-the-catch ability, he racked up 137 receptions for 1,769 yards and 11 touchdowns in four seasons with the 49ers. Yet despite filling a key role as a chain-moving presence, Bourne couldn't convince San Francisco to keep him around. 
Ultimately, though, their decision to let him hit free agency allowed Belichick to secure a much-needed receiver with speed and playmaking ability. Bourne put all of that on display against Cleveland, totaling a season-high 98 receiving yards on only four catches. Plus, he turned three carries into 43 yards — a testament to his skill set and McDaniels' play-design magic. 
Bourne's big day coincided with the return of another former 49er who never secured an extension from the Shanahan-Lynch duo. Following a prolonged absence from a calf injury, Trent Brown made his first appearance since Week 1. Thankfully for the Patriots, he rewarded their patience with a dominant effort against a talented Browns defensive front. The 6-foot-8, 380-pounder generated tremendous movement in the running game, and he kept pass rushers at bay from his right tackle spot.
Seeing Brown play at a high level again had to be particularly pleasing for Belichick. After all, the talented lineman starred for the Patriots in 2018, which certainly had to make the team feel comfortable about bringing him back this offseason. While Brown doesn't have a great track record of reliability (which is why the 49ers traded him to New England instead of giving him an extension), he showed Sunday that he still has the skills and strength to overwhelm NFL defenders. 
While Bourne and Brown made valuable contributions, Jones' day at the office provided a glimpse of why the idea of the Patriots competing for the Lombardi Trophy this season shouldn't seem so far-fetched. His ability to fit the ball into small spaces with perfect touch, manipulate defenders with his eyes, and make smart decisions stood out against Cleveland, and those qualities showed up on his college film, too. 
And that's exactly why Shanahan and Lynch should feel some heat right now over the Lance pick. 
Why did the 49ers surrender multiple first-round picks to take a quarterback who everyone knew would be a project? Why not take a plug-and-play passer like Jones and move on from Jimmy Garoppolo and his $25 million salary? 
Better yet, why pass on a signal-caller who completed 77.4% of his passes for 4,500 yards, 41 touchdowns, and just four interceptions while leading his team to a national championship as a senior? Jones doesn't have great mobility or a rocket arm, but he has the critical qualities needed to succeed in a pro-style offense, including poise, accuracy, and mental-processing speed.
On the other hand, the 6-foot-4, 224-pound Lance has all the tools scouts drool over. However, he also has a lack of refined mechanics and touch, both of which can improve over time with coaching and practice. 
Still, it seems silly the 49ers traded such a huge haul to move up for a passer who may not be a high-level starter till 2023. Considering they've had one winning season since Shanahan took over in 2017, it's fair to wonder whether another lackluster campaign could lead to a shakeup in San Francisco. 
Jones could have stepped in immediately and given the offense similar (or perhaps even better) production than Garoppolo at a fraction of the price. Instead, Lance looks destined to spend most his rookie season on the sidelines, essentially collecting a pay check to hold a clipboard and learn by observing a veteran. 
Meanwhile, with Jones quickly proving to be a home-run pick, the Patriots have re-inserted themselves into the Super Bowl conversation after a one-year hiatus.
Clearly, the arrow is pointing up in New England. 
And if Bill Belichick wants to thank anyone for helping him get back to relevancy, he should call Kyle Shanahan. Four years after the 49ers sent the Patriots a second-round pick for Jimmy G, they foolishly passed over Mac Jones and allowed a franchise quarterback to fall right into the greatest coach of all time's lap. 
All statistics courtesy of Sports Reference and Pro Football Reference.