Bill Belichick is Suddenly Up Against the Clock to Make a Season-Altering Decision That Carries Significant Consequences for Mac Jones and the Patriots' Super Bowl Odds
Bill Belichick possesses the power to push the New England Patriots in any direction he wants. After all, he's the head coach, general manager, and final decision maker in Foxborough. And while he's certainly made his fair share of personnel mistakes in recent years, there's no doubt he deserves credit for assembling Super Bowl-winning rosters over the course of two decades.
Do the Patriots have a championship-caliber team at the moment?
That's a difficult question to answer, but after getting off to an inconsistent start, they've rattled off three wins and look poised to compete with the Buffalo Bills for the No. 1 spot in the AFC East.
And if Belichick wants to put Mac Jones and Co. in a better position to make a legitimate run at the Lombardi Trophy, he must take a leap of faith sooner than later and hope it doesn't backfire.
A hot streak has changed the outlook of the Patriots' season
Just a month ago, it seemed like the Patriots would struggle to finish with a .500 record. Now, though, they have plenty of momentum heading into the second half of their schedule.
Coming off a crushing overtime loss to the Dallas Cowboys, Belichick's squad took its frustrations out on the lowly New York Jets. A 54-13 shellacking of their most-hated rival put the Patriots in a position to build further momentum heading into Week 8. And thanks to a well-timed act of revenge, they took care of business on the road against a talented Los Angeles Chargers team led by exciting second-year quarterback Justin Herbert.
The Patriots extended their winning streak to three games last Sunday by completely shutting down Sam Darnold. A dominant defensive performance that included two interceptions by soon-to-be-paid cornerback J.C. Jackson helped Mac Jones and Co. leave Carolina with a 24-6 victory.
New England owns a 5-4 record, the league's 10th-ranked scoring offense, and the fourth-stingiest defense. And based on how the last three games went, it's clear Belichick's team is trending in the right direction.
However, that doesn't necessarily mean the Patriots don't have issues to address. After all, the passing game needs to improve, the cornerback position remains a work in progress, and the team must cut down on penalties and turnovers.
Belichick can't control every aspect of what happens on the field. But he can control who's on it. And that's exactly what makes his impending decision so vital to New England's season.
Bill Belichick must make a season-altering decision that carries major consequences for Mac Jones and his team's Super Bowl chances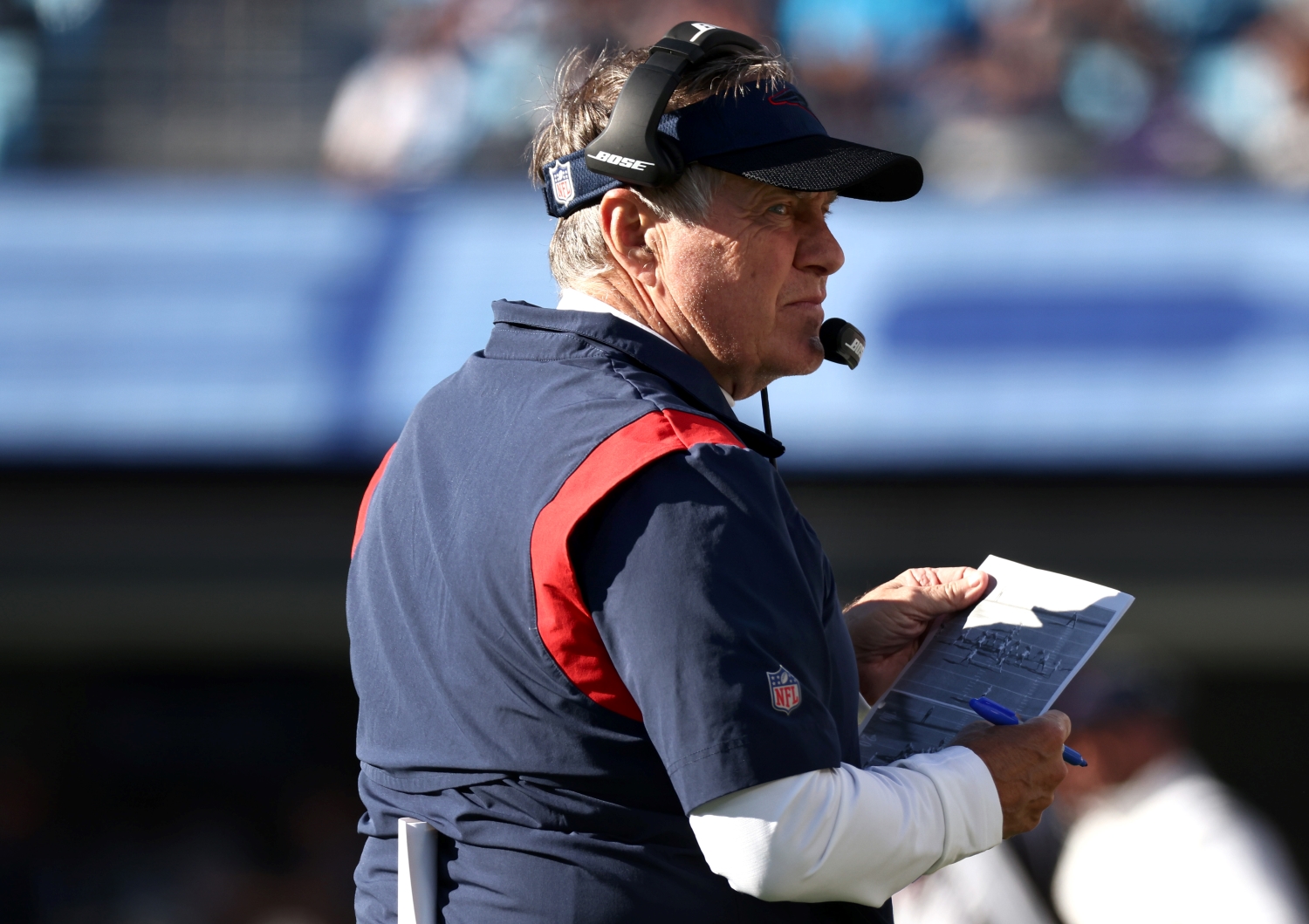 The clock is suddenly ticking on one member of the Patriots' ability to suit up in 2021. Offensive tackle Trent Brown finally returned to practice Wednesday following a prolonged absence. Back for a second tour of duty with New England, he suffered a calf injury in Week 1 that's forced him to spend more time in the trainer's room than in the huddle.
In fact, the 6-foot-8, 380-pound tackle has only played seven snaps this season.
Luckily for the Patriots, though, Brown could be back in the lineup sooner than later. That is, of course, if Belichick allows him to do so.
By returning to practice, Brown kickstarted a 21-day window in which he can be placed on the active roster. However, if New England does not promote him within that time frame, he will remain on injured reserve for the rest of the season.
Obviously, Belichick must weigh the risk vs. reward of bringing the towering tackle back into the fold. On one hand, it's tough to bank on a player who comes with major durability concerns. After playing all 16 regular-season games and winning a Super Bowl ring with the Patriots in 2018, Brown only appeared in 16 games for the Las Vegas Raiders the last two years. And despite generating positive buzz over the summer, he hasn't been able to contribute much this season due to his nagging calf problem.
On the other hand, Belichick understands the value Brown brings to the equation. When healthy, the 28-year-old has the ability to not only generate tremendous movement in the running game, but also shut down opposing pass rushers. New England clearly had big plans for the veteran tackle, so if Brown has overcome his injury, why not write his name on the depth chart?
With the defense rounding into form, New England's offense must become more consistent moving forward
Belichick poured ample financial and draft resources to upgrade the offense, but the unit could still use help. Adding a physically overwhelming Pro Bowl tackle to the roster midway through the year seems like a surefire way to make Mac Jones' life easier. Brown could get his feet wet in a rotational role, or he could even replace Isaiah Wynn, who's experienced some struggles at left tackle.
Ultimately, if Belichick wants to make the offense more dangerous and strengthen his team's chances at representing the AFC in Super Bowl 56, he needs to put Brown on the active roster. Having quality depth along the offensive line is always important, especially for a run-oriented team like New England. And given some of their issues keeping Jones out of harm's way, having an adept pass protector could help alleviate that problem and give Nelson Agholor, Kendrick Bourne, and other receivers time to get open.
Plus, don't forget the last time Brown was around the Patriots won a championship by playing bully ball and great defense. And while some of the names in the starting lineup might be different, Bill Belichick still seems committed to winning with that approach.
And with familiar faces like Jamie Collins and Kyle Van Noy playing integral roles in New England again, it's time for Trent Brown to do the same.
All statistics courtesy of Pro Football Reference.