An Unlikely Candidate Has Surprisingly Emerged as a Dangerous Do-it-All Weapon for the Surging New England Patriots
Although they got off to a slow start, the New England Patriots have turned their season around by ripping off three straight wins. While the defense deserves credit for stepping up and shutting down opposing quarterbacks, the offense also warrants praise for making marked improvements.
Surprisingly, though, a unit that features two highly paid tight ends, a well-compensated receiver, and one of the most promising young running backs in the NFL has received valuable contributions from an unlikely candidate. However, even though one of Bill Belichick's most trusted players has emerged as a dangerous do-it-all weapon, that shouldn't overshadow the underwhelming production provided by a few faces who arrived in Foxborough this year.
The Patriots suddenly look poised to earn a postseason berth thanks to a three-game winning streak
Just a few weeks ago, the Patriots seemed destined to miss the postseason for the second straight year. But since falling to the Dallas Cowboys in overtime, Belichick's squad has experienced a drastic turnaround.
A lopsided 54-13 win over the New York Jets helped ease the sting of losing to MVP candidate Dak Prescott. The blowout victory saw New England rack up 551 total yards, including 403 through the air. Needless to say, Mac Jones and Co. showed little trouble moving the ball and racking up points against Robert Saleh's defense.
Although the offense didn't enjoy nearly the same level of success in a road matchup against the Los Angeles Chargers, the Patriots still secured a well-earned win thanks to a well-timed act of revenge.
Of course, they significantly increased their chances of making the playoffs by taking care of business in Carolina. Facing a young, fast, physical Panthers defense led by star pass rusher Brian Burns, the Patriots only recorded 273 total yards — their second-lowest mark of the season. Luckily for Belichick, though, his defense made life miserable for Sam Darnold, who threw three interceptions in a 24-6 loss.
Clearly trending in the right direction, New England looks like a legitimate threat to the Buffalo Bills in the AFC East. But the team wouldn't be in such a position without the assistance of an unlikely source.
An unlikely candidate has stepped up as a key contributor on offense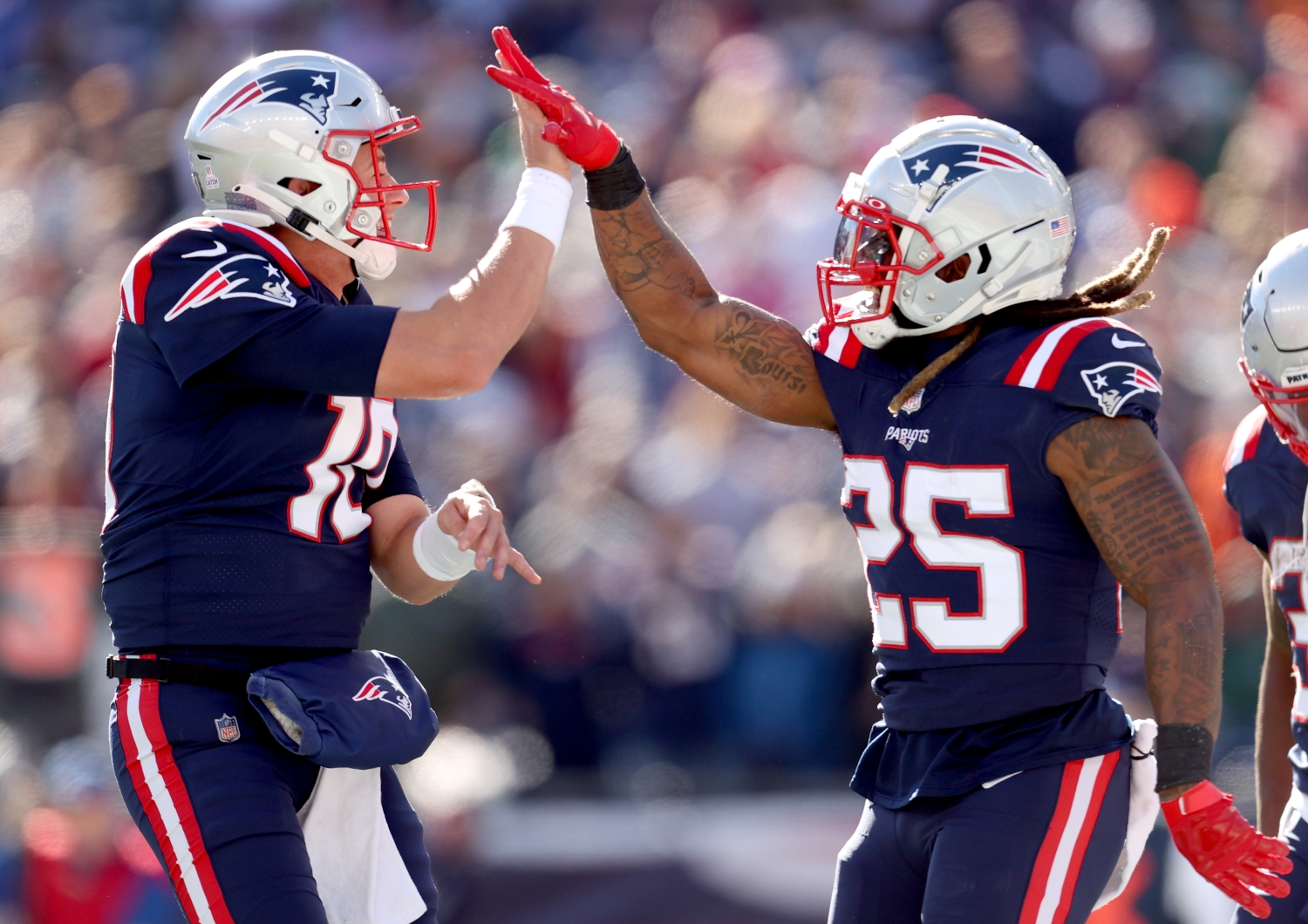 Even diehard members of Patriot Nation would have to admit they never expected to see Brandon Bolden make such a major impact on offense. After all, despite being listed as a running back, he entered the 2021 season with only 239 carries in 114 games. Yet after spending most of his NFL career playing on special teams, the 31-year-old has surprisingly become a key contributor to the league's 10th-ranked scoring attack.
After dependable third-down back James White suffered a season-ending hip injury, it quickly became clear that neither Damien Harris nor Rhamondre Stevenson had earned the coaching staff's trust from a blocking standpoint. In need of a reliable pass protector, the Patriots turned to Bolden, and that decision has paid off tremendously.
Utilized as a traditional running back and as a pass-catching option out of the backfield, the former undrafted free agent has provided solid production in both areas. Besides averaging 4.9 yards on 22 carries, Bolden has hauled in 22-of-24 targets for 189 yards and a touchdown. With 297 yards from scrimmage on 164 offensive snaps, he's on pace to shatter his career-high of 423 that he posted in 2013.
To no surprise, Bolden has continued to serve a valuable role in the kicking game, too. The two-time Super Bowl champion has played 65% of the special teams snaps — a reflection of his unselfish nature and willingness to help the team in any way possible.
Bolden certainly isn't a star by any means. However, there's no doubt he's raised at least a few eyebrows around Foxborough by providing meaningful production on offense.
Unfortunately for the Patriots, however, while a familiar face has taken a leap forward, several recent additions continue to disappoint.
Brandon Bolden's emergence shouldn't overshadow underwhelming performances by a few of his first-year teammates
Unlike Bolden, who will make roughly $1 million this season, Jonnu Smith and Nelson Agholor have not lived up to their contracts. And if the Patriots want to make a deep playoff run, they need both players to step up during the second half of the schedule.
Smith, who joined the team on a four-year, $50 million deal, has struggled mightily to find his footing in New England's notoriously complex offense. A dynamic athlete who has excellent run-after-the-catch ability, he simply hasn't delivered anything close to the same impact he did with the Tennessee Titans.
With just 21 catches for 193 yards and one touchdown on 34 targets, Smith clearly hasn't provided the level of production expected of someone with an average annual salary of $12.5 million. He has to become a reliable target for Jones moving forward, but it remains to be seen whether he can accomplish that task.
Meanwhile, Agholor's numbers also qualify as underwhelming. Coming off a breakout year with the Las Vegas Raiders, he cashed in with a two-year, $22 million deal with $16 million guaranteed. But with a team-low catch rate of 52.4%, it's fair to question why Belichick signed the Philadelphia Eagles flameout to such a pricey deal.
So, even though Brandon Bolden has provided terrific bang for their buck, the Patriots need the more expensive pieces of their offense to rise to the occasion moving forward.
All statistics courtesy of Pro Football Reference.