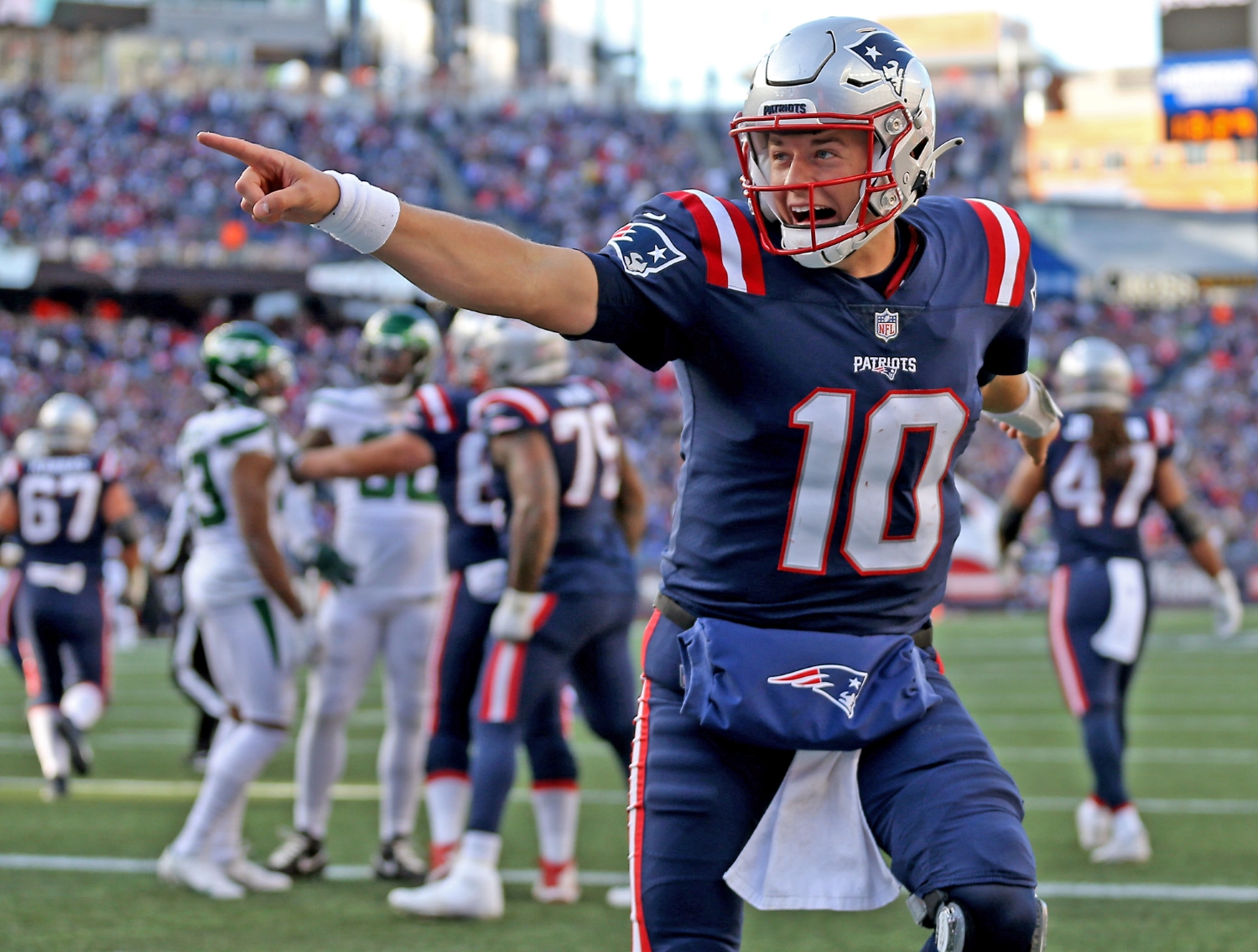 By Finally Correcting an Obvious Mistake, Bill Belichick Has Paved the Way for Mac Jones to Take the Patriots to New Heights
Bill Belichick finally put his young quarterback in a position to shine on Sunday by shuffling the starting lineup. Can the Patriots build off their 54-point performance against the Jets and start stringing together victories?
Sometimes, all it takes is a simple tweak to yield drastically different results. And out of all the brilliant head coaches in NFL history, few have a better track record of knowing when and how to make adjustments than Bill Belichick. 
Luckily for Mac Jones, his 69–year-old boss still has the awareness to recognize a problem and find an acceptable solution. With the offense not exactly living up to expectations, Belichick finally made a long overdue move that immediately paid off for the New England Patriots in their lopsided victory over the lowly New York Jets.
And based on the early returns of shuffling the starting lineup, it's clear he's put his promising rookie quarterback in a prime position to shine moving forward.
Josh McDaniels had New England's offense firing on all cylinders in Week 7
Turnovers, poor blocking, and a lack of precision in the red zone led to inconsistent results for Josh McDaniels' unit across the first six games of the season.
None of those problems popped up against the Jets. 
In fact, just about everything went right for a Patriots offense that's made tangible progress during the month of October. 
Mac Jones showed poise, accuracy, and confidence, completing 24-of-36 passes for 307 yards and two touchdowns. He continued to show great chemistry with tight end Hunter Henry, who recorded a touchdown reception for the fourth straight game. 
New England's much-maligned wide receiver group stepped up in the 54-13 win over Robert Saleh's squad. Nelson Agholor caught a 25-yard touchdown pass from fellow wideout Kendrick Bourne on a well-designed trick play. Jakobi Meyers contributed five catches for 44 yards. Even oft-criticized 2019 first-round pick N'Keal Harry made a cameo with a terrific contested catch in garbage time. 
Plus, Damien Harris provided a formidable punch as a ball carrier, racking up 106 yards and two touchdowns on 14 carries. Veteran Brandon Bolden torched the Jets defense in the passing game with a team-leading six receptions for 79 yards and a score of his own. 
Of course, the Patriots could not have racked up a season-high 551 total yards without solid blocking. And based on how comfortable Jones looked in his latest start, it's clear Belichick made the right call to shake things up along the offensive line. 
Bill Belichick has set Mac Jones up to shine by finally correcting an obvious mistake 
Did playing one of the worst teams in the league help the Patriots secure their first home win of the season? 
Absolutely. 
But Belichick also deserves credit for making a change that put his team in a better position to succeed both on Sunday and moving forward. Although, at the same time, it's fair to question why he took so long to see the light. 
After penciling in Michael Onwenu at left guard in Weeks 1-6, the Patriots finally corrected an obvious mistake and moved him back to his more natural position of right tackle. Of course, that spot has been a major area of weakness due to Trent Brown's prolonged absence as a result of a calf injury. Neither Justin Herron nor Yasir Durant provided enough consistency, particularly in pass protection. But with the 6-foot-3, 350-pound Onwenu in place, Jones' protection squad easily had its best performance of the season. 
Pro Football Focus gave the talented second-year pro a stellar 86.6 grade against the Jets. Onwenu's combination of size and strength makes him ideally suited to play right tackle, and his Week 7 performance proved why he should remain the starter the rest of the way. The 2020 sixth-round pick showed some struggles at guard (highlighted by a Week 5 benching against the Tampa Bay Buccaneers), but he boasts All-Pro upside as a road-grading tackle. 
Although the Patriots waited a few too many weeks to make it happen, moving Onwenu back to the position he dominated at as a rookie should make his quarterback extremely pleased. Jones doesn't have great mobility, so he needs adequate time to make his reads and get the ball out. Instead of dealing with pressure from his front side on a consistent basis, he can look forward to having one of the most talented young linemen in the NFL keeping him out of harm's way.
In addition, lining Onwenu up next to veteran guard Shaq Mason gives the Patriots two excellent run blockers on the right side. If Harris, Rhamondre Stevenson and J.J. Taylor take advantage and force defenses to stack the box, Jones can become even more dangerous as a play-action passer. 
While New England may not have another 50-point effort for a while, the offense has the ability to inflict serious damage through the air and on the ground with Onwenu lined up in the right place. If Jones managed to put together impressive performances in spite of protection issues, it's scary to think how much better he could look over the second half of the season. 
The Patriots need to acquire more help for their young quarterback before the NFL trade deadline 
Belichick already made one successful move by simply switching Onwenu from guard to tackle. But he should go shopping to strengthen his quarterback's chances of success even further. 
The Patriots don't necessarily need a true No. 1 receiver. They could, however, use a faster option out of the slot. Meyers brings value with his route-running skills and strong hands, but he lacks the top-end quickness and explosion that helped Julian Edelman and Wes Welker rack up prolific numbers playing that position in the Patriots' offense. 
Could Belichick target someone like Andy Isabella? The speedy Boston College product has underwhelmed with the Arizona Cardinals and could use a fresh start. Ironically, the Patriots have a receiver of their own who needs a change of scenery, so a swap of Isabella for Harry would make sense for everyone involved. 
Belichick should also look to add a pass-catching running back. With James White out for the year, the Patriots don't have a proven veteran on the roster who can fill that role. The Indianapolis Colts want to move Marlon Mack, so he stands out as an obvious potential trade target. Either way, Jones would benefit from having a reliable weapon out of the backfield on passing downs. 
So, after bringing a familiar face back to Foxborough for the sake of his defense, don't be surprised if Bill Belichick follows up the Jamie Collins signing with a move that results in a new player joining an offense that's officially trending in the right direction.
All statistics courtesy of Pro Football Reference