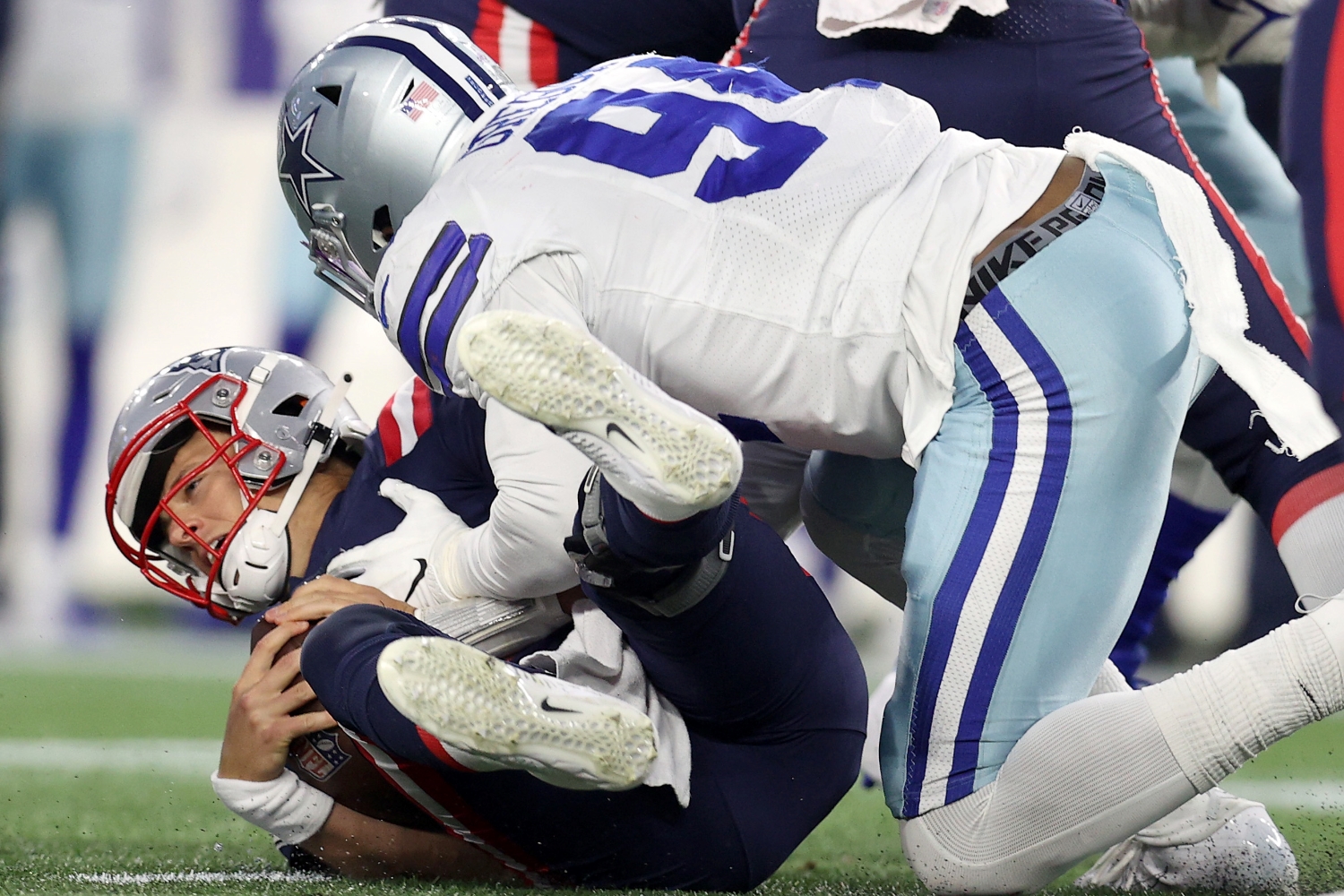 Bill Belichick is Dangerously Close to Being Forced to Pull the Plug on Another Failed Experiment Before Mac Jones Suffers the Consequences
If Bill Belichick wants Mac Jones to make it through the entire season, he better figure out a way to keep him protected. Is it time for the Patriots to make a permanent change at left tackle?
Bill Belichick seems to have found a worthwhile successor to Tom Brady, but that doesn't mean the New England Patriots should feel comfortable about the state of their offense.
While Mac Jones has fared well for a rookie, it's tough to get overly excited about his future in Foxborough based on the pieces around him. After all, high-priced free agents like Jonnu Smith and Nelson Agholor have failed to provide adequate production in the passing game, the offensive line has performed poorly, and the running backs have put the ball on the ground and missed blocks far too often.
As a result, New England ranks 24th in scoring at an unimpressive clip of 20.8 points per game.
The principal problem plaguing the Patriots' offense?
As much blame as the skill players deserve for their own shortcomings, pass protection undoubtedly remains the biggest area of concern. And with a quarterback who doesn't boast great size, mobility, or athleticism, Belichick must figure out a solution before things get even uglier. If he wants to send a message to the team and keep Jones out of harm's way, it's time for him to pull the plug on another experiment that's clearly gone awry.
For someone who used to excel at re-stocking the pipeline with homegrown talent, Belichick has somehow become his own worst enemy.
His recent track record in the draft reads like a horror story, with terrifying chapters on how to blow a first-round pick on a receiver (N'Keal Harry) and how to pick the wrong Georgia running back (the Patriots took Sony Michel over Nick Chubb in 2018). Plus, he's burned second-round picks on bottom-of-the-roster defensive backs like Joejuan Williams (2019), Duke Dawson (2018), Cyrus Jones (2016), and Jordan Richards (2015).
All those experiments have been abject failures, and even though Harry and Williams remain on the roster, both look destined to play elsewhere in 2022. And if Belichick cares about Mac Jones' health and long-term success, he needs to admit defeat on another early-round pick who's failed to pan out: Isaiah Wynn.
Selected 23rd overall in 2018, the former University of Georgia standout joined the organization as a highly regarded prospect. Expected to lock down the left tackle spot for the next decade, the 6-foot-2, 310-pound lineman has failed to cement his status as a long-term fixture in Foxborough.
After missing his entire rookie season with a torn Achilles, Wynn only started eight games in 2019 due to a turf toe injury. A knee problem limited him to 11 starts during the 2020 season, which raised obvious questions about his reliability and durability.
Meanwhile, the fourth year of the Wynn era has featured so many frustrating moments that Belichick is in danger of being forced to move in a different direction at one of the most critical positions in football.
Currently ranked 56th out of 79 tackles in Pro Football Focus' grading system, the 24-year-old blindside protector has surrendered three sacks and committed three penalties on 274 snaps. Instead of keeping Jones out of harm's way, Wynn has struggled to slow down pass-rushers, and his work as a run-blocker has not been impressive, either.
How much longer can Belichick afford to have a major liability at left tackle?
On Sunday, Dallas Cowboys defensive end Randy Gregory completely schooled Wynn on a third-quarter play that led to a momentum-killing sack and a reshuffling of the offensive line personnel. At this point, it makes little sense to continue to pencil a player into the lineup who cannot perform at an adequate level.
Wynn simply hasn't shown he can be trusted to take care of business on a consistent basis. In fact, between his injury history and up-and-down game film, it's fair to question whether he deserves to stick around in New England. Sure, the team picked up his fifth-year option, but why pay him for another season if he can't do his job?
Belichick may not like it, but he needs to admit he made a mistake with another first-round pick. He already did that once by dealing Sony Michel to the Los Angeles Rams. And it's obvious N'Keal Harry needs a change of scenery, too. Wynn isn't quite on Harry's level in terms of being a bust, but he certainly hasn't provided an acceptable return on the Patriots' investment.
At this stage of his career, the ex-SEC star should be getting better. Yet it's impossible to say Wynn has taken a step forward. In fact, he's regressed mightily from a year ago.
Coming off a season in which he earned an 82.6 grade from PFF, Wynn currently has a stunningly bad grade of 59.3.
What use does Belichick have for a player trending in the wrong direction? Why risk putting your young quarterback in danger by sticking with someone who ends up on the ground far too often? Why keep Wynn around given his stunning lack of development?
Justin Herron and Yodny Cajuste aren't exactly terrific fallback options, but they arrived as sixth- and third-round picks, respectively. At the very least, New England might as well see if either one has what it takes to man the left tackle spot for years to come.
Only more reps will yield an answer.
Ultimately, though, Bill Belichick shouldn't need any more time to determine whether Isaiah Wynn is a franchise left tackle.
Unfortunately for the Patriots, he's not even a starting-caliber one.
All statistics courtesy of Pro Football Reference.