The Cleveland Browns' No-Brainer Power Move Should Make Patriots Fans Furious With Bill Belichick
The Cleveland Browns haven't done a lot of things right over the years, but the organization finally started to turn the corner in 2018. After all, that's when Baker Mayfield, Denzel Ward, and Nick Chubb arrived as highly-touted draft picks. While the Pro Bowl quarterback and the talented cornerback will likely receive contract extensions in the near future, the Browns recently made a no-brainer decision to give their All-Pro running back a lucrative raise.
By officially extending his stay in Cleveland, Chubb obviously made one fan base incredibly happy. However, for New England Patriots fans, watching the Browns lock up their young offensive star on a long-term deal should make them furious with Bill Belichick.
Nick Chubb will continue to call Cleveland home for years to come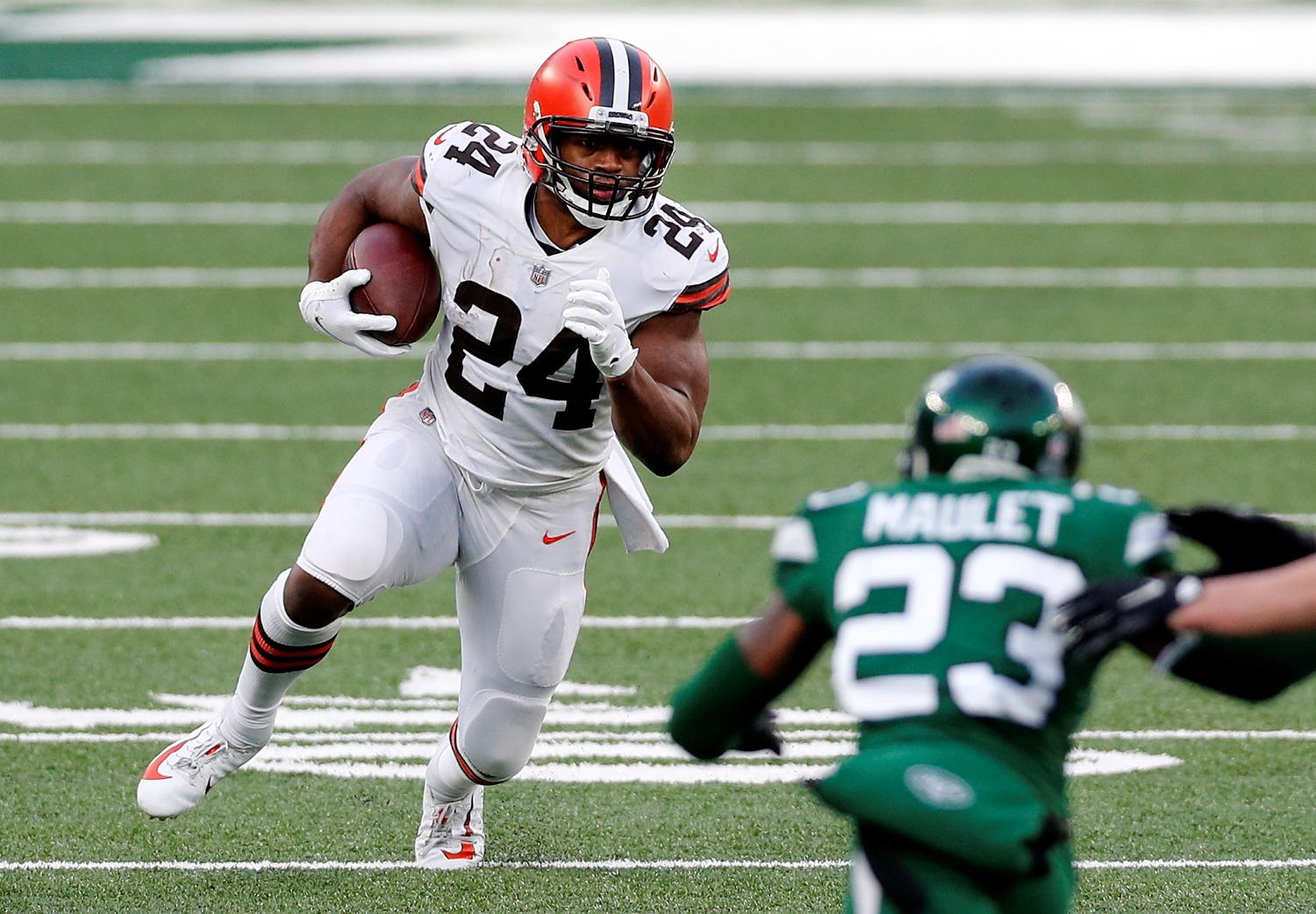 Following an outstanding four-year career with the Georgia Bulldogs, Chubb joined the Browns as the 35th overall pick of the 2018 NFL Draft. And it didn't take him long to demonstrate why Cleveland spent a premium asset to secure his services.
A part-time starter as a rookie, Chubb finished four yards shy of the 1,000-yard mark. He scored eight rushing touchdowns and two more through the air during his first year with the Browns.
His second season with the team turned out to be even better.
The 5-foot-11, 227-pound tailback started all 16 games and finished the year with 1,494 rushing yards, 278 receiving yards, and eight total touchdowns. And despite missing four games in 2020 due to an MCL injury, he still scored a career-high 12 rushing touchdowns.
Widely respected for his high character, elite production, and strong work ethic, Chubb received the ultimate form of respect from the Browns over the weekend. On Saturday, July 31, ESPN's Adam Schefter reported via Twitter that Cleveland agreed to terms with the star running back on a three-year, $36.6 million contract extension that includes $20 million guaranteed.
The move represented yet another step in the right direction for a Browns organization that looks capable of winning a Super Bowl title under the direction of general manager Andrew Berry and head coach Kevin Stefanski.
On the other hand, Cleveland's no-brainer power move to get Chubb signed through the 2024 season should have Patriots fans feeling particularly upset with the person in charge of personnel decisions in New England.
The Browns' no-brainer power move should make Patriots fans furious with Bill Belichick
Think Belichick regrets the way he handled the 2018 NFL Draft?
Armed with two first-round selections, he first took Georgia left tackle Isaiah Wynn with the 23rd overall pick. Yet when the Patriots came on the clock at pick No. 31, Belichick didn't go with the player who racked up nearly 5,000 rushing yards and 48 total touchdowns for the Bulldogs. Instead of building around Chubb, he hitched his wagon to Georgia's other big-name running back: Sony Michel.
Unfortunately for the Patriots, that decision looks even worse in light of Chubb's lucrative extension.
While Michel played an instrumental role in helping New England capture a Super Bowl title in 2018, he hasn't come close to living up to his first-round pedigree. A variety of lower-body injuries have kept the former SEC star off the field and in the trainer's room far too often since he entered the NFL. Plus, after showcasing elite playmaking ability as both a runner and a receiver in college, Michel hasn't delivered nearly the same type of impact at the pro level.
Belichick's decision to take a less productive and less durable player over someone who might be the best overall running back in the league should make Patriots fans furious. After all, Michel looks to be in danger of becoming a first-round bust. Meanwhile, Chubb seems poised to carry Cleveland's rushing attack for years to come.
Once again, Belichick's inability to evaluate and draft skill players has come into the spotlight. Considering the two backs played on the same team in college, the fact the Patriots had the opportunity to build their offense around Chubb and elected not to do so looks incredibly foolish. And for those who point to promising third-year pro Damien Harris as a potential star, that doesn't excuse Belichick from making another ill-fated selection with an early-round pick.
After all, Lamar Jackson went off the board right after Michel, and Chubb got selected three picks later. Ultimately, Belichick deserves tremendous criticism for passing over a future star for a player who might be on his way out of Foxborough sooner than later.
What does the future hold for Sony Michel?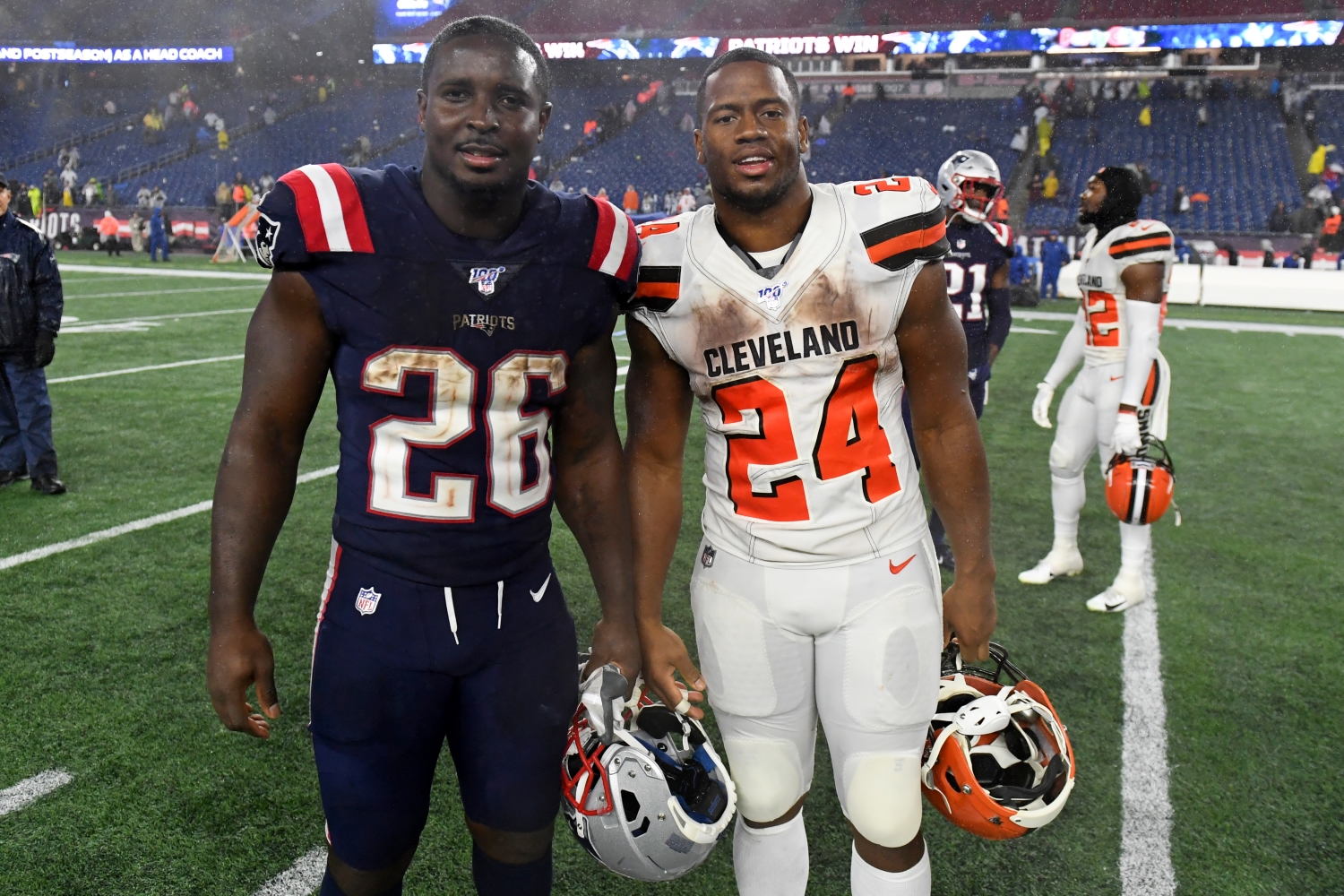 While Michel has flashed intriguing potential at times, his lack of consistency and durability cannot be ignored. And the Patriots sent a clear message that they aren't entirely sure about his future by declining his fifth-year option earlier this offseason.
With no long-term financial or job security, the 26-year-old enters the most pivotal few months of his pro football career.
Finally healthy heading into training camp, Michel can't afford any injury setbacks moving forward. But even if he performs well in practice and preseason games, that doesn't mean he's a lock to suit up for the Patriots in 2021.
Given Harris' upside and the presence of talented rookie Rhamondre Stevenson, New England could trade Michel for a conditional mid-round pick or a player at a position of need before the season begins. Plus, if a playoff-caliber team suffers an injury at running back at any point in the coming months, Bill Belichick could receive a phone call from another general manager about him.
At that point, the Patriots might as well take what they can get and admit defeat on another failed draft pick.
All statistics courtesy of Pro Football Reference and Sports Reference.