Joe Judge's Surprising Admission About Bill Belichick and Nick Saban May Explain the Secret to Their Unparalleled Success
Before he received the opportunity of a lifetime from the New York Giants, Joe Judge gained invaluable experience working for two of the greatest football coaches of all time. From cutting his teeth as a special teams assistant for Nick Saban to becoming a key aide for Bill Belichick, Judge got a chance to learn the ins and outs of coaching and managing a team during his time with the Alabama Crimson Tide and the New England Patriots.
By working closely with Belichick and Saban, the second-year NFL head coach saw everything that went into winning championships. During a recent podcast appearance, Judge made a surprising admission about his former bosses that may explain the secret to their unparalleled success.
Joe Judge worked for both Nick Saban and Bill Belichick before taking over the New York Giants
Talk about getting tutelage from two highly qualified tutors. After suiting up for Mississippi State from 2000-04, Judge made the transition from player to coach. He worked as a graduate assistant for the Bulldogs for three seasons before he served as Birmingham-Southern's linebackers coach and special teams coordinator in 2007.
Then his life changed forever.
Judge went from coaching at a Division III program to landing a position with the most dominant team in college football. The Philadelphia native spent three years as a special teams assistant for Saban's super-talented squad. Judge's time in Tuscaloosa included winning two national titles, which only made him a more coveted commodity for NFL teams.
Ironically, the next stop in his coaching journey put him in a position to pick the brain of one of Saban's best friends. Belichick brought the former Crimson Tide assistant to New England in 2012, and it didn't take long for Judge to work his way up the ladder on the Patriots' coaching staff. After three seasons as a special teams assistant, he got promoted to coordinator in 2015.
Judge added wide receivers coach to his resume during the 2019 season, which turned out to be his final one with the Patriots. With Belichick and Saban able to speak on his behalf, Judge achieved his dream of becoming an NFL head coach on Jan. 8, 2020. While his first season with the Giants didn't result in a playoff berth, the 39-year-old led his team to a 6-3 finish that suggested brighter days may be ahead in New York.
Judge made a surprising admission about his former bosses that may explain the secret to their success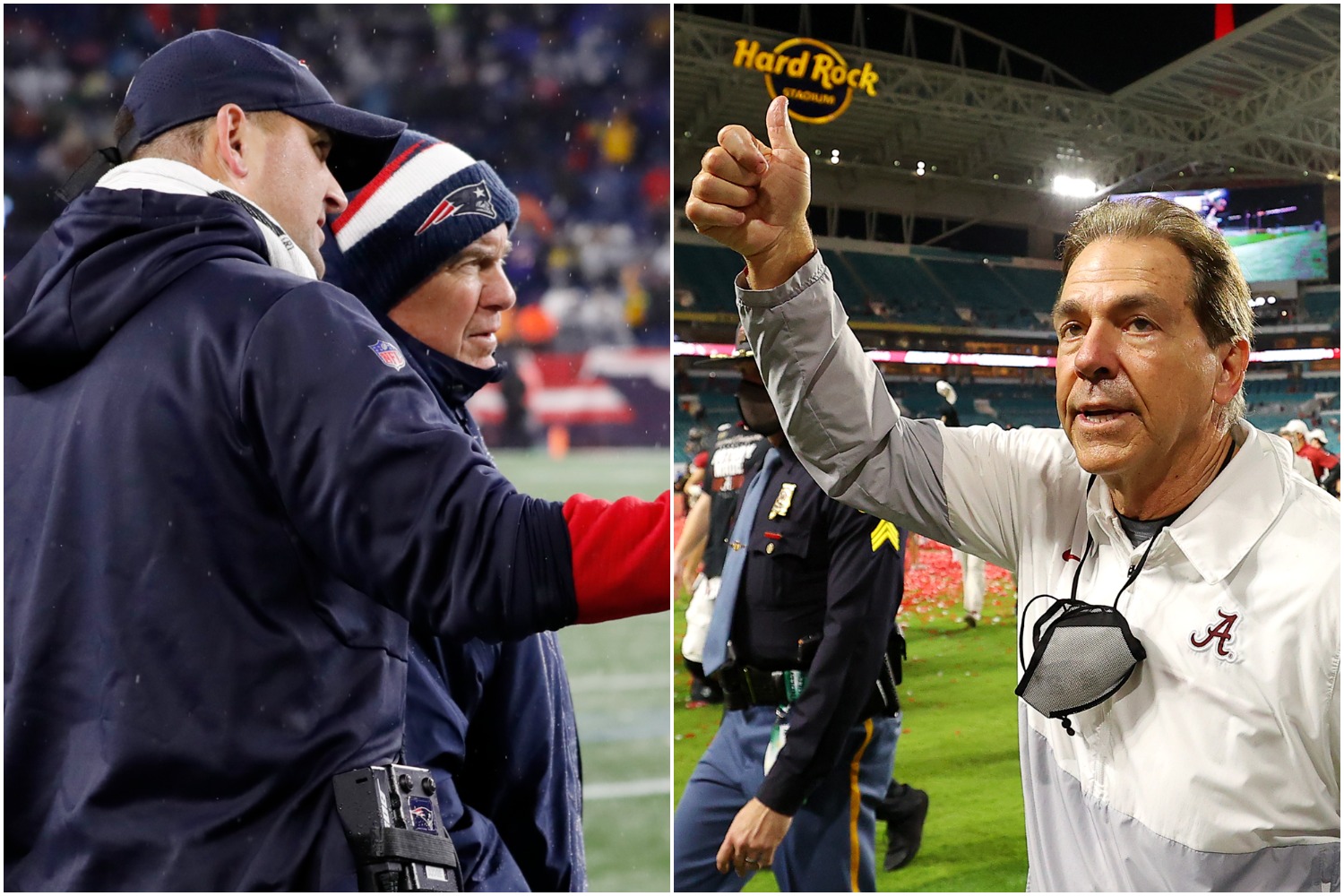 Given his experience working for two highly demanding head coaches, Judge understands what it takes to win at the highest level. After all, he won two national titles at Alabama and three Super Bowl rings with New England. During his appearance on the Ringer's Flying Coach podcast hosted by NFL reporter Peter Schrager and Los Angeles Rams head coach Sean McVay, Judge made a surprising admission about Belichick and Saban that may explain the secret to their unparalleled success.
"I worked 11 years combined for the two of them and never heard them call a single play," he revealed.
Judge explained that instead of directly dialing up a play, both coaches wanted to understand why a particular call got made. So even though both Belichick and Saban get touted as defensive geniuses, it's interesting to note that Judge never heard either coach call a play. That may seem counterintuitive, but it actually reflects why the two men achieved legendary status long ago.
Belichick and Saban prove that calling plays doesn't equate to winning championships
As much as understanding the X's and O's of football matters, head coaches can't afford to devote too much of their attention to calling plays. After all, even if masterminds like Sean Payton and Sean McVay excel at designing and calling offensive plays, they still have to worry about defense, special teams, injuries, clock management, and other critical factors that go into defeating an opponent.
Belichick and Saban have experienced such unparalleled success largely because they surround themselves with competent coaches they can trust. Instead of having to act as micromanagers, the two men have routinely placed their faith in coordinators to take care of play-calling duties. Belichick has relied on Josh McDaniels to run the Patriots' offense for what seems like forever, and he entrusted Matt Patricia and Brian Flores to run the defense in recent years. Saban may cycle through coaches more often, but he's benefitted from having high-level coordinators like Kirby Smart, Lane Kiffin, and Steve Sarkisian calling plays.
Considering Belichick's won six Super Bowl rings with the Patriots and Saban's captured seven national titles with the Crimson Tide, it's clear the two legendary coaches know what they're doing. And if their peers want to follow in their footsteps, Judge may have revealed that the secret to success boils down to delegating duties to trustworthy assistants and taking a big-picture approach that emphasizes why a decision gets made on game day.
As the Giants look to improve on last year's 6-10 record, their young head coach seems to have the right mindset to eventually turn the team into a playoff contender. And if Joe Judge needs any advice on how to build a winning culture, all he has to do is give one of his former bosses a call.