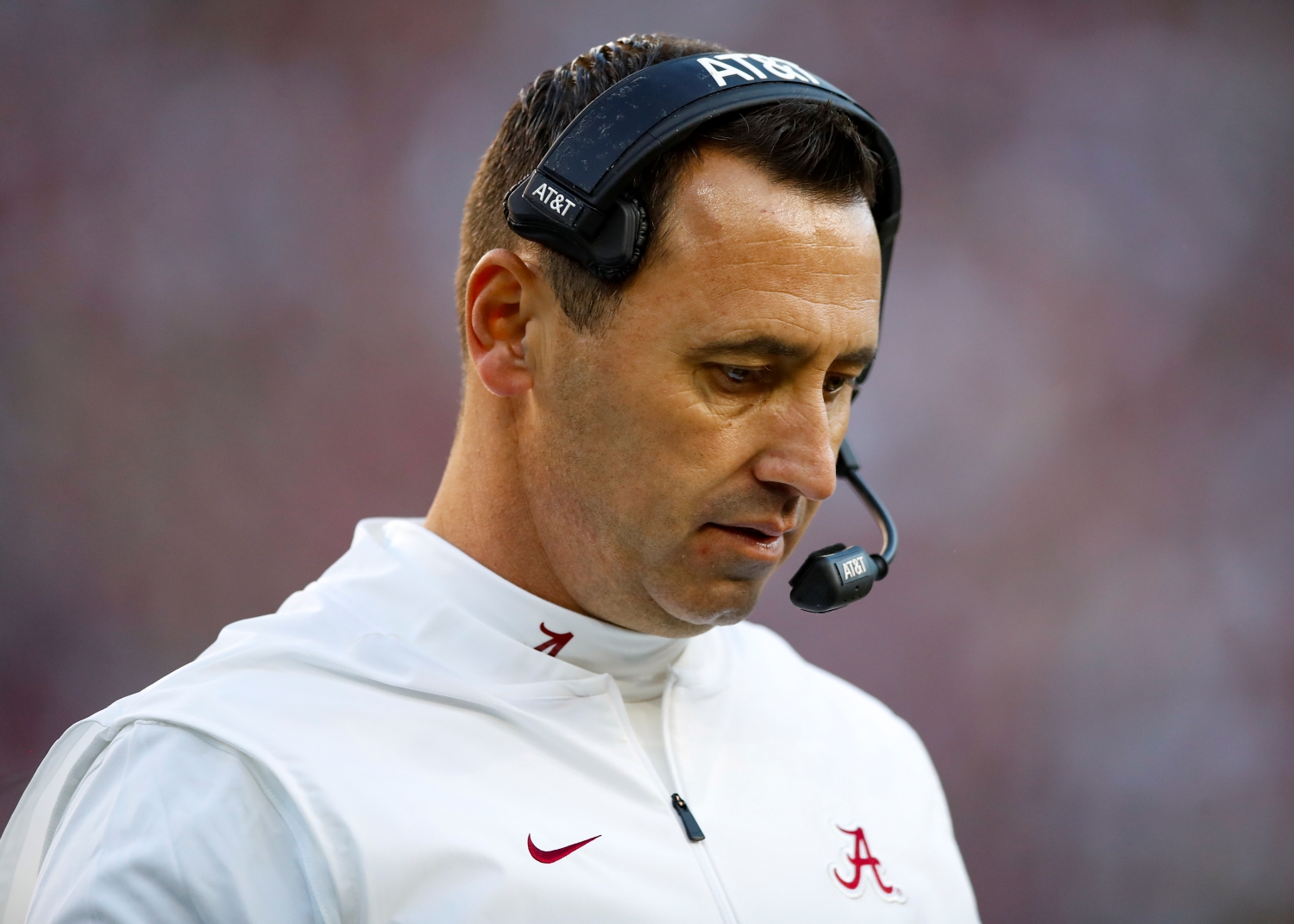 Former Alabama Offensive Coordinator Steve Sarkisian is Stealing $34 Million From His Newest Employer
The University of Texas will regret committing $34 million to Steve Sarkisian based on his rather lackluster track record as a head coach.
The University of Texas once ranked as one of the top programs in college football. However, the Longhorns have only won double-digit games once during the last decade.
While Texas thought Tom Herman had the ability to take the team to a new level, that plan did not work out.
Now, the future of Longhorns football rests on the shoulders of a man whose resume does not align with his new contract. Because based on what he has "accomplished" in previous stops as a head coach, Steve Sarkisian is stealing $34 million from his new employer.
Steve Sarkisian landed the Longhorns gig despite his lackluster coaching resume
A former college quarterback, Steve Sarkisian transitioned from throwing passes to helping coach the position. After cutting his teeth as a QB coach, he briefly took over as offensive coordinator at USC before landing a lucrative promotion.
From 2009-2013, Sarkisian served as head coach at the University of Washington. Considering the program didn't win a single game the year before he arrived on campus, he certainly gave Huskies fans hope about the future.
However, his five-year run at Washington didn't exactly measure up to expectations. The Huskies only went 34-29 with Sarkisian at the helm. They lost two of their three bowl game appearances, including a heartbreaking two-point defeat against Boise State in the Las Vegas Bowl.
Still, that didn't stop USC from bringing him back to California for an even bigger role. But after going 9-4 in his first season with the Trojans, Sarkisian got fired as head coach in October 2015 due to his involvement in several alcohol-related incidents.
He landed on his feet at the University of Alabama, where he worked as one of Nick Saban's assistants before becoming the offensive coordinator for the Atlanta Falcons.
After boasting the No. 1 scoring offense in the NFL in 2016, the Falcons fell to 15th in Sarkisian's first year calling plays. They finished 10th in 2018, and the NFC South franchise fired him at the conclusion of the season.
For the past two years, he has served as Saban's offensive coordinator. And while Alabama has had no trouble scoring points during that span, it's fair to wonder how much of that comes down to the sheer amount of talent the Crimson Tide have had on that side of the ball.
The former Crimson Tide offensive coordinator is stealing $34 million from his new employer
Based purely on Alabama's explosive offensive numbers, it would seem like the University of Texas made a great decision to hire the man responsible for calling plays for the Crimson Tide.
But given his uninspiring 46-35 career record as a college football head coach, coupled with his unimpressive stint with the Falcons, the bulk of Steve Sarkisian's resume doesn't suggest that he has what it takes to lead the Longhorns to a national title.
In fact, when you put his entire coaching career in context, it looks like he's set to steal $34 million from his new employer.
According to Football Scoop, the UT athletic department has offered the 46-year-old a six-year deal worth $34.2 million in salary. Sarkisian will reportedly make $5.2 million in 2021. His annual salary will increase by $200,000 every year.
If Sarkisian manages to last long enough, he will make $6.2 million in 2026.
In addition, he can make $1.2 million in the form of a retention bonus on the final day of 2024.
His contract reportedly carries up to $675,000 in incentives.
Will the University of Texas regret paying such a steep price for Sarkisian?
Once again, another big-time college program has invested big-time money on someone who simply hasn't lived up to expectations at any of his previous stops as a head coach.
Did Washington pay Steve Sarkisian millions just to win 54% of the time? The Huskies didn't even achieve a top-25 finish until his final year with the team.
And it's not a stretch to say the Trojans made a massive mistake in placing their faith in Sarkisian. His premature exit forced the program to hit the reset button at the head coach spot, which certainly didn't help propel USC back to the top of the college football world.
Despite all of that, the University of Texas will reportedly give the ex-Alabama OC the richest contract in school history.
So while Sarkisian has yet another chance to prove his doubters wrong, he faces an uphill battle to re-write the narrative about his abilities as a head coach.
Because if history repeats itself, the Longhorns will have to find a new leader for their program sooner than later.
And once again, Sarkisian will have swindled another employer out of millions.
All statistics courtesy of Sports Reference and Pro Football Reference.