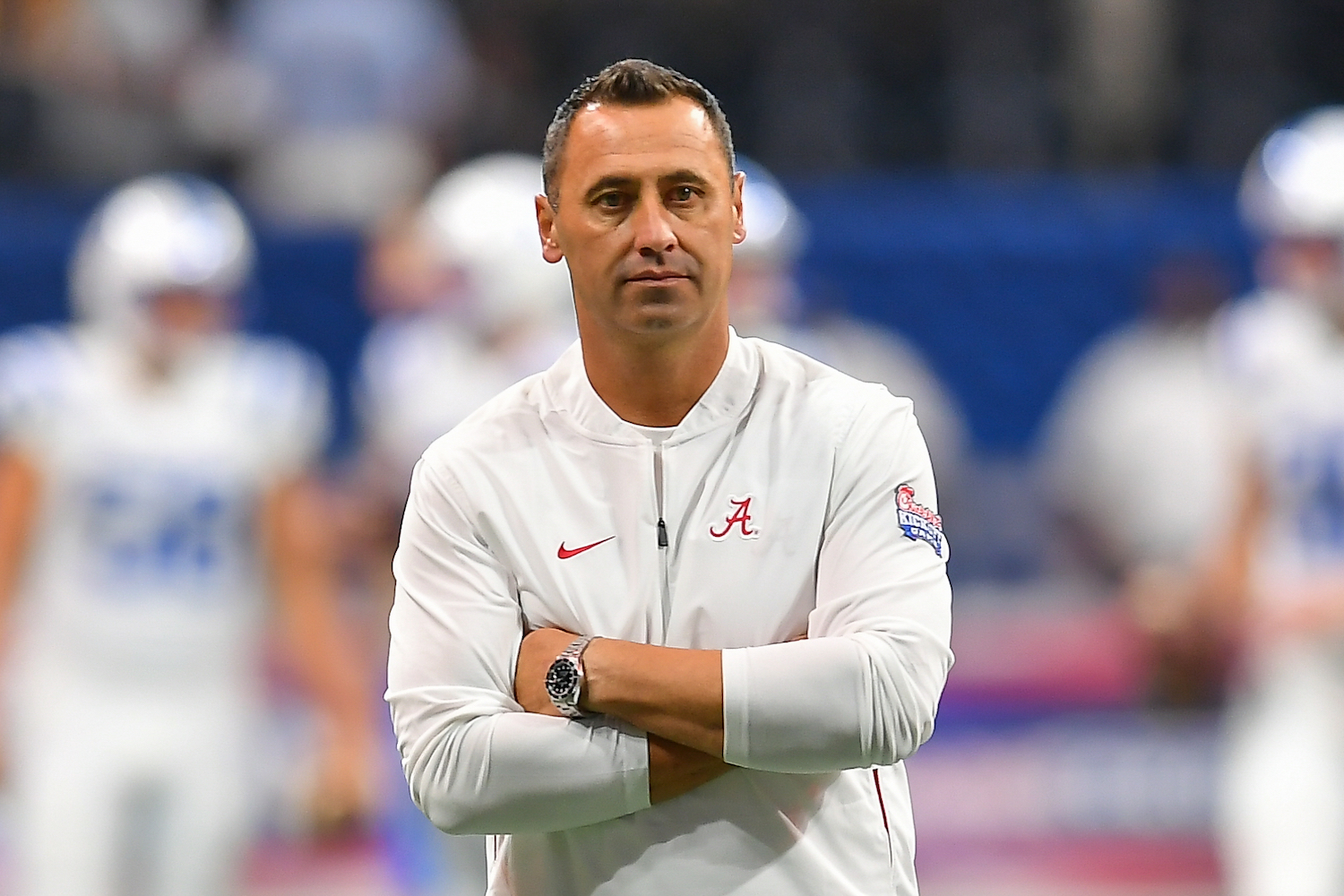 New Report Delivers Insulting News to Steve Sarkisian and Texas Longhorns on State of Program and Raises Serious Concerns About Future
Steve Sarkisian and Texas Longhorns fans won't be happy with a new report that is insulting to the football program and raises serious concerns about the future.
Steve Sarkisian hit the ground running when he arrived in Austin to take the reins of the Texas Longhorns football program. Since his arrival, he's had a few challenges along the way, including the departure of one of the team's top running backs in Keaontay Ingram.
One area Sarkisian hopes to improve for the Longhorns in the future is recruiting. After closing the books on the 2021 recruiting class and a No. 17 ranking, Sarkisian and his staff have shifted their focus to the 2022 class. According to a new report, the Texas coaching staff has its work cut out for it this season and beyond as the program has dramatically lost its luster in the eyes of those who can take it to the next level.
Steve Sarkisian arrived in Austin
The Texas Longhorns hired Steve Sarkisian to change the culture and take the football program to the next level. After years of mediocrity, the expectation is Sarkisian can take a talented core of players and develop them both individually and collectively as a unit, and return to the days of Mack Brown and regularly contending for Big 12 championships and national titles. 
Since he arrived in Austin a month ago, Sarkisian hired his staff, which included numerous coaches joining him from Alabama, and completed his first signing day. In addition to his standard duties, Sark has embraced the pressure that comes with a high-profile program like Texas.
"My time with coach Saban was tremendous," Sarkisian said during an interview with GBAG Nation on 105.3 The Fan. "He's a great mentor of mine. He's a tremendous coach. He's a tremendous leader. Obviously, we're different people, with different niches. He's a defensive guy, I'm an offensive guy, and the idea is that, hopefully, we are going into the same living room back-to-back nights competing for the same players off the field.
"And then the goal is that at the end of the college football season, we are competing on the field in the playoff because that's the standard here. And I know that's the standard at Alabama, and we should be going toe-to-toe on a daily basis with recruits, and we should be going toe-to-toe on the field every season."  
Texas Longhorns 2021 recruiting class is worst in years
The 2021 Texas Longhorns recruiting class is considered a transition class from Tom Herman to Steve Sarkisian. In other words, Sarkisian had a limited role, considering he arrived just weeks before the final signing day in February. 
What he inherited was a No. 17-ranked class, and a disappointing one by Texas standards. A considerable drop-off from the previous three seasons, where the Longhorns hauled in a top 10 class each year. 
Among the notable signees are the nation's No. 1-ranked athlete and a five-star recruit in Ja'Tavion Sanders. He is expected to play on both sides of the line of scrimmage after playing receiver and defensive end at Denton Ryan. 
Also, adding firepower for Steve Sarkisian and the Texas Longhorns offense will be running back Jonathon Brooks out of Hallettsville, who put up video game numbers his senior season. He rushed for more than 3,500 yards on less than 300 carries, with 62 touchdowns. He also added more than 300 receiving yards and three touchdowns.    
Steve Sarkisian has to overcome Texas Longhorns bad reputation
Steve Sarkisian and his hiring to guide the Texas Longhorns out of the doldrums couldn't have come at a better time, according to Dave Campbell's Texas Football. The publication conducted a survey with numerous recruits from the 2021 class on what Texas school was the most overrated and why. The burnt orange came off looking like burnt toast. 
In an interview with 32 high school football players, 21 of them anonymously selected the University of Texas as the most overrated program. While the reasons varied slightly, there was a common theme.
"Texas. They get tons of highly-rated recruits but can't seem to put those super talented guys on the field and have them pan out," one player said.
"Texas, because they get 4-5 Star recruits every year but can't do anything with them," wrote another.
"UT, they haven't seemed to be able to get things going on the inside. Also heard poor things about how the old staff would treat players after signing."
By that last remark, at least one recruit didn't care for the way Tom Herman and his staff treated the players. That validates his firing and hiring Sarkisian even more. Now the question is whether or not Sarkisian can deliver. Time will tell.